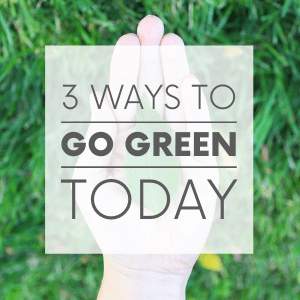 I've said it before and I'll say it again and again – being green isn't about being perfect. It's about trying your best to be a little more earth conscious every single day.
Some days you'll do a great job. You'll eat only plant-based foods. Generate very little waste. Bike instead of drive. Take a shorter shower. Refuse plastic bags. Maybe even plant a tree or two.
Other days you won't do such a great job. Even as a passionate treehugger I have these days. All. The. Time.
I forget my to-go mug and cave to a massive caffeine craving – complete with a single-use cup. I'll buy my kids a crappy plastic – albeit secondhand – toy and it will end up broken and in the trash the next day. Spend all day driving my car to countless locations. Buy food items wrapped in plastic because they're vegan and easier than making every single meal from complete scratch.
Green living is a journey, not a destination. We can always do better. But we also shouldn't beat ourselves up every time we throw something in the garbage. (I'm still working on this one, because the trash tossing guilt is so, so real.)
Here are three simple ways to go green. And the best part is you can do them today!
---
Note that this post contains affiliate links, meaning if you click on a link and make a purchase a small percentage of the sale goes to yours truly. Please know that I only link to products that are good for the earth, good for the soul, or both!
Also, a big thank you to Organic Basics for sending me pieces from their SilverTech line! As always, all opinions expressed in this post are my very own.
---
Forgo Fast Fashion
Ugh. The fashion industry is kind of the worst, hey? It constantly puts out these seemingly beautiful new things and then bombards us with both blatant advertising and subconscious conditioning until we are convinced WE MUST HAVE ALL THE CLOTHES. Do I sound a bit like a conspiracy theorist? Good. I meant to.
If you've read my previous posts 5 Reasons Why You Should Buy Organic Underwear and The Environmental Impact of Dirty Laundry, then you know how much I respect the Danish clothing company Organic Basics. Why? Because they call out the very industry they're a part of, calling it a "dirty bastard" and eschewing the shady practices that make the fashion industry bad for both the planet – and for humankind.
Aside from offering well made, long lasting clothing basics like underwear, bras, socks, t-shirts and leggings, Organic Basics also practices sustainable living in all areas of their business. Plus they bring awareness to environmental stewardship through their Impact Index and their Low Impact Project. And as the Organic Basics box says… Swap more. Thrift more. Even they don't want you to always buy new clothes!
Plant Trees Every Time You Search
Not every one is blessed to have 40 acres of land, where tree saplings are easily planted and have plenty of room to grow into full-sized version of themselves. But thanks to Ecosia – you can live in the tiniest apartment and still plant trees on a daily basis.
Ecosia works just like any other search engine such as Google or Bing. Search engines make many when people click on advertisements above and beside their search results. And while other engines put that money back into their company, Ecosia uses a large portion to plant trees. All you need to do to help out is make Ecosia your default search engine!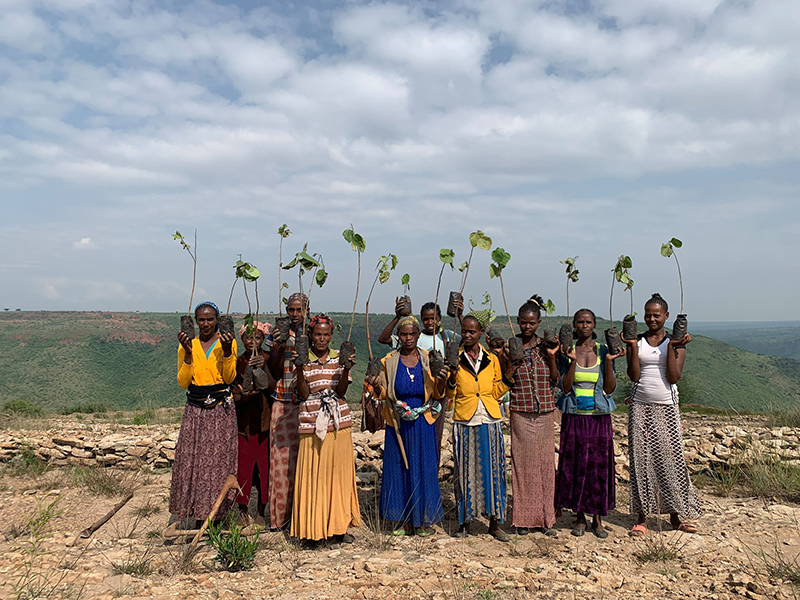 Another way to plant trees without actually having to dig and mulch is to visit Click a Tree and donate to tree-planting projects in places like Madagascar, India and Thailand.
Track Your Consumption
Two major factors in creating a greener world are conserving precious resources and reducing our carbon footprint. Thanks to apps like MyEarth, you can track your energy and water consumption and have fun at the same time. (Click here for the Android version.)
Make earth-friendly choices like reducing the amount of meat you eat and reducing your shower time, then add them to your daily activities. Once you've completed the activities, the app let's you know how much carbon and water you've saved. Keep playing (and conserving) to level up!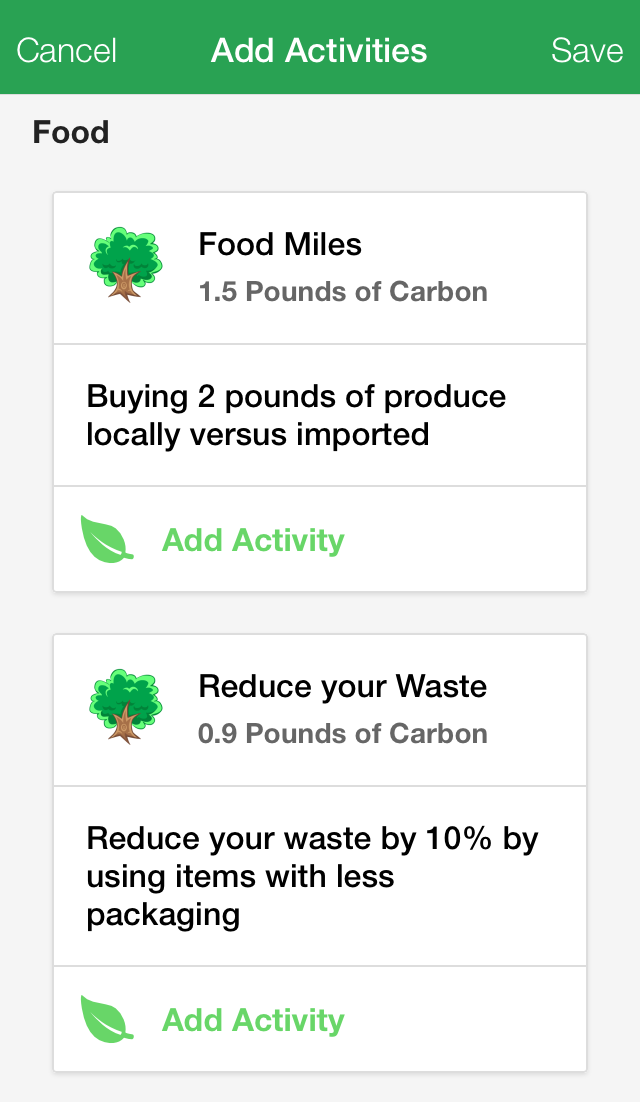 Other green-spired apps worth giving a try include EWG's Food Scores, which offers information on the nutrition, ingredients and processing of over 80,000 foods, and iRecycle, where you can find nearby recycling centres for all kinds of household items.

Use the coupon code OHATOBC to get 10% off your Organic Basics purchase!
What about you? What green things do you try to do on a daily basis?
---
LET'S BE TREEHUGGERS TOGETHER!
Subscribe to have weekly treehugger tips + the latest Of Houses and Trees posts delivered directly to your inbox!

OH, AND LET'S BE FRIENDS TOO…
---
PIN ME!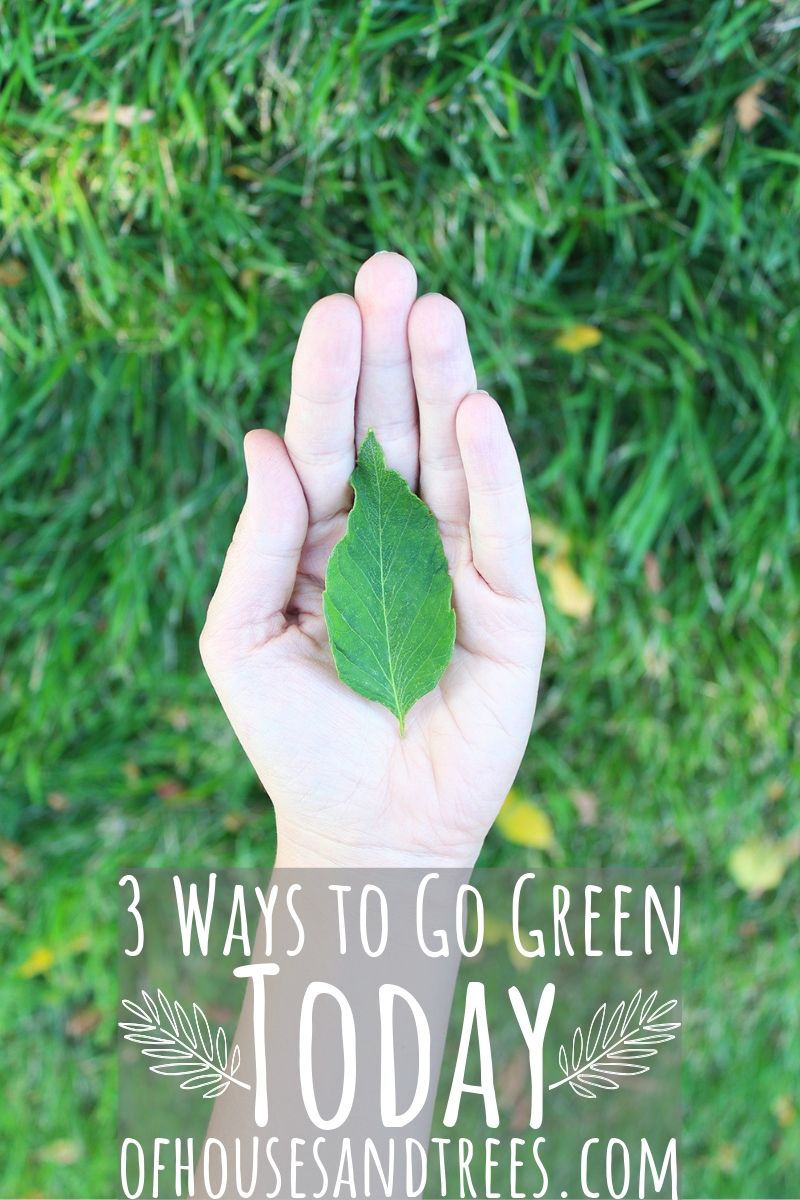 Posted on September 6, 2019
3 Easy Ways to Go Green Today