In the interior world, woven storage baskets are the ultimate marriage between decor and function. They can be simple, colourful, or just plain lovely to look at. They also come in all shapes and sizes and can be used in every room in the house – to store anything you can imagine!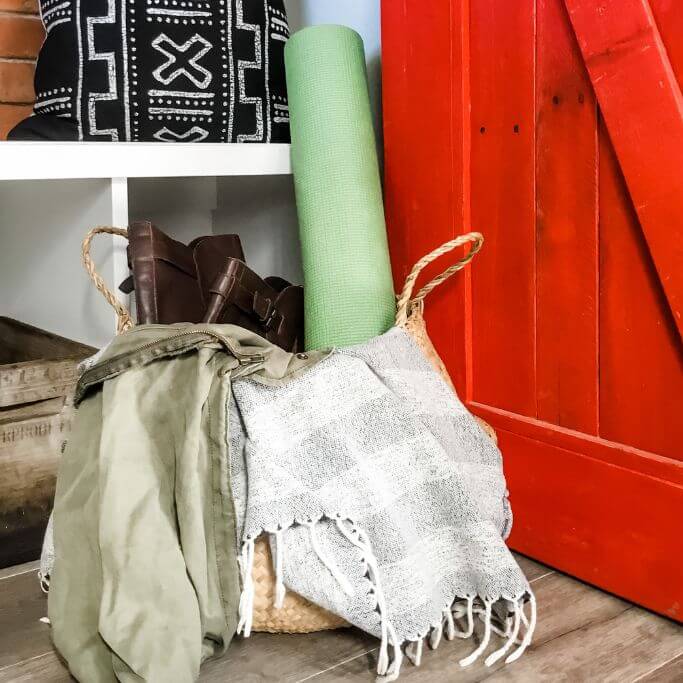 It's no wonder wonder woven baskets are so popular. Big-box home stores carry so many varieties it's dizzying. But the thing about all those intricately woven baskets is – someone made them. Think of the hours it takes to weave a single basket. The skill and talent required to make it look so beautiful. Now imagine the person who made it was paid a super low wage and worked under unsafe and unfair conditions. Awful, right?
Which is why, when I need a basket in my life, I look for ones made by artisans who are paid fairly and treated ethically. This is why online businesses such as Ten Thousand Villages are so great. Dozens of basket choices from talented weavers around the world – all available in one place.
Here are eight of the most beautiful ethical woven storage baskets I could find – all for under $40!
Note that this post may contain affiliate links, meaning if you click on a link and make a purchase a small percentage of the sale goes to yours truly. Please know that I strive to only feature eco-conscious products and brands.
5 Round Woven Storage Baskets
Round woven storage baskets are so versatile. They fit snugly in tight corners and accommodate everything from blankets to toys to shoes to laundry. And if you're done using your round basket for storage – it can always double as a plant pot!
Description: This 10″ high basket is 10.5″ in diameter and handwoven using hogla grass with cotton rims. Use it to store scarves and gloves, toys or use it as a planter.
Price: $26.99
Who made it: Prokritee. An organization that manages several women-run businesses in Bangladesh and aims to improve the standard of living for women and their children.
Description: Made from kaisi grass and recycled sari fabric, each of these 12″ high by 12.5″ diameter baskets are completely unique.
Price: $29.99
Who made it: Prokritee. In addition to providing fair wages and a safe working environment, Prokritee also teaches women artisans new techniques to improve their skillset.
Description: Handcrafted from jute and recycled cotton sari fabric, this cute basket is 10″ high and has a diameter of 10″ too. The sturdy handles extend 4.75″ past the top of the basket.
Price: $34.99
Who made it: Dhaka Handicrafts. Another organization that works with artisans in Bangladesh, ensuring they're paid fairly for their work and even go so far as to help them set up a savings plan to encourange self reliance.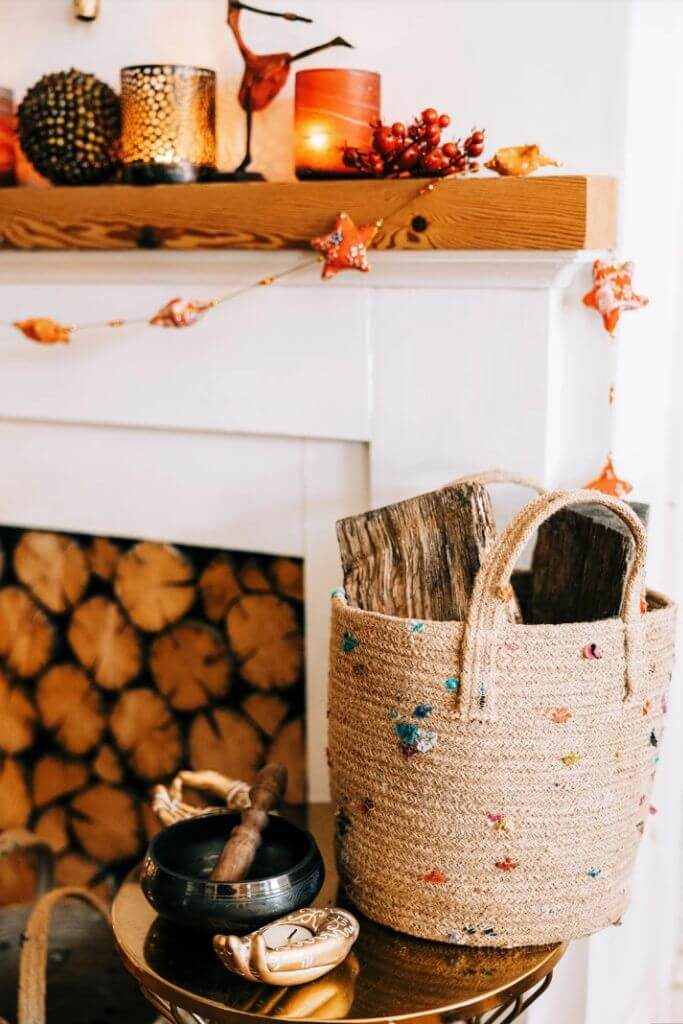 Description: 14″ high and 14″ in diameter, this gorgeous basket is made from kaisa grass. As soon as I saw this basket I thought how beautiful it would look in a room with a coastal interior style.
Price: $39.99
Who made it: Prokritee. Prokritee actually means "nature" in Bengali. Previously known as MCC Bangladesh, Prokritee has been providing ethically made goods to Ten Thousand Villages since 1986.
Need help choosing eco-conscious furniture and decor for your home? That's what I'm here for!
Description: Sometimes you just need a basket with a lid. This 15″ diameter basket is woven from seagrass and its fitted lid has a cute little loop for easy access to all your hidden goodies.
Price: $39.99
Who made it: Prokritee. There's a reason so many of the baskets on this list are made by artisans from Prokritee – they just have really beautiful, affordable stuff!
3 Square Woven Storage Baskets
The structure and shape of a square woven storage basket makes them perfect for use within cabinets, on shelves and in cubbies. Use them for paperwork, odds and ends, plus all the things you'd use a round basket for.
Description: At just under 4″ high, this shallow basket is an excellent solution for a catchall bin by the front door, in the kitchen, or in your office. Woven from date palm leaves, the leather handles also add a pretty detail on top of making the basket easy to carry.
Price: $29.99
Who made it: Rishilpi Handicrafts Limited. A non-governmental organization that focuses on helping those within the Rishi caste. Traditionally pushed to the margins of Bengali society, the Rishi have been supported by Rishipili and encouraged to become self-reliant artisans.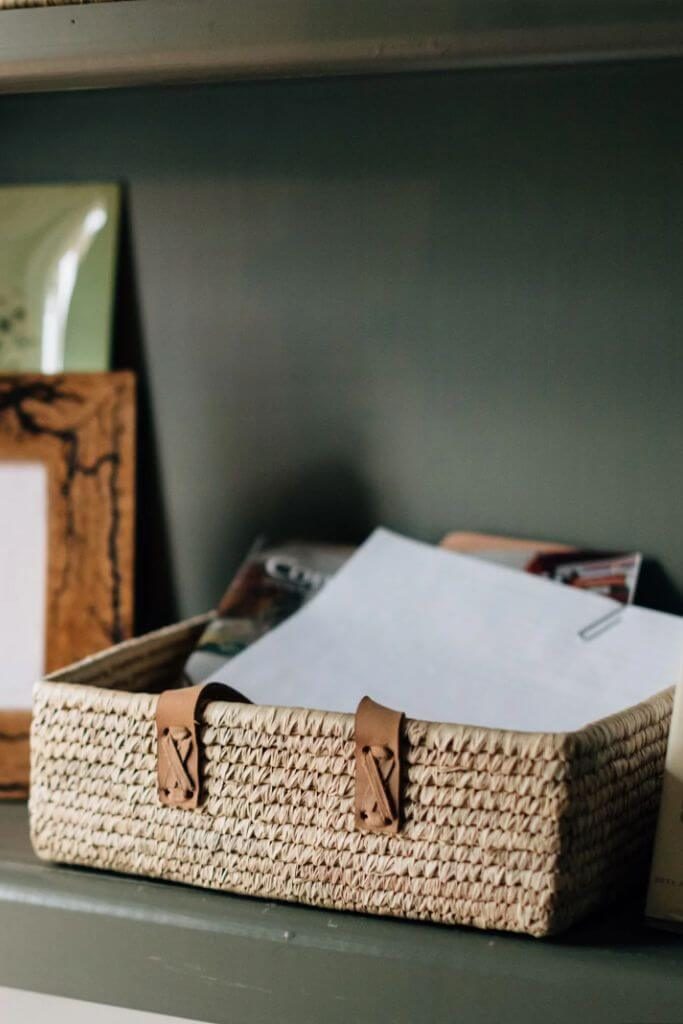 Description: For when you need a basket that's nice and deep, this 12″ wide by 12″ high palm leaf woven basket fits perfectly in square cubbies.
Price: $39.99
Who made it: Rishilpi Handicrafts Limited. Named after the Rishi caste and the Bengali word for artist, "shilpi," this organization not only assists artisans in making and selling their crafts, they also provide them with health care, education sponsorship and savings.
Description: An even wider and taller basket than the above palm leaf storage basket, this one – woven from kaisa grass – is 13.75″ wide and 12.25″ high.
Price: $39.99
Who made it: Prokritee. Want to know what other ethical goods Prokritee makes aside from baskets? Check out their collections page for everything from garlands to cards to aprons!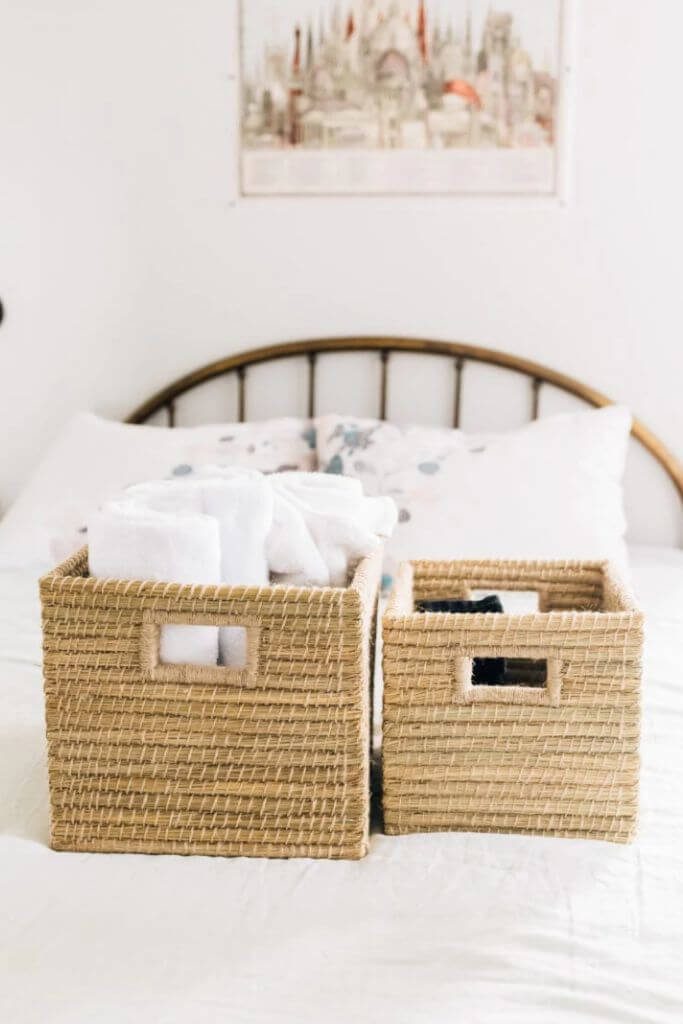 Here's hoping the next woven basket that comes into your life is an ethically made one! Can't get enough baskets in your life? Read my tips for decorating with baskets on the wall. And if you'd like to learn about a decor style that goes fabulously with woven baskets, check out my post on japandi interior design.
PIN ME!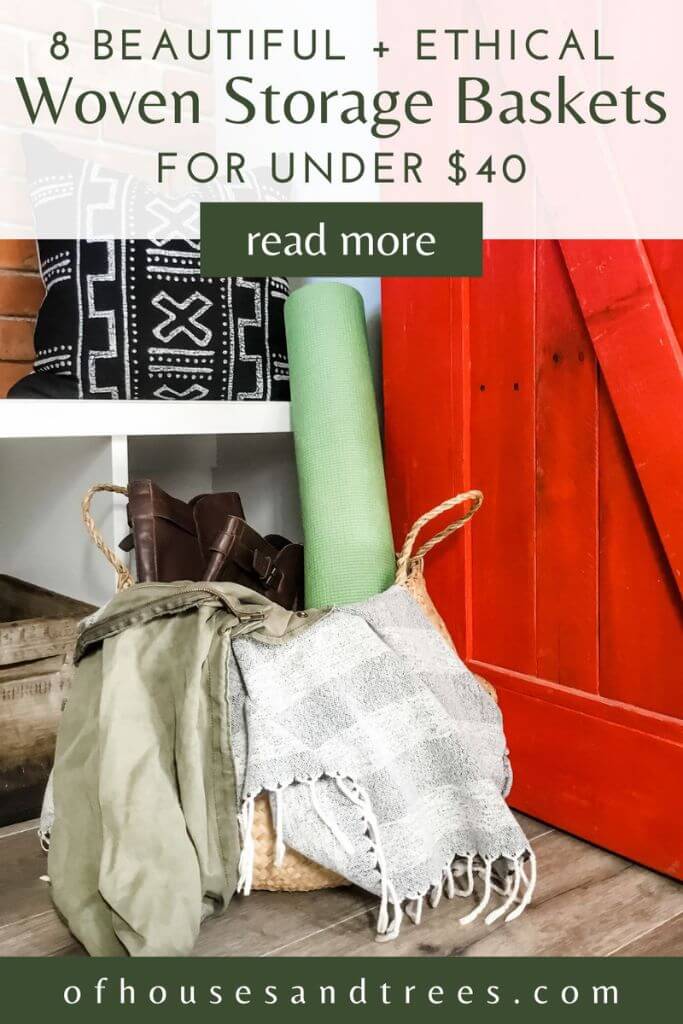 Posted on August 3, 2023
Need help choosing eco-conscious furniture and decor for your home? That's what I'm here for!
8 Beautiful and Ethical Woven Storage Baskets for Under $40