On the lookout for more ideas to green your home? Here are six ways to incorporate recycled decor and furniture into your interior spaces!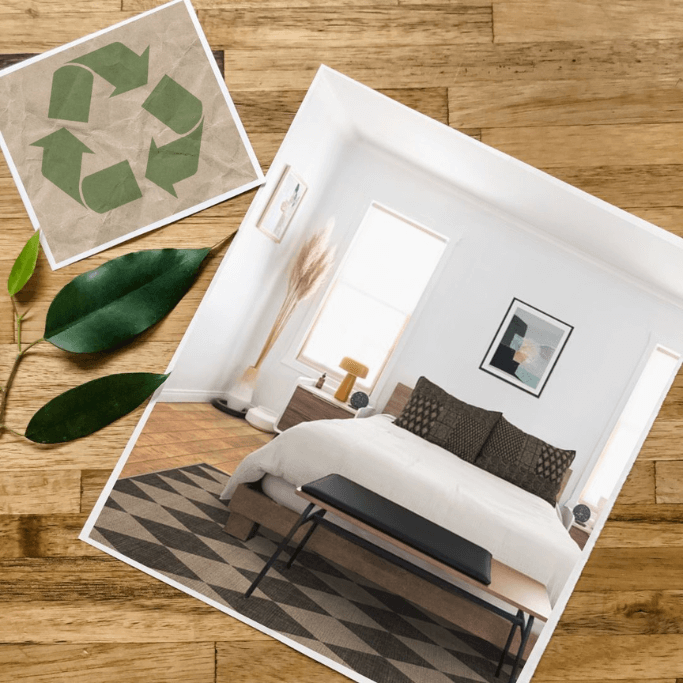 There are so many ways you can live more sustainably. But one of the best ways, in my opinion, is to be as conscious as possible with the items you bring into your home. Recycling is so much more than tossing a water bottle into the blue bin. Just like sustainability, recycling is a lifestyle that can touch every corner of your home, infusing it with warmth and a sense of purpose.
For the most part I'm going to be talking about decor and furniture made from recycled materials, meaning they are still technically new. Of course, buying things that are secondhand is another way to give old things a new life. But since I've already written about the benefits of thrifting in several past posts, I wanted to focus primarily on brand new things from old things. Which, essentially, is the definition of recycling!
Here are six areas of the home, four rooms and two other design features, where you can explore the wonderful world of recycled decor and furniture. First up is one of my favourite rooms in the house – the living room!
Note that this post may contain affiliate links, meaning if you click on a link and make a purchase a small percentage of the sale goes to yours truly. Please know that I strive to only feature eco-conscious products and brands.
Living Room
I've always felt that living rooms are the perfect place to showcase your own personal style and create a sanctuary for yourself, your family and all who visit. One of the reasons I love living rooms so much is they are a great place to display your favourite art pieces. And yes, you can even find art made from recycled materials!
Furniture handmade from recycled wood is a great way to go, especially if you like a more rustic vibe. If you're a crafty person, you can DIY the pieces yourself. Or, you can head on over the Etsy and find a talented artisan who can turn an old palette or some reclaimed wood into a coffee table or a media console.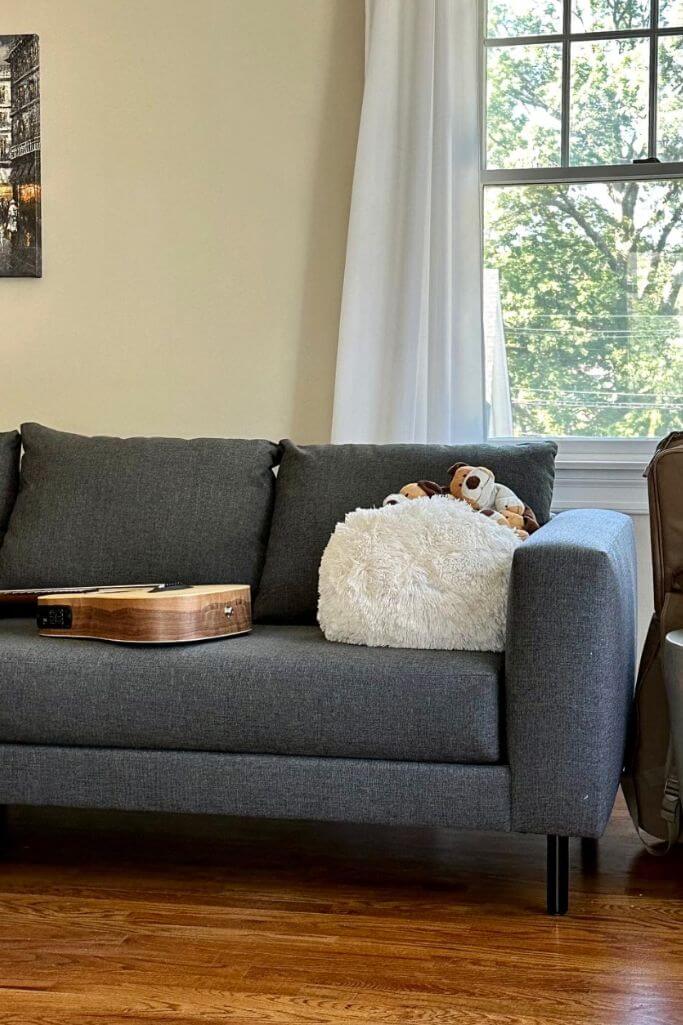 Not a fan of the rustic look? Then check out brands that use recycled materials in the construction of their new, modern furniture pieces. Sabai is a great example of how a sofa or armchair made using recycled fabric can look just as good – if not better – than one made from brand new materials.
Kitchen
The kitchen is probably the best room in the house to bring in recycled products because, let's face it, kitchens have a lot of stuff in them! Just as with the living room, there's always the opportunity to bring in furniture – such as a dining table, chairs and bar stools – made from recycled materials.
However, a lot of the items in a kitchen are both functional AND decorative, such as plates, mugs, tea towels and so on. Dishes made of 100% recycled glass can look so beautiful, no one would know their material is in its second go-around.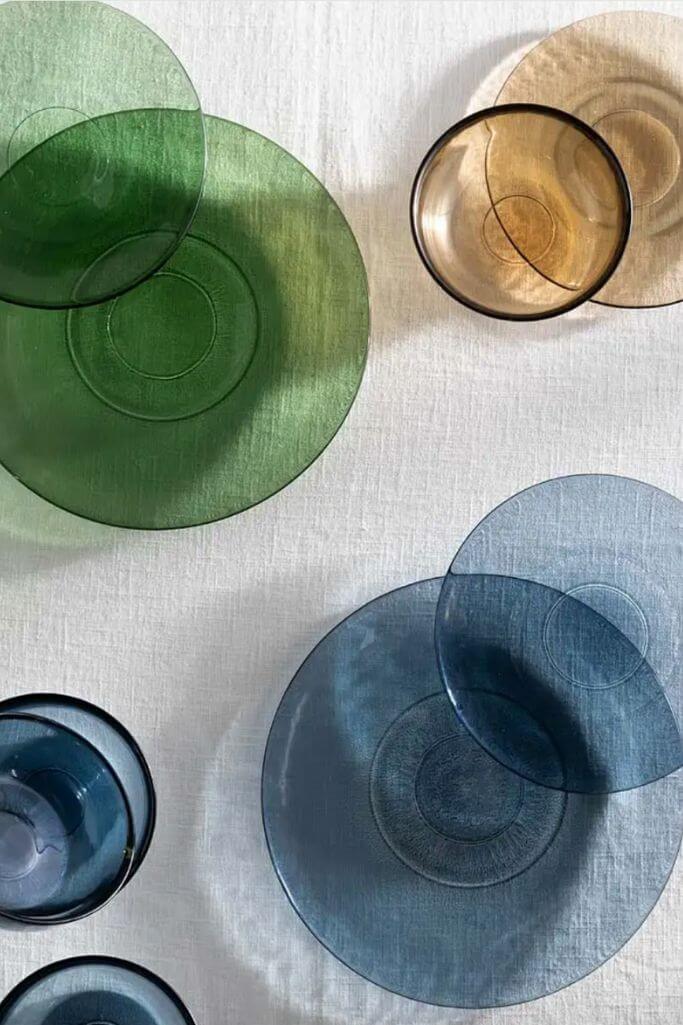 You can also find recycled fabric linens like kitchen towels and dishcloths. And these table runners made from upcycled cotton are the perfect example of how recycled products can still look brand new – and beautiful.
Bathroom
The bathroom is an area of the house where a lot of people automatically think everything in it should be new. But there are still many ways to reuse old items. Even though I had said above I wasn't going to talk much about using secondhand items in this post, I just cannot let a chance to mention my antique clawfoot tub slip by.
Okay, so maybe installing a used toilet isn't for everyone, but pretty much every other fixture in the bathroom is fair game. Secondhand sinks, faucets, lighting and, of course, bathtubs are all excellent choices when creating a sustainable bathroom space.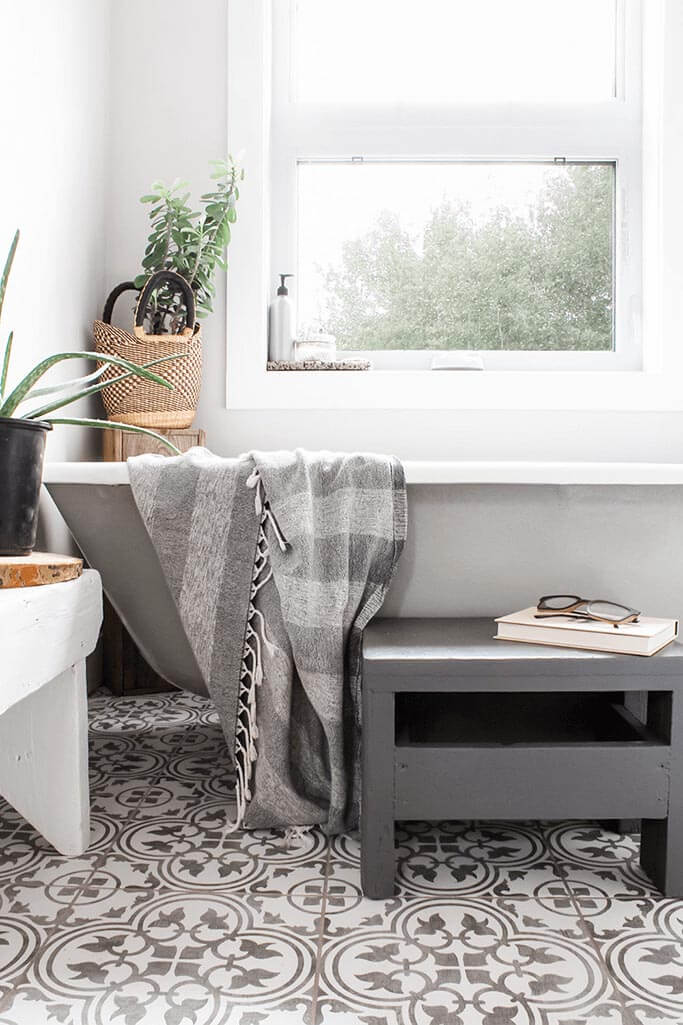 And then there are all the other things that make a bathroom more than just a place to brush and wash. Check out these storage baskets made from recycled newspaper that would be perfect for toiletries. Or buy a soap pump from a small business and convert an old mason jar into an upcycled shampoo dispenser.
Need help choosing eco-conscious furniture and decor for your home? That's what I'm here for!
Bedroom
I've never liked the look of a matching bedroom set. Things in the bedroom should compliment each other instead of match. Curating a bedroom that is as unique as you are is just one more way recycled furniture – and decor – can play a part in your home.
Just as in your living room, furniture crafted from recycled wood is a great choice. Bed frames, nightstands and even storage chests made from reclaimed wood can make a bedroom feel rich with character. And accents like throw pillows made out of old vintage rugs, or bedding made from recycled polyester up the cozy factor.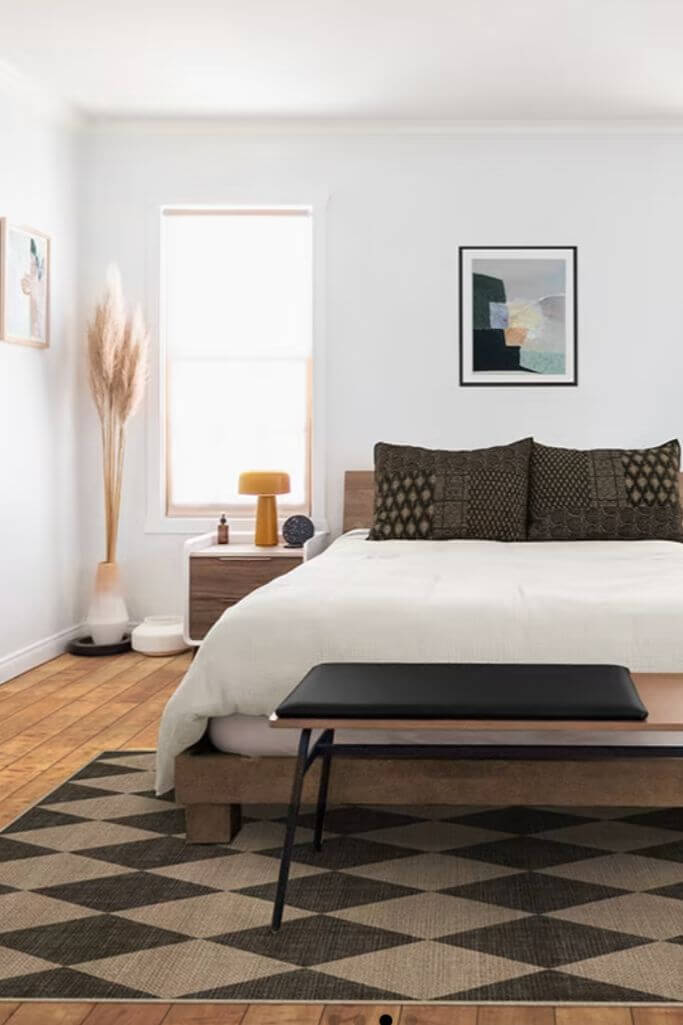 And let's not forget about rugs! I'm not one to put throw rugs down everywhere as I actually like the feeling of my bare feet on a wood (or eco-friendly laminate) floor. But I know a lot of people like to have a cozy rug on the floor of their bedroom. If that sounds like you, then check out these rugs made out of recycled water bottles. I just ordered one for my front entrance. Stay tuned for my thoughts!
Flooring
Now we've gone through most of the house room by room, let's talk about some of the other things that make up a home. Flooring is one of those items that you need to really consider before having it installed as it's not something you can change easily. It's best to choose a flooring that is durable and isn't in overly trendy shades or patterns so you don't end up feeling "meh" about it later. (Unless you absolutely LOVE a shade or pattern that just so happens to be trendy – it happens!)
Currently, LVT (luxury vinyl tile) is a very popular flooring choice, but unfortunately it's not the greenest selection. LVT is made from virgin materials – meaning not recycled. And while many of the manufacturers claim it's eco-friendly because it's recyclable, I feel this falls into greenwashing territory. Just because something is recyclable doesn't mean it's sustainable. (Single-use plastic water bottles are recyclable, after all.)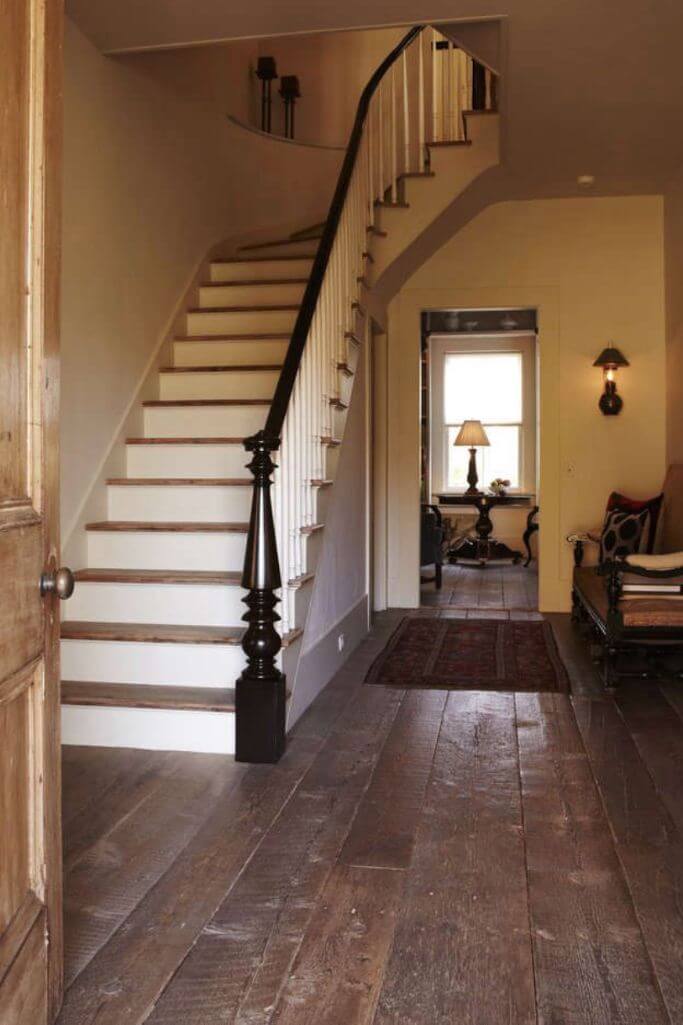 Salvaged wood floors may not be the easiest flooring type to install, but they are an eco-conscious – and gorgeous – choice. They just add SO much character to a home. In the non-wood category, you can find carpet made from recycled plastic bottles as well as all kinds of tile. Glass tile is a great option for showers and backsplashes because they often are made from 100% recycled materials.
Lighting
Lighting is one of the best ways to add personality to any room. Whether it's a large pendant light over the dining table, a statement chandelier in the stairwell or a cute lamp in the corner of the living room, lighting is a way to bring new colours and textures into a space.
And there are so many ways to incorporate recycling into your lighting choices. A woven fishing net turned into a drop light. An antique glass insulator turned into a sconce.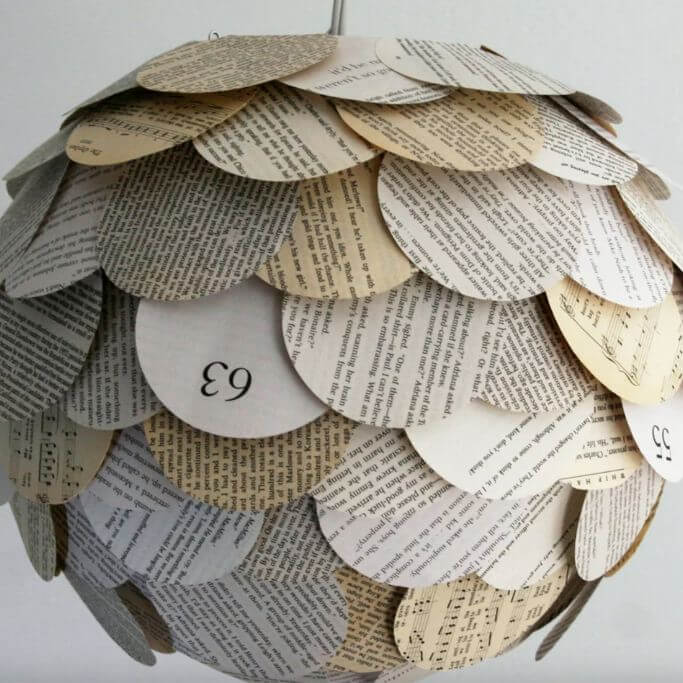 One of my favourite DIY ideas for recycled lighting is a chandelier made from book pages. If you've been a visitor to Of Houses and Trees for awhile you'll know I'm a proponent for creating items for your home out of books and book pages. As long as it's done respectfully. (Respectfully of the books, of course!)
Are you feeling inspired to either buy or DIY any of these recycled decor, furniture and finishes? I think my favourite is probably the salvaged wood floor, but since we already have laminate flooring made from cork, I guess I'll just have to keep dreaming. Happy recycling everyone!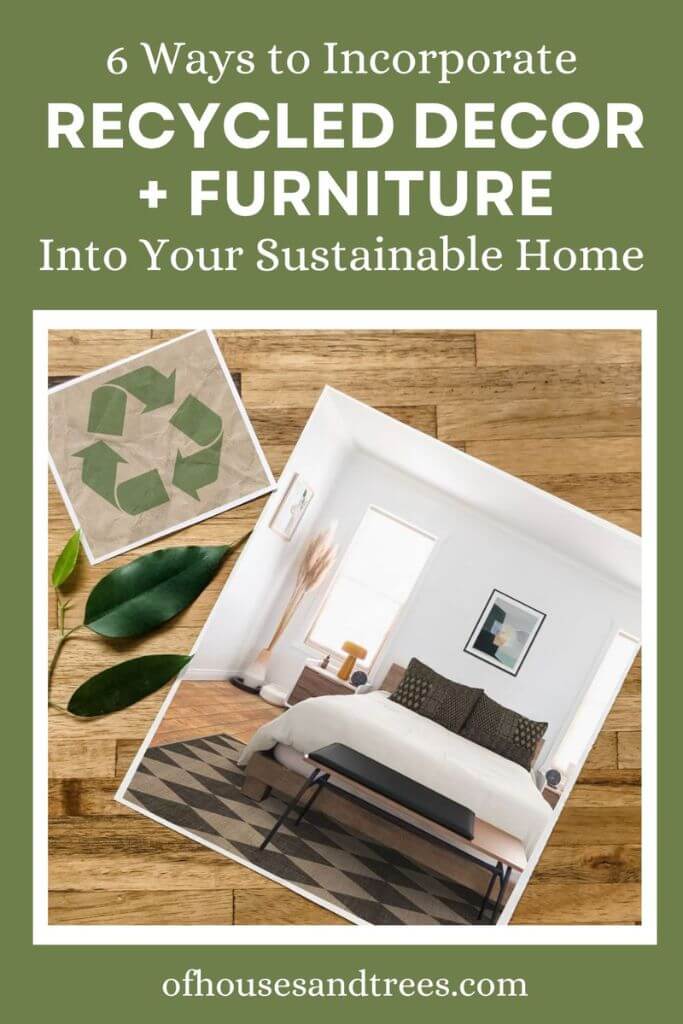 Posted on August 23, 2023
Need help choosing eco-conscious furniture and decor for your home? That's what I'm here for!
6 Ways to Incorporate Recycled Decor and Furniture Into Your Sustainable Home