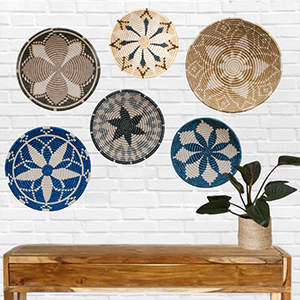 Decorating with baskets on the wall is a great way to add texture and color to decor styles like boho, coastal – even minimalist!
You know those images on Pinterest and Instagram featuring homes with stunning displays of woven baskets for wall art?
Wish you could create something similar in your home, but aren't sure where to start?
Start here!
I wanted to make it super simple for anyone thinking of adding woven wall decor to their home. Showing it's actually really easy to purchase and arrange sustainably and ethically-made baskets – creating your very own customized wall basket set.
I wanted to make it so easy, in fact, I've created three separate decorative basket wall ideas for this post. I'm hoping the following inspiration will help add woven wall baskets to your home with confidence and ease.
Note that this post may contain affiliate links, meaning if you click on a link and make a purchase a small percentage of the sale goes to yours truly. Please know that I strive to only feature eco-conscious products and brands.
Why Decorating with Baskets on the Wall Can Be a Good Thing
Aside from the beauty-factor, there's another reason to use baskets as wall art – namely, the baskets I've selected for this post. Each and everyone is from KAZI, an amazing brand that's part of the organization All Across Africa, which connects talented African artisans with woven-goods-loving individuals across the globe.
Read more about KAZI's inspiring initiatives here.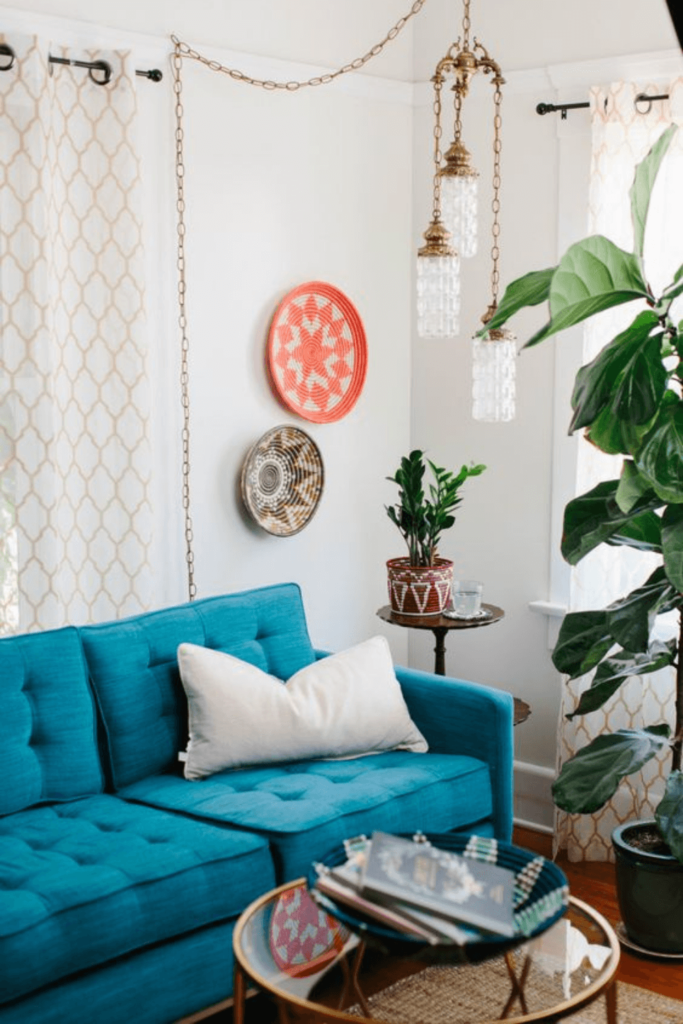 You can purchase all of the baskets featured in this post directly from the KAZI website. But if you're looking to add a variety of sustainable and ethical products to your order – like rugs, blankets, even clothing! – then consider purchasing KAZI's woven goods via Made Trade. (And because I'm an affiliate of Made Trade, I get a small percentage of the sales I generate. Thank you for your support!)
Now, without further ado, it's basket time!
How to Create a

Boho Basket Wall

A boho home is the perfect setting for woven basket wall decor. It's rare that you come across an image of a bohemian-styled space that doesn't feature baskets hanging on the wall.

This entryway by Lisa Leonard illustrates how to curate a boho wall basket set beautifully. The contrasting, yet complimentary colors and patterns. The seemingly carefree arrangement. Plus that guitar reflected in the mirror – love, love, love it.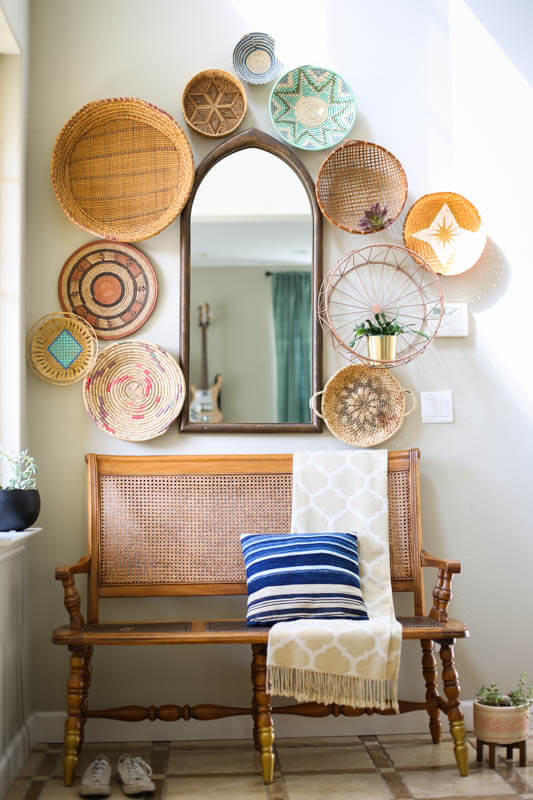 Mix Colorful Basket Wall Decor with Neutrals
You can do boho pretty much anyway you want – that's kind of the point. But if you want a somewhat unified look that also says "I'm not trying too hard," pick one or two colors and then choose woven wall decor that includes those colors in some way – even if it's just a dab.
Curate a Boho Basket Wall Set
with Plenty of Patterns
Play with patterns. Things don't necessarily have to "match." But again, an easy way to unify patterns is to choose similar colorways.
Vary Sizes to Create that

Eclectic Boho Woven Basket Wall Decor Vibe

Select baskets in a variety of sizes, which will help create an eclectic, carefree vibe. This is a good opportunity to add a large neutral basket into the mix.
Boho
Layout Inspiration
Let your colorful woven wall baskets get nice and cozy with each other. It should look as if little thought was put into arranging them – even though that usually isn't the case!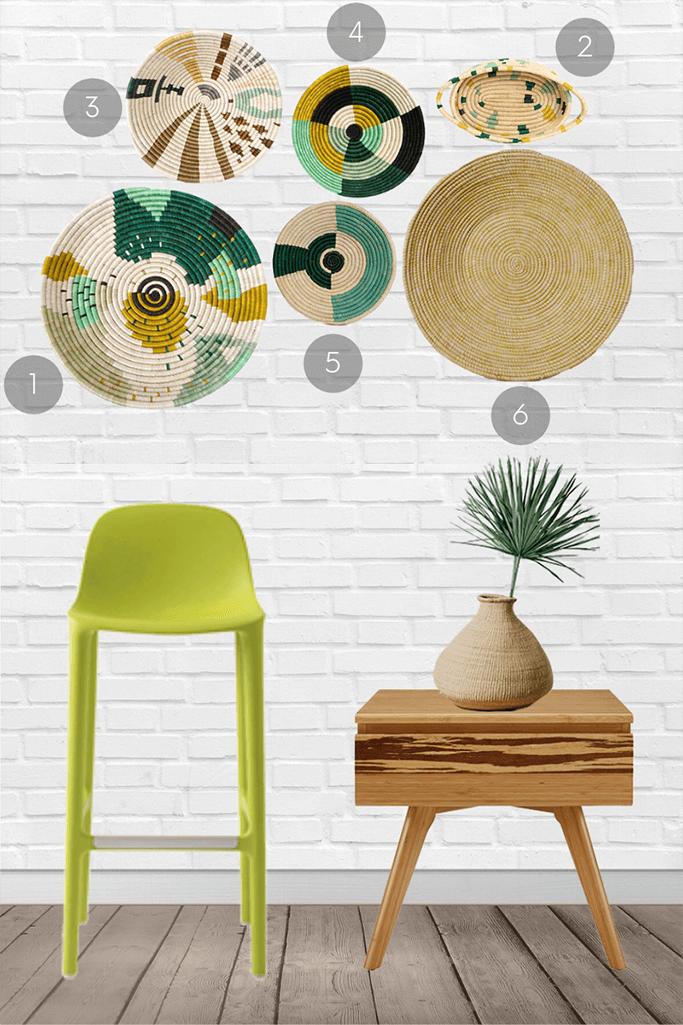 Get the Look
Interested in any of the other furniture and decor items featured in the above boho example? Here they are!
Need help choosing eco-conscious furniture and decor for your home? That's what I'm here for!
How to Create a Coastal Basket Wall
Similar to bohemian-styled spaces, coastal rooms and homes have a laid back, fuss-free feel to them. However, coastal spaces tend to be slightly more polished and also draw color and pattern inspiration from – of course – the coast!
Green With Decor does a lovely job of adding baskets for wall decor to her coastal dining room. Kudos for creativity and having her baskets wrap around the corner.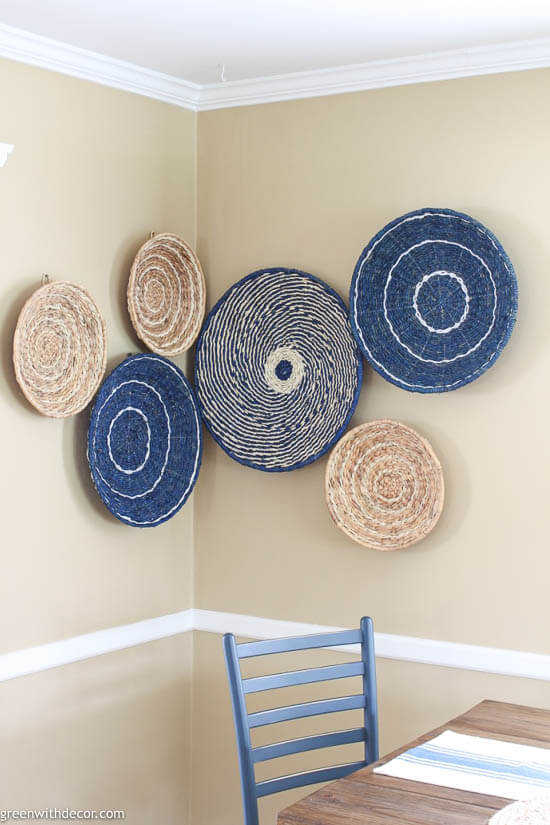 There's Nothing Wrong with Having the Blues When it Comes to Coastal Wall Decor
It's all about the beach, baby. So choose baskets that are sand-colored and in shades of blue.
Choose Coastal Wall Baskets with Ocean-Inspired Patterns
Think swirls and swooshes, or choose baskets with graphics that remind you of seaweed or starfish.
Size Matters When Selecting Baskets as Wall Art in a Coastal Space
Stick with medium-sized to bigger-sized woven wall baskets, which will echo the larger-than-life spirit of the sea.
Coastal Layout Inspiration
Keep baskets relatively close, but also allow for a little breathing space. Coastal style should feel open and airy, not cluttered.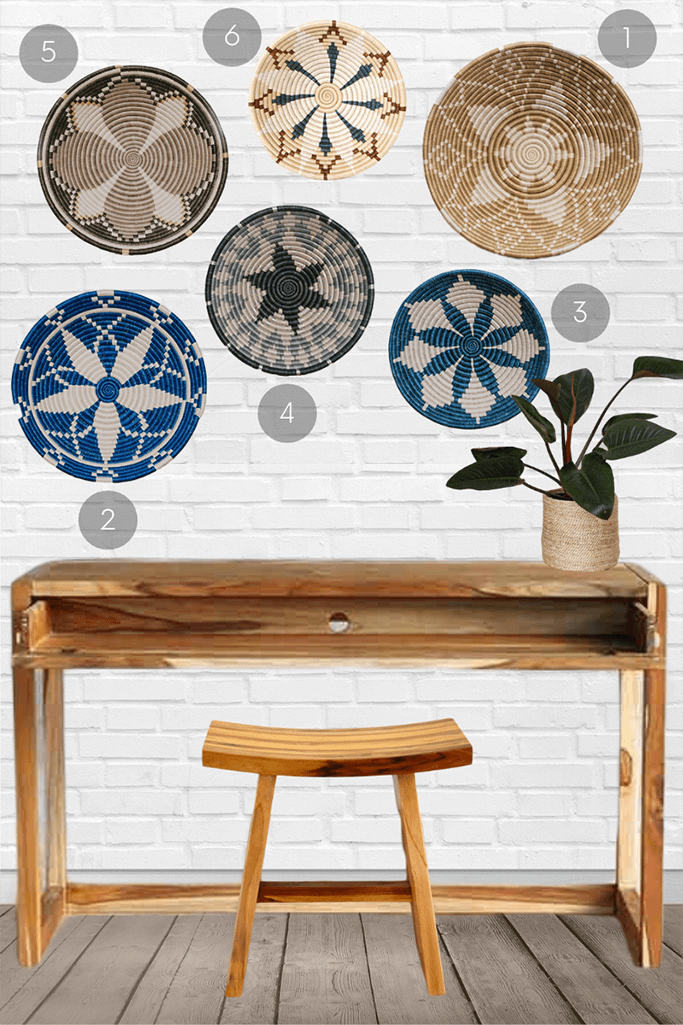 Get the Look
Interested in any of the other furniture and decor items featured in the above coastal example? Here they are!
How to Create a Minimalist Basket Wall
Minimalism and a wall filled with baskets may not seem to go together – but they can! It's all about selecting colors, patterns and – most importantly – a layout that matches the sentiment of a minimalist home.
One way to do baskets minimalist-style is to use only one basket for wall decor like in this space from Crate and Barrel.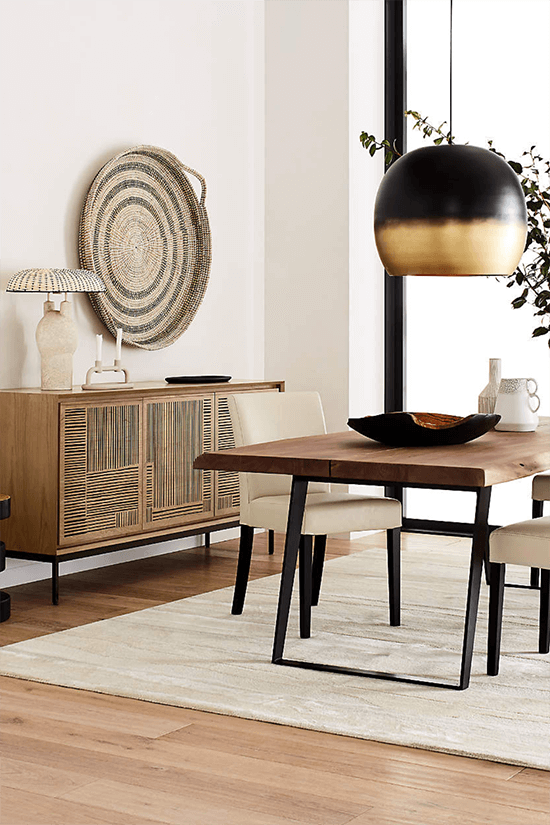 A Minimalist Space Loves Its Neutral Wall Decor
What is it about a minimalist home that just screams black and off-white? Well… perhaps it's all the black and off-white? Thankfully, baskets for wall decor come in every color. And non-color.
Stick with Geometric Shapes for that Minimalistic Edge
Look for baskets with simple lines – triangles, rectangles and circles as opposed to asymmetrical waves or florals.
Keep Size Variations to a Minimum
Either create a feeling of repetition by using wall art baskets that are the same size, or choose baskets in a few different sizes and then space them in order of smallest to largest.
Minimalist Layout Inspiration
The opposite of the comfortably crowded boho-layout. Instead, create a spaced out, symmetrical layout. Striking!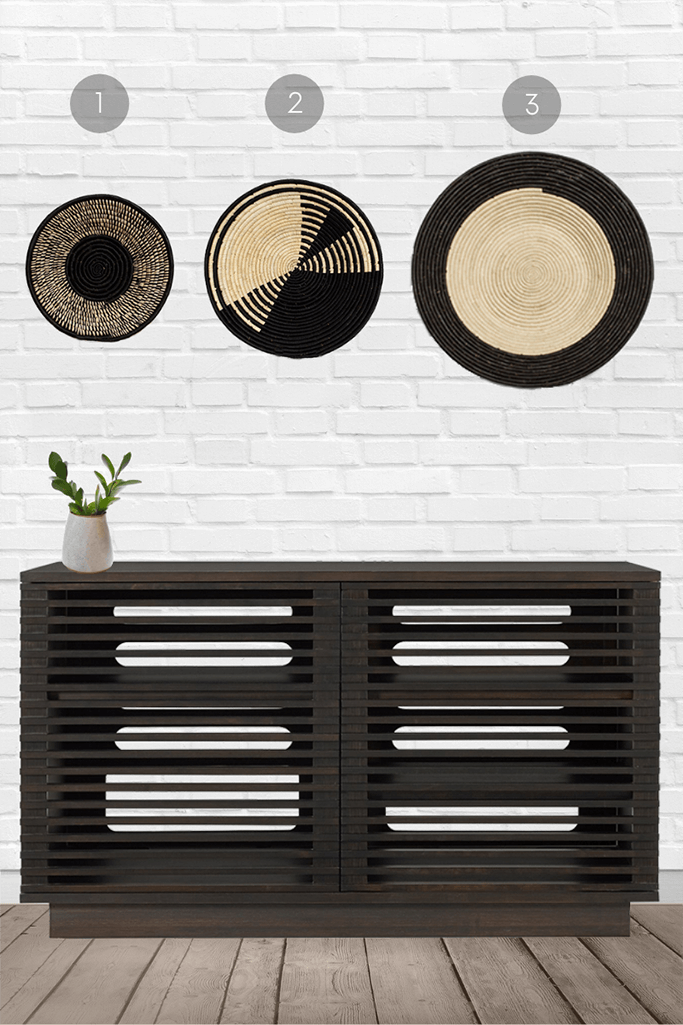 Get the Look
Interested in any of the other furniture and decor items featured in the above minimalist example? Here they are!
5 More Wall Basket Decor Ideas
Can't get enough of the whole decorating with baskets on the wall thing? Here are five more gorgeous examples for you to feast your eyes on!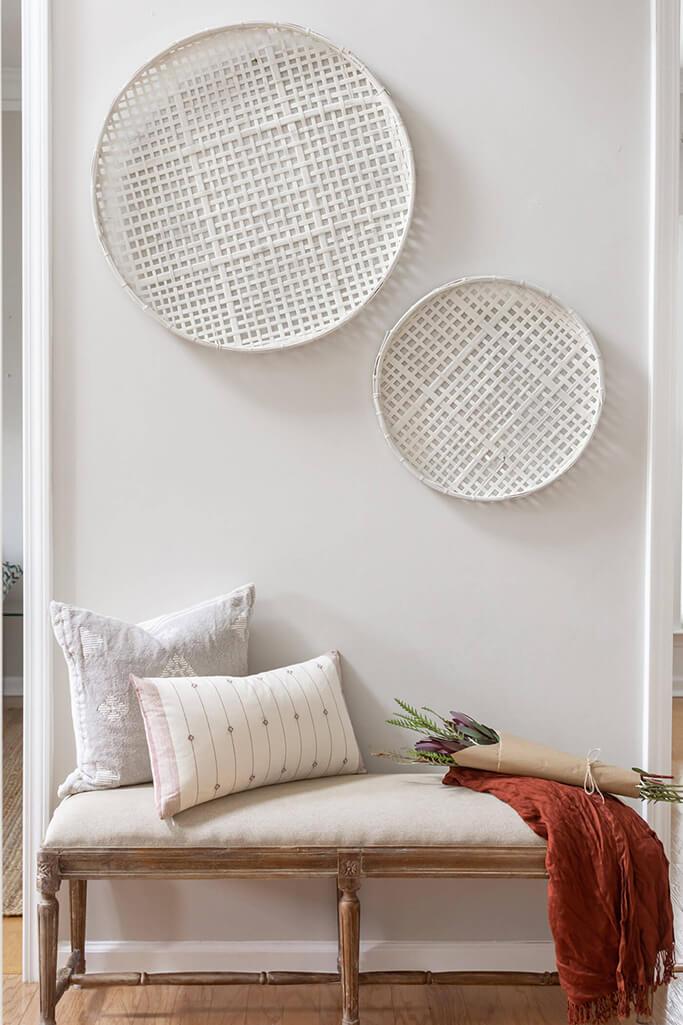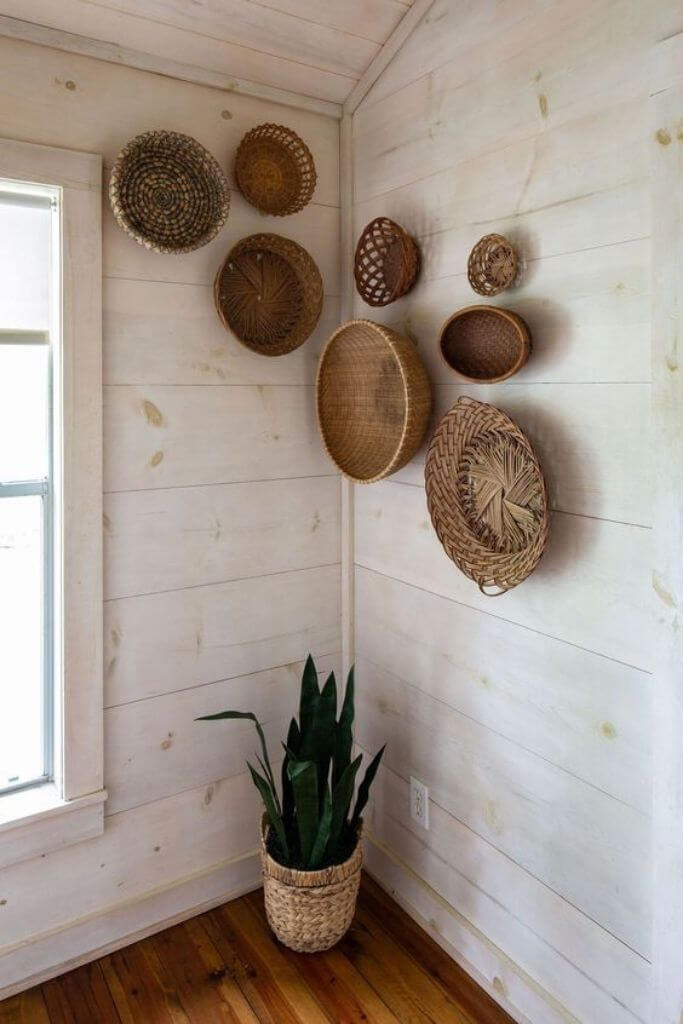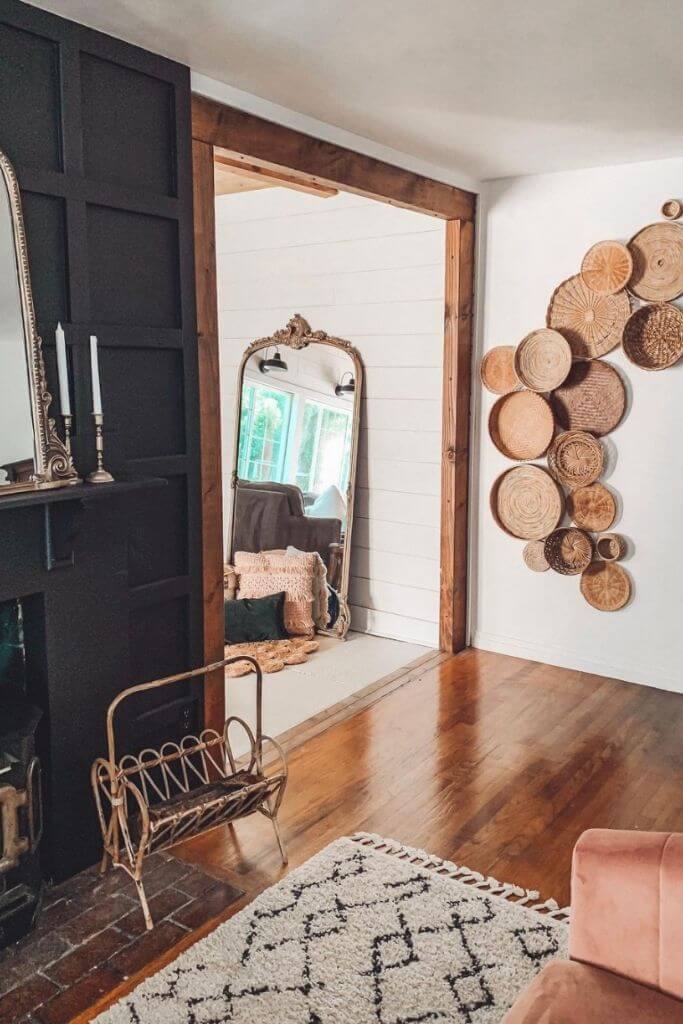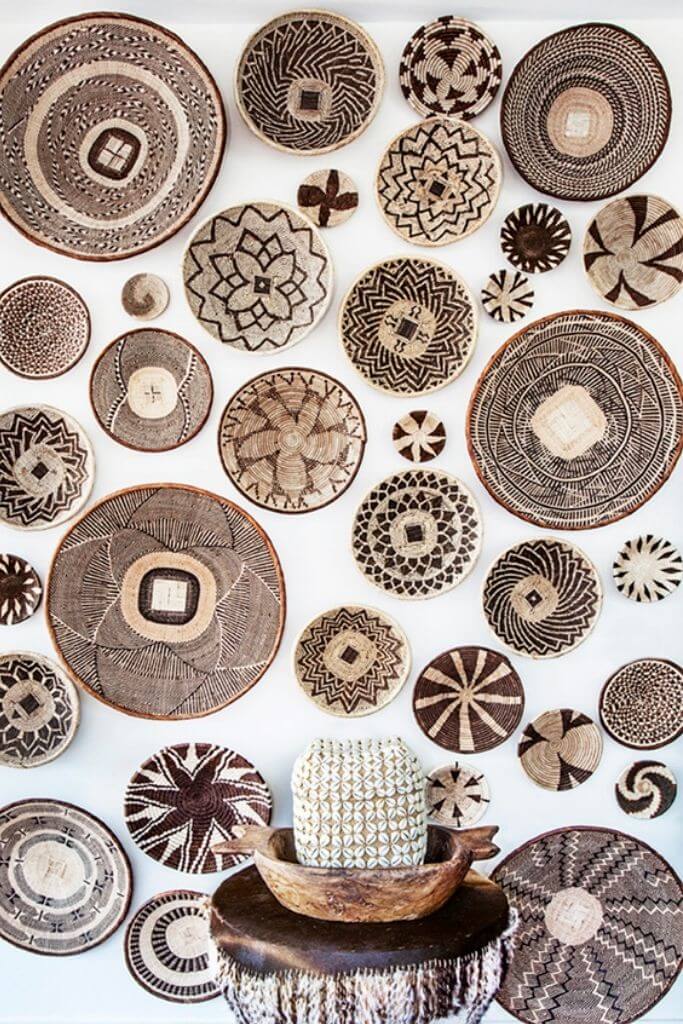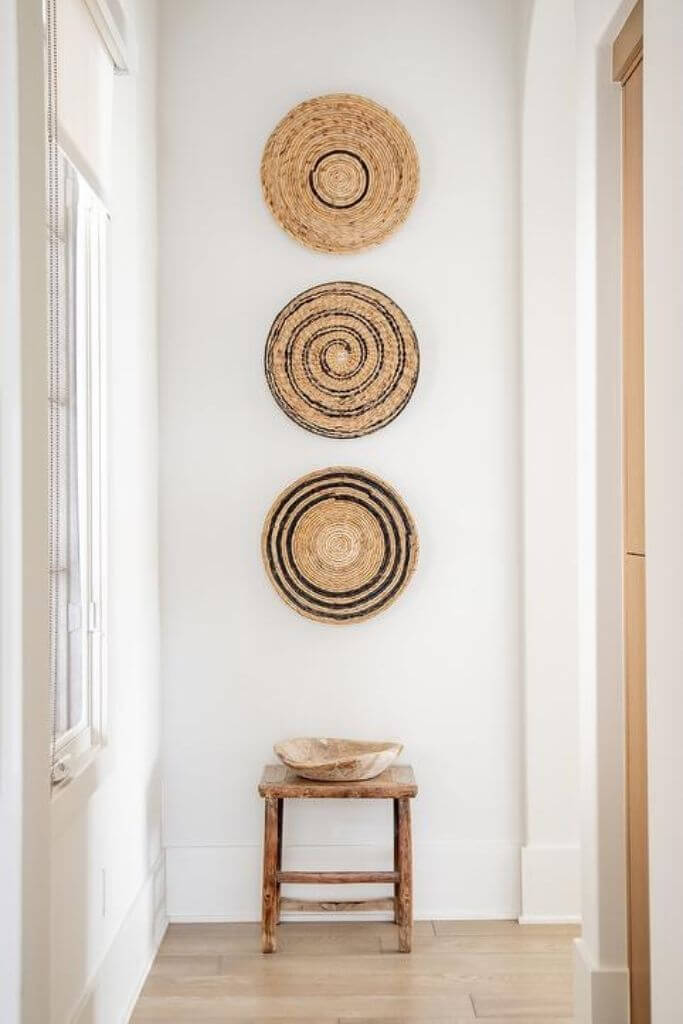 Happy decorating! And if you need help creating a sustainable, potentially basket-filled space you love – that's what I'm here for!
PIN ME!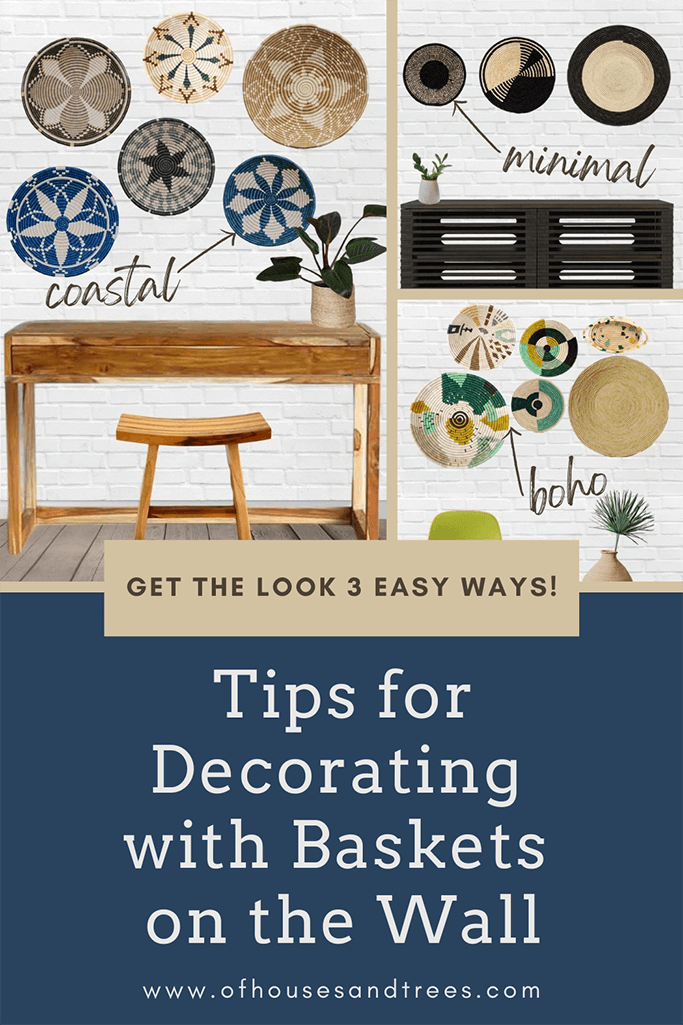 Last Updated April 20, 2022 (Originally Posted June 26, 2020)
Need help choosing eco-conscious furniture and decor for your home? That's what I'm here for!
Tips for Decorating with Baskets on the Wall: 3 Easy Ways to Get the Look!