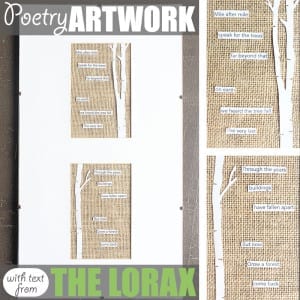 If you love literature as much as you love making creative things for you home then this poetry art project will tickle you pink green. (This is a blog about green living after all!) When I was in university I took a few poetry courses as part of my combined English and creative writing honours degree. One of the assignments – called erasure poetry – really stuck with me and I thought it would be a cool way to create some simple DIY artwork for my newly arranged shelf library.
This project actually combines two different poetry techniques – erasure and cut-up.
They may seem similar but have an important distinction. An erasure poem takes a text and eliminates words to create something new. A cut-up poem cuts out words and phrases from an existing text and rearranges them to create something new. The main difference, at least in my opinion, is that an erasure poem stays true to the text's original order, while the creator of a cut-up poem can rearrange the words and phrases in whatever order they wish.
If you want to create your own poetry art project you of course can do it any way you choose. But since I'm such a literary nerd I decided it was important to follow the "rules" of erasure poetry when creating this poem about – what else – trees! The only adjustment is that I cut out the words of my erasure poem so it has the fragmented look of a cut-up poem. But the words and phrases still follow the order of the original text, which is Dr Seuss' The Lorax.
When my eldest was two this was her favourite book and I read it to her so often I actually memorized the first section of the book. (The part where you first meet the Once-ler.) I can still recite that section from memory. I love this book for several reasons. Seuss' famous use of silly and unusual language, which has a certain poignancy in this particular book. (Rippulous pond. Smogulous smoke. How are these not actual words already?) The way we're introduced to the characters as the story unfolds. But of course I love it most for its message, driven home by the following quote: "UNLESS someone like you cares a whole awful lot, nothing is going to get better. It's not."
Some detractors have said the book hits us too hard over the head with its tree-hugging message. However, I'd say we're at the point where we need to be hit over the head about how our actions impact our planet. Am I right?
Here is my Lorax erasure poem, which I give you full permission to copy from below or download here:
Mile after mile
speak for the trees
far beyond that
on earth
we heard the tree fall
The very last
Through the years
buildings
have fallen apart
But now
Grow a forest
come back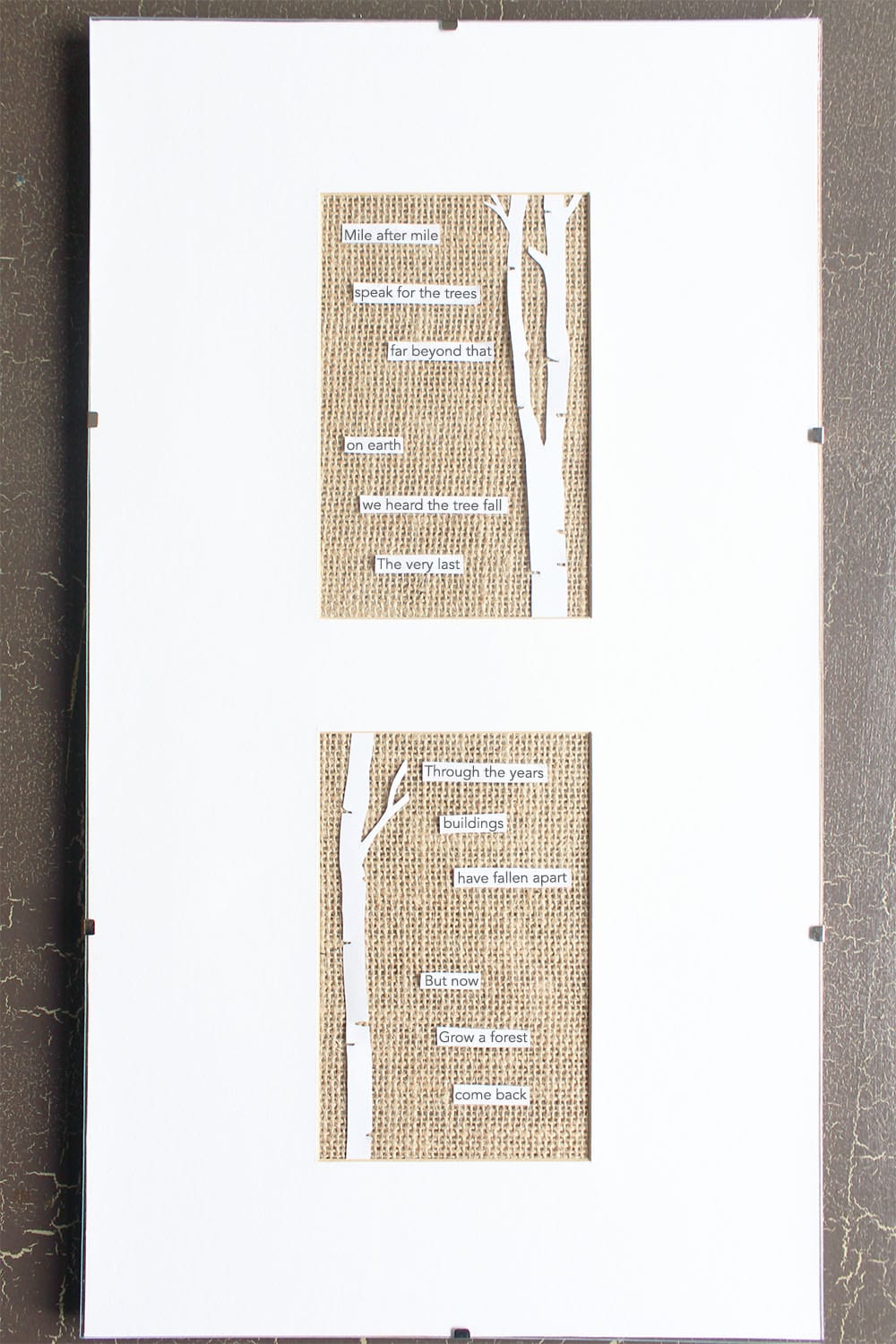 Here are the supplies I used for this poetry art project:
– picture frame (I re-used one I already had, which has space for two separate photos, but that isn't a necessary feature)
– laminated burlap (for the background – fabric or paper will also work)
– white printer paper (preferably recycled or you could use the backside of previously printed on paper like I did – the Lorax would be so proud!)
– printer or access to one
– glue dots or glue stick
– scissors
– ruler
– pencil
– scotch tape
Instructions:
1. Copy the Lorax erasure poem (or your own poem) into a word processing program and choose a font style and size. For this project I used Avenir Book size 14.
2. Print the document and cut out the words and phrases. I just eye-balled it, but you could use a ruler and pencil to draw little boxes around the text if you wish.
3. Measure the frame's photo size and cut the laminated burlap, fabric or background paper just a little bit bigger so it will fit nicely behind the poem. Open the frame and tape your chosen background to the back.
4. If you'd like to add in paper birch trees as I have all I did was google birch tree outline. Once I found a suitable image I printed it off and cut out the trees. (Tip: Flip the trees over when framing them, then you won't see any remaining ink from the outline.)
5. Play around with the arrangement of your poem (and trees) until you find what works best. Then, use the glue stick or glue dots to affix everything to the background.
6. Reassemble the frame and display!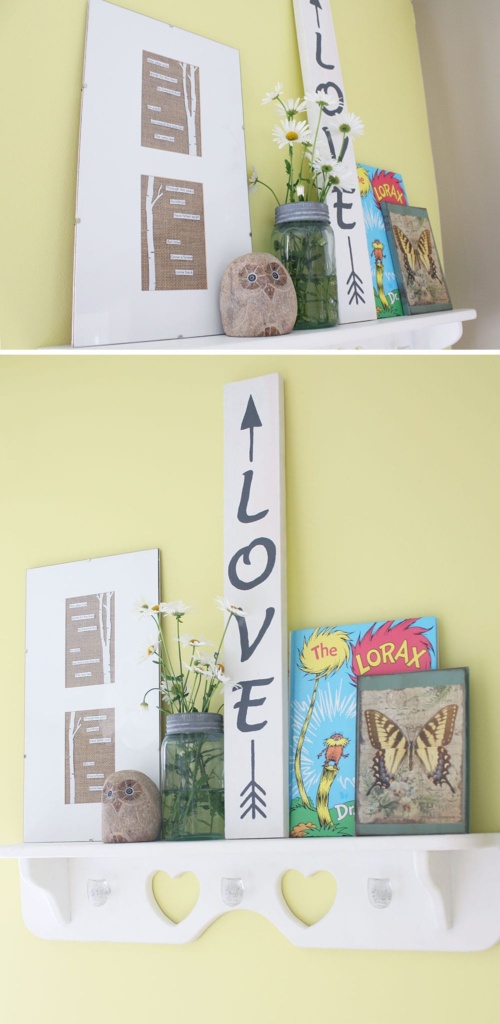 Feel free to use my Lorax erasure poem, create your own poem from the full text or use an entirely different text. You can also create your poem out of many texts, mixing up the words and phrase order as you please. Then share your poetry art with me as I'd love to see it!
Have you ever worked with the erasure or cut-up poetry techniques? Or perhaps something similar? Have you read The Lorax? Do you love it as much as I do or is its message a little too crunchy for you? Let me know in the comments! And don't forget to subscribe for more crafty posts as well as posts on architecture, interior design, DIY projects, sustainability, gardening, home decor and healthy eating.
—
Note that this post contains affiliate links, meaning if you click on a link and make a purchase a small percentage of the sale goes to yours truly. Please know that I only link to products that are good for the earth, good for the soul, or both!
—
PIN ME!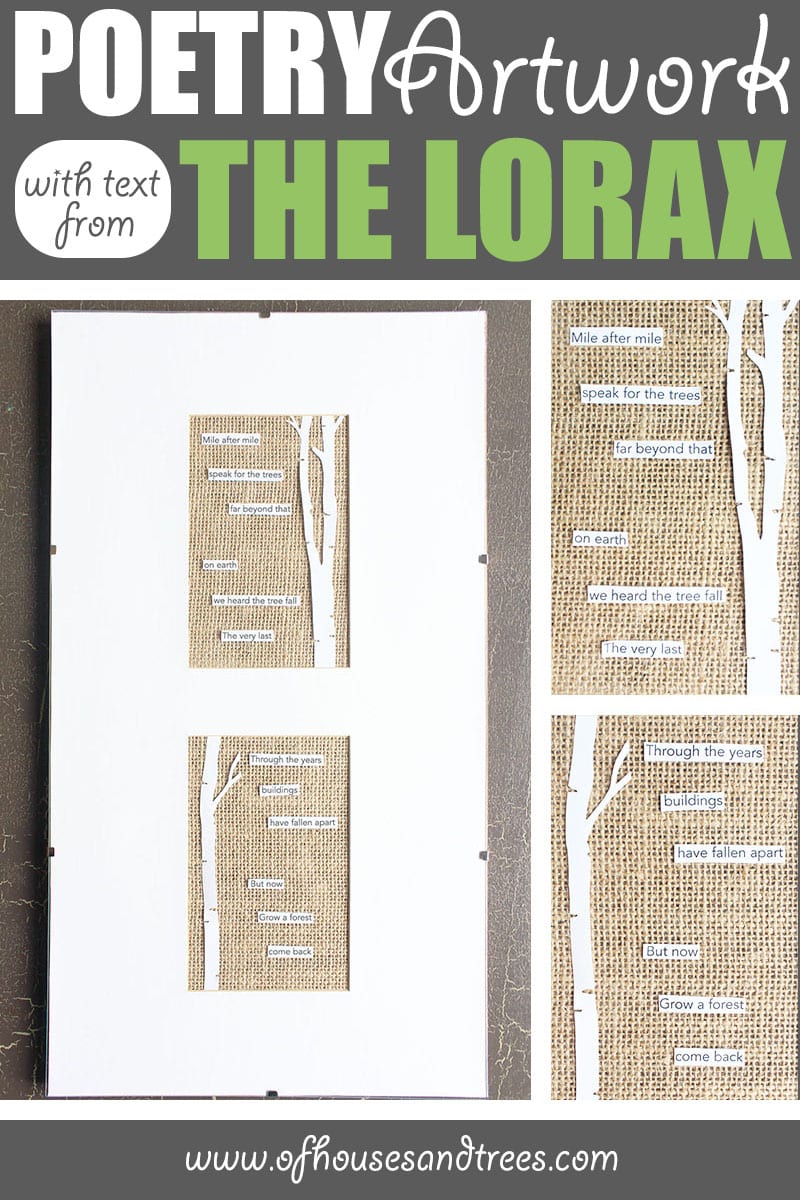 Posted on July 18, 2017
Poetry Artwork with text from The Lorax