Chickpeas are crazy versatile and so is this baked chickpeas recipe. Eat them warm out of the oven, as a cold snack, on salad, pasta or rice!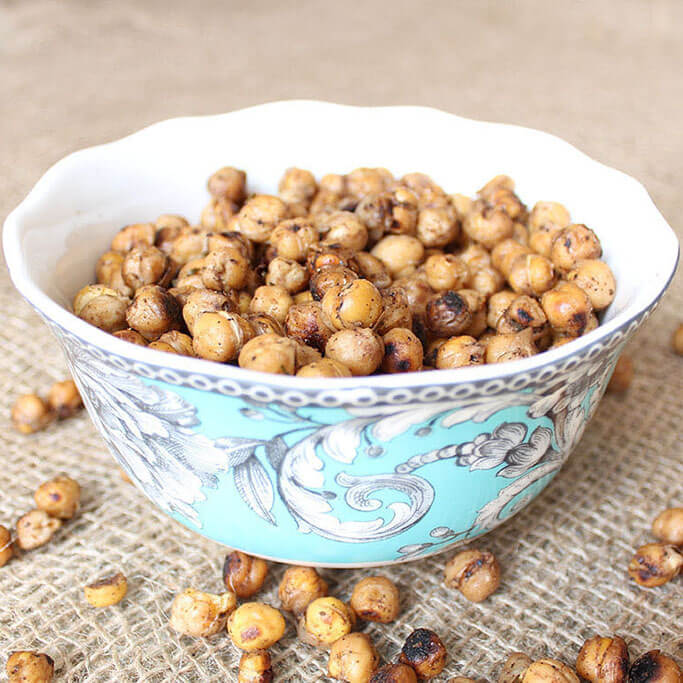 I have a confession to make. Up until a few years ago, I HATED chickpeas. (Also known as garbanzo beans, which was the name by which I knew them during my decades long boycott.) I remember my mom used to buy a five bean salad from the grocery store deli that included chickpeas and I couldn't even choke it down.
I've written before about how I've since conditioned myself to love legumes. And out of this super nutritious food category chickpeas are at the top of my list. Can we just talk about how versatile they are for a second?
Cold in a salad. Check! Blended into hummus? Check! Stir-fried?Check! Baked? Check! Ground up and used as flour? Check! Mashed and mixed with veggies and Vegenaise, then put on bread for a chickpea salad sandwich? Check-a-doodle-do!
And how about how good they are for you?
Are they high in fibre? Why yes they are! Filled with vitamins and minerals such as iron, potassium and vitamin B6? Indeed! Do they lower cholesterol and reduce inflammation? You betcha! Contain 24 percent of your daily required protein in 1 cup? Abso-friggin-lutely!
So, yeah. I love chickpeas. Like, a lot.
Which is why I just had to share my "world famous" baked chickpeas recipe. (Okay, so I'm the only one who refers to them as world famous. What can I say? I'm proud of these tasty little morsels.)
Note that this post may contain affiliate links, meaning if you click on a link and make a purchase a small percentage of the sale goes to yours truly. Please know that I strive to only feature eco-conscious products and brands.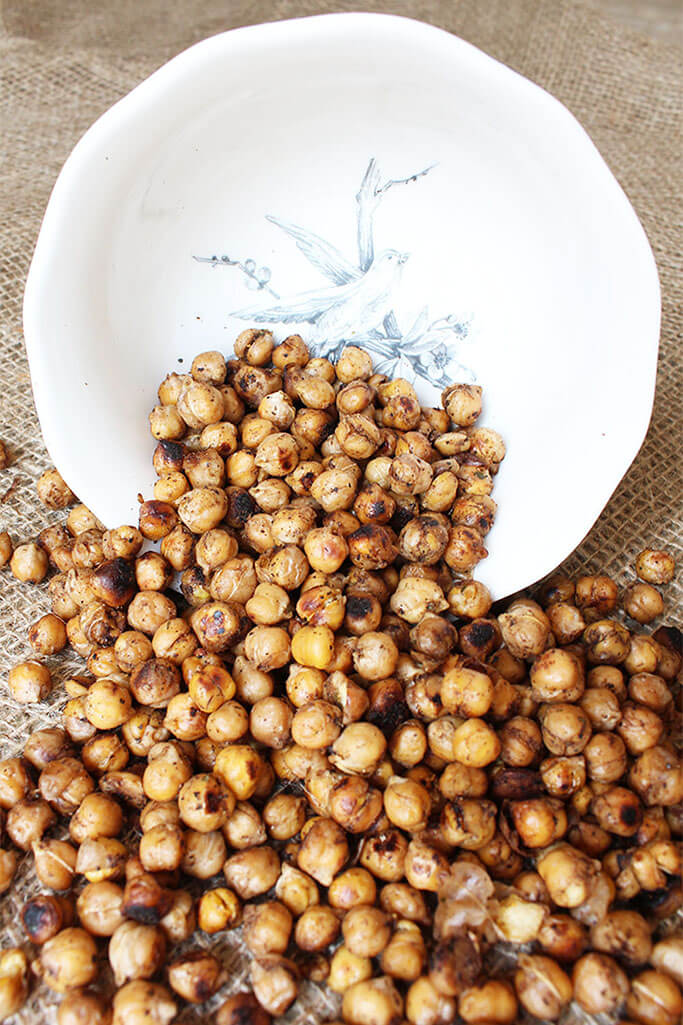 Baked Chickpeas Recipe
Prep Time: 5 minutes / Cook Time: 15-20 minutes / Total Time: 20-25 minutes / Serves: 4
Cuisine: North American / Description: Baked Chickpeas / Dietary Info: Dairy Free, Egg Free, Meat Free, Refined Sugar Free
Ingredients
1 can cooked chickpeas
1 1/2 tbsp extra virgin olive oil (or whatever oil you prefer, you can even add extra yum with a flavoured oil)
1/2 tbsp maple syrup
1 tbsp nutritional yeast
garlic powder to taste
paprika to taste
salt and pepper to taste
Directions
1. Pre-heat the oven to 425F.
2. Strain the canned chickpeas, rinse them with cold water and then dry them really well. The more you dry them, the crunchier they'll be. Though I admit I often don't dry them well and they still taste great!
3. Add all ingredients to a container with a lid and shake well. Let sit while oven finishes pre-heating.
4. Transfer the chickpeas to a baking sheet. (If you don't have a silicone baking mat I highly recommend getting one. They help your food brown better, they make cleaning your baking sheet much easier, and they're resuable – unlike parchment paper or tinfoil.)
5. Bake for 15-20 minutes, stirring occasionally. That's it!
Additional Tips
Make a pot of my easy vegan gravy and then drizzle it all over these baked chickpeas – might as well through some masher taters and baked veggies in there too. Ah-yum…
Need help choosing eco-conscious furniture and decor for your home? That's what I'm here for!
Chickpeas – love 'em or hate 'em? If you love them, what's your favourite way to eat them? If you hate them, I can't judge. I've been there. But at least try this recipe and see if I can change your mind. Then comment to help make my self-bestowed "world famous" title become reality.
PIN ME!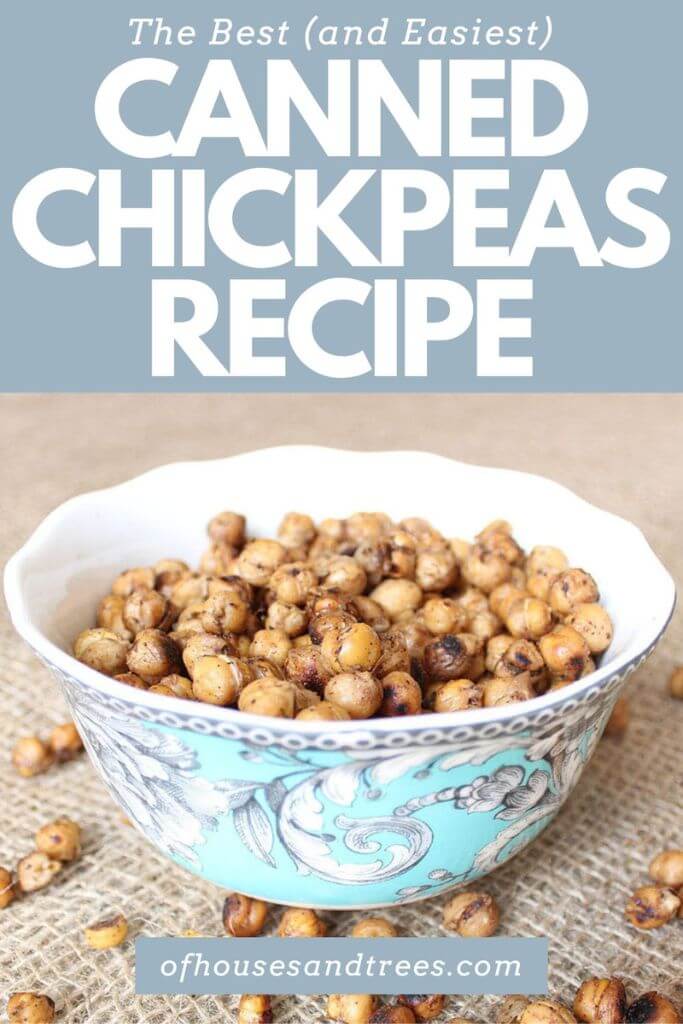 Last Updated on November 15, 2023 (Originally Posted on July 26, 2017)
These Baked Chickpeas are So Good You'll Forget They Came From a Can