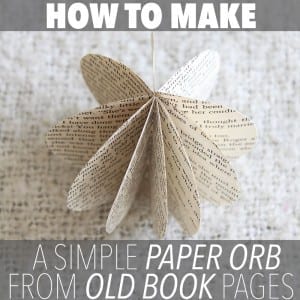 I'm currently redecorating my living room after deciding to keep out some of the nature-inspired decor items I had used at Christmas.
You may recall (depending how closely you pay attention… don't worry, there won't be a quiz) that I also incorporated books into my holiday decor since I have oh-so-many of them.
In fact, I have so many books that one of them dropped off a shelf the other day and smoked me in the face.
Ouch.
---
After I had set my birch logs and twigs out, I realized I needed something else to help fill up the space and add a touch of paper to all that wood. Enter this DIY paper orb made from old book pages!
Note that this post may contain affiliate links, meaning if you click on a link and make a purchase a small percentage of the sale goes to yours truly. Please know that I strive to only feature eco-conscious products and brands.
There are a lot of DIY paper craft projects out there – and a lot of paper orbs in varying degrees of complexity. I wanted to do something super simple, which in truth is so unlike me. But it's spring and spring is a time for new beginnings. (For something much more intricate, check out these paper orbs by artist Christine Kim – gorgeous!)
I do feel compelled to make a disclaimer. Yes. I cut up an old book for this project. (The Golden Fury by Marian Castle to be exact.) Is this blasphemous? Perhaps. Do I feel bad about it? Only slightly. I've decided that four years spent studying literature gives me the right to use a book as craft material every once and awhile. Plus, book pages give these paper orbs so much character. See what I just did there? That's my honours degree hard at work for you folks.
Oh – and one more disclaimer. Do some research and make sure the book isn't worth something before you chop it up. Unless you want to end up with really expensive paper orbs.
Tutorial below. Plus, I made a video for those of you who aren't the reading kind – which would make sense, what with you wanting to cut up an old book and all… I kid!
Supplies
– an old book (If you don't have a bunch hanging around like I do, check out thrift stores, garage sales, used book stores, or ask around. You could also use old newspaper, magazines, flyers – or any other paper product!)
– circular object for tracing
– pencil (Pencils made from sustainably sourced wood here.)
– scissors (Buy scissors made from recycled materials here.)
– glue stick (Buy a plant-based glue stick here.)

Need help choosing eco-conscious furniture and decor for your home? That's what I'm here for!
Directions
1. Choose which pages of the book you want to use. Note that they don't have to be pages that are printed on both sides as the back side won't be showing. Gently pull or cut the pages out.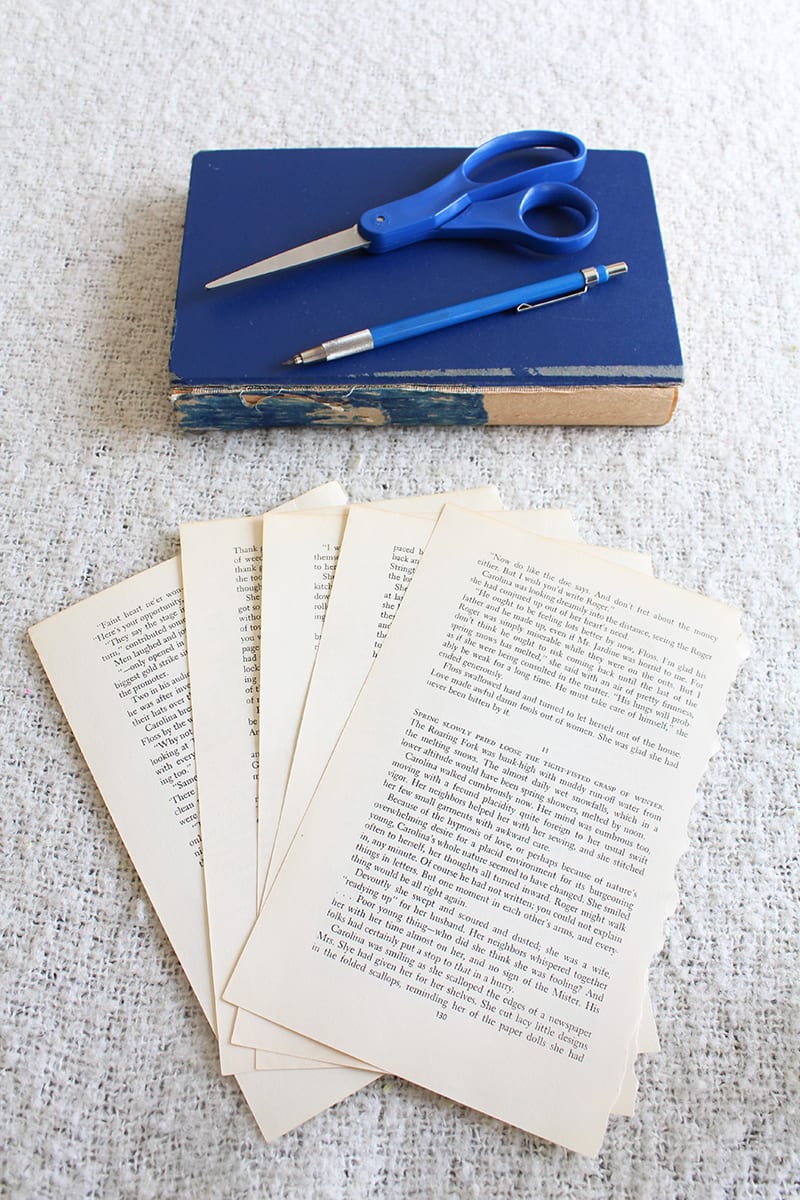 2. Begin tracing circles on the pages. You'll need about 10 per orb, depending how dense you want it to look. Try and fit more than one circle per page so as not to waste too much paper. If you want one big orb, try and find a circular object that is as big as the text on the page so again, you don't end up with a lot of waste. (Consider saving the scraps for a future project. You never know when you're gonna need book page scraps!)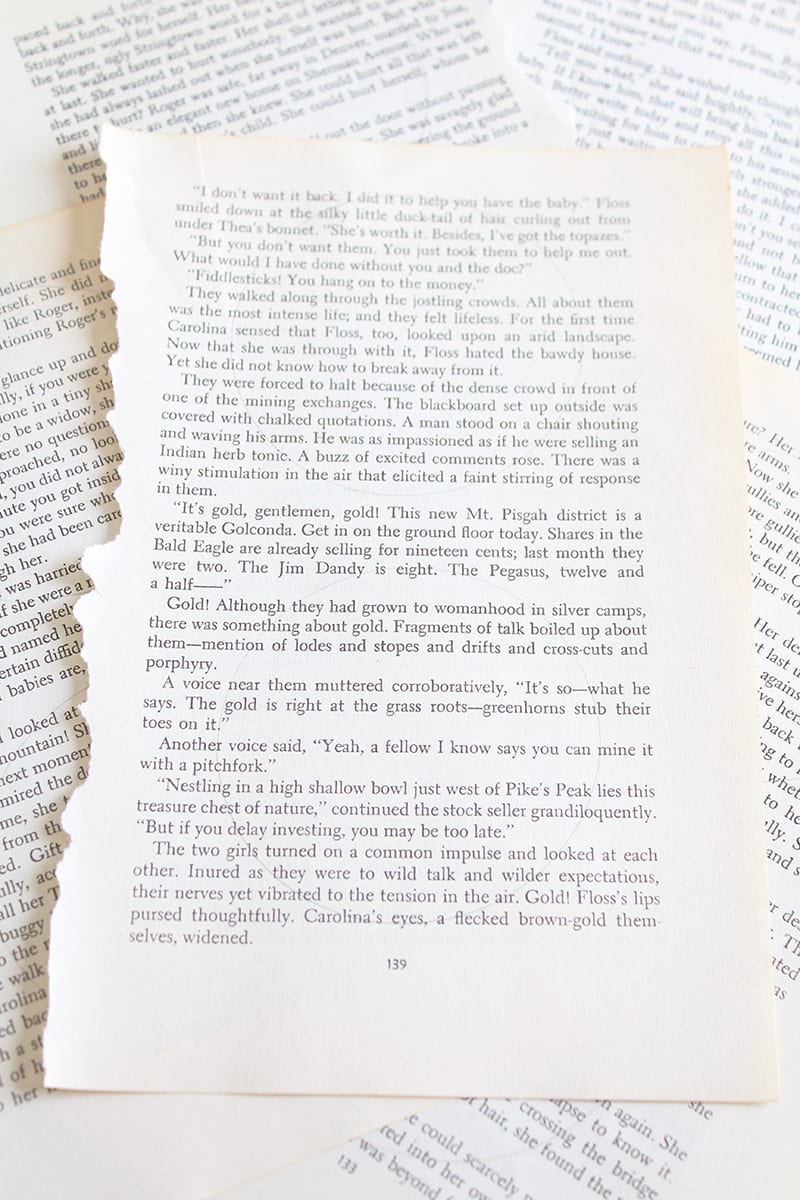 3. Once you're done tracing, cut the circles out and begin folding them in half, keeping the side of the page you want facing out on the inside. (Meaning you won't see it after you've folded the circle.)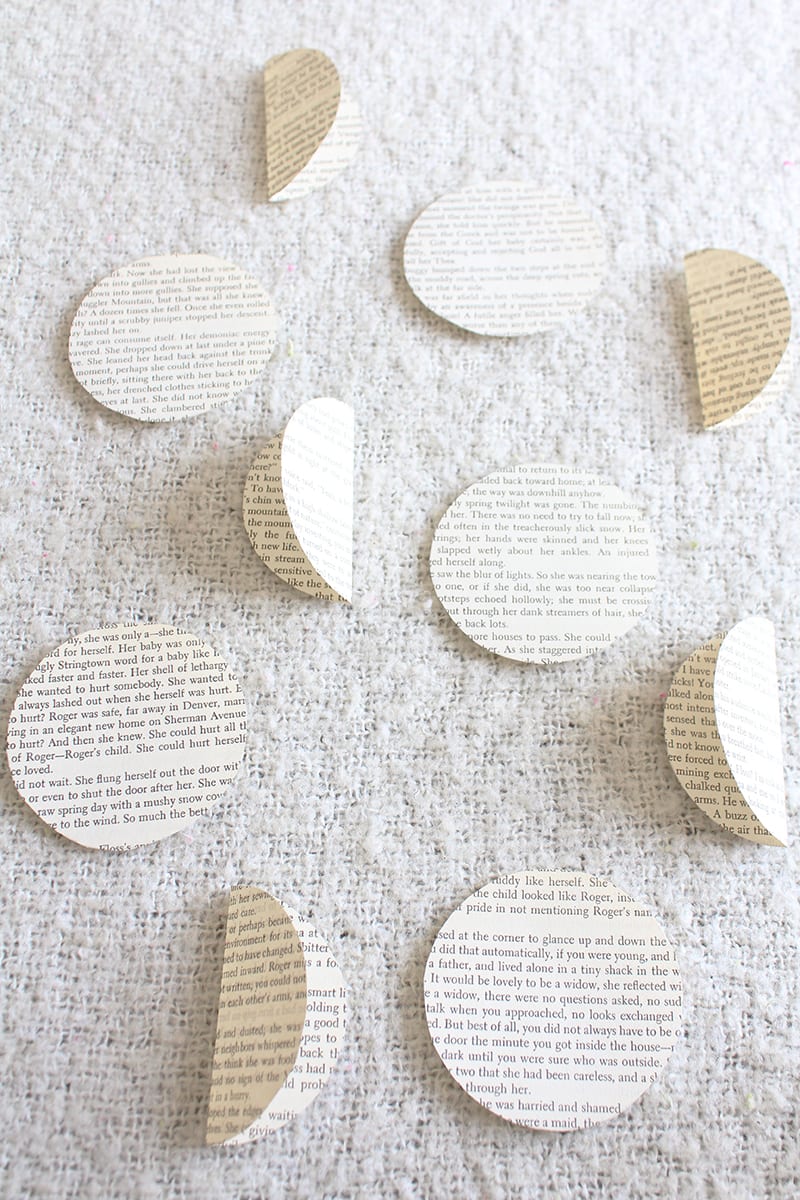 4. Use the glue stick to begin gluing the outsides of the folded circles together, working all the way around until you glue the first folded circle with the last. Tip: If you're planning on setting the orb out on a flat surface, fold the orb flat and snip a tiny sliver off the bottom to give it a straight edge.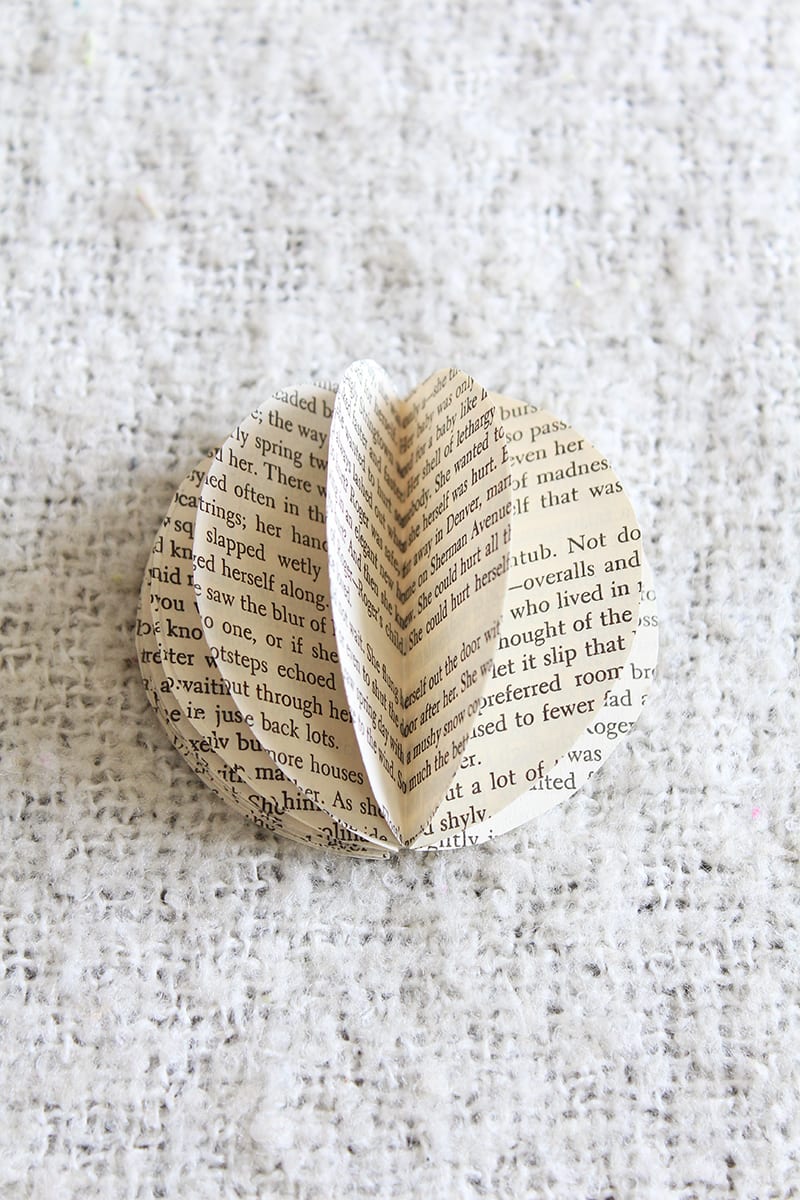 Repeat above steps as many times as you like. You can try making tiny little orbs or nice big ones. You can make a whole bunch the same size and string them together. You can make a whole bunch in various sizes and display them in a bowl, on a shelf or hang them from the ceiling. I'm going to attempt to make a good sized one and then use LED string lights to turn it into a hanging light. I'll let you know how it turns out!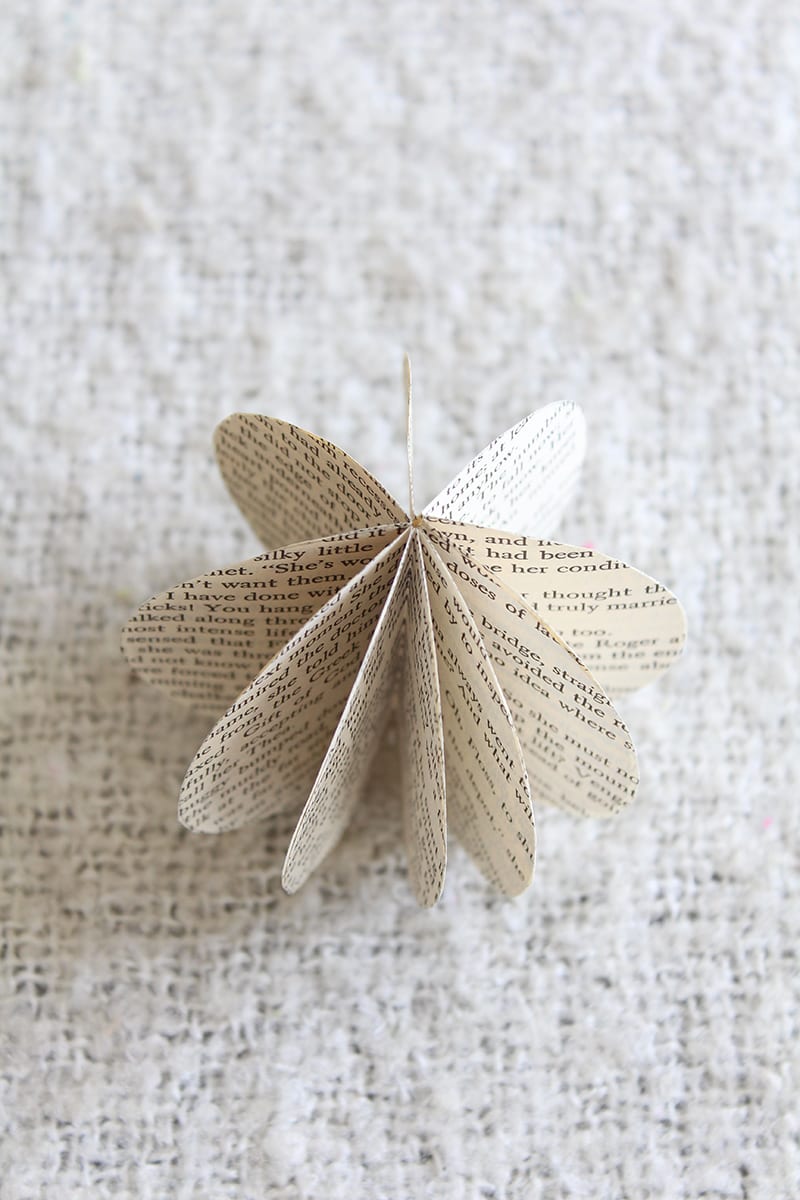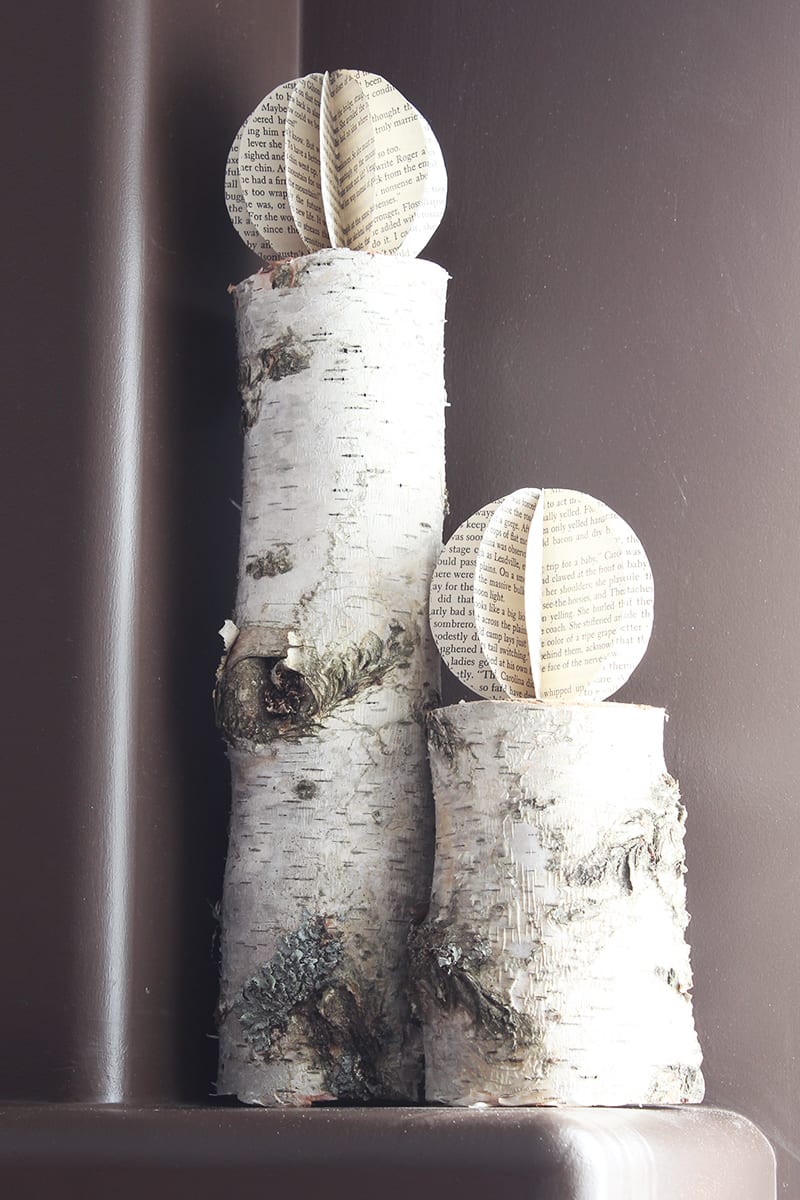 PIN ME!
Posted on April 9, 2018 (Last Updated October 21, 2018)
How To Make a Simple Paper Orb From Old Book Pages