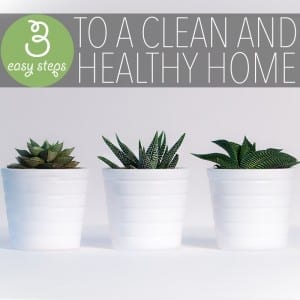 If you're like me, your home is your sanctuary. And depending on what mood I'm in or the amount of chaos going on in my life, I can be a bit of a hermit. Which is why having a clean and healthy home is one of my top priorities in life. (It has nothing to do with my control freak tendencies. Nope. Not at all.) Whether you want your home to be a happy haven from the outside world, you want to protect your family from harmful chemicals and materials, or you want to do your part greening our planet – these are all great reasons to follow the below three healthy home tips!
Toss the Chemical Cleaners
I've said it before and I'll say it again and again – there really is no need for chemical cleaners! I get that people want to make sure they scrub all the germs away and sometimes bleaches and solvents seem to be the only products that will do the job, but that actually is not true. Natural cleaners, either store-bought or homemade, are just as effective as chemical cleaners and don't come with hazards such as respiratory irritation, chemical burns and long-term chronic illness.
If you're still unsure if natural cleaners like vinegar and baking soda will do the job, just give them a try. And remember – the belief that we need a million different products to properly clean our homes is a myth sold to us by the cleaning product industry. They want us to buy their stuff, regardless of the health effects. People refusing to buy harmful products will eventually lead to change until one day, they won't even be made anymore. (That's my hope anyway!)
Outfit Your Home with Natural Materials
Did you know formaldehyde, a carcinogenic chemical, can be found in building materials such as OSB, plywood, MDF and particleboard? (As someone who is soon to be building a new house, you could say I'm a bit concerned.) Formaldehyde is also used to treat bedding, upholstered furniture, curtains and can be found on furniture – and baby cribs! – made from manufactured wood. And formaldehyde is just one of hundreds of harmful chemicals in your home.
But don't freak out. Now that you know about these toxins, be mindful of the items you bring in. Avoid bedding made from polyester or cotton blends and try organic cotton or bamboo sheets instead. Watch out for upholstered furniture that's wrinkle-proof and water-resistant as they tend to be treated with harmful chemicals. As for furniture, new furniture releases the highest amounts of formaldehyde. The solution? Try and buy vintage and secondhand pieces instead!
Improve Air Quality with Sunshine, Fresh Air – and Plants!
Not only is a sunny room a happy place to be (anyone else ever get caught in a sunbeam… or is that just me?), but it's also a healthier place thanks to the bacteria-demolishing properties of sunlight. Studies have shown that any bacteria within eight feet of low intensity UV light can be killed in 10 minutes. Now, that beats a bottle of cleaning solution with a sun painted on it any day.
It's also recommended you open your windows at least once a day for 5-10 minutes. If you live in a part of the world where winter weather gets really, really cold like I do this is not the most desirable notion. Enter air-filtering plants! Many plants improve indoor air quality while also providing us with something green to look at year-round. (Which is another health benefit!) A few air-purifying plants are aloe vera, English ivy and bamboo palm. Go here to learn more about these purifying plants, plus 14 more!
Don't forget to subscribe to have posts on sustainable design, sustainable living, sustainable eating – sustainable everything – delivered to your inbox!
—
Note that this post contains affiliate links, meaning if you click on a link and make a purchase a small percentage of the sale goes to yours truly. Please know that I only link to products that are good for the earth, good for the soul, or both!
—
PIN ME!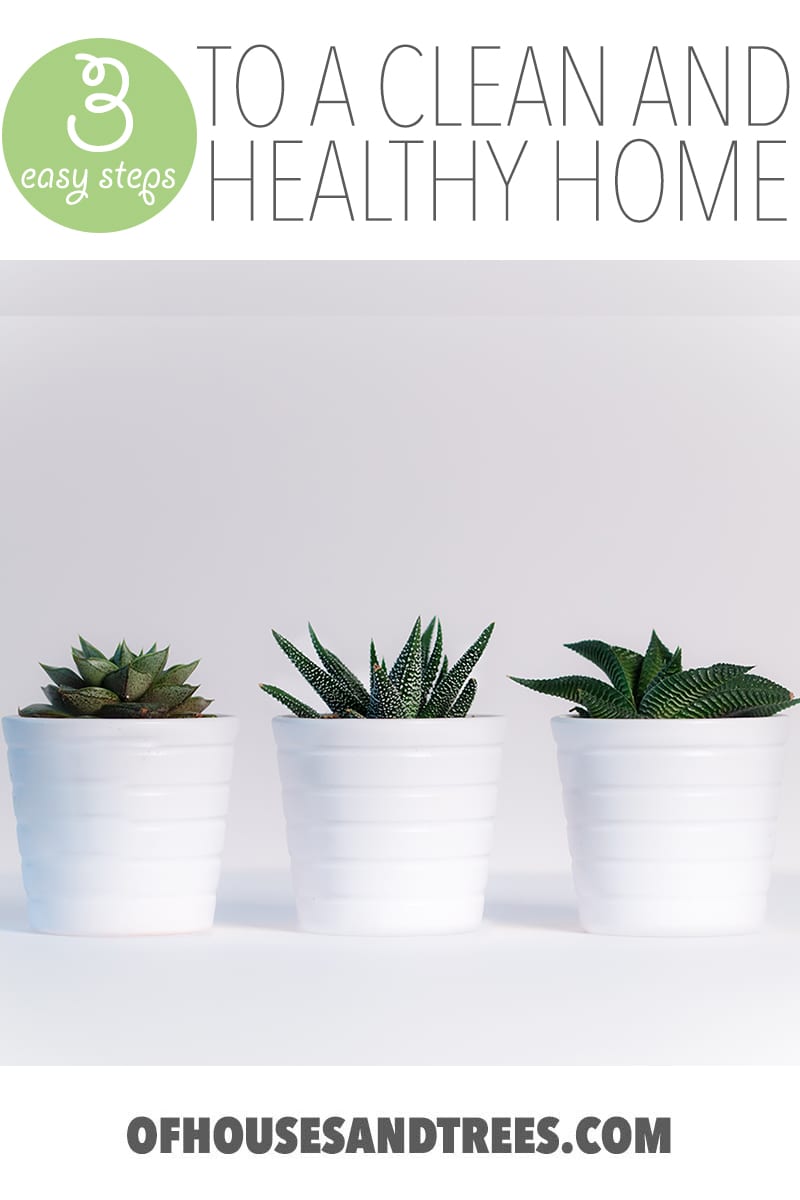 Posted April 16, 2018
3 Easy Steps to a Clean and Healthy Home