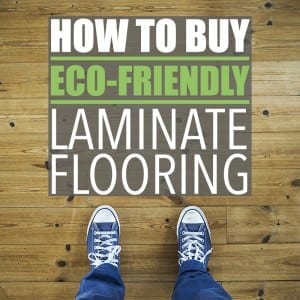 How did someone who once declared they would NEVER install laminate flooring find themselves in a flooring store, barefoot and walking on half a dozen laminate samples? Because laminate flooring has evolved a lot in the last few years. And truthfully, so have I.
I'll admit, my initial change of heart had to do with the cost factor. Of course I'd love to buy a sustainably sourced hardwood for Our House in Trees. But, simply put, we can't afford it. So I began to research green laminate flooring, myself wondering: "Is laminate flooring eco-friendly?" The answer? It can be!
Laminate flooring has come a long way from the cheap, synthetic (and kind of tacky) product it once was. Of course, some of the laminate flooring out there is still less than eco-friendly (and still tacky). But thankfully there are also many higher-quality – yet still affordable – brands. Brands that offer an excellent option for the environmentally and budget conscious homeowner. You just have to know what to look for!
Look for laminate flooring made from sustainably sourced wood.
Many of the good quality laminate flooring is made out of sustainably sourced wood. This means it comes from sustainably managed forests, where the eco-system and wildlife are protected throughout the harvesting process. Instead of a forest being levelled for the purpose of acquiring wood, trees are carefully selected, with new trees replanted in their place. One of the biggest names in sustainable wood is the Forest Stewardship Council. The FSC's mission is "to promote environmentally appropriate, socially beneficial, and economically viable management of the world's forests." One eco-friendly flooring brand that carries an FSC label is Evoke. I'm eyeing the colour Whitney for our house!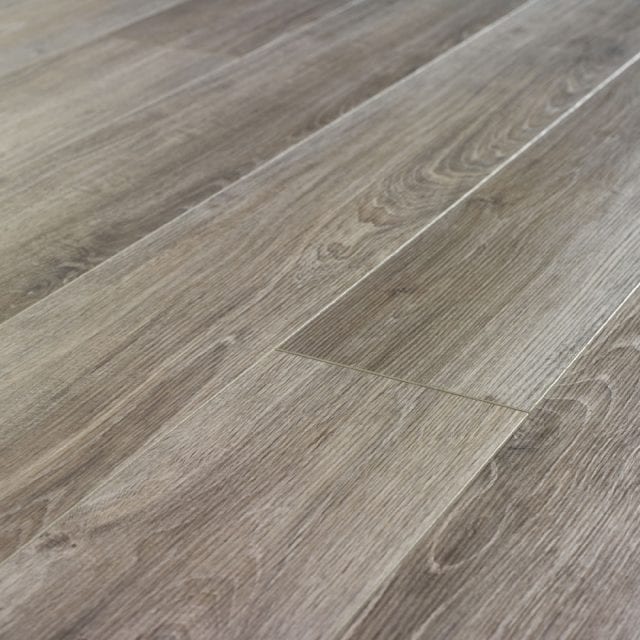 Look for laminate flooring made from recycled wood byproducts.
The wood industry creates a ton of waste – offcuts, sawdust, bark and unusable logs often end up in already over-utilized landfills. Which is why taking this "waste" and turning it into something usable is so important. Because the core of laminate flooring is a fibreboard (meaning it's made up of small pieces of wood pressed together as opposed to a single piece of hardwood), it's the perfect outlet for bringing together recycled materials. The company Mannington carries laminate flooring made from 70 percent post-industrial recycled content. And speaking of recycling, if you're replacing existing laminate flooring don't just throw it away once you've pulled it out. It can be recycled! Armstrong Flooring even accepts old flooring that they will in turn recycle as long as it meets their guidelines.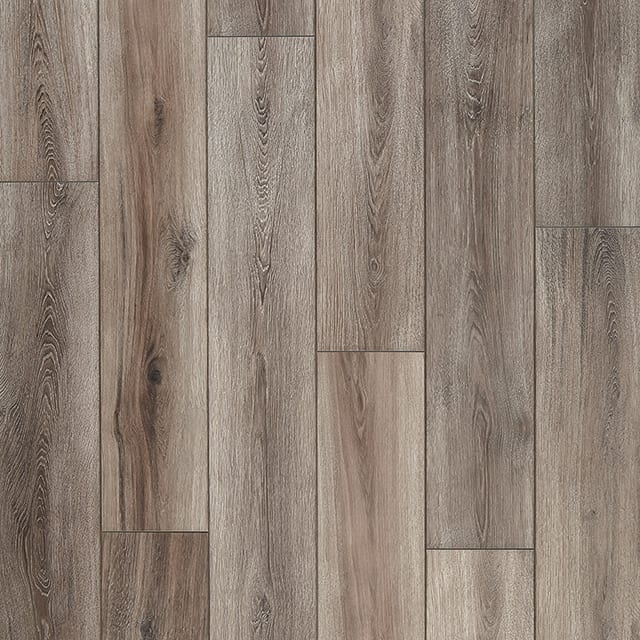 Need help choosing eco-conscious furniture and decor for your home? That's what I'm here for!
Look for laminate flooring that can be installed without the use of glues or adhesives.
Many laminate floorings are click-lock, making them super easy to install. An added bonus is that the floating nature of a click-lock floor means it doesn't require any glue to hold it down. Adhesives are one of the worst offenders when it comes to VOCs. And, if you haven't heard yet, VOCs are bad news. Why? Because materials that contain VOCs evaporate at room temperature and enter the air in your home. VOCs can cause eye, nose, throat irritation, headaches, nausea and can damage the liver, kidney and central nervous system. Certainly, just as there are eco and health conscious options in other areas of the building industry, there are also more eco and health conscious adhesives. But, if you can skip the glue all together, why wouldn't you?
And while we're on the subject of harmful chemicals, I must also mention the presence of formaldehyde in flooring – including laminate flooring. I briefly wrote about formaldehyde and home air quality in my 3 Easy Steps to a Clean and Healthy Home post. Formaldehyde can be found in many household items and flooring is no exception. Pay attention to the ratings information when looking for laminate. Depending where the flooring comes from, lower levels of formaldehyde will be indicated with an E1, E0 or CARB P2 label.
How to Buy Eco-Friendly Laminate Flooring