Love the cozy meets elegant look of a Japandi space? Learn all about Japandi interior design and how to get the look in your own home.
Blending design styles is not at all uncommon. There are so many ways you can mix and match styles, such as modern boho, rustic industrial and many, many more.
The only thing that makes Japandi different is that instead of referring to it by its longer name, which is Japanese Scandinavian design, we've created a portmanteau. Thus, Japan and Scandi became Japandi.
So now that we have the linguistics lesson out of the way, let's move on to the design lesson! Read on to learn about the main principles of Japandi design, or skip ahead for inspiration and tips on how to get the look in your own interior space.
And if you want to know how to incorporate salvaged building materials into your home – no matter its design style – you can read all about where to find reclaimed materials.
Note that this post may contain affiliate links, meaning if you click on a link and make a purchase a small percentage of the sale goes to yours truly. Please know that I strive to only feature eco-conscious products and brands.
What is Japandi Interior Design?
Japan and the Scandinavian countries may seem worlds apart, but they actually share very similar design aesthetics. Both styles embrace minimalism and use natural elements and nature-inspired items to create interior spaces that are calming and uncluttered.
They also both tend to use muted, earth-toned colour palettes and stick with natural materials such as wood and stone.
Japandi combines the Scandinavian design focus on comfort and simplicity with the Japanese design focus of functional, albeit beautiful, things.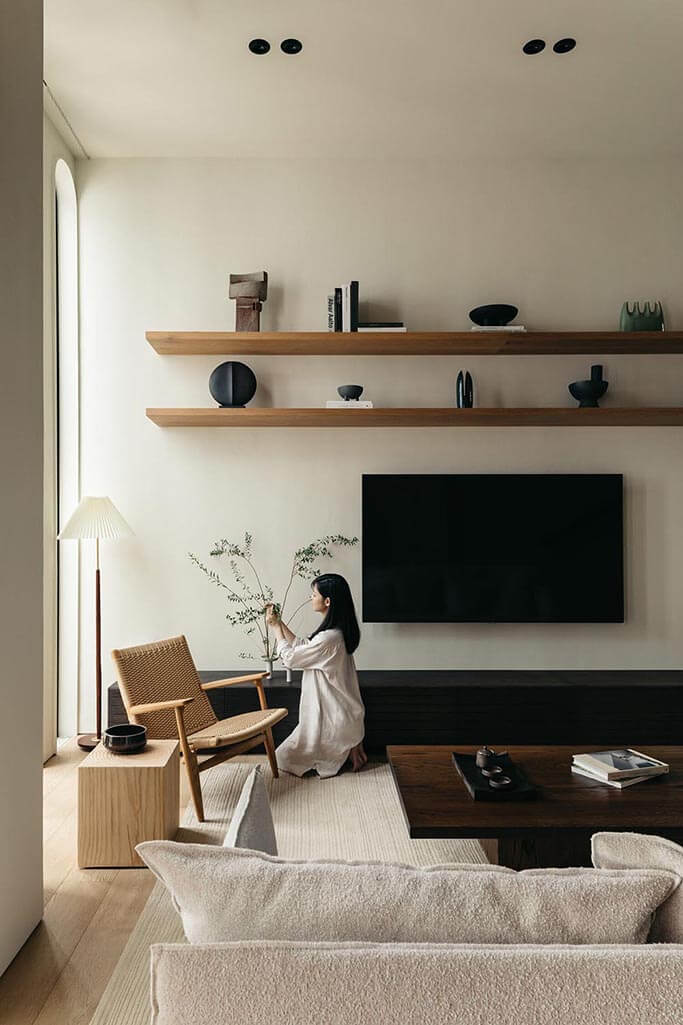 5 Key Elements of Japandi Design
Whether you're a designer or simply a person in love with te Japandi look, knowing its main design principles is important when you're trying to create a Japandi interior space. This will help you to choose furniture and accessories, as well as arrange them, in a way that honours Japandi's blending of simplicity and elegance.
A few of the main elements of Japandi style are:
Simple, clean lines in built-in elements, furniture and accessories.
Well-made, often low-profile furniture in neutral or earth-toned colours.
Use of light and medium toned woods throughout the space.
Textiles and other materials should originate in nature – think linen curtains, stone planters and simple glass light fixtures.
Allowing for empty spaces in corners, on the walls and on shelves.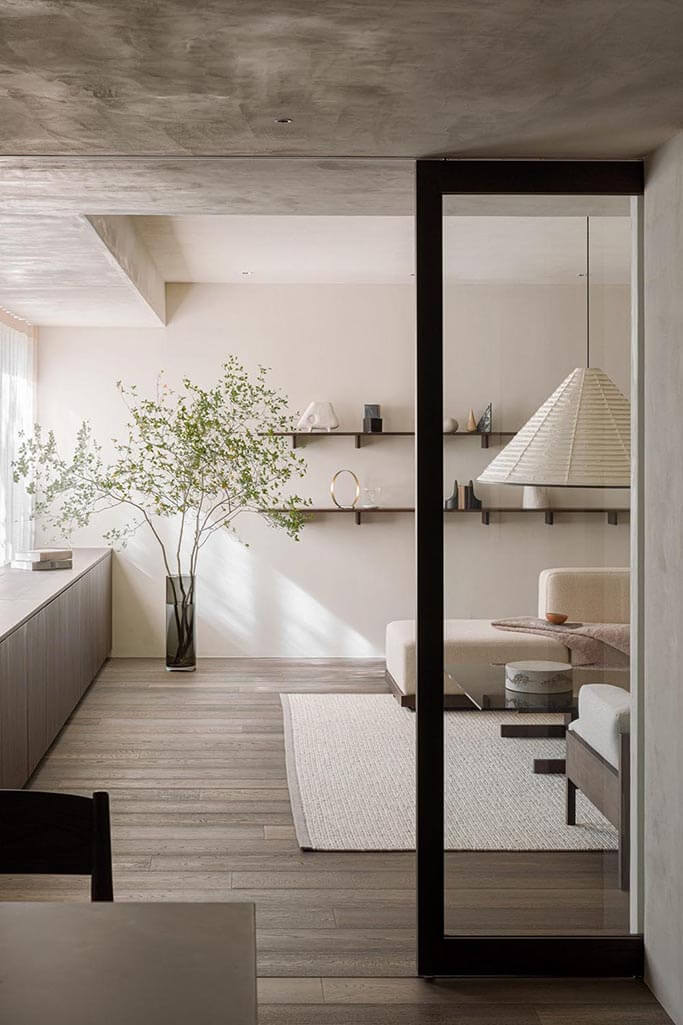 Japanese and Scandinavian Design + Sustainability
While all design styles can be done sustainably, some make it easier than others. And Japandi is definitely one of them!
Minimalism and the use of natural elements are key parts of both Japandi style and sustainable design. Historically, both Japan and the Scandinavian countries have relied on sustainable principles such as a circular economy and revitalizing traditional manufacturing processes.
Plus, both cultures clearly have a deep appreciation for the natural world as many of their iconic works of art feature elements from nature.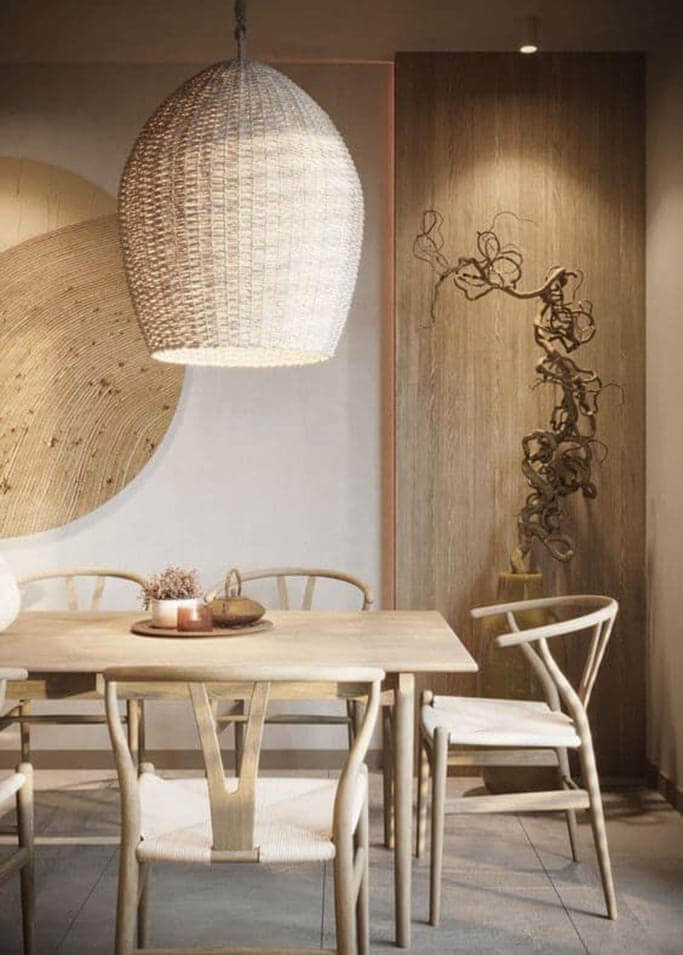 Need help choosing eco-conscious furniture and decor for your home? That's what I'm here for!
12 Common Japandi Style Interior Design Materials
Knowing what kinds of materials to watch out for when you're shopping (or thrifting!) for your home will be a big help in cultivating the Japandi style.
As previously mentioned, both modern Japanese interior design and Scandinavian design favour natural materials such as wood and stone. But this is a pretty vague guideline, so here are a few specific materials that would work well in a Japandi home.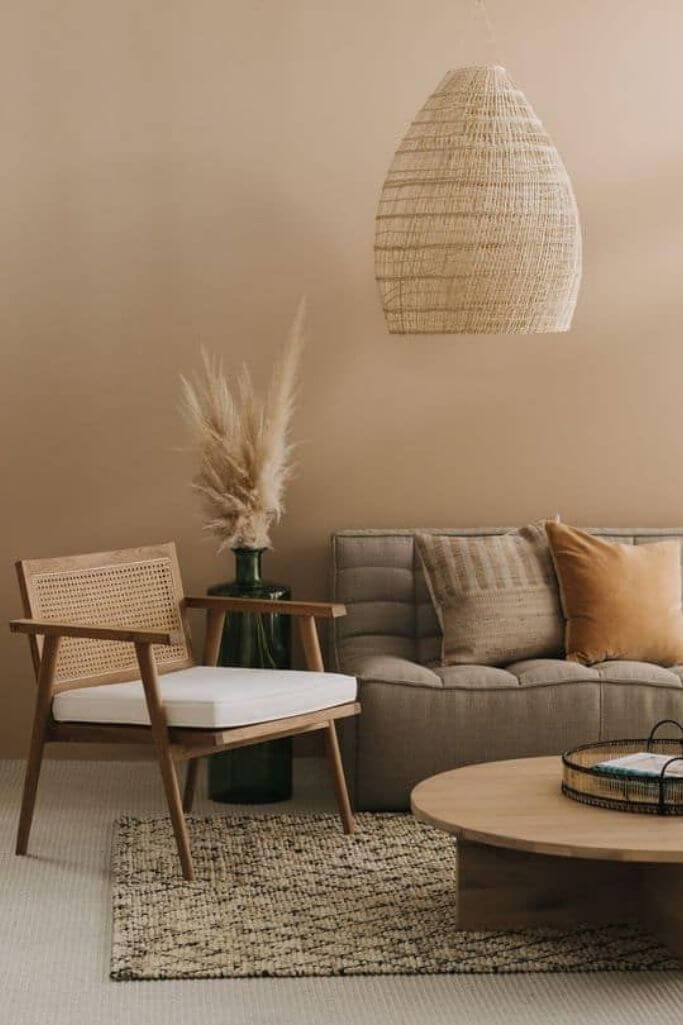 Wood, Bamboo, Cane
You could use pretty much any type of wood in a Japandi space, although avoid anything stained in a dark colour – with the exception of a very dark brown or near-black stain. Bamboo is also an excellent choice, as are furniture and accessories made from cane, which is actually a grass – not a wood.
Clay, Porcelain, Terracotta
Think simple, rustic clay bowls paired with a more delicate porcelain vase and a few touches of earthy terracotta both for colour and for texture.
Cotton, Linen, Muslin
As for textiles, keep things natural with materials derived from plants such as the always-popular cotton, or linen (which comes from flax) and muslin (which is also made from cotton, but a lighter weave).
Concrete, Glass, Metal
Surprise! Not all Scandinavian Japanese design materials need to be "all-natural." I love how concrete and metal – especially in matte black – can add a hint of an industrial vibe to a space and is a must if you're going for a modern Japandi look. Meanwhile glass has a delicate, weightless look to it.
4 Japandi Furniture Ideas
The kind of furniture you choose will, of course, depend on the room you're trying to infuse with Japandi style.
But regardless of whether it's a bedroom, living room, kitchen or other type of space, Japandi style furniture pieces are all going to have several things in common – namely they'll be made from natural materials, be mostly neutral in colour and have very simple lines.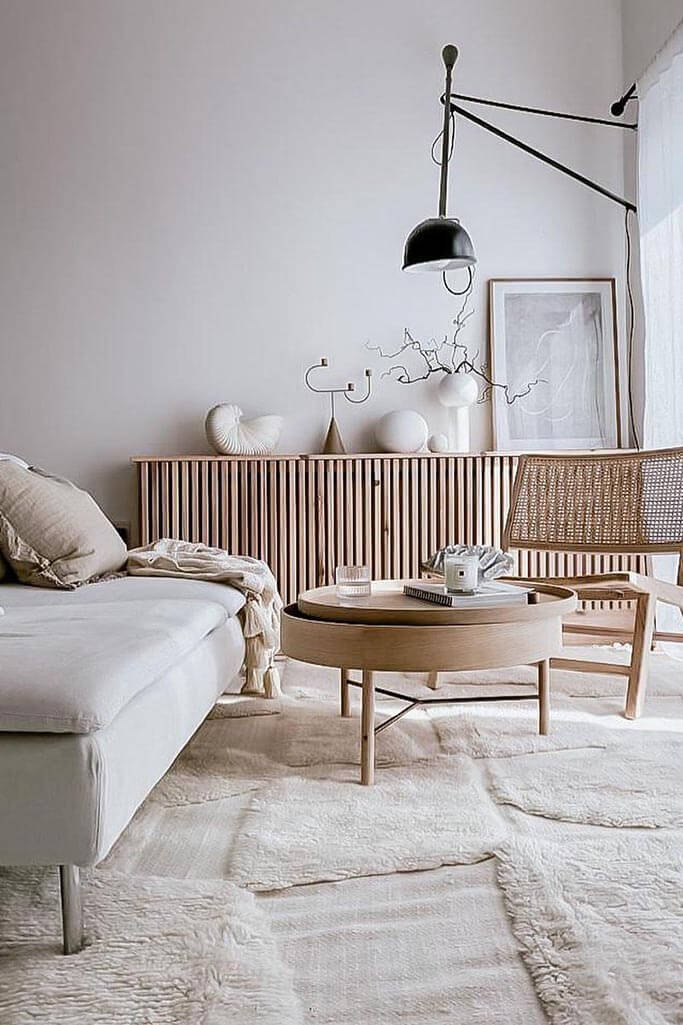 Sofa
Choose a sofa in an earthy tone such as off-white, beige, soft grey or even green if you like a bit of colour in your home. Look for straight lines and firmer cushions as an overstuffed couch would be too much for a Japandi space.
Dining Table
Once again, the theme is simplicity – as in simple lines and no embellishments. Japandi style dining tables also tend to be on the thinner side, meaning a slender top and slim legs. But don't mistake the lightweight appearance as cheap, because Japandi furniture should be sturdy and well made.
Coffee Table
Japandi coffee tables come in a myriad of shapes and sizes, although circular is often used thanks to its pleasing lines. But one thing nearly all Japandi coffee tables have in common is that they sit relatively close to the ground, which gives that cozy, sit-cross-legged-around-me look.
Bedframe
Japandi bedframes tend to be very simple – no surprise there, but are a great way to sneak in some storage with built-in under the bed drawers. And no headboard required! Instead use some kind of textured wood or screen to create a feature wall instead.
6 Japandi Home Decor Ideas
Even in a minimalist space, you're still going to want to add some decor pieces because these are the items that give a room personality, taking a house and turning it into a home.
And while there's no formula for decorating any space, here are some suggestions for items that would go perfectly with the Japandi aesthetic.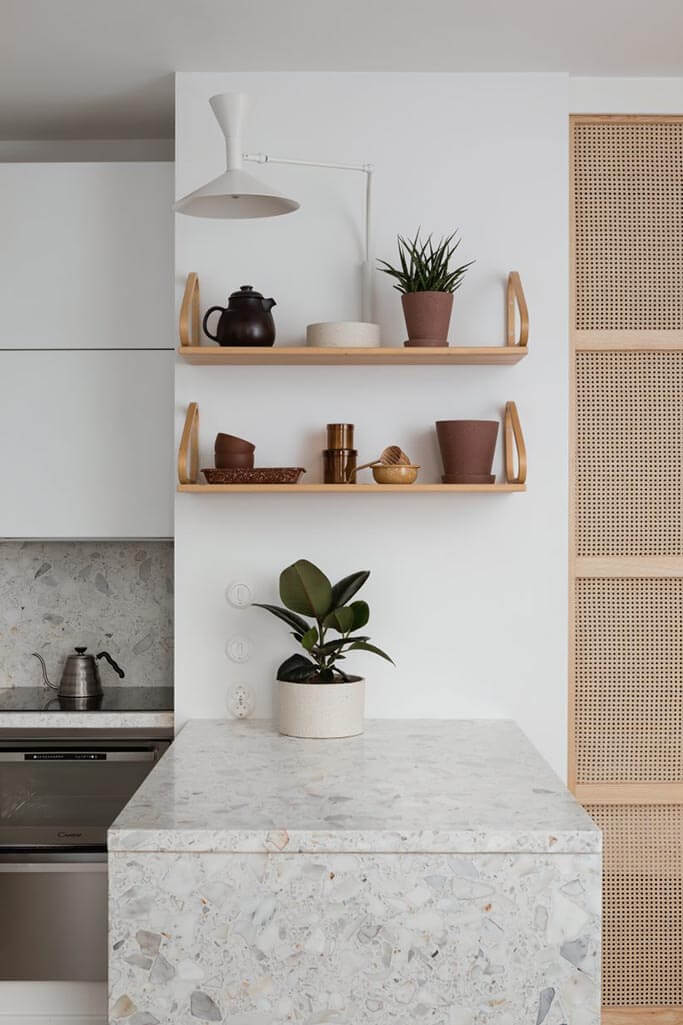 Bamboo Bowls and Trays
Whether you're using them as functional items or purely as decor pieces, bamboo bowls, trays, platters, cups, and all the other things you can find made from bamboo definitely fit into the Japan Scandinavian style. Plus, bamboo is one of the most sustainable materials on the planet!
Woven Rugs and Other Textural Elements
One way to stop a space defined by simple, clean lines from feeling bland is to add in texture. Take a look at images of the majority of Japandi spaces and you'll see how a woven rug, a textured pendant light, or a nubby-looking throw pillow are just begging you to touch them.
Framed Drawings and Sketches
There's something so pure about a simple black and white sketch. It's like the story of the piece is in the white spaces, not the pencil or charcoal marks. Bonus points for artwork that features natural elements like trees, botanicals and animals.
Concrete Planters
A great way to add weight to an otherwise airy space is with a heavy material like concrete. Concrete looks especially great as a planter because of how its industrial vibe contrasts with the plant inside.
Glass Vases
You really can't go wrong with a simple glass vase in any interior space – no matter the design style. The great news is that glass vases are super easy to find secondhand, sometimes for only a few dollars, yet they always look classy.
Matte Black Lamp and Other Black Accessories
Love me a hit of matte black in an otherwise light coloured interior. It really draws the eye and a black metal lamp is a great way to anchor a space.
4 Tips on How to Create an Eco-Conscious Japandi Space
Now you know the answer to the question – what is Japandi style? – you can start adding Japanese Scandinavian design elements into your home. And here are four ways to do it sustainably!
Shop Your Own Home
Of course, the first thing you should start with is what you already have. Do you own any wood furniture pieces that could be sanded down? What about a couch that could use a sandy beige or forest green slipcover?
Shop Secondhand Shops and Antique Stores
Next, start thrifting. Now this could be at secondhand shops, antique stores or on online buy and sells. Be on the look out for things like simple baskets, neutral throw pillows, glass vases, black lamps, paper lanterns and so on.
Shop Sustainable Brands
If you'd like to buy new, or just can't seem to find anything secondhand, check out eco-minded furniture and decor companies that make their products by hand, partner with artisans and pair them fair wages and carry third-party certifications, carbon neutral status or have tree planting initiatives.
Here are a few brands I highly recommend you look into. I also have more furniture and decor brands in my sustainable product directory.
Buy a Design Package from Of Houses and Trees
If all of the above sounds like a lot of work and like something you just don't want to tackle on your own – then I am your gal. Here is a Japandi living room design package I recently created, which you can purchase over on my Etsy shop!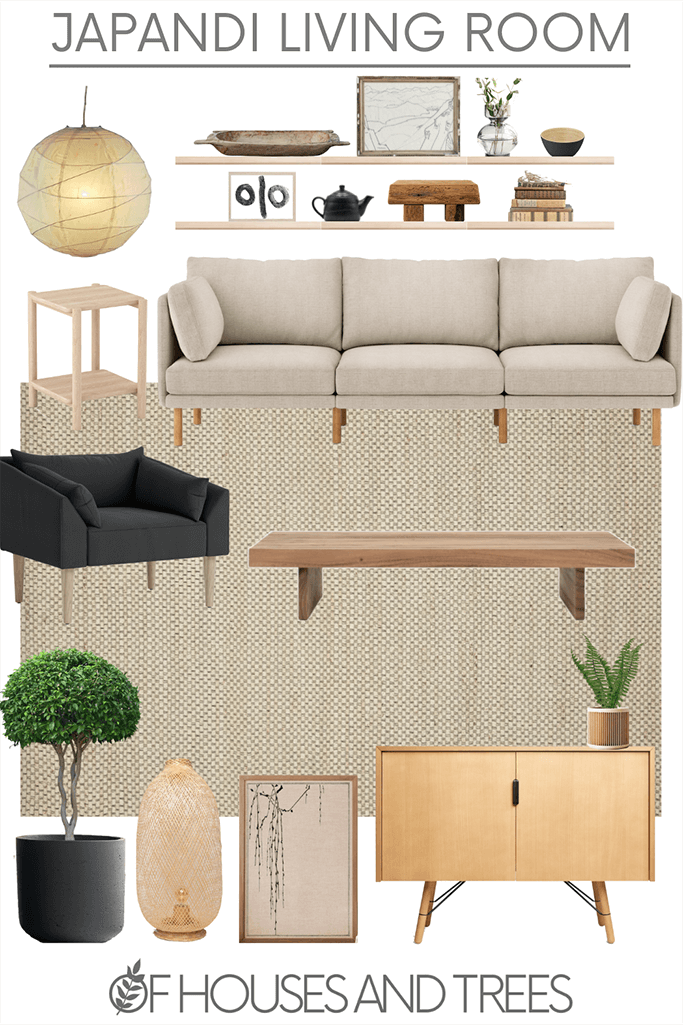 Ahhh.. don't you feel super zen after looking at all those pictures of relaxing Japanese Scandinavian style spaces? I sure do! If you're ready for more design inspiration, check out my post all about greening any decor style – using the examples of modern glam, industrial and maximalist. Yup, I said maximalist and green in the same sentence!
How do you feel about Japandi design? Do you like it or do you just think it's another fleeting trend? Let me know in the comments!
PIN ME!
Posted on April 27, 2022
Need help choosing eco-conscious furniture and decor for your home? That's what I'm here for!
Japandi Interior Design: How to Infuse Your Home with a Cozy Cool Vibe