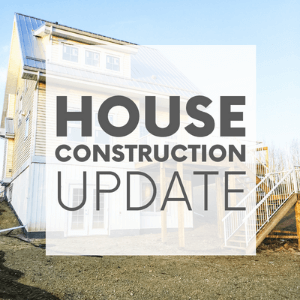 Wanna learn all about LED lightbulbs?
No?!
Okay, how about secondhand light fixtures?
Maybe…?
Okay, do you want a see our STUNNING cork-backed laminate floors?
Now that's more like it!
It's time for episode five of Our House in Trees.
---
Did you know that Etsy is the first major online shopping destination to offset 100% of carbon emissions generated by shipping? Read more about the initiative here and view my favourite Etsy finds here. Shopping via my affiliate links supports eco-conscious brands and passes on a small percentage of the purchase price to yours truly!

---
(Catch up on previous episodes right here.) Follow along during the fourth month of our house construction, as I hunt for energy efficient lightbulbs, slather my secondhand acquisitions in low-VOC paint and show you some of our interior finishes in all their eco-conscious glory.
Then, hold on to your horses, because at the end of the video I take you on a tour of our nearly completed sustainable home! Giddy up, ya'll.
House Construction Update | Our House in the Trees | Episode 5