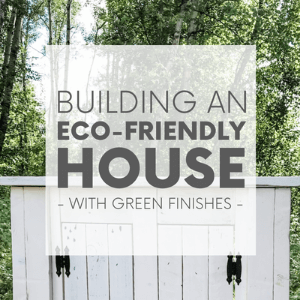 As much fun as the foundation and framing stages are (for me at least), the REAL fun begins with the interior finishes. This is also the area where I feel – if I may toot my own horn – that I shine.
I'll be honest, finding truly sustainable materials for the structure of our house and for the exterior finishes was a bit of a challenge. But inside? No problemo.
If you're like me, and you question everything, you might be wondering why it's so much easier to find green materials for the interior of your home.
Basically, it's because they're the things we interact with on a daily basis, the things we look at and touch, so more effort has been made by manufacturers and brands to come up with sustainable – and healthy – solutions.
All that being said, don't assume that just because something was made for the interior of a home that it's going to be eco-friendly and toxin-free. Unfortunately, the case is that cheap, chemical-laden materials and finishes are still the norm because they are more readily available and less expensive.
But don't get discouraged! Interior finishes that are friendlier to the environment and your body are out there. And they don't have to cost a fortune either! You just have to know what to look for – and where to look.
---
Did you know that Etsy is the first major online shopping destination to offset 100% of carbon emissions generated by shipping? Read more about the initiative here and view my favourite Etsy finds here. Shopping via my affiliate links supports eco-conscious brands and passes on a small percentage of the purchase price to yours truly!

---
Check out episode four of our eco-friendly house build to learn about some of the sustainable interior finishes we chose for our home!
Building an Eco-Friendly House | Our House in the Trees | Episode 4