Being green in your outdoor space is just as important as indoors! Check out the best places to find sustainable outdoor furniture and decor.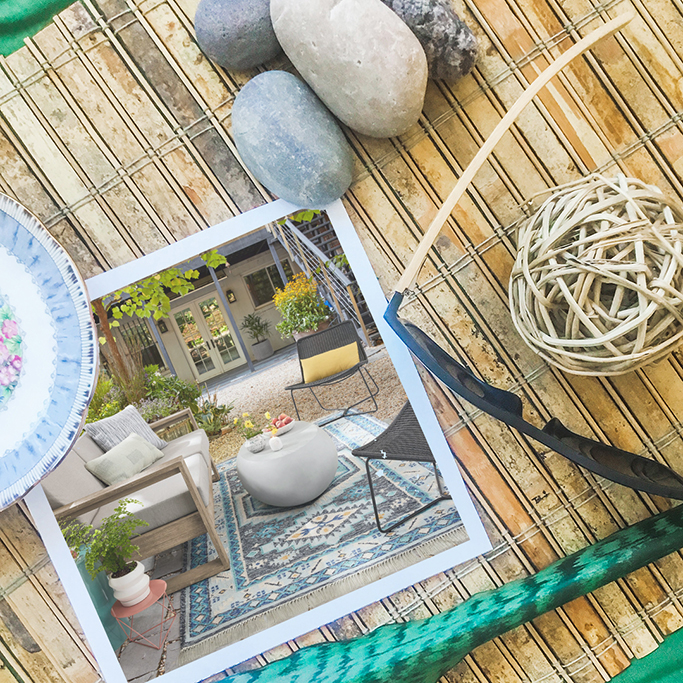 Ah… spring. Time to throw open the doors, get out the patio furniture and bask in the loveliness of blooming flowers and happily chirping birds. Or, if you live where I do, continue to hide indoors as it snows day after day. Which pretty accurately describes the months of March and April here… and sometimes May.
But the great thing about living in near-perpetual winter is that it means you really learn to appreciate warm weather. And the way we get through these everlasting winters is by dreaming up the perfect outdoor living space. Since outdoor living is all about basking in nature's beauty, let's make sure to help protect the planet by creating our outdoor spaces using sustainable furniture and decor.
Here are four places to find eco friendly outdoor furniture and five spots to look for patio and porch ideas on a budget. Sigh… can't you just feel the sunshine?
Note that this post may contain affiliate links, meaning if you click on a link and make a purchase a small percentage of the sale goes to yours truly. Please know that I strive to only feature eco-conscious products and brands.
Start by Searching for Secondhand Outdoor Furniture
As I always (always!) say, shop secondhand first. Where you live is going to dictate what is available to you, but most likely your town or city will have an online local buy and sell. There of course are also garage sales, buying pre-loved items off of friends and family members and estate sales.
But if you want to go straight to the good stuff, I recommend checking out Chairish as all the items listed on the site have been curated by interior design experts. You can filter your search and browse thousands of pre-owned outdoor furniture. Since many of their items are rare antiques and vintage pieces the prices can be really high, but you can also filter your search so only items within your budget show up.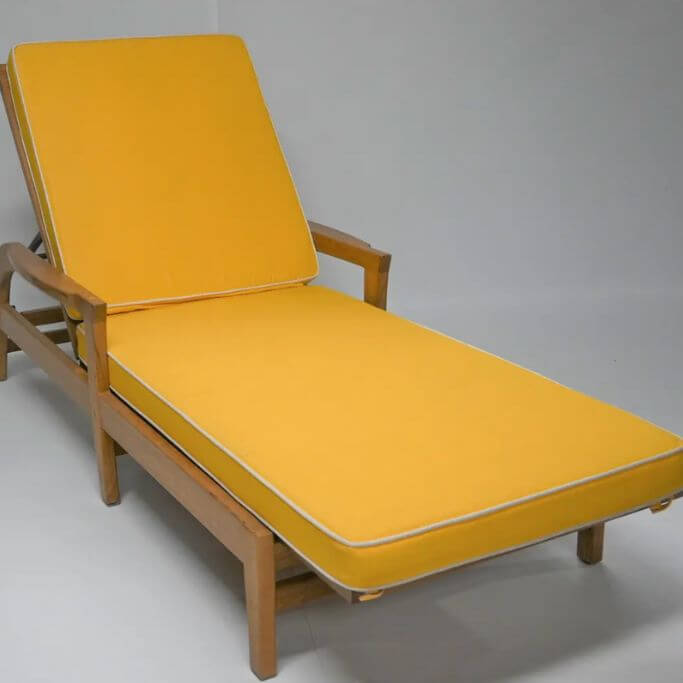 Check Out Eco Friendly Outdoor Furniture Brands
If you can't find any secondhand options you like, or you prefer to buy new, consider investing in high quality, thoughtfully made outdoor furniture from sustainable brands.
Masaya Co create handmade outdoor furniture from sustainably harvested wood. Meanwhile, Yardbird turns ocean-bound plastic into wicker furniture – and diverted an impressive 430,000 lbs of plastic from the ocean in 2022 alone.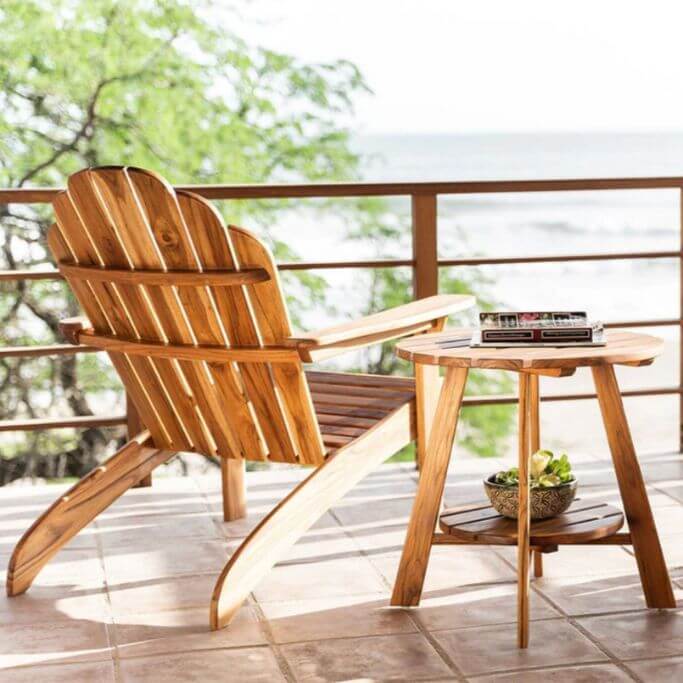 Need help choosing eco-conscious furniture and decor for your home? That's what I'm here for!
Find Sustainable Patio Furniture on Online Green Marketplaces
Another great way to find sustainable outdoor furniture is to check out online marketplaces, where you can find hundreds of ethical, handmade furniture (and decor) for your outdoor space.
On Made Trade, they've already done the curating for you so you can buy from one of the many brands they carry knowing you're shopping sustainably. For Etsy you need to do a little additional sleuthing to make sure the pieces you come across are made from green materials, but sometimes the search is part of the fun! Or, you could buy plans to create your own DIY outdoor furniture and then use reclaimed lumber to build it.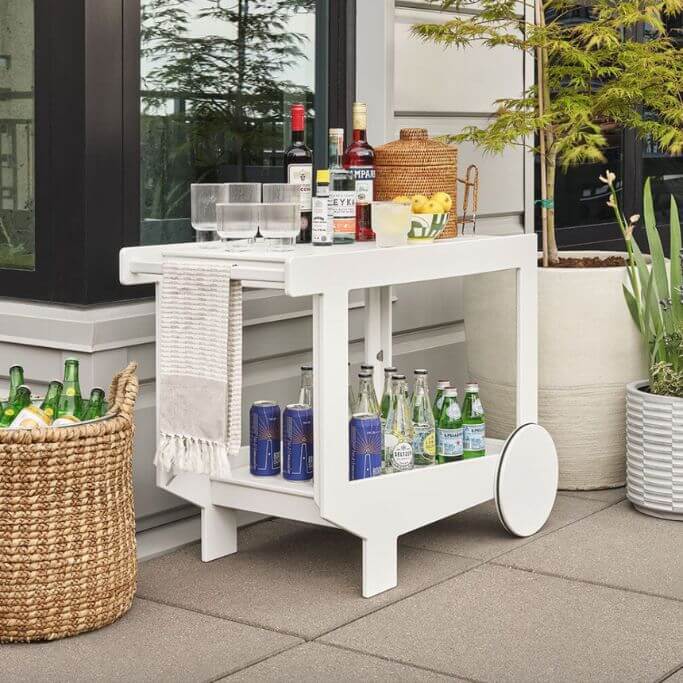 Look for Outdoor Furniture that's Eco Friendly at Large Retailers
While I try to avoid buying items from large retailers, there are a few companies out there that are making good strides towards sustainability. Buying ONLY eco-conscious products from big name brands sends a message that nothing less than green will do.
For example, 60% of West Elm's product sales support at least one of their sustainability initiatives and 52% of their wood furniture is sustainably sourced. So if you're going to buy outdoor furniture from them – make sure it's one of the sustainable pieces! Another big home retailer to check out is Crate and Barrel as about half of their furniture is FSC-certified and they've pledged to continue their journey toward becoming a greener company.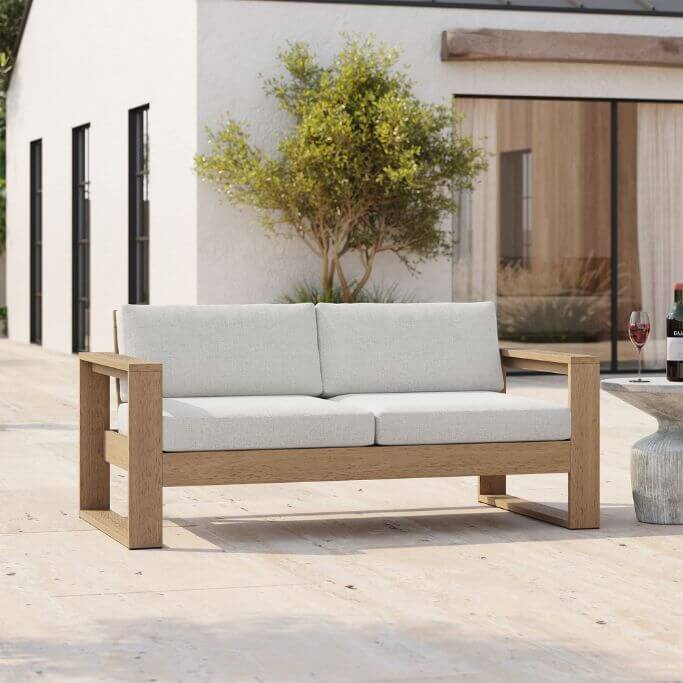 5 Green Patio Decor Ideas on a Budget
And because I can't resist sharing a few decor ideas to make your sustainable outdoor space feel more homey, here are five outdoor decorating ideas on a budget. Some of the bigger outdoor furniture pieces can be a big investment, so balancing the expense out with affordable, yet well-made, decor is a must.
Recycled plastic outdoor rug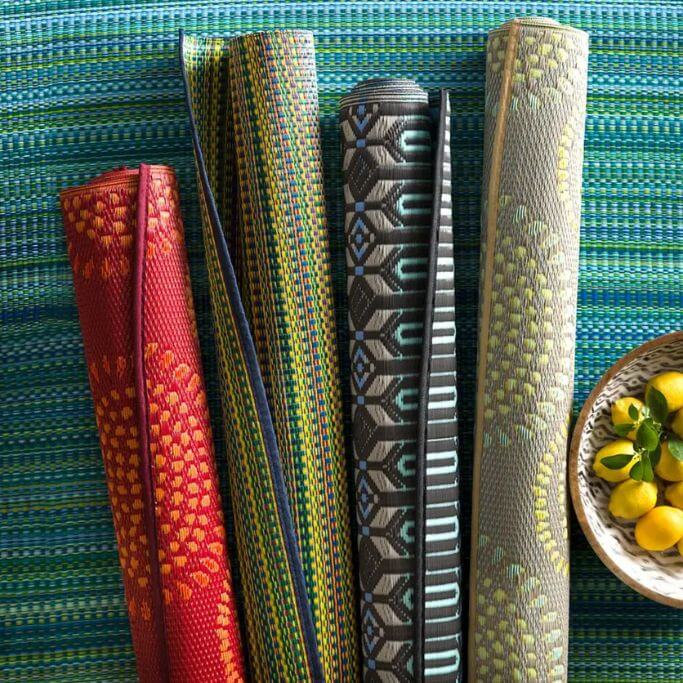 Handmade linen throw pillows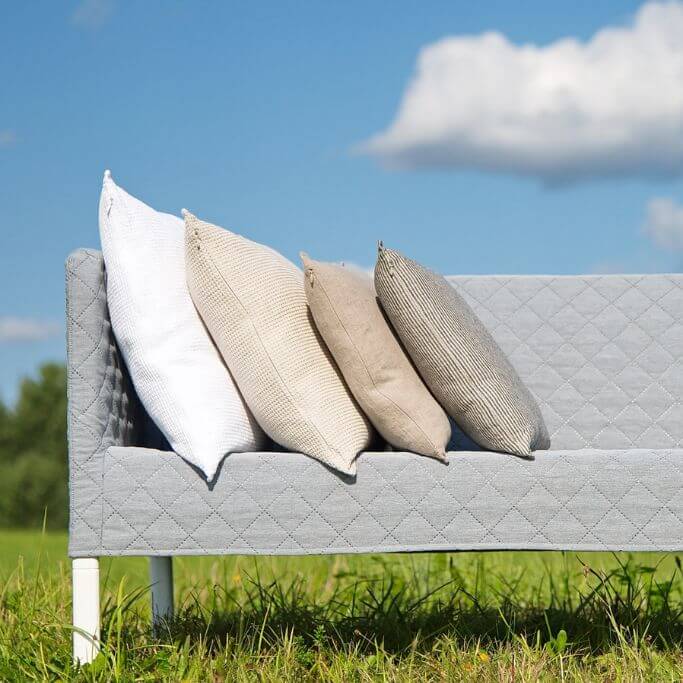 Basket made from recycled tires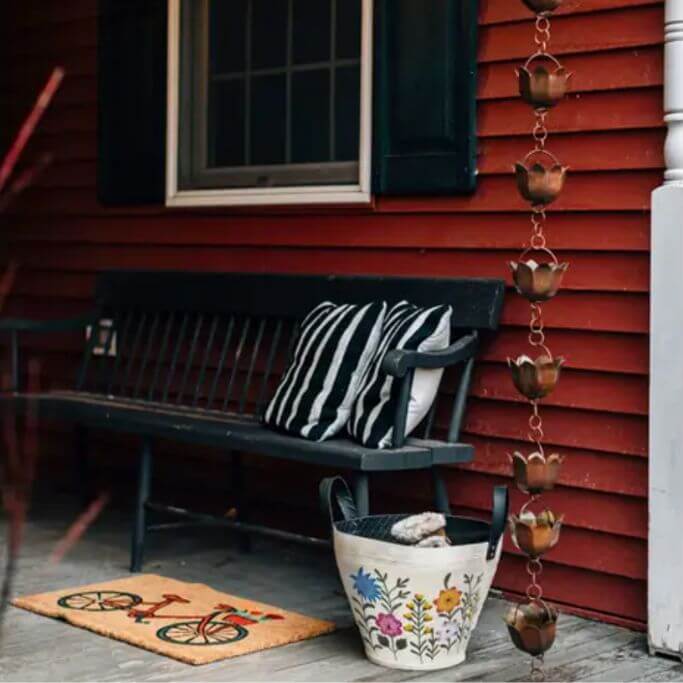 Spruce-scented beeswax candle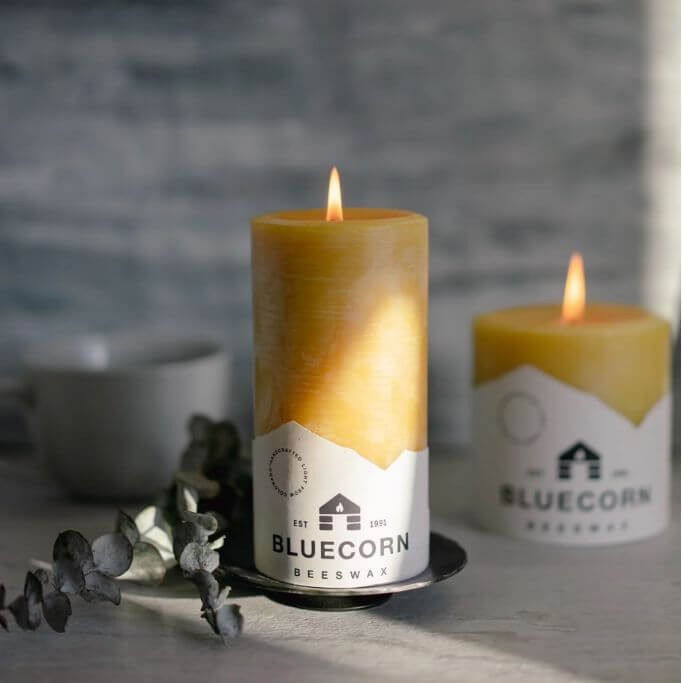 Handmade terracotta planters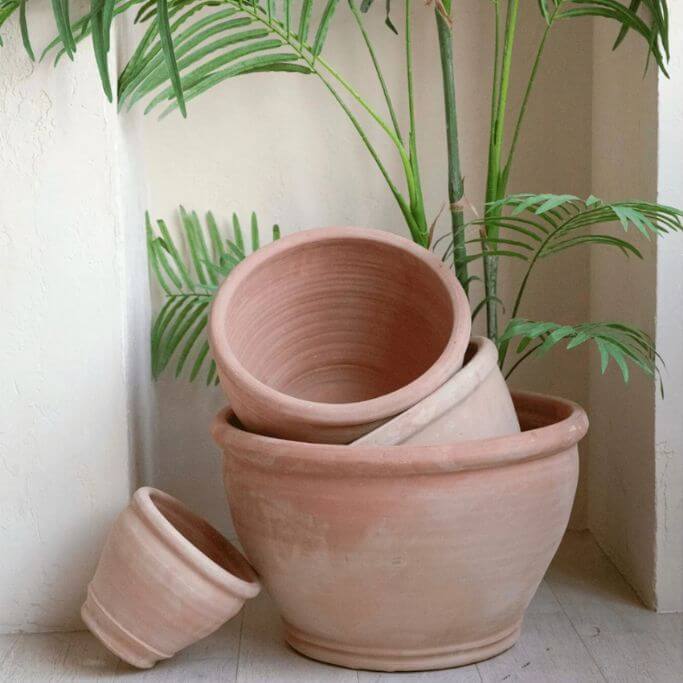 Did this post get you all excited about getting outdoors this spring and summer and all inspired with ideas for decorating a patio on a budget? It sure got me amped up! Whether you have a big yard or a tiny balcony, if you need help creating a sustainable outdoor space please check out my e-design services!
Leave a comment below about your patio decor plans or let me know what your favourite thing is about spring and summer!
PIN ME!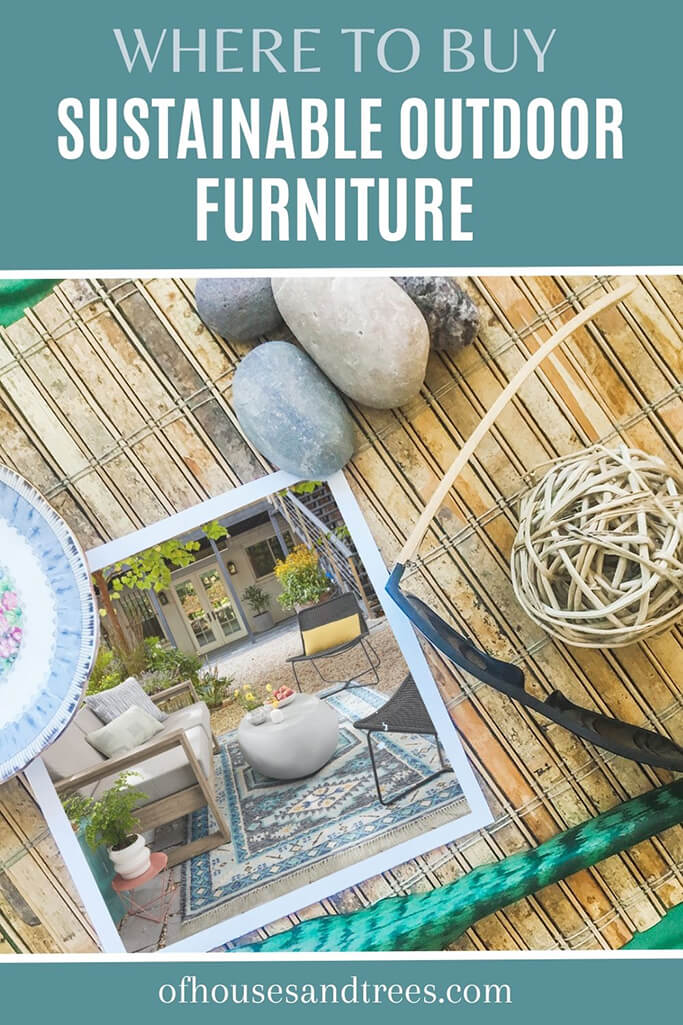 Reposted on March 10, 2023 (Originally Posted on May 3, 2017)
Need help choosing eco-conscious furniture and decor for your home? That's what I'm here for!
Where to Buy Sustainable Outdoor Furniture + 5 Patio Decor Ideas on a Budget