The search for affordable sustainable clothing shouldn't be difficult. You just have to know where to look! Here are eight clothing items for your eco-friendly – and budget-friendly – wardrobe.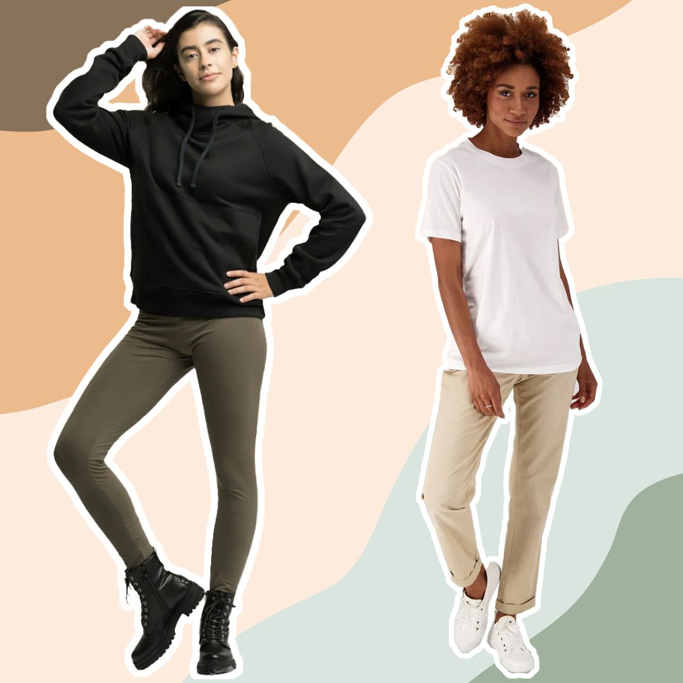 Let's get this out of the way. Is sustainable and ethical clothing more expensive than regular clothing? Generally, yes. But the reason for that is a REALLY good one. And it's pretty simple. Good quality fabric, plus fair wages paid to the people making the clothing costs more than cheap materials and underpaid workers.

Yes, there are ethical clothing brands that are going to be way out of the average person's budget (myself included). But there are also companies who offer much more attainable prices, especially if you consider how much longer their well-made pieces are going to last compared to those from fast fashion brands.
So, where exactly are you supposed to find sustainable affordable clothing? Enter ORIGIN-ABLE, an online marketplace that brings multiple affordable and sustainable clothing brands together on one site. Read more about ORIGIN-ABLE below and check out eight of their affordable ethical clothes options!
A big thank you to ORIGIN-ABLE for sponsoring this post. Please know that I strive to only feature companies and brands that value sustainability as much as I do. Note that Of Houses and Trees also contains affiliate links, meaning if you click on a link and make a purchase a small percentage of the sale goes to yours truly. Thank you for your support!
The Best Place to Find Affordable Sustainable Clothing Brands
One of the great things about the internet-days we live in is being able to find all kinds of sustainable affordable fashion brands online. But wouldn't it be great if instead of having to shop on each one's individual website, we could find a whole bunch in one place?
Based in Toronto, ORIGIN-ABLE is the brainchild of Gwendoline Marco. Like so many of us, Gwendoline has spent the last few years trying to live more sustainably in every area of her life. But when it came to finding fashion of the not-so-fast variety, she admits, "I was totally lost."
ORIGIN-ABLE is her solution. One place to find multiple sustainable and ethical affordable clothing, all vetted through strict criteria to ensure the brands on her site are ones you can trust. So let's get to them already!
(One last quick note, I'll be sticking to sustainable women's clothing in this post, but ORIGIN-ABLE also has a section for sustainable men's clothing. For eco-conscious options for the littles, check out my post on sustainable clothes brands for kids.)
Eco-Conscious Tees Under $45
Nothing more comfy than a simple tee! Dress it up or dress it down – a t-shirt in a solid colour or in something more eye-catching goes with pretty much anything. Check out these tees from two different affordable eco friendly clothing brands.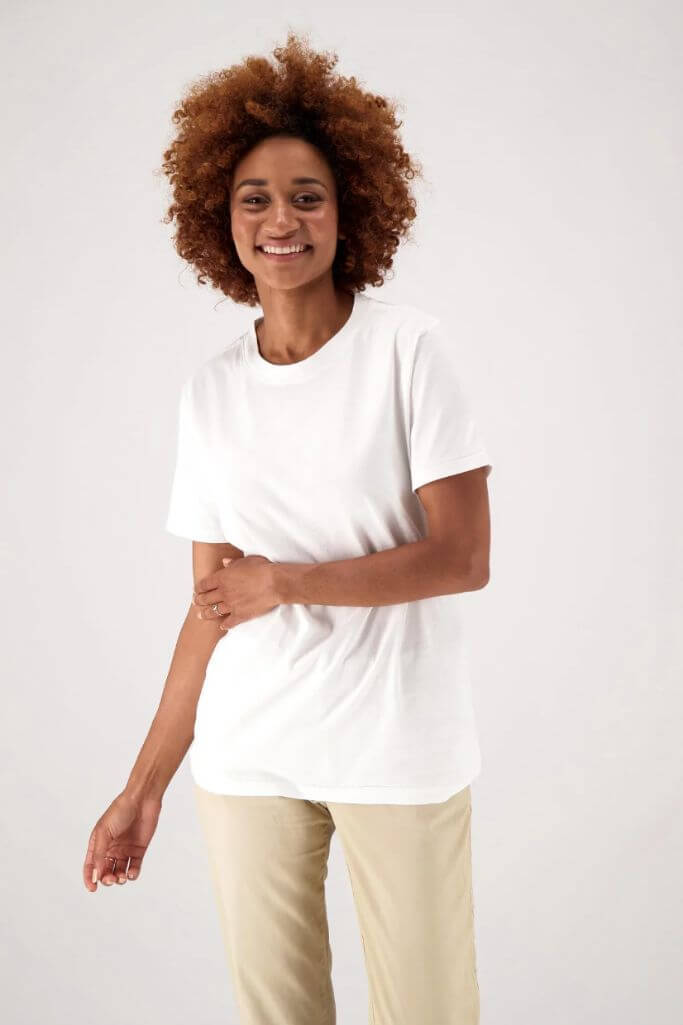 Price: $39.00 CAD
Brand: The Good Tee
What Makes it Sustainable: Organic cotton is pretty much the original eco-friendly material. Traditionally produced cotton is known as "the world's dirtiest crop." It takes 2,700 litres of water to produce a single regular cotton tee. This not only uses up an insane amount of our most precious resource, but it also adds to water pollution. Meanwhile, organic cotton uses up to 91% less water than its traditional counterpart.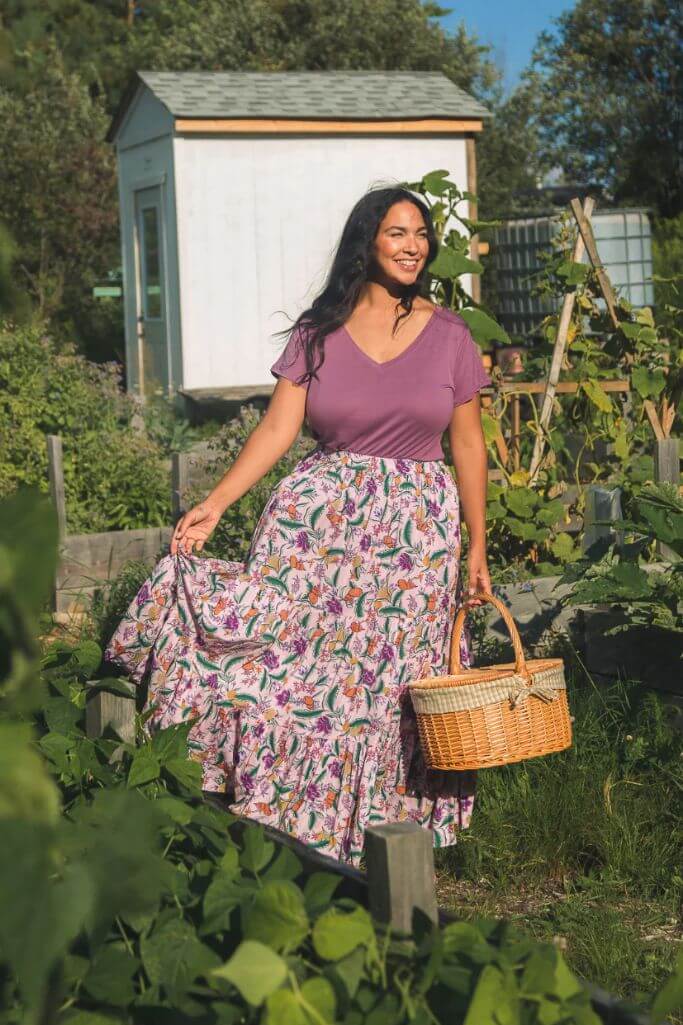 Price: $45.00 CAD
Brand: Tamga Designs
What Makes it Sustainable: Tencel is another well-known green fabric alternative that is made from sustainably-forested wood fibres. Tencel is often considered softer than cotton and is naturally wrinkle-resistant. It also is certified as biodegradable. Is there anything this fabulous fabric can't do?
Affordable Sustainable Dresses Under $75
I don't often wear dresses, so when I do they better be beautiful, comfortable and – most importantly – sustainable! Here are two cute options from ethical brand Tamga Designs.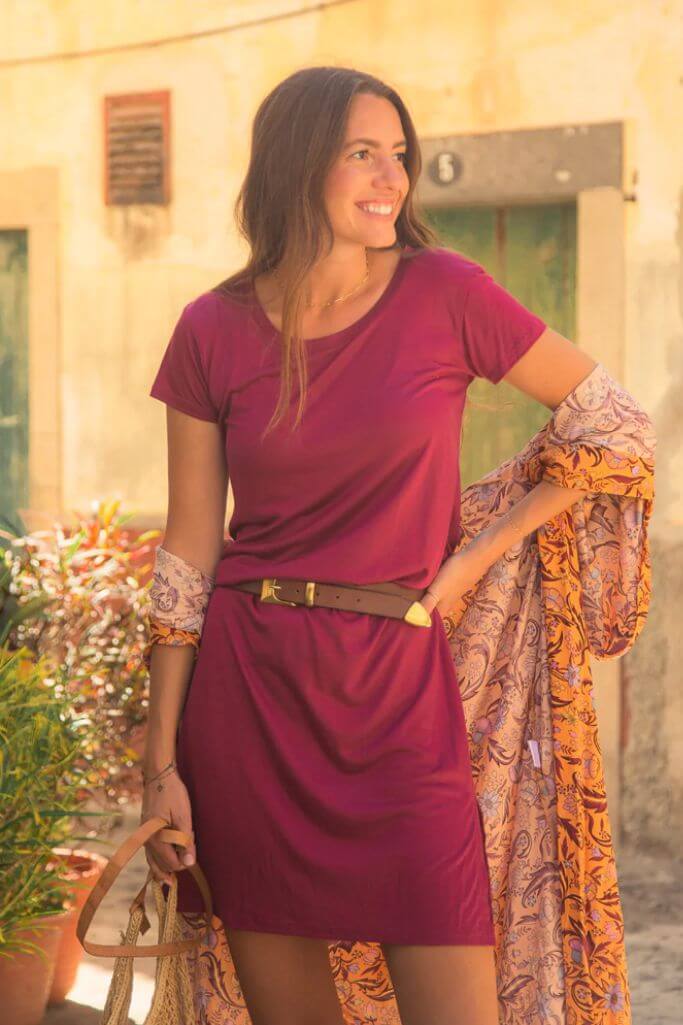 Price: $69.00 CAD
Brand: Tamga Designs
What Makes it Sustainable: I already mentioned the benefits of Tencel as a sustainable material above, but a huge part of what makes a piece of clothing earth-conscious is how it was manufactured. Tamga is an ethical brand known for its transparency. They have all of their primary and secondary suppliers sign a code of conduct before working with them and prioritize people and planet.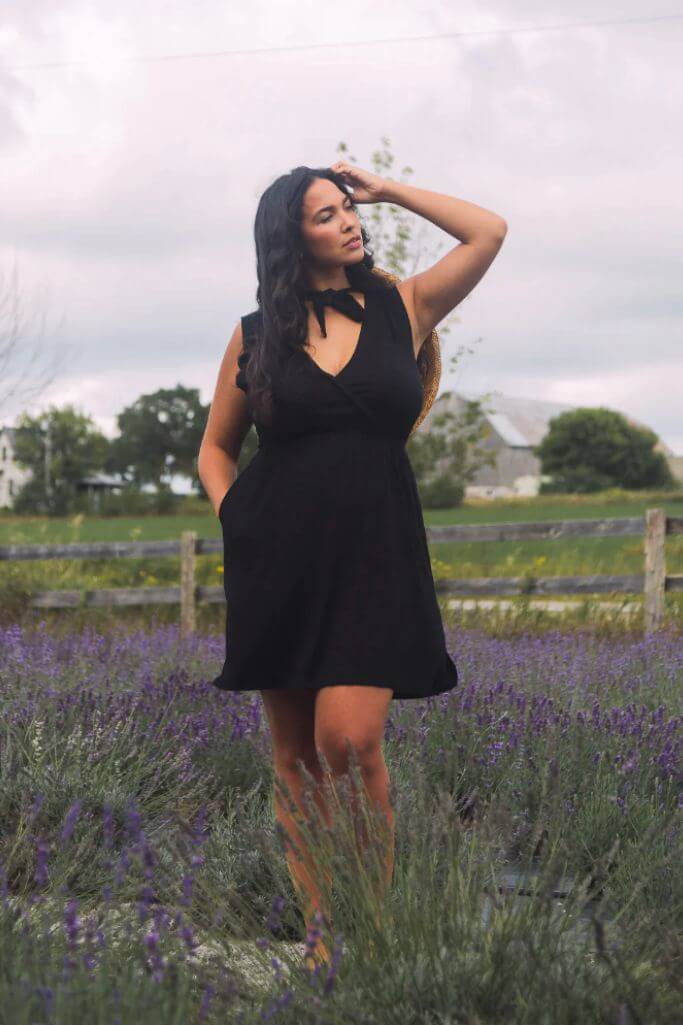 Price: $75.00 CAD
Brand: Tamga Designs
What Makes it Sustainable: I don't know about you, but I love supporting brands that are striving to do better every day. It's how I live my life – so why wouldn't I buy from companies who do the same? Tamga partners with Green Story, en environmental research firm that helps them track their impact through every stage of production and transportation.
Need help choosing eco-conscious furniture and decor for your home? That's what I'm here for!
Organic Cotton Hoodies Under $100
Don't you love how hoodies have gone from the realm of "just schlepping around the house" to a staple part of any wardrobe? Because I sure do! And I also love these hoodies from affordable ethical clothing company The Good Tee.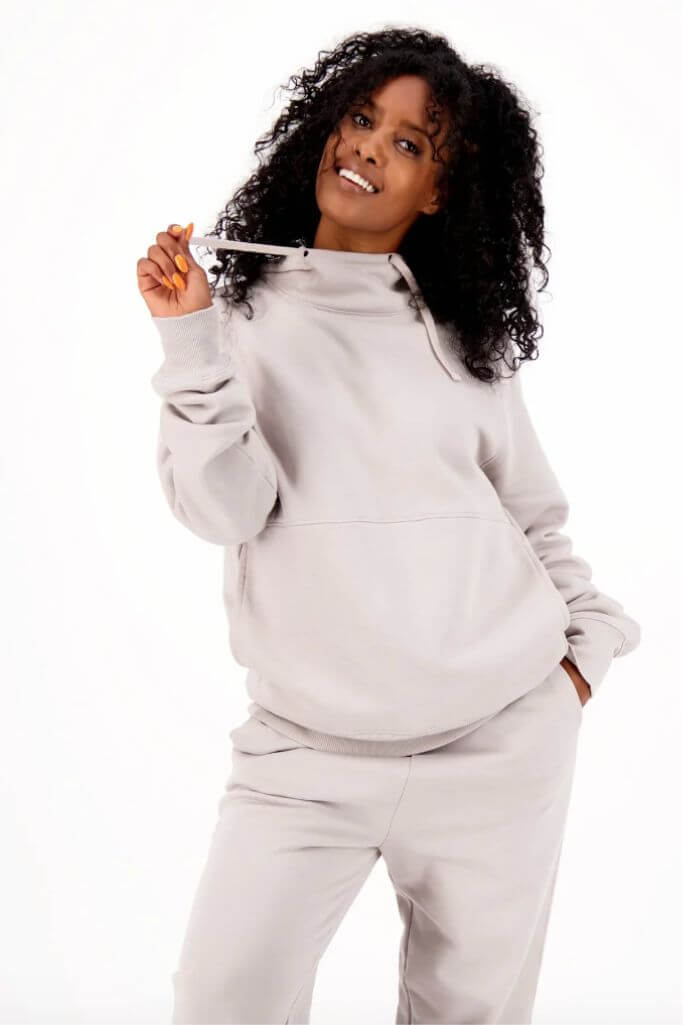 Price: $98.00 CAD
Brand: The Good Tee
What Makes it Sustainable: Made from Fairtrade-certified organic cotton, meaning cotton produced with environmental impact and worker safety at the forefront. Fairtrade is a third-party organization that designates any products under its label are made using no child labour or forced labour, as well as affords workers a fair wage.
100% Organic Cotton Hoodie – Black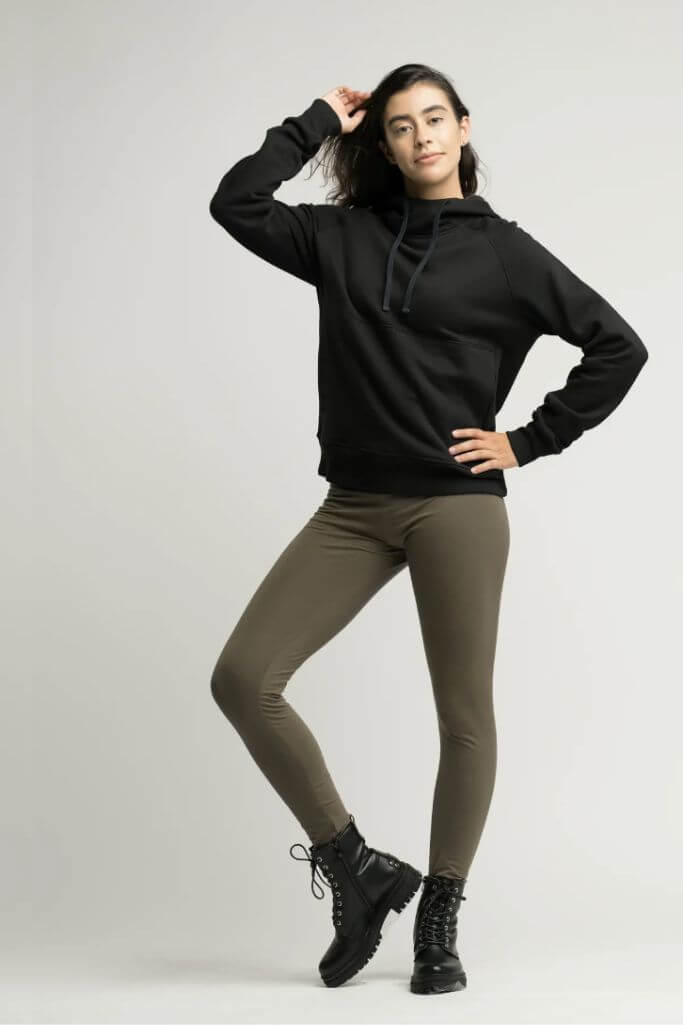 Price: $98.00 CAD
Brand: The Good Tee
What Makes it Sustainable: The Good Tee is a Certified B Corporation, meaning they were independently assessed and found to have high social and environmental values. Once approved, the brand makes a legal commitment to uphold these standards, including offering complete transparency on how they operate.
Sustainable Skirts and Ethically-Made Pants Under $130
Got to have some eco-conscious bottoms to go with all of these sustainable tops! While these two selections might not quite fall under the sustainable affordable clothing category with their slightly higher price tag, you can be sure they are well-made and will last for years to come.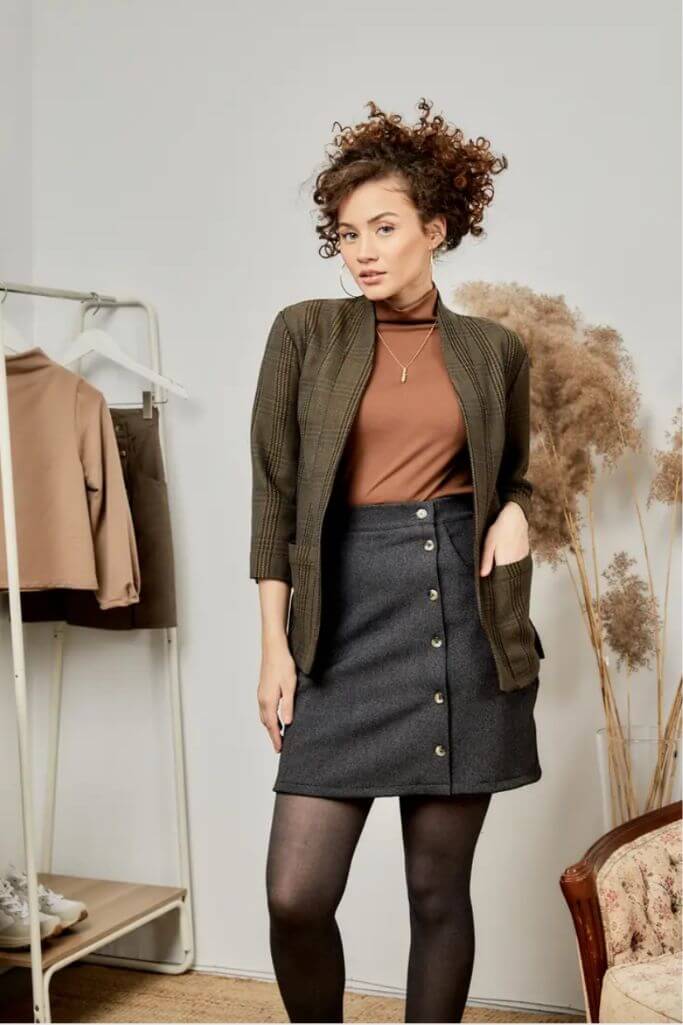 Price: $119.00 CAD
Brand: Meemoza
What Makes it Sustainable: This 60s inspired skirt if made of wool reclaimed from fashion houses that would have otherwise been wasted. Meemoza garments are made in Canada and the company aims to produce timeless items that eliminate the need for fast fashion.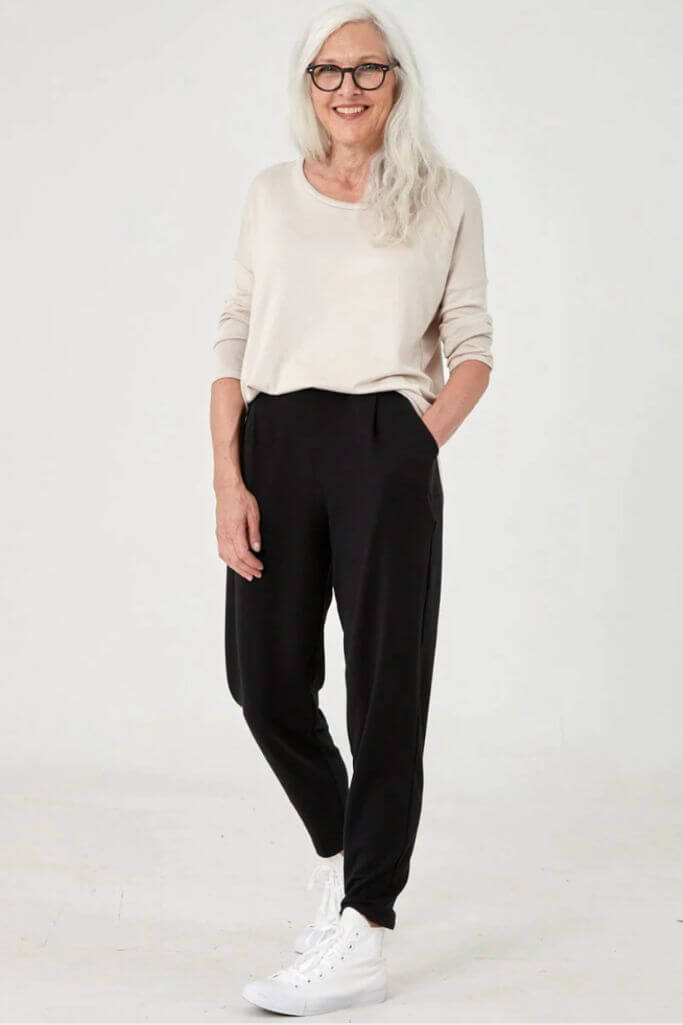 Price: $98.00 CAD
Brand: Advika Clothing
What Makes it Sustainable: These pants are made from a blend of Tencel and certified organic cotton so you know they're gonna be just as comfy as they are green. Plus, Advika uses small-scale local production, makes all their items in Montreal and strives to keep any waste – from fabric to shipping envelopes – to a minimum.
And there you have it! Eight items from four different affordable sustainable brands. Don't forget to check out ORIGIN-ABLE and visit often as more brands and clothing items are still to come. If you want to find more earth conscious brands that sell everything from kitchenware to bedding to building materials, check out my sustainable product directory.
Leave me a comment if you own any pieces from the brands in this post. Or if you have a green clothing company you love that I left out!
PIN ME!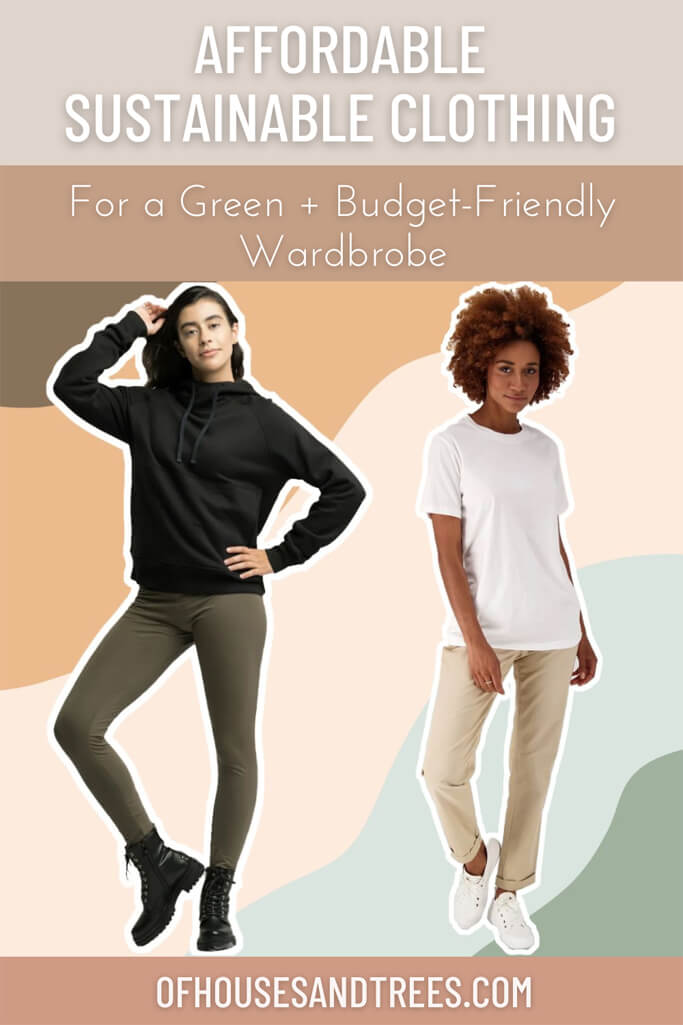 Posted on April 12, 2023
Need help choosing eco-conscious furniture and decor for your home? That's what I'm here for!
8 Affordable Sustainable Clothing Items for a Green and Budget-Friendly Wardrobe