Not only is an energy efficient stove a great way to save money on your utilities, it's also a great choice for the environment.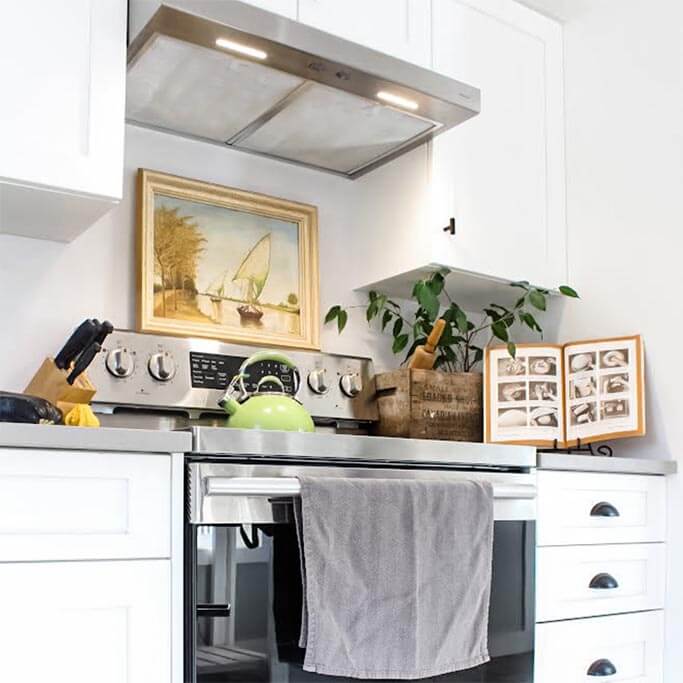 Finding energy saving kitchen appliances, for the most part, has never been easer. A quick search for Energy Star rated refrigerators and dishwashers leads to a ton of great options, from super affordable to high end.
Unfortunately, trying to find the most energy efficient range isn't as straightforward. The main reason for the lack of information on stove efficiency is that Energy Star – an organization that rates the efficiency of many other products and appliances – currently doesn't include stoves. It also doesn't help that appliance brands don't list the energy consumption of ranges on their websites.
And while countries such as the US and Canada mandate that manufacturers attach EnergyGuide labels (EnerGuide in Canada) to home appliances, it's hit and miss whether you can actually view the labels in store. (An employee at one appliance store actually told me they threw the labels away because the appliances had to be displayed as if they were in a home. Yeesh.)
That being said, even if you can't find an appliance's EnergyGuide information, there are still other ways to determine which energy efficient cooking stove is right for you.
Read on for tips on finding the most efficient electric stove and to learn about induction cooking efficiency and why electric is ultimately more eco-conscious than gas. Or, skip ahead for five of the best energy efficient stoves out there!
Note that this post may contain affiliate links, meaning if you click on a link and make a purchase a small percentage of the sale goes to yours truly. Please know that I strive to only feature eco-conscious products and brands.
How to Find an Energy Saving Stove
Because stoves are not rated by Energy Star, finding out the average amount of electricity they use is not as easy as finding the same info for other kitchen appliances. One way to check energy usage is to head to the store and see if the energy information is on display.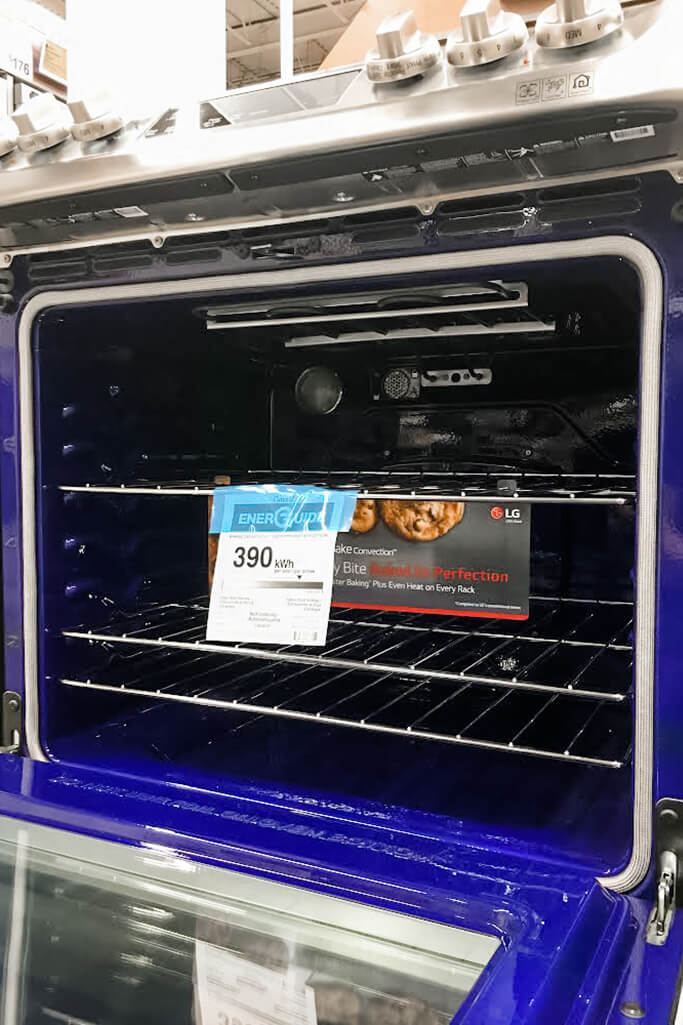 The yearly energy usage for a particular stove is much harder to find if you're shopping online, meaning you'll need to consider several other factors when narrowing out the best – and most efficient – choice for you.
Know your fuel source. Homes typically have hookup for either an electric stove or a gas stove. If you use your range at all you likely already know the answer. But did you know that some homes have dual fuel sources, meaning you can choose either electric, gas or a stove that combines both?
Look for a self-cleaning stove. Self-cleaning ovens reach extremely high temperatures, meaning they require extra insulation. Which is great news whether you're actually using the self-cleaning mode or simply baking some french fries.
Consider a convection oven. Convection are among the most efficient ovens because they use a fan to continuously circulate the heat. This translates to more even cooking, meaning faster cooking.
Invest in an induction cooktop. Stoves with induction energy cooktops are a newer addition to the home appliance realm. And while they tend to be more expensive and don't work with all types of cookware, the extra investment typically pays off in energy savings.
Check the wattage of the stove as well as each individual burner. Lower wattage typically means lower energy consumption, but the trade off may be longer cooking times.
Electric vs Gas Oven Efficiency
One of the first things you need to do when embarking on the search for an energy efficient range is decide whether you want an electric or a gas powered appliance. However, keep in mind that because gas requires access to a gas source, it may not be an option for your home.
Regardless of which route you choose, it's important to understand the pros and cons of each in terms of efficiency – and sustainability.
Is a Gas Stove Better than Electric?
Some of the pros of gas stoves and the reasons many home cooks swear by them is they give you instant heat, you can easily control their temperature, and they can still be used in a power outage. Meanwhile, an electric stove is easier to use, easier to clean and generates fewer indoor pollutants than gas.

When it comes to electric vs gas oven efficiency, you'll find some who claim a gas stove is clearly the better of the two. However, that isn't necessarily the case. It really depends on which stove model you choose and how you power it. After all, electric stoves – including induction models – can be powered with renewable energy sources like solar and wind. Meanwhile, natural gas is a nonrenewable resource. Because of the potential to power electric ranges with clean energy, all five of the models I chose below are electric instead of gas.
Electric Cooktop Versus Induction Cooktop
You may also be wondering what exactly an induction cooktop is and are induction cooktops more efficient? Induction cooktops are powered by electricity, so they are technically an electric appliance. However, the technology they use to heat food differs from traditional electric stoves.
Instead of first heating the element, then your cookware, induction cooktops heat the cookware directly. This reduces energy loss during heat transfer and even keeps your stovetop cool to the touch. Studies have shown that induction cooktops transfer 90% of the heat generated directly to your food, while regular electric cooktops transfer 74% and gas transfers only 40%.
Need help choosing eco-conscious furniture and decor for your home? That's what I'm here for!
5 of the Most Energy Efficient Electric Stoves Available Today
And now for the moment you've been waiting for – my top five choices for the best energy saving electric stove, including two induction ranges, a small space stove, a budget-friendly coil-top stove and a range with two ovens.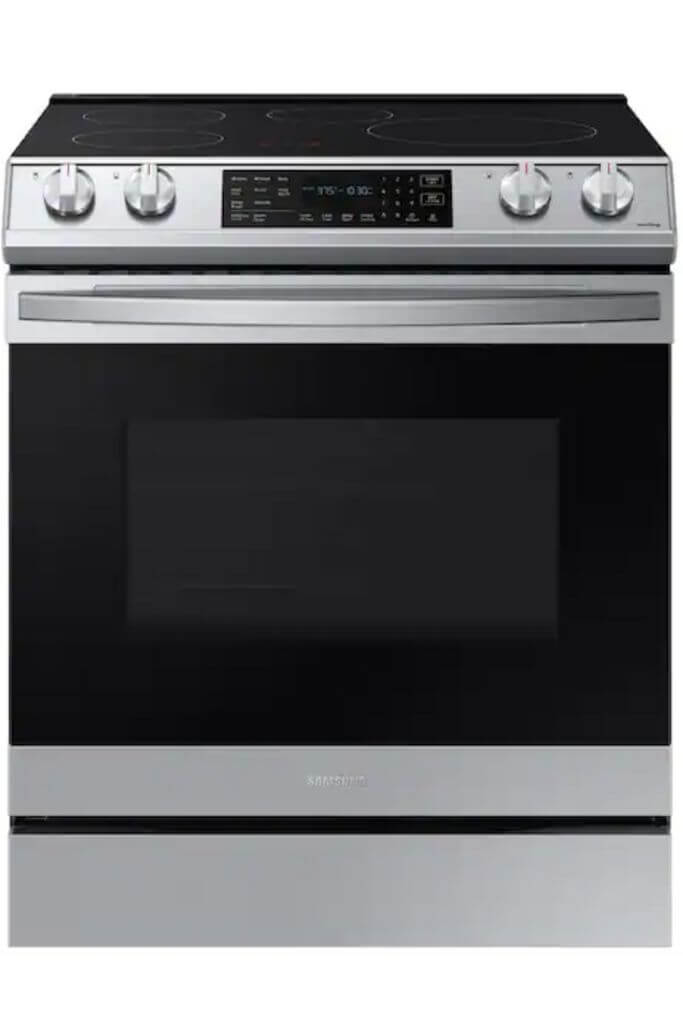 Brand: Samsung
Type: Induction Range
Model Number: NE63B8611SS
Estimated Energy Use: 343 kWh/year
Capacity: 6.3 cubic feet
Width: 30 inches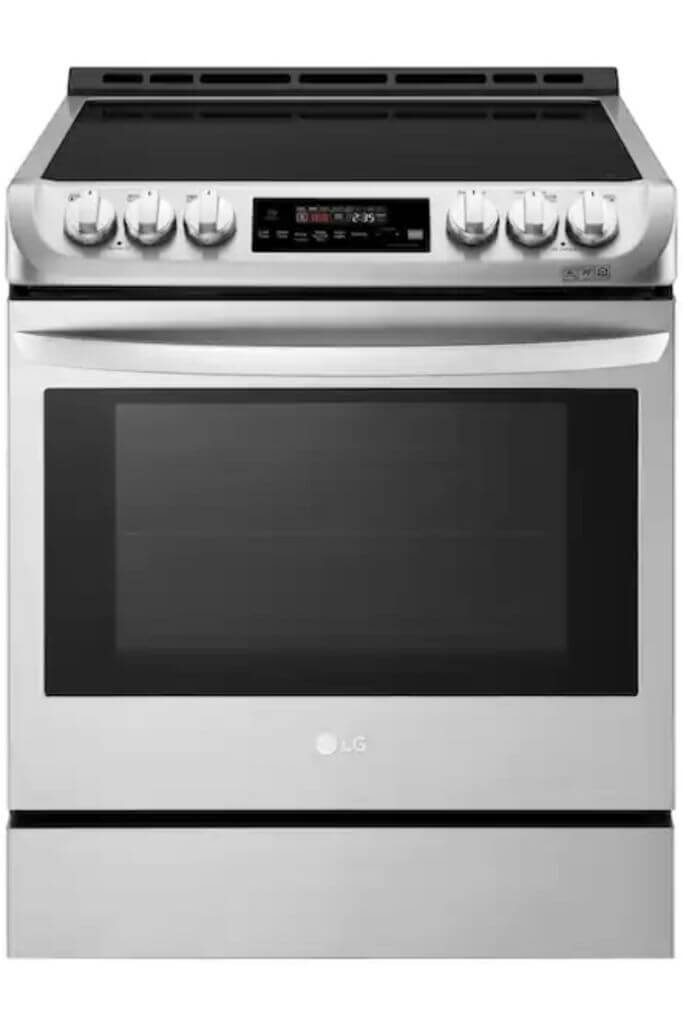 Brand: LG
Type: Induction Range
Model Number: LSE4616ST
Estimated Energy Use: 390 kWh/year
Capacity: 6.3 cubic feet
Width: 30 inches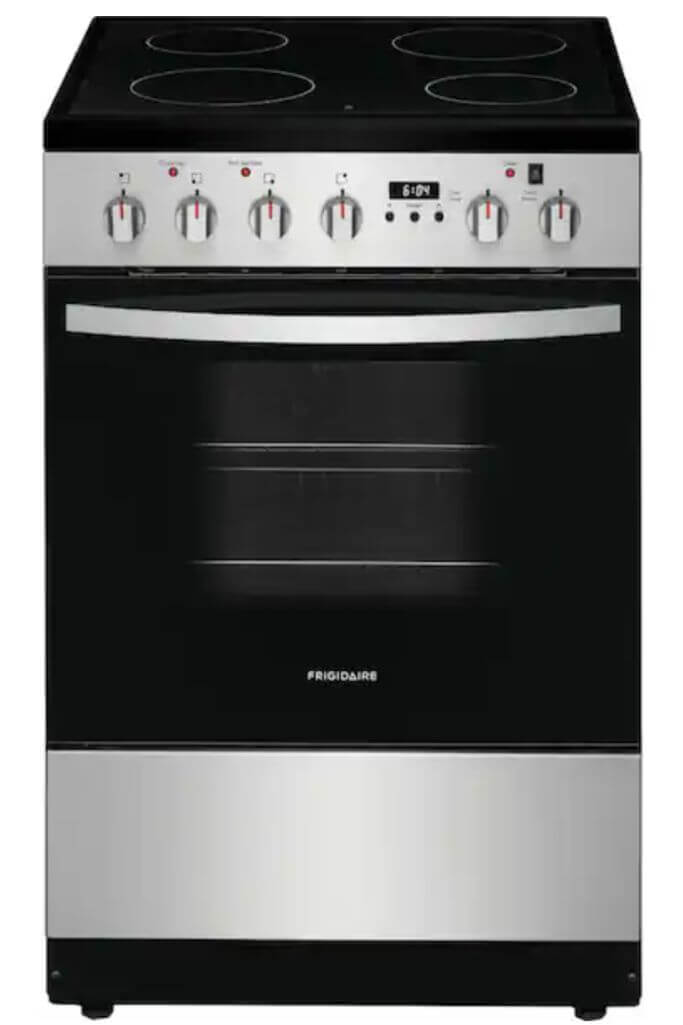 Brand: Frigidaire
Type: Electric Range
Model Number: FCFE2425AS
Estimated Energy Use: 416 kWh/year
Capacity: 1.9 cubic feet
Width: 24 inches

Brand: Frigidaire
Type: Electric Range
Model Number: FFEF3016VS
Estimated Energy Use: 505 kwH/year
Capacity: 5.3 cubic feet
Width: 30 inches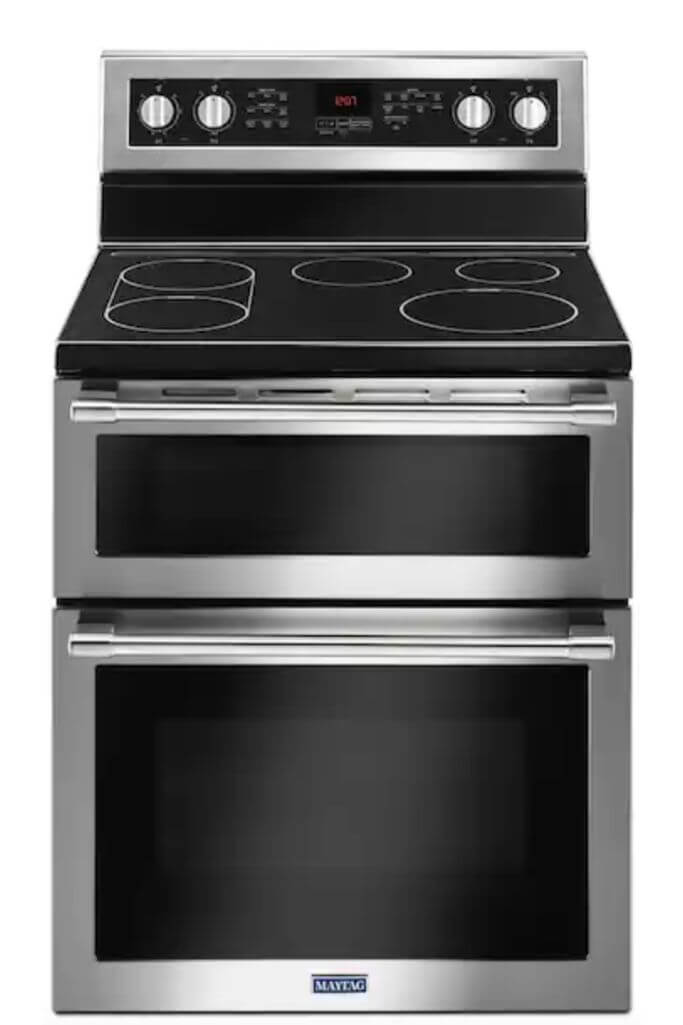 Brand: Maytag
Type: Electric Range
Model Number: MET8800FZ
Estimated Energy Use: 521 kwH/year
Capacity: 6.7 cubic feet
Width: 30 inches
Hopefully this post helped you narrow down your search for an energy efficient stove. Don't forget to visit 5 of the Most Energy Efficient Refrigerators and 5 of the Most Energy Efficient Dishwashers if you're in need of a full suite of kitchen appliances. And if you need help designing a beautiful, eco-conscious kitchen – check out my e-design services!
PIN ME!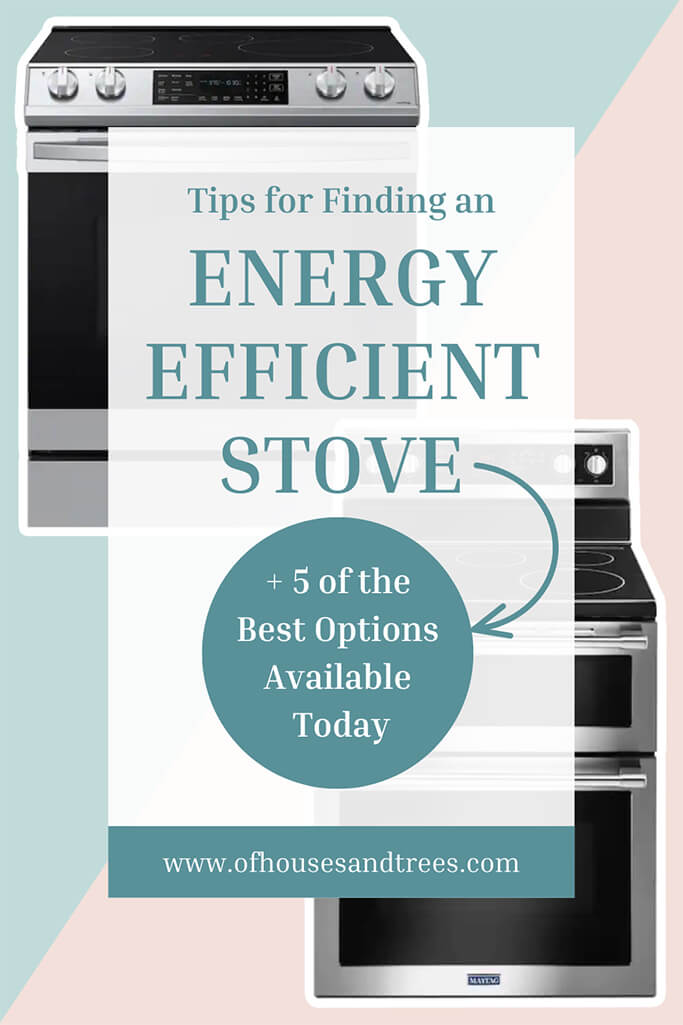 Posted on October 23, 2022
Need help choosing eco-conscious furniture and decor for your home? That's what I'm here for!
Tips for Finding an Energy Efficient Stove + 5 of the Best Options Available Today