Looking for bedroom layout ideas to transform your space into a personal oasis? These six tips for creating the ideal setup are sure to inspire!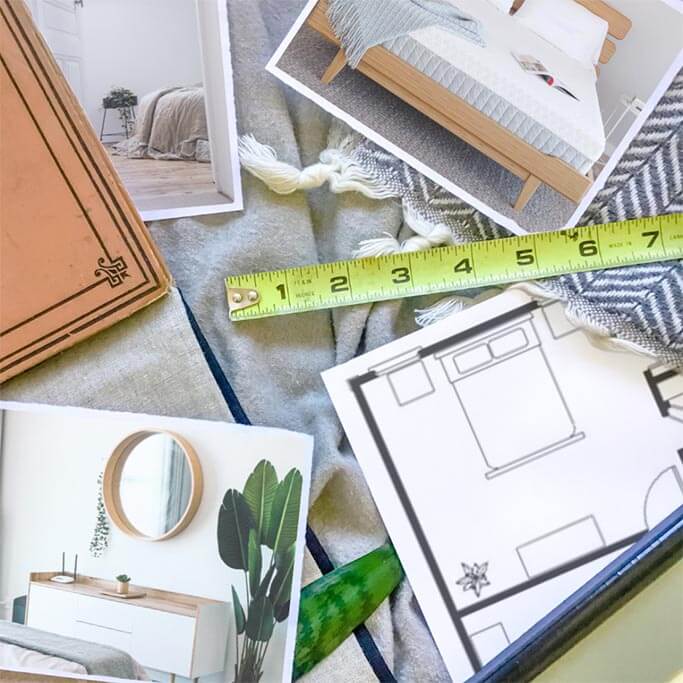 Do you know what's not restful? A bedroom packed full of stuff with nowhere to walk. On the other side of things, a well designed bedroom should feel like a place where you can breathe and just be.
But how do you know where to start? If your room is currently empty, it might just feel like a big box. If you already have furniture, the thought of rearranging it to create optimal use of your space is enough to make you want to have a nap.
But you can relax. Because I've come up with six bedroom arranging ideas that range from general to more specific. Whether your room is big, small, square or rectangular. Whether it doubles as an office, has a nook you don't know what to do with, or requires two beds – I've got you covered!
I've also added a "Make a Green" tip to each of the ideas below. Because of course you want your restful bedroom to be eco-conscious!
A big thank you to BedInABox for sponsoring this post. Please know that I strive to only feature companies and brands that value sustainability as much as I do. Note that Of Houses and Trees also contains affiliate links, meaning if you click on a link and make a purchase a small percentage of the sale goes to yours truly. Thank you for your support!
Start by Searching for Bedroom Plans Online
Sometimes all we need to spark inspiration when planning a bedroom layout is a simple visual representation. Just like there are tons of whole house floor plans online, there are also digital drawings of different bedroom layouts. Once you see a few different configurations you'll hopefully get that "aha" moment and then off you go. You can also check out some of the free online planning tools available as they can be quite helpful – and they're fun too!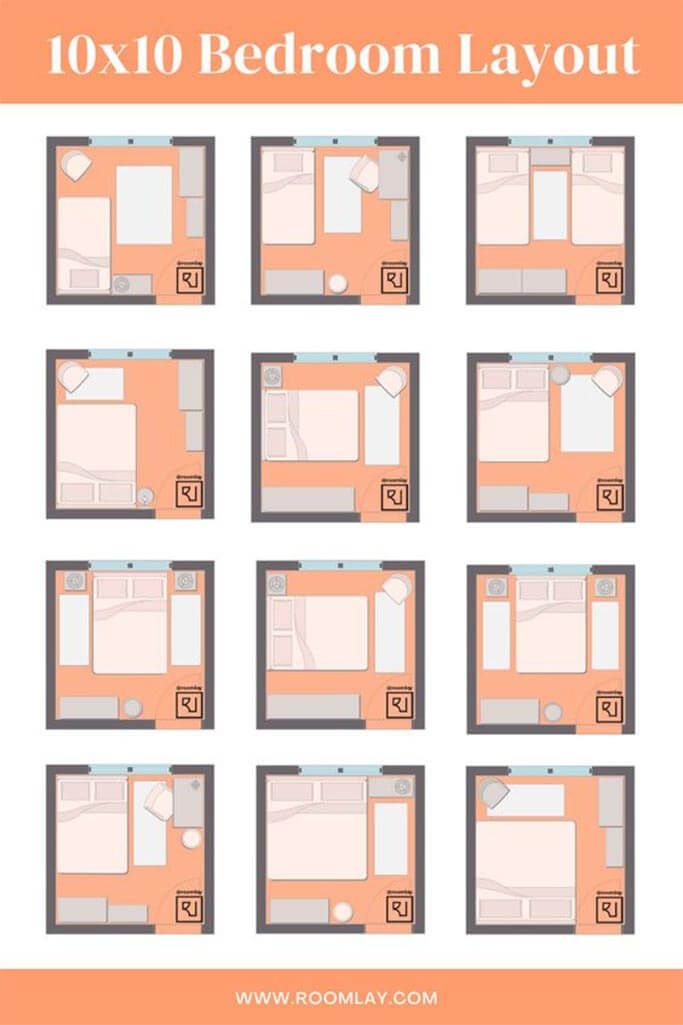 Make it Green: One of the most important rules of sustainable design is less is more. Meaning just because you can fit a king mattress, a large dresser, a couple of nightstands, a desk, a chair and a bookcase doesn't mean you should. Think about the amount of furniture you actually need to make the space functional and try to leave some empty space for breathing room.
How to Decide on a Bed Layout
The bed is the centrepiece of your bedroom, so of course its location should be one of the first things you decide. If you already have a mattress and a frame – great! If not, choose your mattress size based on the amount of space you have. Don't choose something so big you have no room next to your bed for a side table, or worse – no space to get out!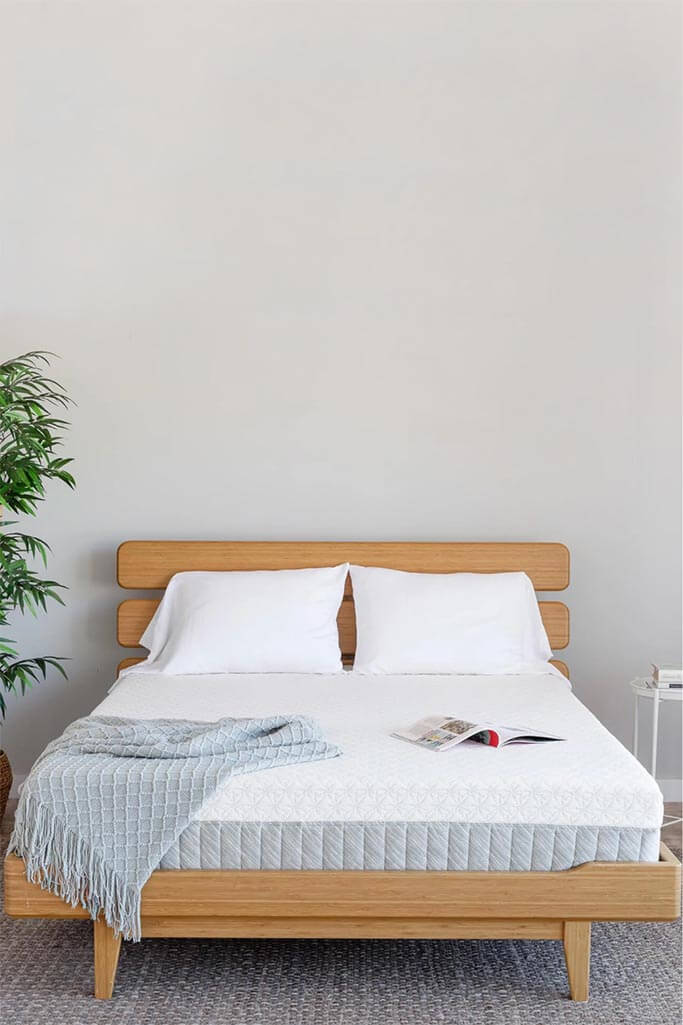 Make it Green: There are so many mattress brands out there it's mind boggling – but not all mattresses are created equal. BedInABox developed the bio-based Eco-Lux mattress, which has an organic cotton cover and is OEKO-TEX Certified, CertiPUR-US Certified and Bio-Preferred Certified. All of which breaks down to a super comfy mattress that's gentler on the environment and won't off-gas chemicals into your home.
Bedroom Layout Ideas for Rectangular Rooms
Most bedrooms are not perfect squares. In fact, the most common bedroom size in the United States is 11′ x 12′. Usually in a rectangular room you would have the length of the bed running down the longer side of the room. But that also depends on where the windows are. Natural light is integral to our health and happiness and it's important to treat windows as a feature design element.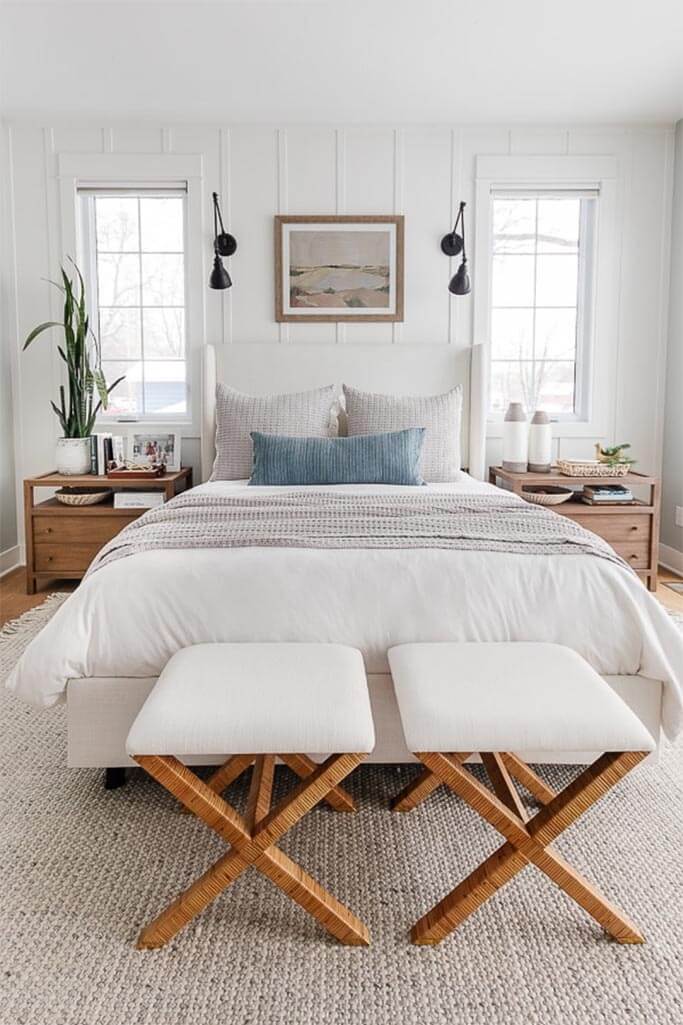 Make it Green: No matter the shape or size of your room, always try to use your existing furniture first. Even if you think what you have won't fit, consider all the layout options before deciding to buy something new. If you do need a new bed frame or dresser or another piece, consider secondhand first and then sustainable brands second.
Need help choosing eco-conscious furniture and decor for your home? That's what I'm here for!
Ideas for a Bedroom Layout with a Nook
I love nooks! I love them so much that when I designed our sustainable home, I made sure to include one or two… or three. There are many ways to go about deciding on the furniture layout in a bedroom with a nook. The most obvious being to put your bed in the nook. But another popular – and lovely – choice is to create a small sitting area.
Make it Green: If you're building – or renovating – with a nook in mind, make sure you consider reclaimed materials before buying knew. You may be able to find flooring or wall panelling or lighting at an architectural salvage shop or even on a local online buy and sell.
Bedroom with a Desk Layout Ideas
The last few years taught us a lot of things, but one important lesson is that it's a necessity to have a quiet space in your home where you can tuck in and get some work done. Having your bedroom double as an office is also a smart choice because we mostly use our bedrooms at night – so why shouldn't they also get some attention during the day?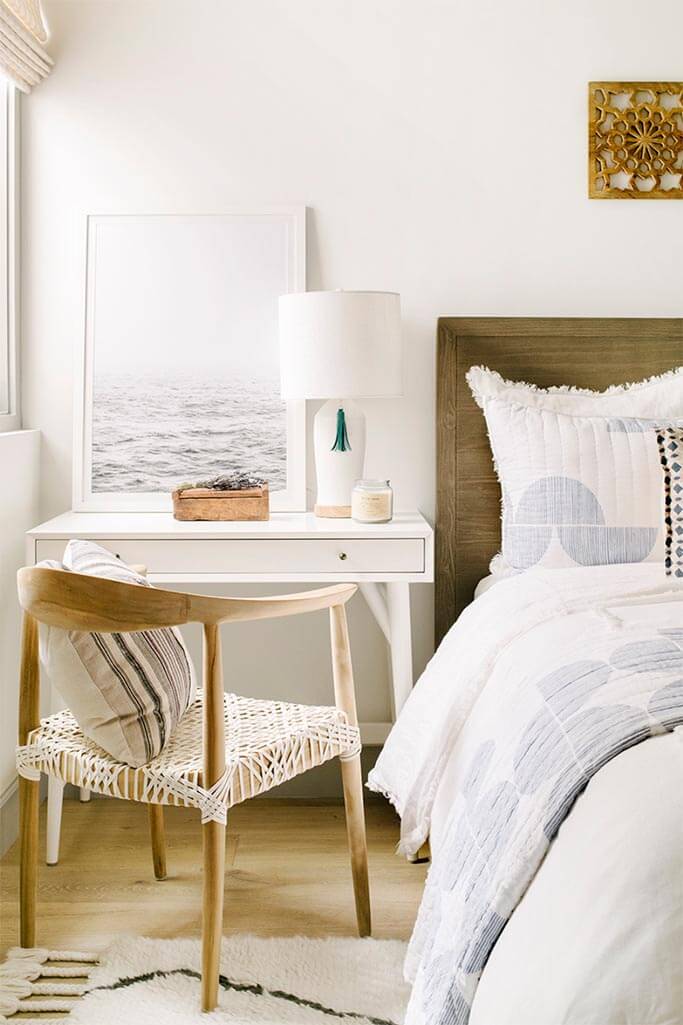 Make it Green: Using furniture for more than one thing is a great way to live more sustainably. That could mean your desk is also your nightstand, or the place you work also acts as a storage solution for clothing.
Bedroom Layout Tips for Two Beds
A bedroom with two beds isn't just for kids. There are other situations where you might need two separate sleeping spaces in one room, whether it's a guest room or even a master suite. Some couples just prefer to have their own bed! You can place the beds side by side with either two nightstands or one shared nightstand between them. However, you also may be able to place the beds on two different sides of the room, giving each person their own little carved out area.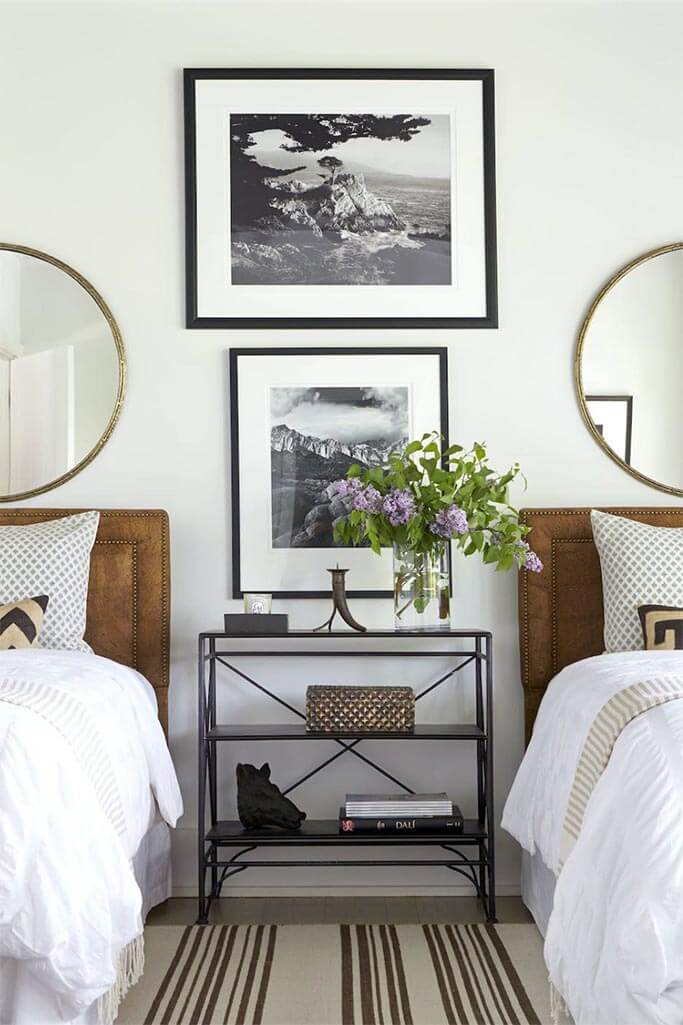 Make it Green: If you need to buy new beds or other new bedroom furniture, make sure to find pieces that are well made. It can be tempting to save money and buy cheap furniture from a big box store. But believe me when I say you get what you pay for. Try investing in handmade pieces or something vintage instead.
If you need more inspiration, you can always check out bedroom decorating ideas on Pinterest! Or, you and I could work together via my sustainable online interior design services. Send me a message or ask me your questions in the comments below. I'd love to hear from you.
And don't forget to checkout the Eco-Lux mattress. It comes in four different sizes and for every mattress purchased BedInABox plants a tree!
How is your bedroom setup? Do you like it or do you want to change things around? Let me know in the comments!
PIN ME!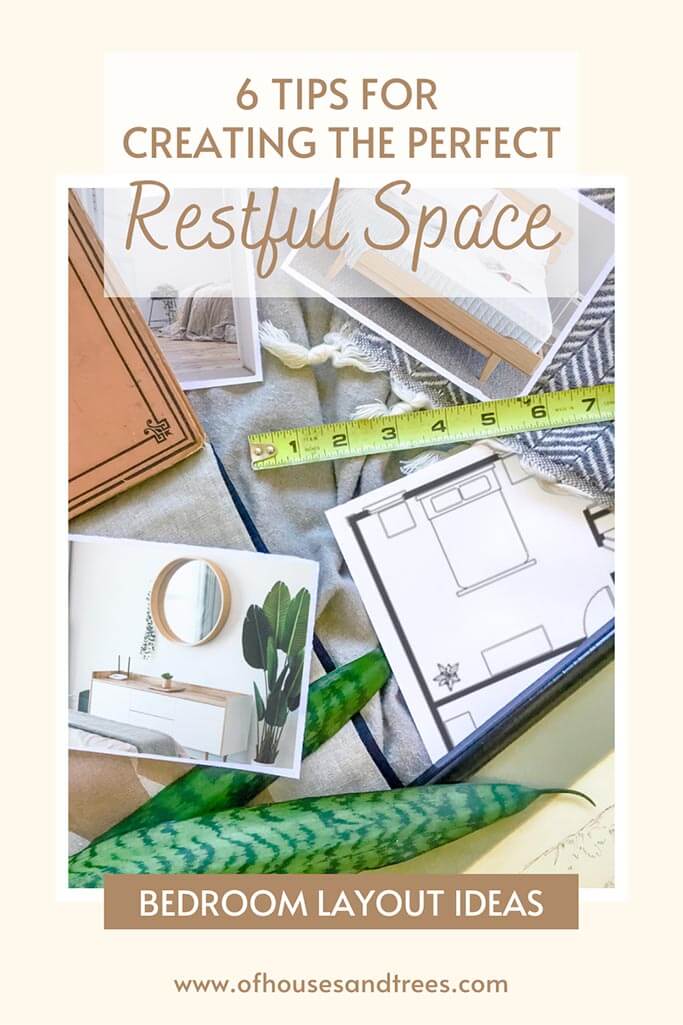 Posted on August 30, 2022
Need help choosing eco-conscious furniture and decor for your home? That's what I'm here for!
Bedroom Layout Ideas: 6 Tips for Creating the Perfect Restful Space