As with any other eco-conscious endeavour, sustainable decorating just takes a little extra time and consideration. So here are six steps to creating a beautiful and sustainable space you'll be proud to call home.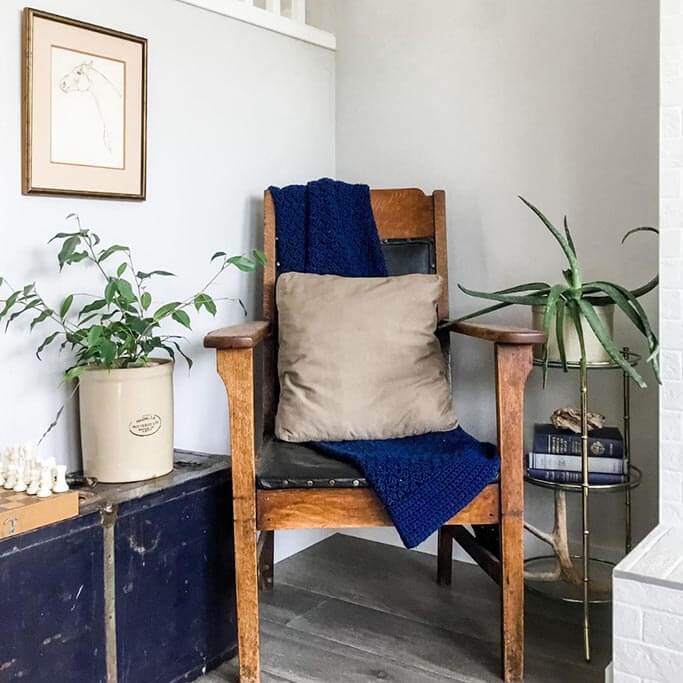 Whether you're decorating for the first time, or redecorating for the fifth time, there are several ways to make the process as eco-conscious as possible.
Below you'll find six eco friendly decorating ideas to take an empty room from plain to pretty. From the walls, to the floor, to the furniture – and more! – these tips are simple and straightforward. Because being green shouldn't be hard.
Read on to learn all about my first step – using non-VOC paint. Or, skip ahead to find out what it means for furniture to be "FSC certified," and why you should buy your house plants locally whenever you can.
If you want a deeper dive into one of my favourite ways to consciously create interior spaces, check out my post on slow design.
Note that this post may contain affiliate links, meaning if you click on a link and make a purchase a small percentage of the sale goes to yours truly. Please know that I strive to only feature eco-conscious products and brands.
Start with a Fresh Coat of No-VOC Paint
If you already love your wall colour – great! Leave it as is. But if your walls are looking dingy or you just want to take the space in a new direction, paint is the easiest way to start the process. Choose neutrals to create a calming backdrop to your space or go bold and make a statement.
Thankfully, most paint brands now have no-VOC options, meaning they contain no volatile organic compounds – which are bad for air quality. Popular brand Benjamin Moore has their EcoSpec line, which is both VOC and emission-free. Or you can check out eco-conscious paint brands like Farrow and Ball or ECOS.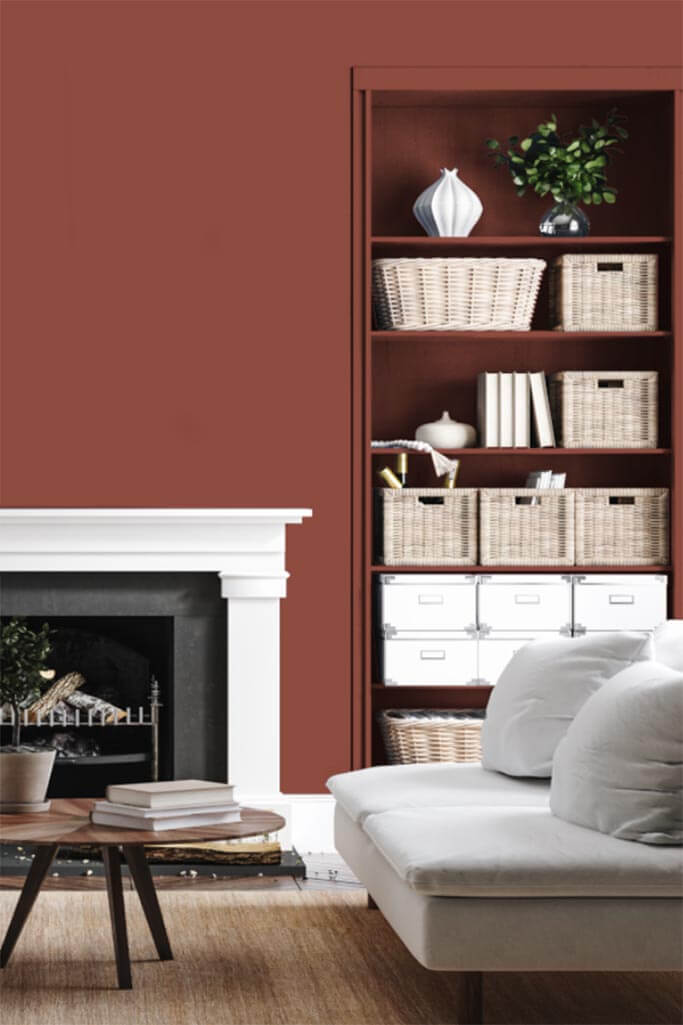 Lay Down a Vintage Rug
Only the second tip in and I'm already telling you to buy vintage. Well of course I am! And by vintage I mean an actual used rug, not one that looks "vintage" but turns out to be brand new and mass-produced. A truly vintage rug is a thing of beauty and the best part about it is that it brings a layer of character and charm to your home that, honestly, you just can't get with new.
All that being said, if you can't find vintage, can't afford it or can't bear the thought of having something in your home that has been walked on by someone else's feet – there are brands out there that sell new, thoughtfully crafted, vintage-looking rugs. Momeni, for example, is a highly-respected rug manufacturer that sells everything from traditional, to modern, to retro rugs.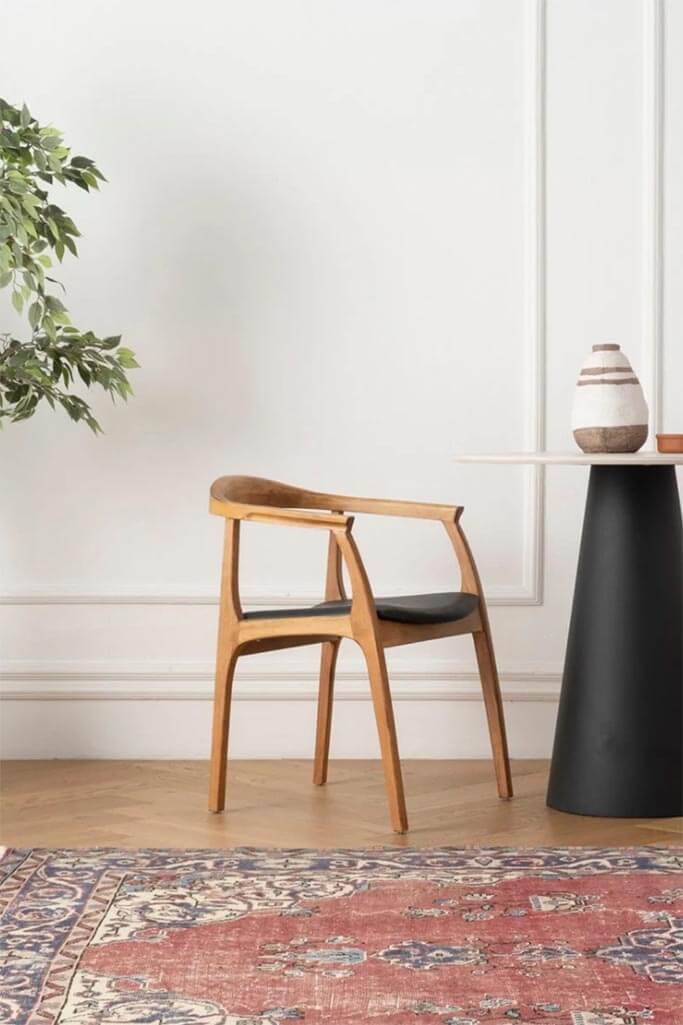 Invest in a Piece of FSC Certified Wood Furniture
Just because a piece of furniture is wood doesn't mean it's sustainable. True, wood is a natural material, but it's important to check how to wood was harvested. It may sound like a complicated extra step, but it's actually super easy with the FSC certification label.
The Forest Stewardship Council certifies wood that was harvested ethically and sustainably. Then, a furniture manufacturer purchases this wood and makes beautiful, eco-conscious creations such as tables, chairs, bookshelves, bed frames and sofas. The Citizenry and Sabai are just a couple of the many brands that use FSC certified wood for their stylish pieces.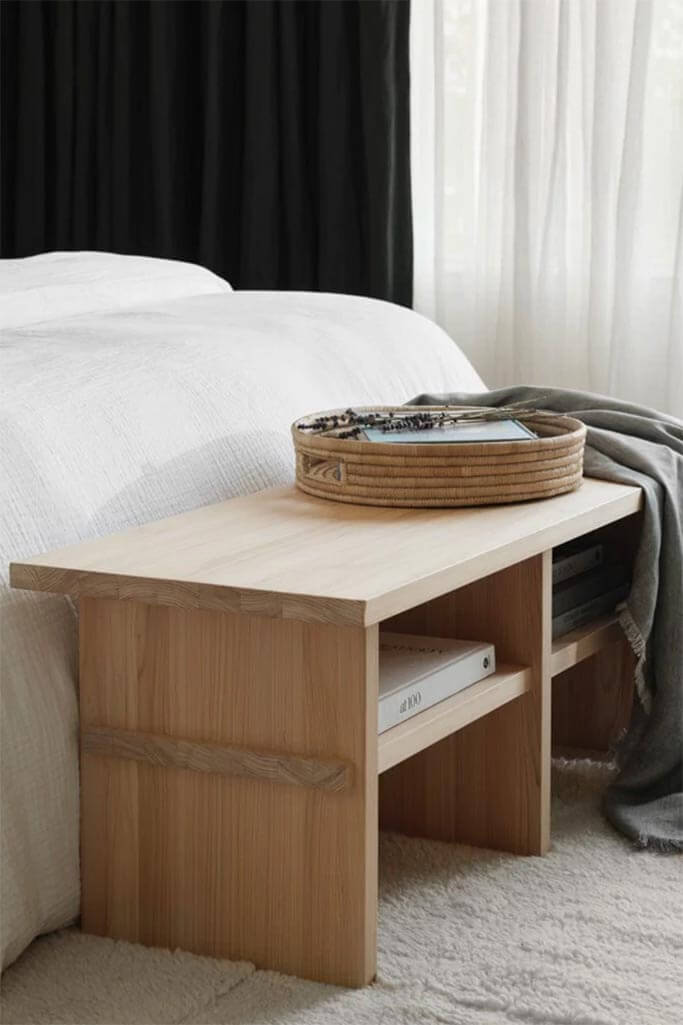 Need help choosing eco-conscious furniture and decor for your home? That's what I'm here for!
Create a Gallery Wall Using Secondhand Frames
I love a secondhand vintage frame. And a whole gallery wall made up of vintage frames? Sublime. The great thing about older frames is they come in so many shapes, materials an sizes you can really create an eclectic display. One of my favorite things to do is pair modern art pieces such as abstracts with an old frame. There's just something cool about the contrast.
If you don't love the mix and match look, you could always buy used frames and then spray paint them all one colour – such as black. You'll still be able to see the details of the frames, but the uniform colour will make your gallery wall feel a bit more minimalistic and modern.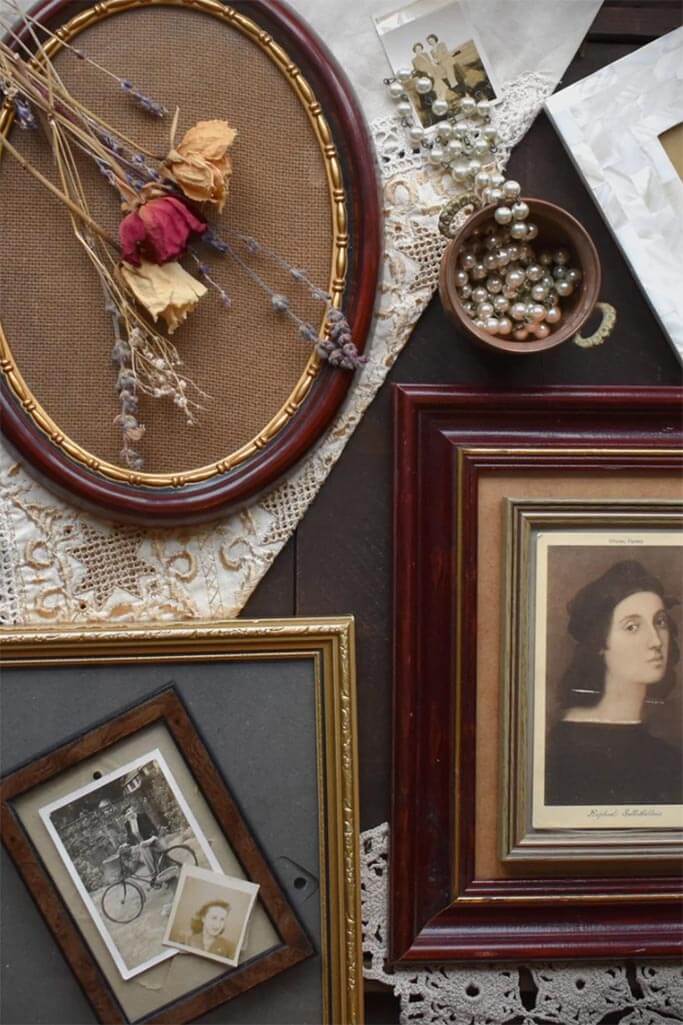 Layer in Texture with Throws, Pillows and Meaningful Accessories
Texture is an important part of decorating a home. Mixing different materials is what gives a space depth and bringing in smaller items that you love is what tells a story. A pillow with interesting pattern, a handmade throw and a vase you picked up at a garage sale for $5? That's just one story!
I like to collect my accessories from various places. Heading to a large chain store and buying multiple items from there might make your house feel "done," but it probably won't make it feel special. Locally-owned shops, thrift stores and your grandma's basement are all great places to start looking for items to collect.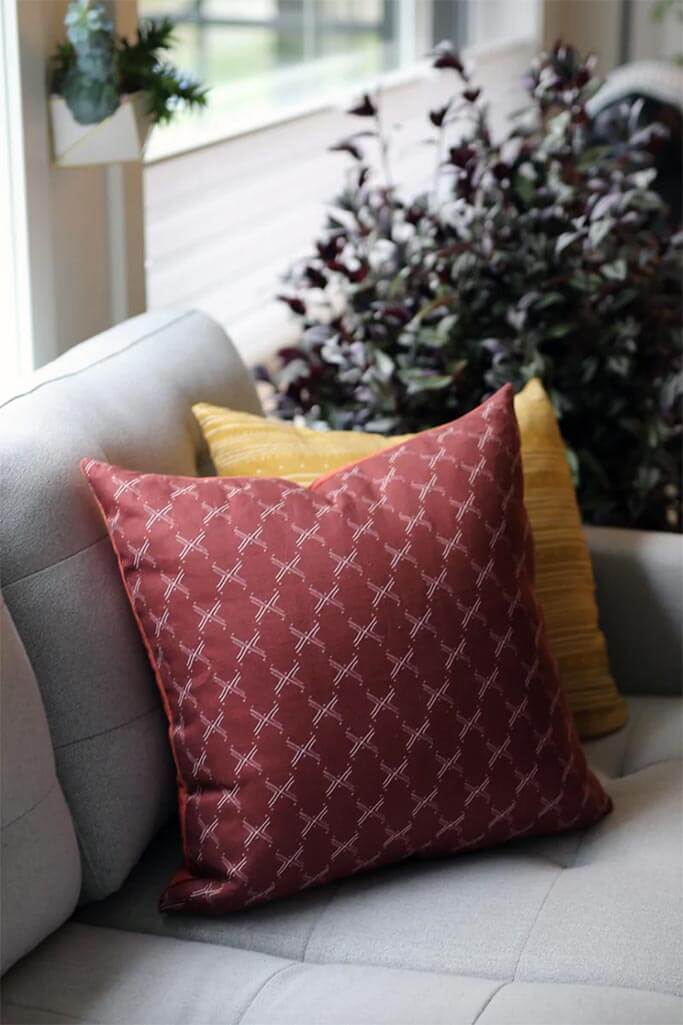 Don't Forget About Plants!
You don't have to turn your home into a jungle to reap the rewards of having plants indoors. (Not that there's anything wrong with an indoor jungle!) Not only do plants help improve indoor air quality, they provide us with a touch of nature even on the coldest or dreariest of days.
Note that there's been a lot of talk lately around the idea that perhaps houseplants aren't as eco friendly as they seem. Surely not the fault of the plants! But due to the increasing popularity of indoor plants, more and more plants are being shipped from all corners of the world when it truly is more sustainable to buy plants grown locally as much as possible.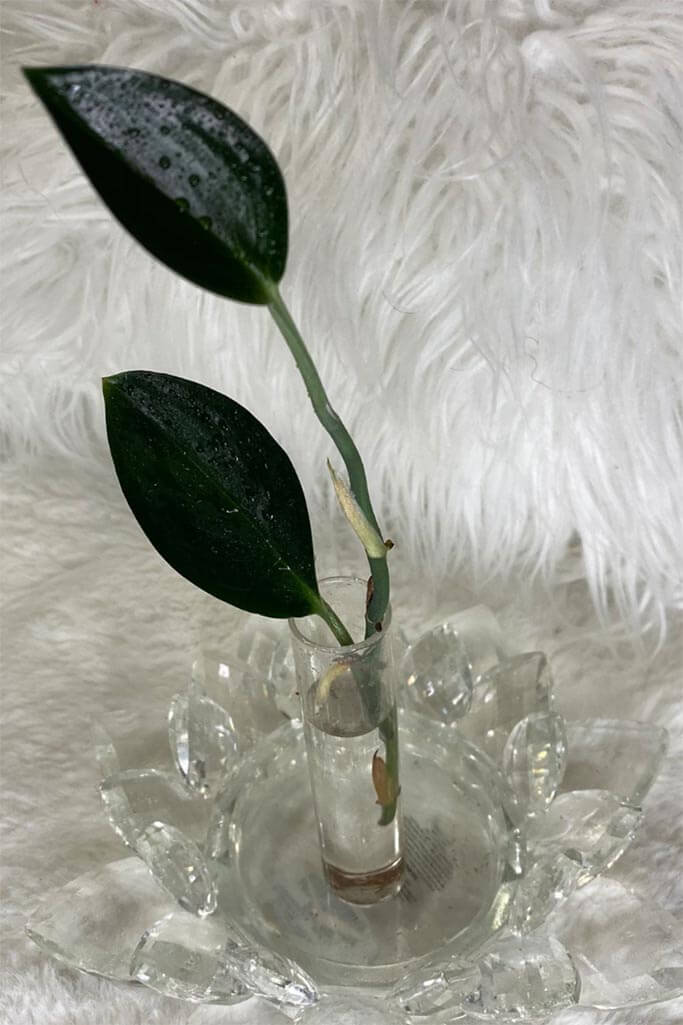 Happy sustainable decorating! Don't forget to check out some of my interior design style guides for inspiration, such as my guides to Japandi interior design and coastal interior design. And if you need help gathering sustainable decor ideas, check out my free consultation services!
Which of these tips is your favourite? Have you tried any of them already? Let me know in the comments!
PIN ME!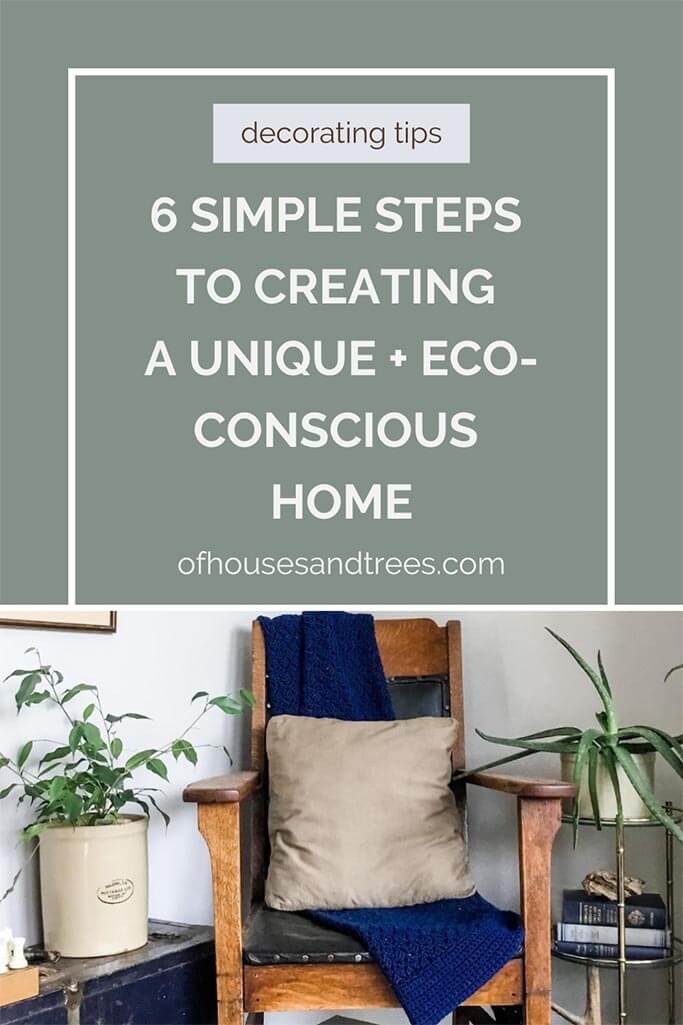 Posted on November 8, 2022
Need help choosing eco-conscious furniture and decor for your home? That's what I'm here for!
6 Simple Sustainable Decorating Tips to Help You Create a Unique + Eco-Conscious Home