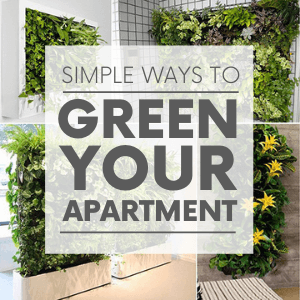 I'll admit it. When I write posts about sustainable home design and decor, I'm usually thinking about a house. But that's just because I currently live in a house and have for the past ten years. But guess what? I lived in apartments for six years before that.
And guess what else?
It really doesn't matter what kind of home you live in – apartment, condo, townhouse, tiny home, bungalow, split level, two-storey, mansion – turning it into a eco-friendly haven involves pretty much the same steps.
Still, I understand it's nice to have information tailored specifically to your living situation. And that's what this post is all about.
Ready for some simple, eco-friendly apartment ideas? Of course you are!
---
Note that this post contains affiliate links, meaning if you click on a link and make a purchase a small percentage of the sale goes to yours truly. Please know that I only link to products that are good for the earth, good for the soul, or both!
---
Green Apartment Furniture and Decor
Much like in a full-sized home, greening your apartment decor is an important – and simple – step. There are so many eco-conscious options out there and sometimes they're even more affordable than conventional decor.
Shop secondhand. Visit thrift stores, scour you local online buy and sell – heck – even ask your friends and family members if they have gently used items they aren't digging anymore. Nothing is more affordable than free!
Choose sustainable materials. If you just can't find what you're looking for secondhand or have a very specific idea of what you want, then buy furniture and decor made from materials such as bamboo, cork, responsibly-managed wood, metal, glass or that contain recycled content.
Hang light blocking curtains. Not only do curtains look nice, they can also keep your apartment cool by blocking direct sunlight. Once again, check out thrift stores for secondhand finds or for anything that can be turned into curtains such as sheets, blankets – even shower curtains! Or support an artisan by purchasing handmade curtains from Etsy – like these ones made from recycled saris.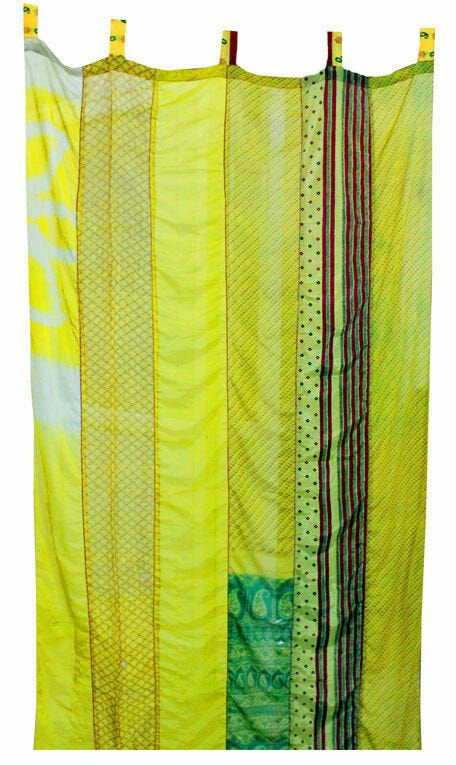 Green Apartment Maintenance
One of the pluses of living in an apartment is that the building maintenance and cleaning crew usually take care of the grounds and common areas. And depending on your apartment's policies, they may also come in to change lightbulbs or fix leaks. Speaking of lightbulbs and leaks…
If you're lightbulbs aren't LED, make sure they're changed over. If bulbs are the building's responsibility, ask for LEDs or offer to pay for them yourself. Yes, they're expensive up front. But they'll save money on your electricity bills and put less strain on natural resources.
As for that leaky faucet – get it fixed asap. Leaky faucets are more than just an annoying dripping sounds, they're also wasteful and pricey. The average American family loses 10,000+ gallons of water to small leaks per year!
There are lots of other maintenance-related areas you can green, such as cleaning with non-toxic cleaners, recycling your paper and plastics and creating an indoor composting station. You can either make your own apartment-sized composter or buy something like the adorably named Worm Factory, which is made from recycled materials and can be used both indoors and outdoors.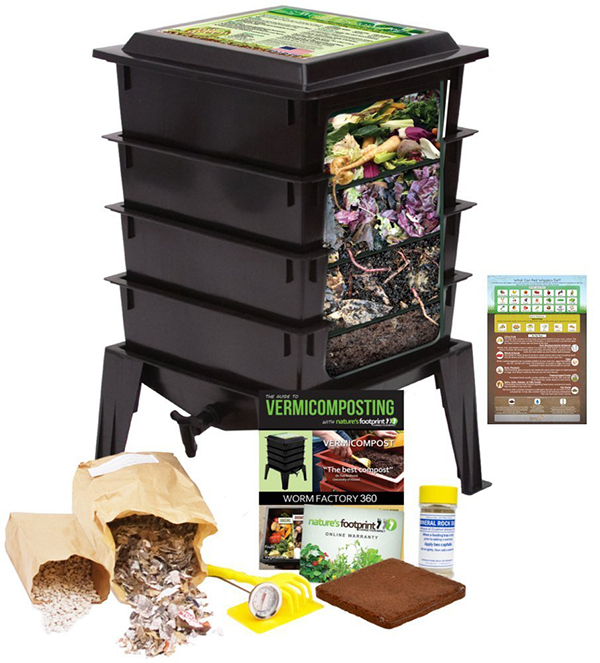 ---

---
Green Apartment Garden
Gardening isn't just for people with big yards! Container gardening has long been a way to have your own little garden within a limited amount of space. But thanks to an upswing in the grow your own movement, apartment gardening has climbed to a whole new level – literally!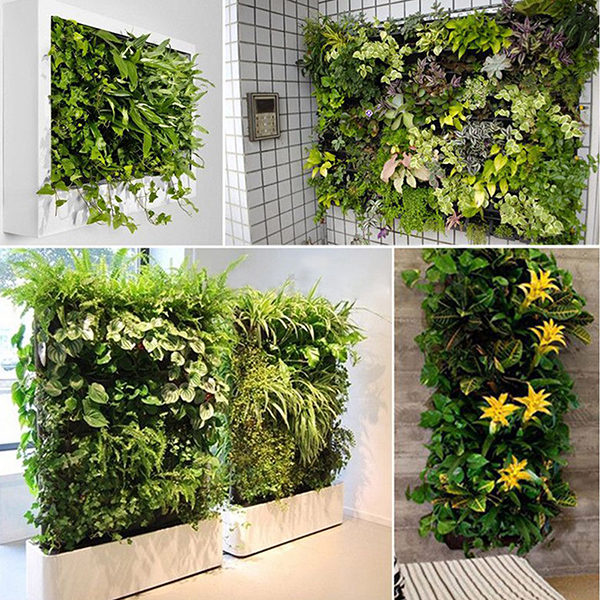 I also really like this infographic by Downtown Apartment Company, which provides a few more simple eco-friendly apartment ideas – plus it's really pretty!
Happy apartment living, friends!
---
LET'S BE TREEHUGGERS TOGETHER!
Subscribe to have weekly treehugger tips + the latest Of Houses and Trees posts delivered directly to your inbox!

OH, AND LET'S BE FRIENDS TOO…
---
PIN ME!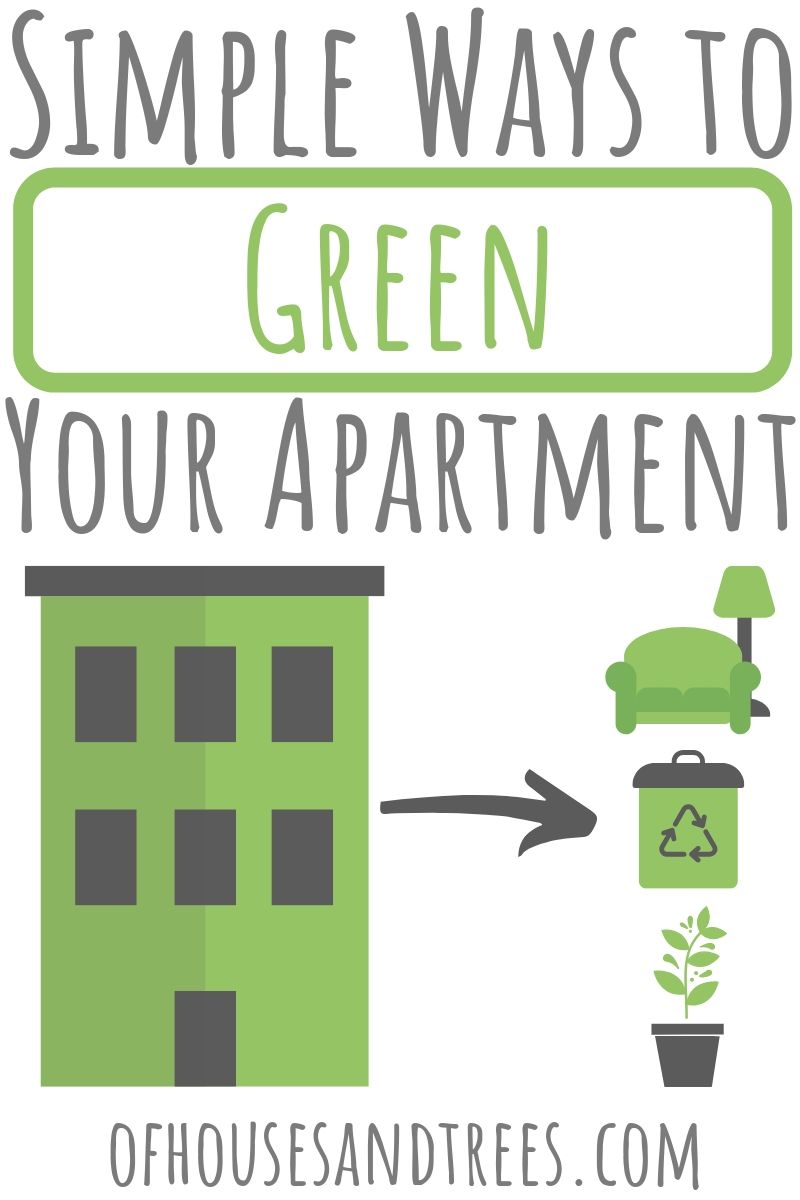 Posted on July 10, 2019
Simple Ways to Green Your Apartment