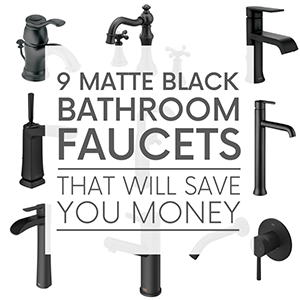 Matte black bathroom faucets are on trend. And thanks to these nine low flow styles, you can save money – and look great doing it!
What makes a bathroom faucet eco-friendly? Well, as I mentioned in my post How to Design an Eco-Friendly Bathroom, making sure you have a low flow faucet is pretty much a must.
Every time you turn on the tap you have the opportunity to use less water than you would if you had a traditional faucet. Which in turn saves you money – and is kinder to the planet. Double score!
Still a little uncertain about the whole low flow faucet business?
Let's break it down. Then we'll get into the matte black bathroom fixtures.
Note that this post may contain affiliate links, meaning if you click on a link and make a purchase a small percentage of the sale goes to yours truly. Please know that I strive to only feature eco-conscious products and brands.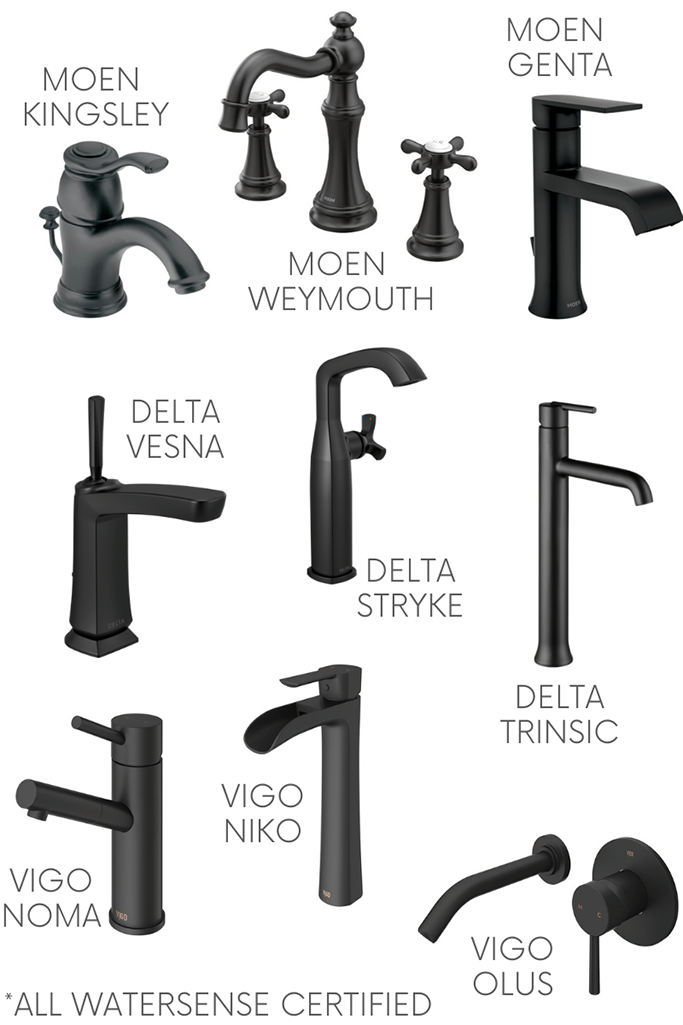 What is a Low Flow Faucet?
A standard bathroom faucet has a flow-rate of 2.2 gpm (gallons per minute). Installing a faucet that has a maximum flow rate of 1.5 gpm can reduce water consumption by 30 percent. Look for WaterSense labelled faucets to ensure you're getting a fixture that has been certified by a third party. You can also read more about household water conservation on the WaterSense website.
I also want to note that ensuring your low flow faucet is durable is another must. Because there's no point in installing a low flow faucet if it's just going to leak and need replacing.
WaterSense certified faucets come in all kinds if finishes, but I've always been partial to a matte black bathroom faucet since it's both timeless and contemporary. And I certainly am not the only one as black sink faucets are currently trending.
Also note, it's extra eco-friendly to shop #secondhandfirst. Try searching for low flow black faucet for your bathroom on a local buy and sell or at somewhere like a Habitat for Humanity Restore. You never know, you might find exactly what you're looking for!
Matte Black Bathroom Sink Faucets by Moen
Named as WaterSense Partner of the Year for 2010, Moen is well known in the plumbing fixture world for their durable, water-conscious faucets, which is why the builder of Our House in the Trees recommended them.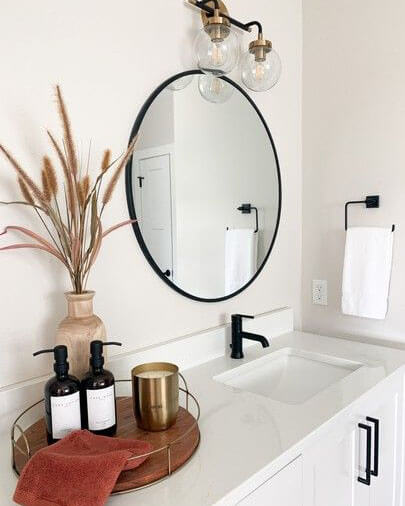 Thankfully, durable doesn't have to mean boring as Moen has some really beautiful faucets, including 15 that come in black – all with a flow-rate of just 1.2 gpm! Here are three of my favourites, but you can view all 36 of the Moen matte black bathroom faucets here.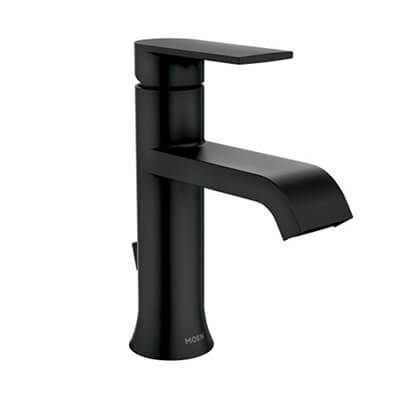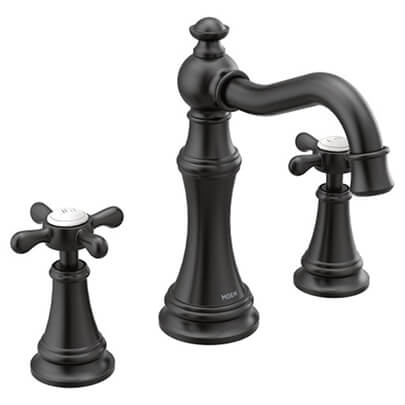 Need help choosing eco-conscious furniture and decor for your home? That's what I'm here for!
Matte Black Bathroom Sink Faucets by Delta
Delta is another brand I was already familiar with – and was also recommended by our builder for their durability. Delta was named WaterSense Partner of the Year for 2011, 2013 and 2014 and have a large range of low flow faucets.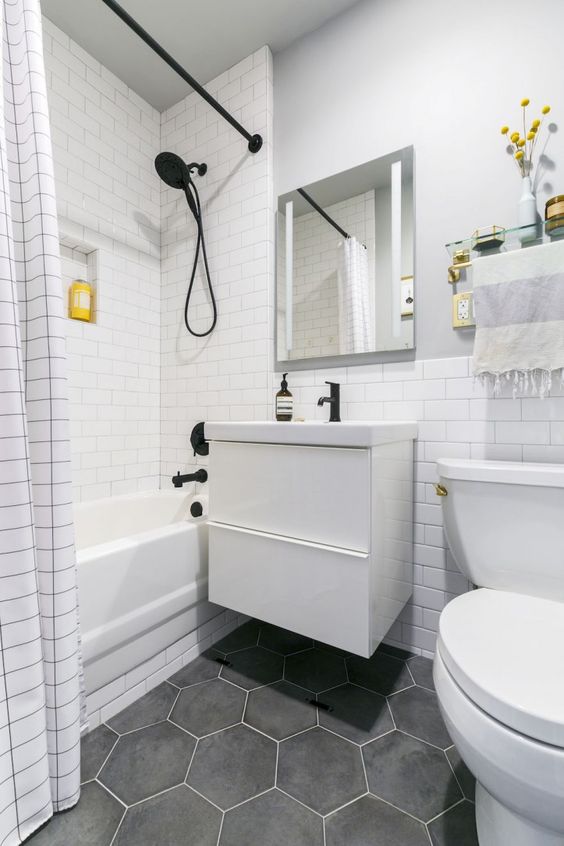 They have a whopping 60 matte black WaterSense labelled bathroom sink faucets. Many that are a variation of the same style so you can swap out handles, heights and so on. These Delta black faucets are my personal favourites, but you can view them all on the Delta website.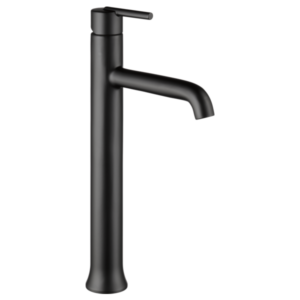 Matte Black Bathroom Sink Faucets by Vigo
I discovered Vigo's faucets when I was working on my Eco-Friendly Bathroom post. If you're into more of a contemporary look, or like blending modern and more traditional styles together – consider checking them out.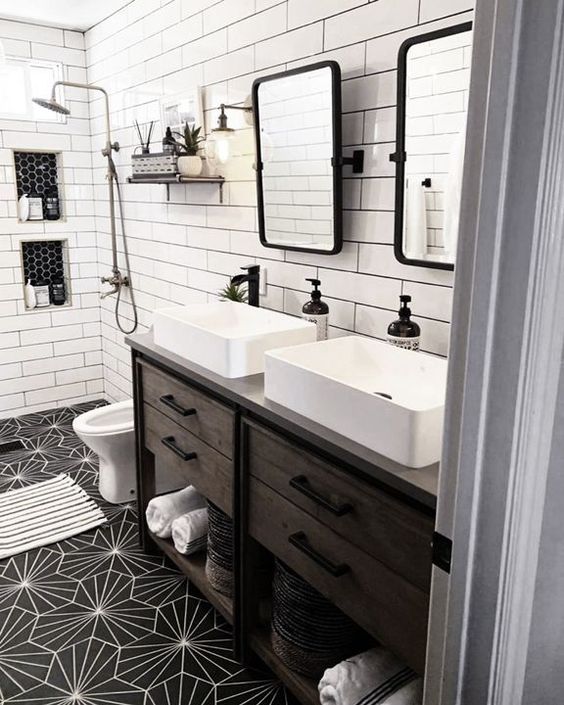 Love these three super sleek matte black bathroom faucets – and there are 31 more right here!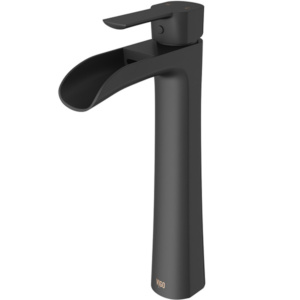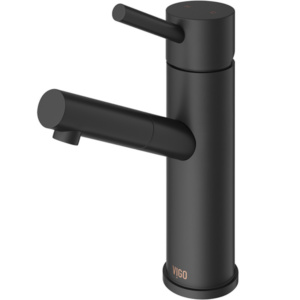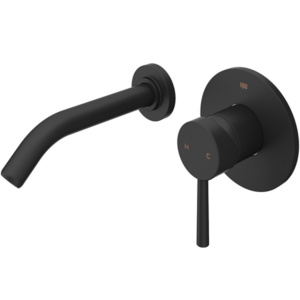 There you go! Nine WaterSense labelled black bathroom sink faucets for all your matte black needs!
PIN ME!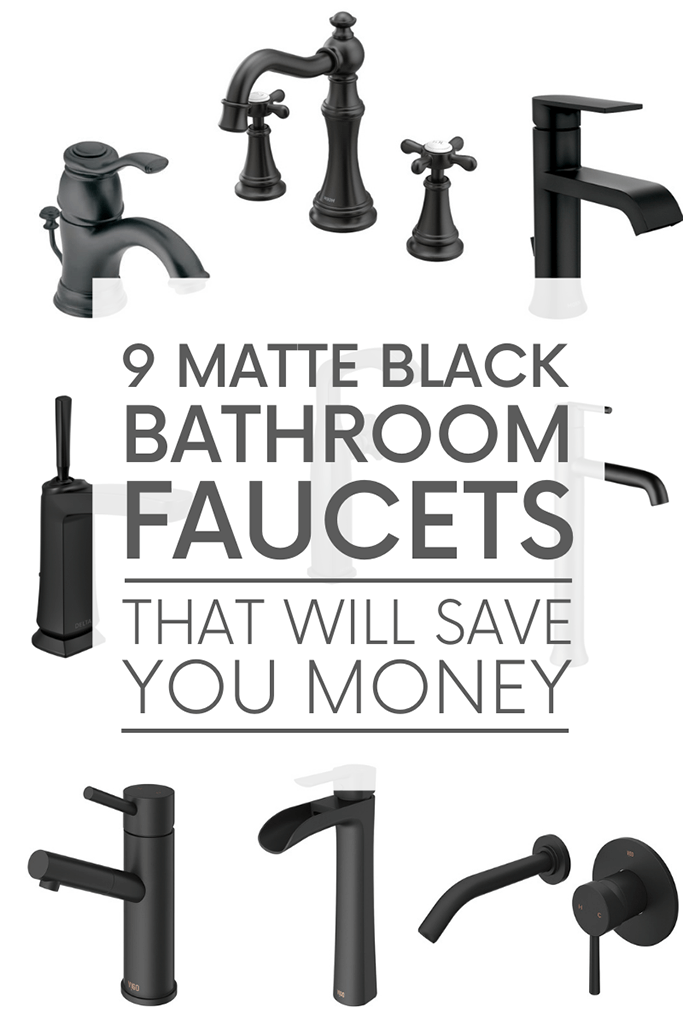 Updated November 20, 2021 (Originally Posted June 11, 2019)
Need help choosing eco-conscious furniture and decor for your home? That's what I'm here for!
9 Matte Black Bathroom Faucets – That Will Save You Money!