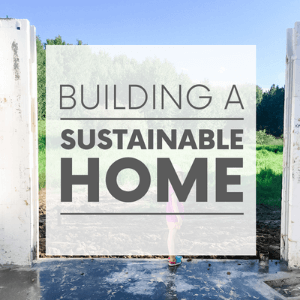 Ever dreamed of building a sustainable home? Well, I sure did. And now that dream is coming true!
Because you know how it goes. You buy a piece of land and then eight years later… WHAM! You're in full-on building mode. Okay. That likely isn't how it goes for most people when they decide to build a home. But that's how it's been for us. And let me tell you. It's been quite a ride.
Want to hear more about it and see Our House in the Trees in progress? (I can't even believe I just typed that… am I dreaming? Hallucinating? Just really, really hungry? Yeah, that seems more like it.)
---
Did you know that Etsy is the first major online shopping destination to offset 100% of carbon emissions generated by shipping? Read more about the initiative here and view my favourite Etsy finds here. Shopping via my affiliate links supports eco-conscious brands and passes on a small percentage of the purchase price to yours truly!

---
Check out the first episode in my video series chronicling the building of our sustainable home from the ground up, where we deal with a ton of rain and I try to find eco-friendly finishes for our home in a part of the world not exactly known for its eco-friendliness.
Building a Sustainable Home | Our House in the Trees | Episode 1