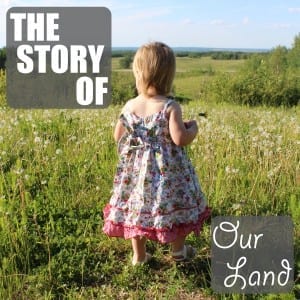 I recently realized that although I talk about our land on Of Houses and Trees quite regularly, I've never actually told the story of how it came to be "ours." But first, let me clarify something. I don't believe that the land and all the creatures and plants and organisms that live on it can actually belong to a person. I think of it more like a mutually beneficial guardianship – our land is something we take care of and in return it brings us joy in the form of fresh air, space and the sound of wind in the trees. And the idea of looking after something is a good place to start this tale.
Because – in part – we were motivated to buy the land in order to protect it from those who may not have had its best interests in mind.
I don't remember the first time I actually saw the land. It's located about 15 minutes north of our current home in Stony Plain and I'm sure we drove by its for sale sign several times before we got the idea in our heads that we wanted to live there one day. Sometime in 2011 we started visiting it regularly. Since it's a pretty good size (40 acres) and isn't in a subdivision, we could wander amidst its rolling hills and towering poplars without drawing attention to our trespassing ways. And we started to dream.
We'd put the house over there… no there. And what would we do about the road? Someone had quite violently tore through the bush with a dozer, leaving dead tree carcasses strewn about. Obviously they had decided this is where the entrance would be, but was it the best place? And, if it wasn't, does that mean these trees were sacrificed for nothing?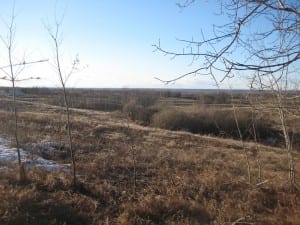 A year passed. We continued to toss around the idea of moving from our house in town to the country – a place where Devin grew up and I had always wished I grew up. We visited the land again and again. We visited acreages that already had houses built on them. We visited other bare properties, including one where we shared a somewhat magical moment with a deer who stared at us before bounding effortlessly over a fence.
Yet, nothing could compare. And the crazy thing was – a year had passed and the land was STILL for sale. How come no one had snapped it up, we wondered? If not another couple of country-lovin' fools like us, then at least a developer with visions of subdivided half acre lots dancing in their head.
So we started seriously looking into it and discovered the reason it hadn't been purchased by a developer and then unceremoniously clearcut was because the county required something called a "road levy fee" before it could be subdivided, a legal-ese way of saying "you can't separate this piece of property into smaller pieces until you give us X amount of money." And, let me tell you, X equaled a lot.
We decided to put in an offer even though the asking price seemed like a very large amount of beans. Road levy fee or not, it was only a matter of time before someone realized the land was a steal of a deal. Compared to smaller raw parcels in the area (such as five or ten acres), you were definitely getting more bang for your buck. But the buck was still a big assed buck.
Looking back, much of this process is a blur. It was April 2012, I was in school, Devin worked in the construction industry (meaning he worked pretty much all the time), plus the various hoops to jump through and land-mines to avoid in any real estate purchase always leaves my head spinning. But I do have one very vivid memory.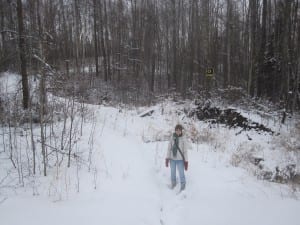 I'm in the Rutherford Library at the University of Alberta in a cubicle on the "silent" floor. I'm studying for my "Medieval Literature and Culture" final exam – not exactly the most scintillating material. Devin was there with me, though I can't recall exactly why. He didn't usually hang out in mausoleum-quiet libraries while I read the same line of "The Fall of Man" over and over. He usually worked. But there must have been an event in the city we were going to later that night and he had decided to take advantage of the silence by crashing on a black leather couch of questionable cleanliness. His nap was interrupted by a phone call, so he went out into the stairwell in respect of the sanctity of the library (and to avoid the inevitable shhhing he'd receive from blabbing while there were thesis statements to be agonized over). When he came back he had the biggest, most beautiful grin on his face. "We got the land."
And that's where the memory ends.
It's been nearly four years since that day and, although we still don't live on the land, it has become a part of who we are. We had our daughter's first birthday party there. I filmed a dance solo on top of its highest hill on a brilliantly sunny day in July. We spent last Family Day frolicking through the snow.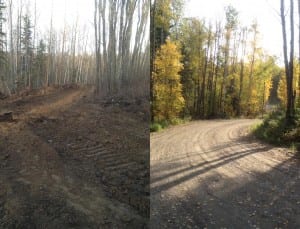 We built a road (in the same location the previous owners intended, as it turns out it was indeed the best place). We planted trees. Built a fence. Dug ponds. Removed fields of weeds with both a mechanical mower and the mouths of horses. Built a gate. Ate many a sunset dinner on the desperately-in-need-of-paint picnic table we moved there. Yet, there are times when months go by and we don't set a foot on it. Still, I think of it everyday. And of all the things it was and is and may one day become.
But, you know what? Even though we plan and scheme and constantly change our minds about what we will build, when it will happen, how it will happen – there's a chance we'll never actually move there. In life, there's a chance of anything and everything and sometimes even nothing. And I'm okay with that.
Just knowing that, for a brief period of time in its long life, the land let us take care of it – well, that's enough for me.

What's your story? Do you have land or an acreage or a farm or a house or an apartment or a cardboard box? I'd love to hear about it… please comment below!
Don't forget to subscribe to have new posts delivered directly to your inbox!
Posted on April 8, 2016