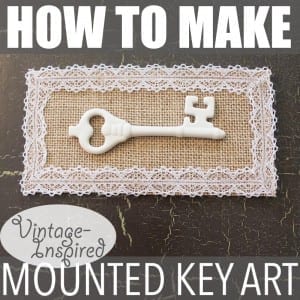 I love when random items come into your life and inspire you to make something crafty. This white porcelain key was attached to a Christmas card my lovely sister-in-law made for my family. It had a piece of sisal twine on it and was meant to be a tree ornament, but I had another idea.
I thought some skeleton key wall art would be a nice addition to a gallery wall I'm currently working on (more on that project later) so I grabbed a few supplies from around the house and threw this mounted key artwork together.
(I've taken liberties with the word "threw" as it actually took me a few days to make this. Not that it was difficult by any means, but work, toddler, cleaning, cooking, procrastination, blah, blah, blah.)
If you're interested in creating your own vintage-inspired mounted key artwork, here are the supplies you'll need:
– a vintage key (You could leave it with the metallic look, or paint it any colour, but mine was already white and matched the rest of my gallery wall perfectly.)
– burlap (I like laminated burlap as it's tightly woven, easy to cut and lays nice and flat.)
– lace (You'll want to choose the width based on the size of your key and size of the piece of burlap you're going to cut out.)
– cardboard backing (I just pulled a used coffee box out of my recycling bin.)
– wall mounting hardware (I used the kind with teeth so you can do the "little bit to the right… little bit to the left…" dance when hanging.)
– hot glue gun and glue sticks (Eco-friendly glue gun sticks here!)
– a measuring tape/ruler
– scissors
– a pencil
I'm not going to go too much into detail on how to put together this vintage key wall decor as I think once you know what supplies you need you can just look at the picture and then will it to assemble with your Jedi mind… or, you know, physically put it together yourself. But here are the basic instructions:
1. Use the size of your key to determine how big the burlap backing will be. You'll need to leave enough room around the key for the lace border. Then cut the cardboard out to match the burlap and glue them together.
2. Glue the key in place. Then measure the lace and glue it in place as well (only use a tiny bit of hot glue for the lace or you'll see it).
3. Glue the mounting hardware on and hang.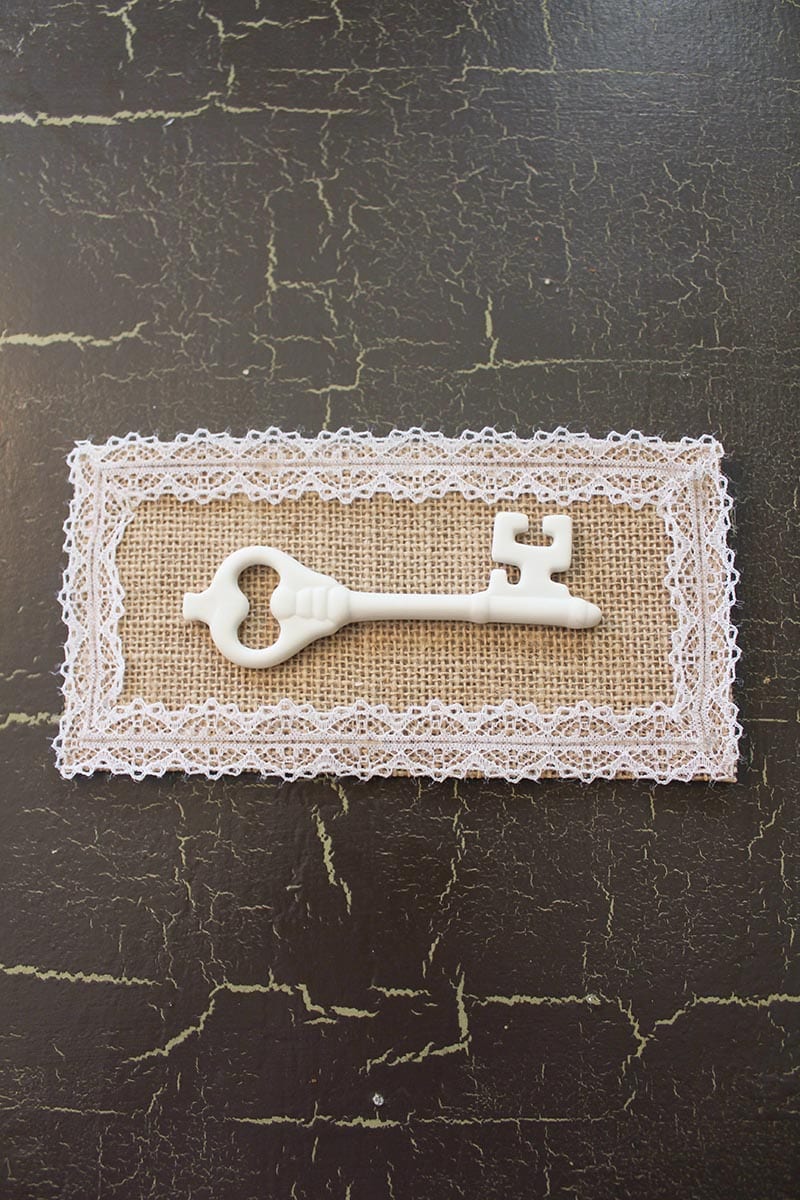 If only all DIY crafts were so simple… well, actually, that would be boring. I do like myself a challenge (although I don't like receiving a third degree burn from an iron while making pillowcases, but again… more on that later).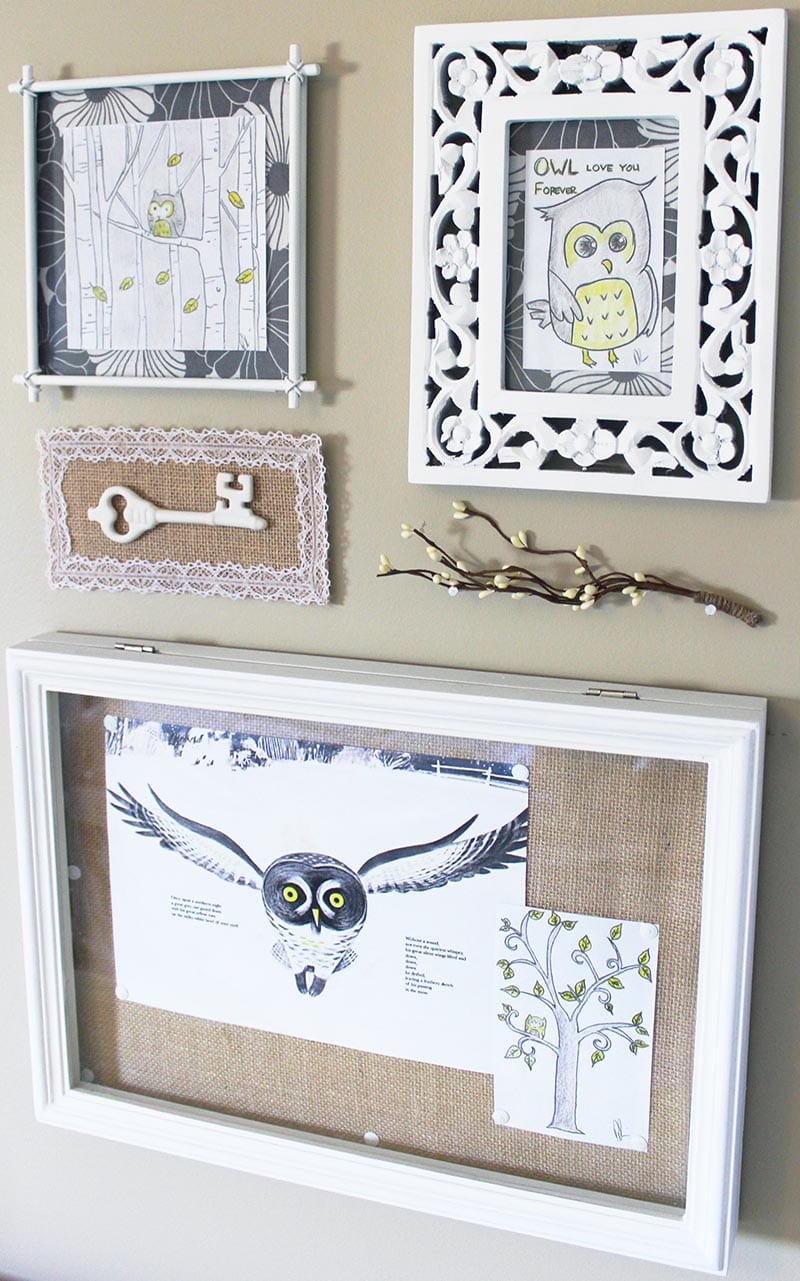 What do you think? Have you ever made artwork using a vintage or antique key? Have you ever made anything not at all similar, but want to talk about it anyway? Talk away, my friend! That's what comment sections are for. (Well, that and flaming perfectly nice human beings for your own entertainment… but don't do that here. Of Houses and Trees is a "make love, not war" kind of place.)
Don't forget to subscribe to have new posts delivered directly to your inbox!
—
Note that this post contains affiliate links, meaning if you click on a link and make a purchase a small percentage of the sale goes to yours truly. Please know that I only link to products that are good for the earth, good for the soul, or both!
—
PIN ME!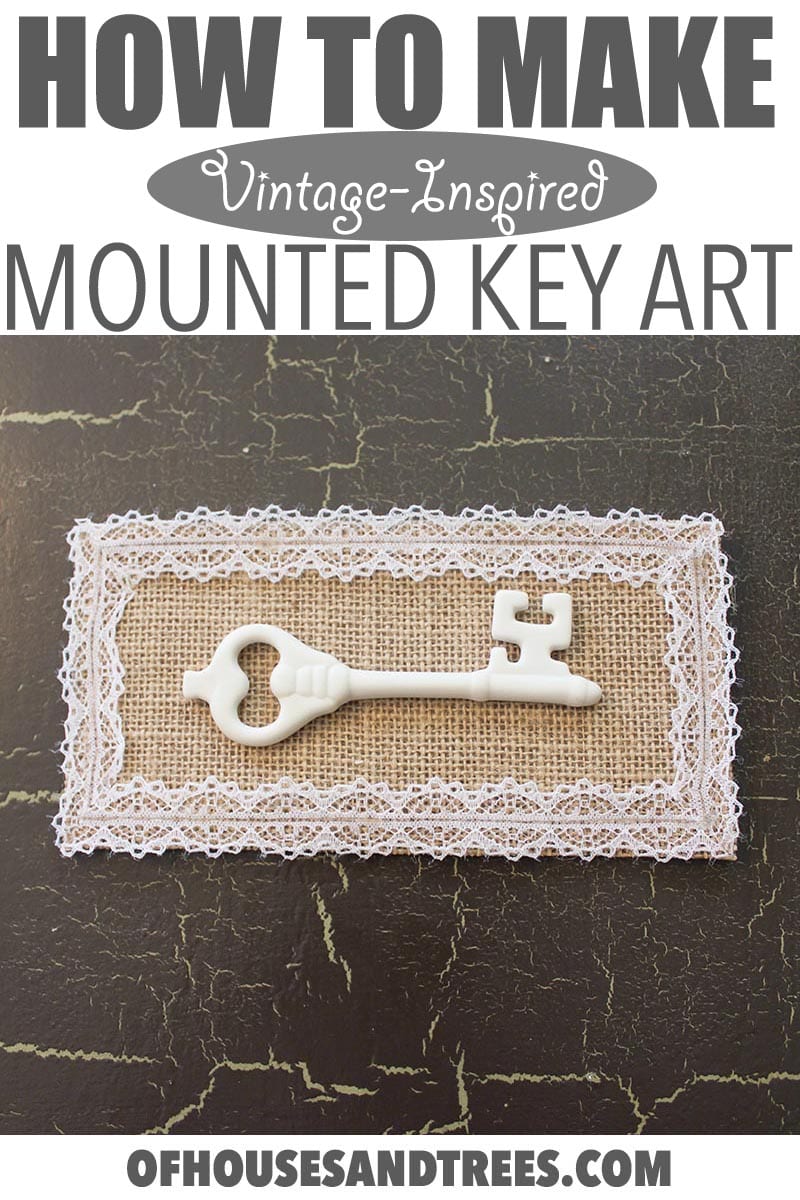 Posted on April 17, 2016
How to Make Vintage-Inspired Mounted Key Art