From pots and pans with non-toxic coating, to table linens made from organic cotton, to green gadgets – these sustainable kitchen products will help you keep the heart of your home healthy and eco-friendly.
Head to the sustainable products main page for more green items for your home, health – and beyond.
This directory is always being updated with items from eco-conscious brands and makers. Add it to your bookmarks and check back often!
Also, consider signing up for the Of Houses and Trees monthly newsletter and I'll send you my FREE list of "The 8 Best Places to Buy Eco-Conscious Decor Online."
Happy sustainable shopping!

Note that the Of Houses and Trees product directory contains affiliate links, meaning if you click on a link and make a purchase a small percentage of the sale goes to yours truly. Thank you for your support!


Share the Sustainability…
Feel free to share this image on Pinterest, Instagram – and everywhere else!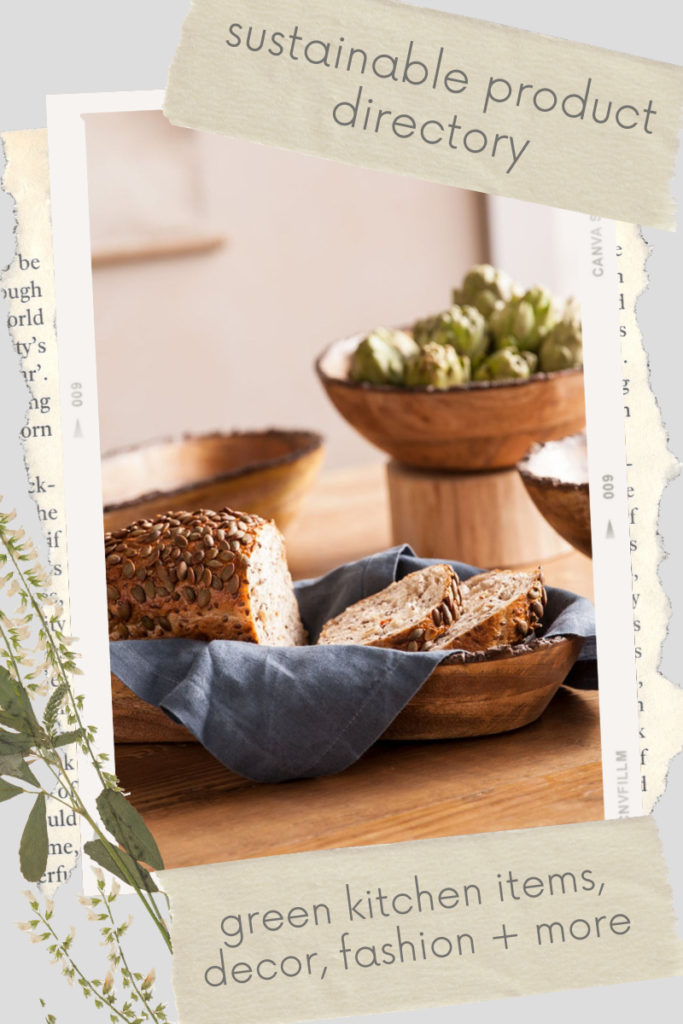 Want to learn more about sustainable kitchen products – including a step-by-step guide on how to design an eco-friendly kitchen? Then you should definitely check out these posts!

Green This Look: Rustic Industrial Kitchen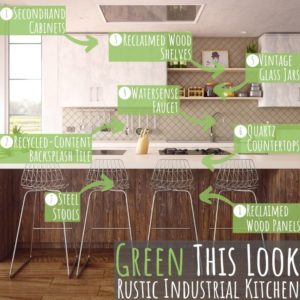 Welcome to the second post in my Green This Look series! For this round I chose this très cool rustic industrial style kitchen. Because design fusion is, like, so in right now. If you haven't seen my first post featuring a boho-minimalist living room, you can visit it right here.
My whole purpose with this series is to illustrate that any room, any decor style, can be achieved with finishes and features that are kinder to the earth than the traditional everything-must-be-brand-new approach. Because brand new is kinda old, am I right?

5 of the Most Energy Efficient Refrigerators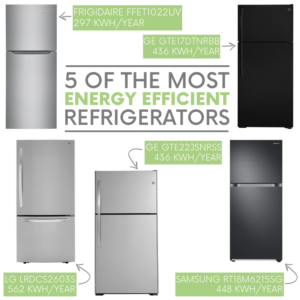 What's an eco-conscious kitchen without an energy efficient fridge?
My post How to Design an Eco-Friendly Kitchen gave an overview of things to think about when creating an environmentally responsible kitchen.
But the individual elements of an eco-friendly kitchen each deserve their own post because there is so much to consider.
The first area of the eco-friendly kitchen that I want to dive into is appliances.
Click here to read full post…

How to Design an Eco-Friendly Kitchen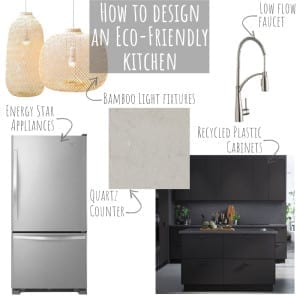 If the kitchen truly is – as the saying goes – the heart of the home, then it's extra important that it be eco-friendly! Kitchens are one of the most overwhelming areas of a house to design or renovate, because there are so many items and materials to choose and so many options to choose from.
Even in the eco-friendly niche, after your options have been narrowed down, choosing cabinets, countertops, appliances, flooring and lighting can seem like an endless – and sometimes confusing – task.