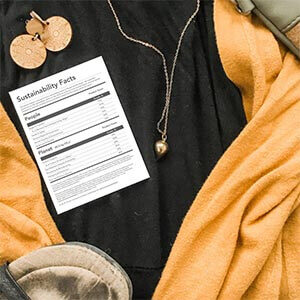 The sustainable fashion industry has been trying to make greener products for years. But what exactly does "greener" mean? With the new Sustainability Facts Label – now we'll know.
Recently launched by sustainable footwear and accessories brand, Nisolo, the Sustainability Facts Label is "the most comprehensive yet digestible evaluation tool the fashion industry has seen to date."
Just think of it as a food nutrition label for your shoes, bags – and beyond.
Because Nisolo isn't satisfied with only labelling their own products.
As Nisolo puts it, "we envision a day when labels showing the impact of the clothes we buy are attached to all products. Can you imagine what would happen? Better choices could be made, consumer demand would strengthen, and supply chains would change for good."
Want to learn more about this game-changing initiative? Read on!
Note that this post may contain affiliate links, meaning if you click on a link and make a purchase a small percentage of the sale goes to yours truly. Please know that I strive to only feature eco-conscious products and brands.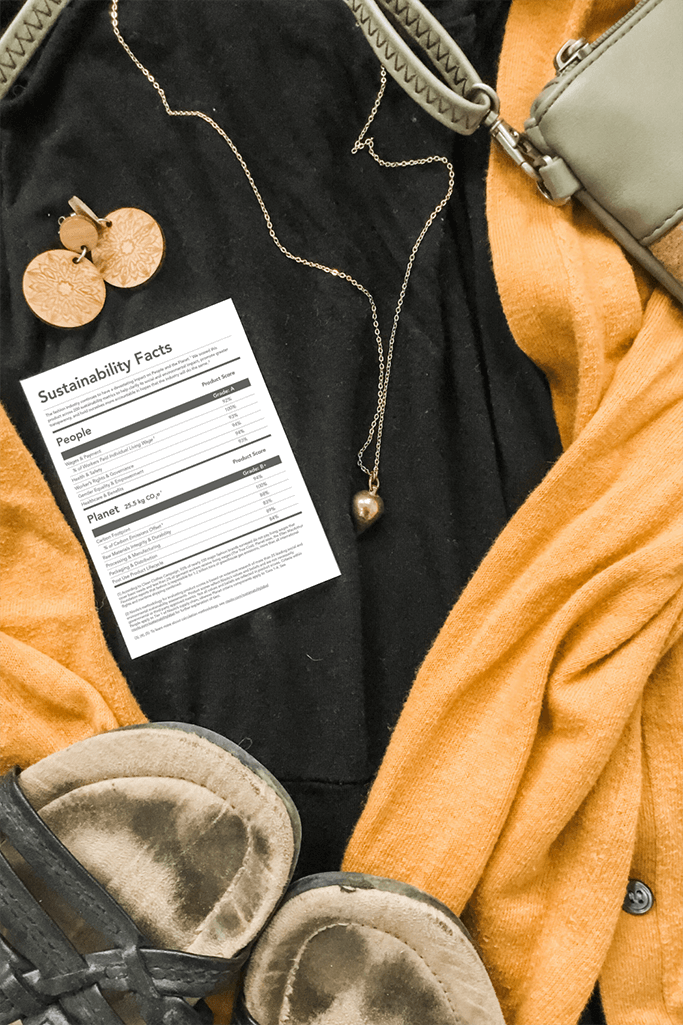 What is Sustainable Fashion?
To understand the Sustainability Facts Label, we first need to understand the sustainable fashion industry – and the fashion industry as a whole.
So, what is sustainable fashion anyway?
The term sustainable fashion refers to clothing and accessories that are designed, made and shipped with people and planet in mind.
Unfortunately, the majority of the fashion industry is not sustainable at all. Items are poorly designed and cheaply made. Often at the expense of those who manufacture them. Most clothing and accessories are made from brand new, unsustainable materials that take from the planet without giving anything back.
I think we can all agree that no one wants to buy a pair of shoes that were made by mistreated workers or led to toxins being released into a river. But that's actually what happens – ALL THE TIME.
Wouldn't it be awesome if you could plainly see the impact of an item before you even buy it? Enter the Sustainability Facts Label.
How the Sustainability Facts Label Works
Wanting to improve the fashion industry – and become more accountable for their own environmental impact, Nisolo spent the last few years analyzing certifications and other labels evaluating sustainability in the industry.
If you've ever heard of B Corp, Climate Neutral, Fair Trade USA, the textile exchange – these are just a few of the third party organizations Nisolo took a look at when creating their label.
Then, they created ten different categories across 200 data points to feature on an easy to read fact sheet that could be affixed to every product in the industry.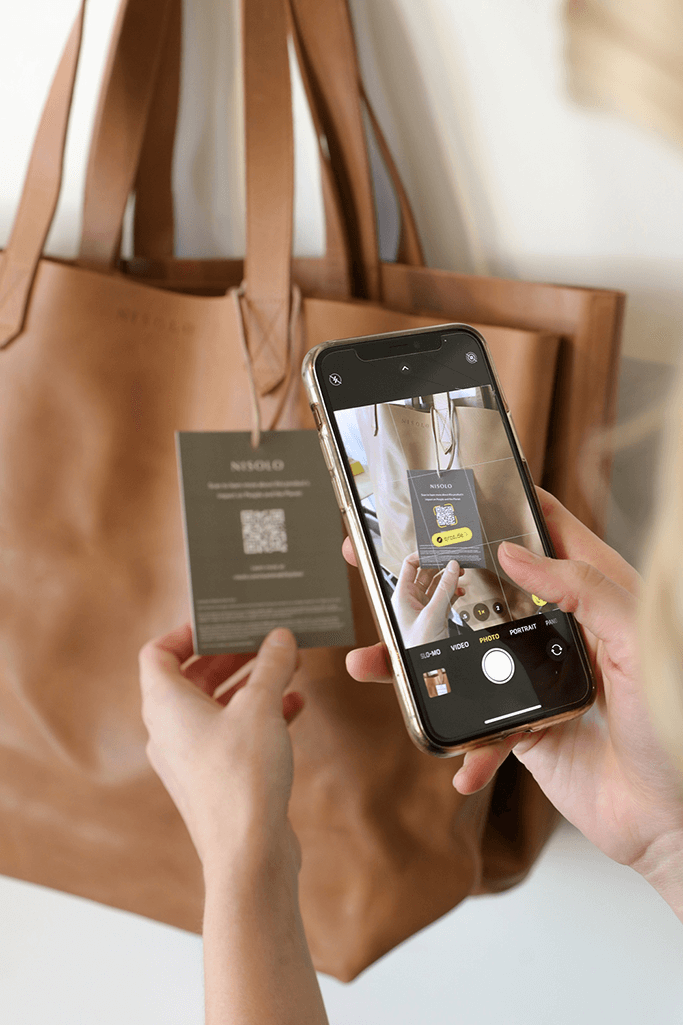 The methodology behind the creation of the label is truly impressive. But you don't need to be into data to appreciate how the Sustainability Facts Label is going to make it so much easier to shop mindfully.
All of Nisolo's products will now come with a Sustainability Facts Label and a scannable QR code.
Nisolo also purposefully DID NOT brand their label so other companies can use it and build upon their work.
How You Can Help Spread the Word
The momentum for initiatives like this takes time to build. And one of the best ways you can help it grow is by sharing information about the label online (using the hashtag #SustainabilityFactsLabel) and in person with your family, friends and colleagues.
Another way you can get behind the movement is to contact your favourite sustainable fashion brands and ask them to adopt the label. Because just calling yourself "green" shouldn't be enough. Us consumers should be asking for proof.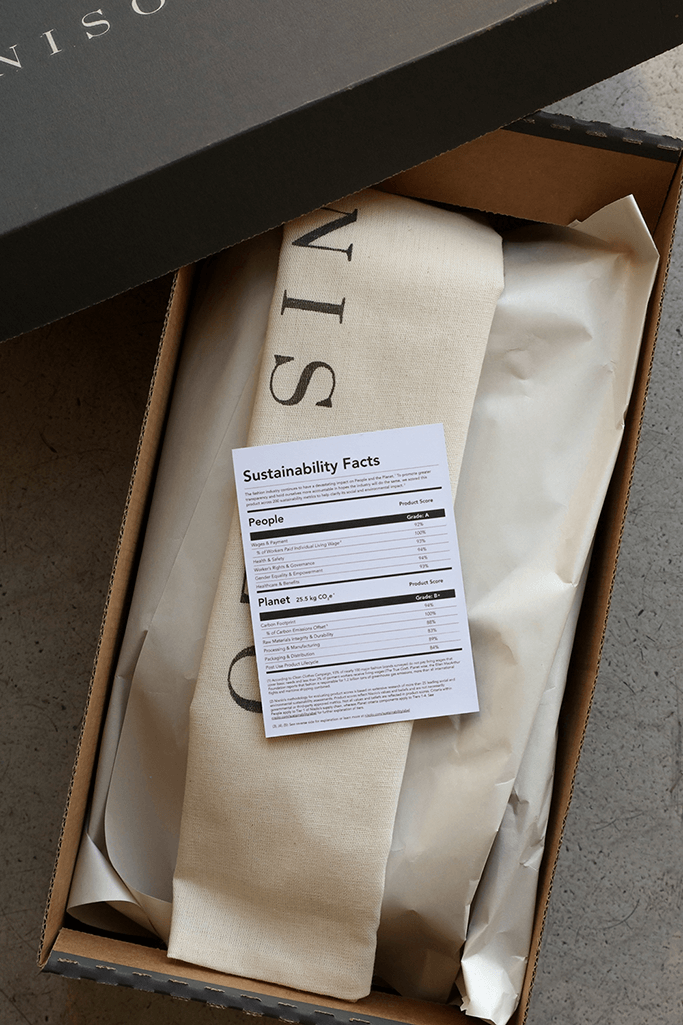 If you're a sustainable brand owner, consider using the label to illustrate how eco-conscious your products are. After all, you've worked so hard to be environmentally responsible – why not show it off?
If your brand isn't considered sustainable – the Sustainability Facts Label is a great way to get you started down a greener, more ethical path.
Lastly, what better way to support initiatives like the Sustainability Facts label then to buy products that use it? Head over to Nisolo's website to check out their shoes, bags, jewelry, belts – and more.
Here are a few gorgeous products from Nisolo to get you started!
Here's hoping the Sustainability Facts Label is the start of a new fashion industry. One that is kinder and more transparent. For people and the planet.
PIN ME!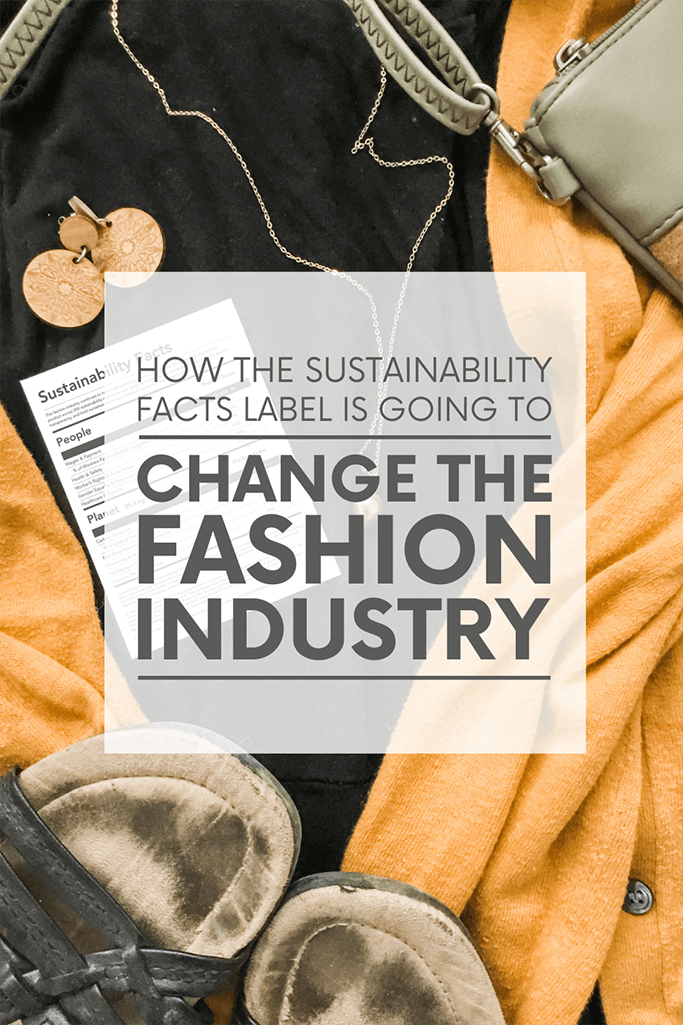 Posted on December 15, 2021
Need help choosing eco-conscious furniture and decor for your home? That's what I'm here for!
The Sustainability Facts Label is Going to Change the Fashion Industry