These days, we're so conscious of what we put into our bodies – but what about what we put on our bodies? Enter sustainable clothing made by ethical and earth-friendly brands. Join the slow fashion movement today!
Head to the sustainable products main page for more green items for your home, health – and beyond.
This directory is always being updated with items from eco-conscious brands and makers. Add it to your bookmarks and check back often!
Also, consider signing up for the Of Houses and Trees monthly newsletter and I'll send you my FREE list of "The 8 Best Places to Buy Eco-Conscious Decor Online."
Happy sustainable shopping!

Note that the Of Houses and Trees product directory contains affiliate links, meaning if you click on a link and make a purchase a small percentage of the sale goes to yours truly. Thank you for your support!


Share the Sustainability…
Feel free to share this image on Pinterest, Instagram – and everywhere else!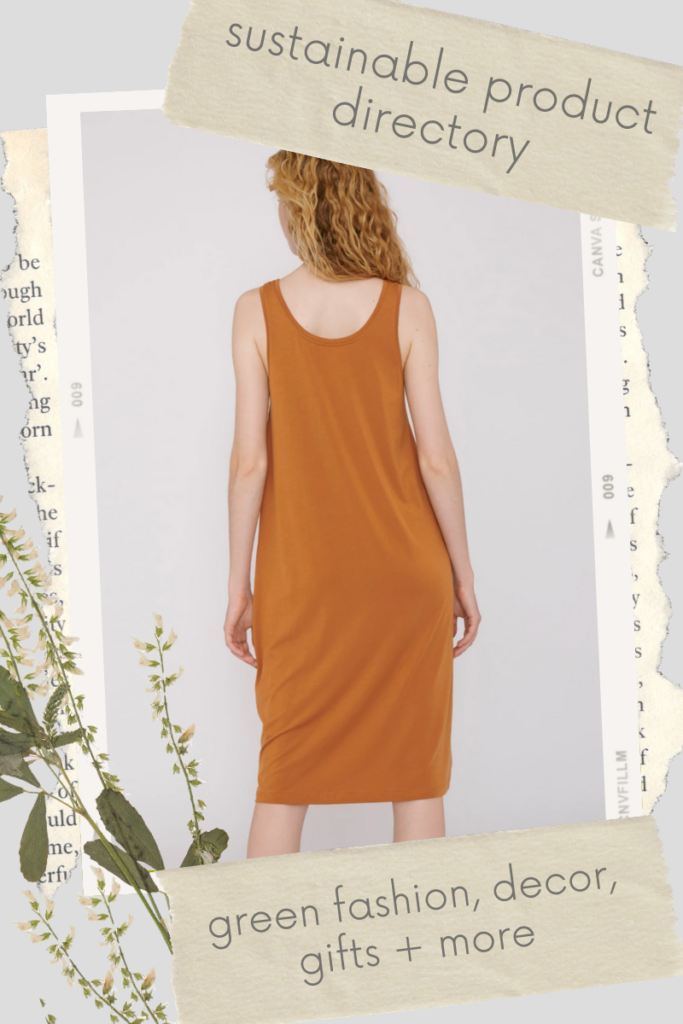 Want to learn more about sustainable clothing, including how to develop a more earth-friendly laundry routine and why you should buy organic underwear? Then you should definitely check out these posts!

The Environmental Impact of Dirty Laundry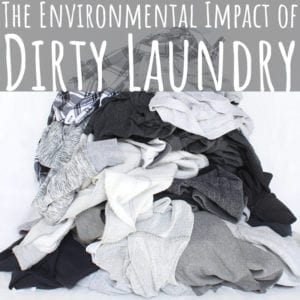 Laundry is just a part of daily life. But if you have a family with young children like I do, it can start feeling like less a part of daily life and more like well… the whole thing.
But aside from the fact that dirty clothing seems to spontaneously reproduce in order to take over my home, why should I care so much about smelly socks and underwear?
Well, according to this article by The Guardian, washing and drying a load of laundry every two days creates 440kg of CO2e per year.

3 Tips For Buying Eco-Friendly Activewear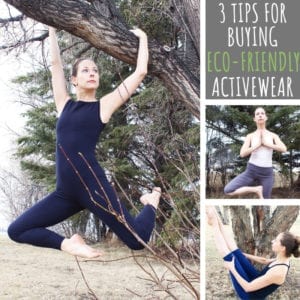 I'm very choosy about the companies and brands I support. Shouldn't we all be? Especially when it comes to the clothing industry, where the cacophony of choices range from awful to awesome.
Awful items are poorly made, usually under less than ethical circumstances and at the expense of the environment. Yet, we buy these items again and again, because they're inexpensive and readily available. So you can imagine my excitement when I came across an awesome eco-friendly activewear line.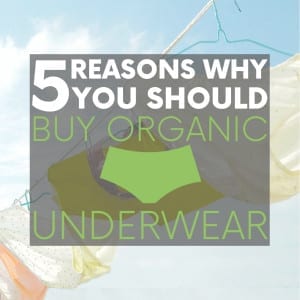 Yup. We're talking about underwear. Why? Well, because Of Houses and Trees is about sustainable everything. And your undies – they're an everything.
Now, I'm a huge proponent for buying whatever you can secondhand. I even wrote a whole post about the subject and made a video too. But used skivvies…? First off, any of the thrift shops I frequent won't sell secondhand undergarments unless they still have the tags on them and therefore are not actually used.