A more sustainable bathroom is just a few smart design choices away. From flooring to fixtures and everything in between, here are five green ideas!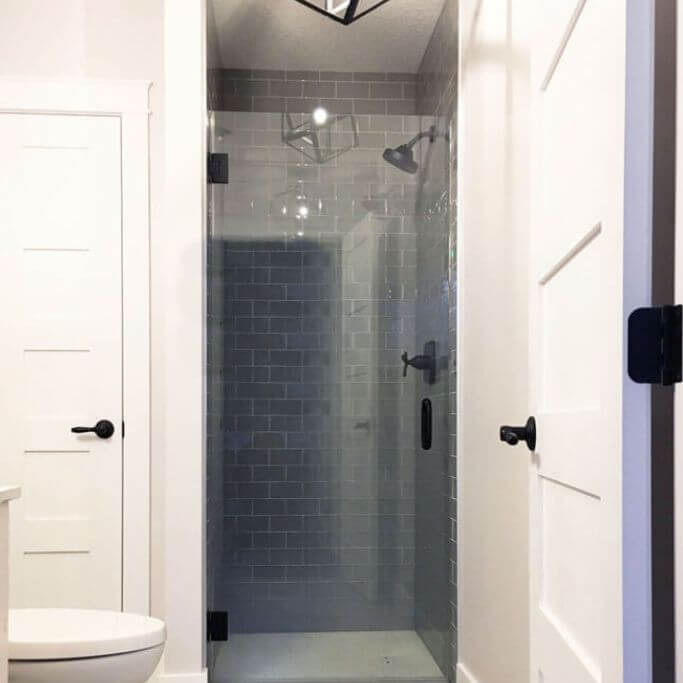 Now, wait a minute… didn't I already post about creating an eco-friendly bathroom oasis? Why, yes. Yes I did. But that post covered everything from greening your bathroom's decor to finding zero-waste bathroom products. For this post, I wanted to focus on the design features you can add to your bathroom to streamline its sustainability – including many of the things we did when building Our House in the Trees.
Let's take a look at five design choices you can make to make your bathroom a greener space.
Note that this post may contain affiliate links, meaning if you click on a link and make a purchase a small percentage of the sale goes to yours truly. Please know that I strive to only feature eco-conscious products and brands.
Choose Water-Saving Faucets and Showerheads
If bathrooms are all about getting yourself nice and clean, then the clear star of the show are the faucets and showerheads. Not only are they the fixtures that deliver you water for washing, brushing, scrubbing and so on – they're also the eye-candy of the space. I mean, some faucets are just so pretty I could swoon.
The great thing about most of the faucets on the market today is that you don't have to sacrifice the look when you want to go the eco-conscious route. It's super easy to find WaterSense labelled faucets in all kinds of finishes, shapes, sizes and styles. And a water-saving faucet can reduce your water consumption by 30 percent, which is no small amount.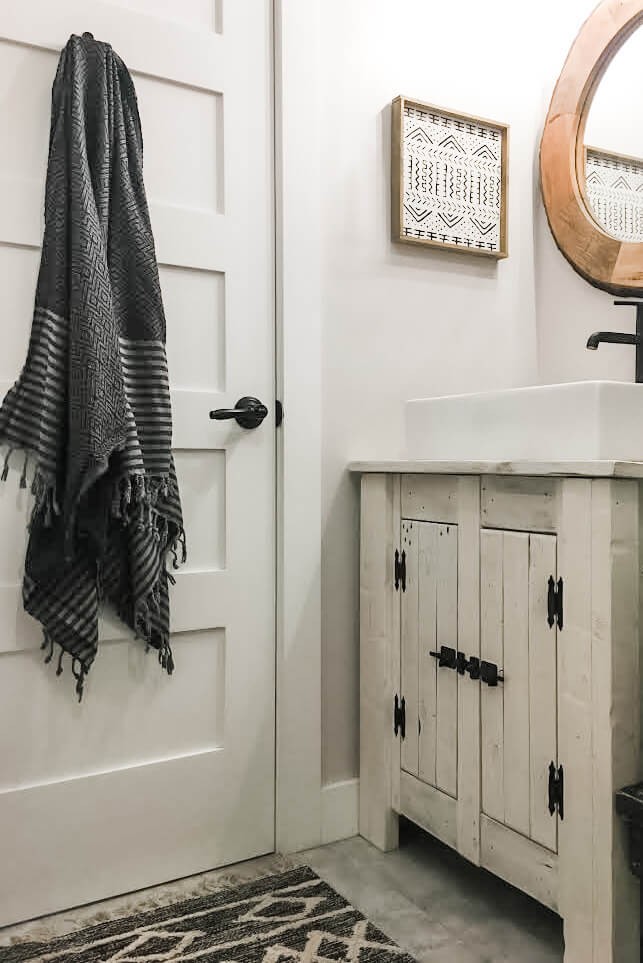 Install a Glass Shower Door
People often choose a glass shower door over a fabric one purely for aesthetics. But glass doors can actually contribute to a bathroom's sustainability thanks to their durability. If you've ever had a fabric or plastic shower curtain, you know how gross they can get. It's inevitable you'll need to replace them because of the buildup and just regular wear and tear and then, of course, the old ones end up in the landfill.
But well-made and maintained tempered glass shower doors should last for decades. We have a glass shower door and we love it. It gives our bathroom a spa-feel, keeps the water in the shower-space and is very easy to care for. Just a quick wipe every so often and that's it!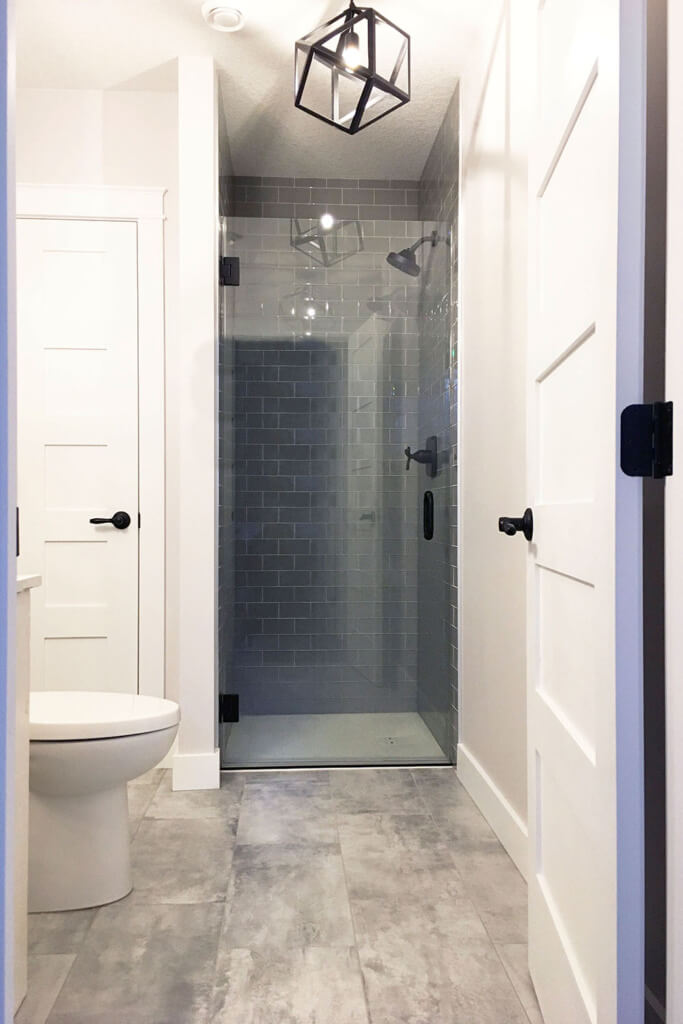 Need help choosing eco-conscious furniture and decor for your home? That's what I'm here for!
Illuminate with Energy Efficient Lighting
While you can get light fixtures that are more friendly to the environment (ie: they're made of recycled materials, they're handmade, etc), sustainable lighting is largely about the bulbs. If you haven't switched over to LED lightbulbs in your bathroom – and the rest of your home – it's time!
LED bulbs use 80 percent less energy than regular incandescent bulbs. That's a huge difference! And while LEDs used to be relatively unattractive, you can now get them in all sizes and styles – including Edison-style for a more industrial or rustic look.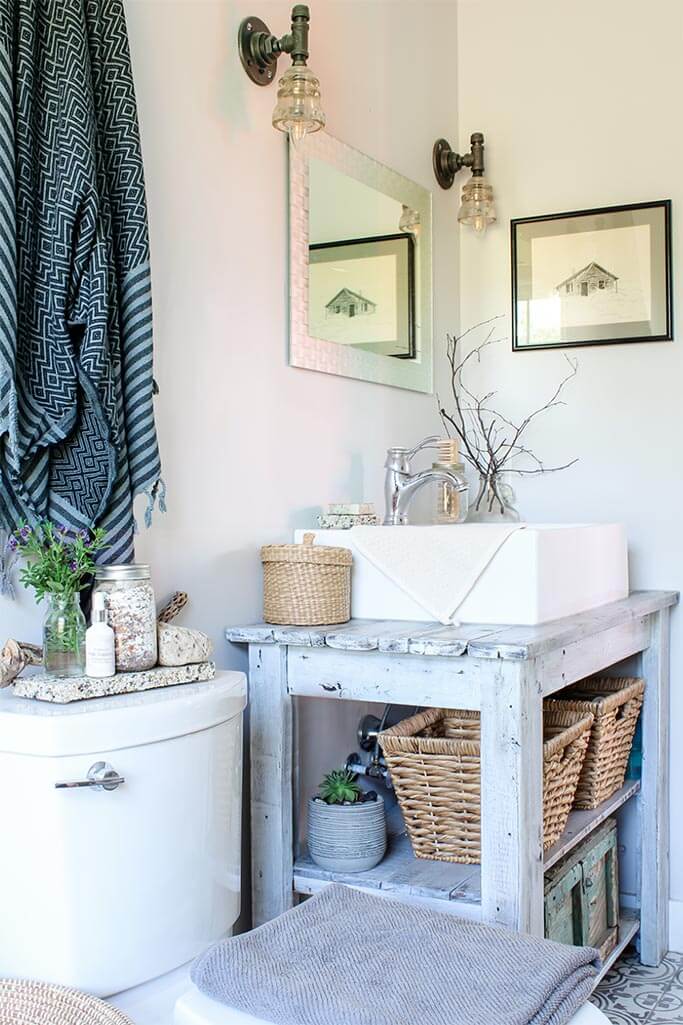 Opt for Eco-Conscious Flooring
Eco-flooring is one of my favourite topics because there are just so many beautiful options. From tiles made using recycled content, to cork flooring and terrazzo, the options are almost infinite. We opted for ceramic tiles made using recycled content in both our bathrooms because I love the look and feel of tile in a bathroom. Even with all the options, tile is still one of the most durable and easy to maintain bathroom flooring types.
One trend I've noticed lately that I am not happy about is installing LVT (luxury vinyl tile) in bathrooms. LVT is an incredibly popular flooring choice because it's affordable and extremely durable. But vinyl flooring is not made from recycled materials nor can it be recycled at the end of its life cycle. So, in my mind, it just isn't a sustainable choice.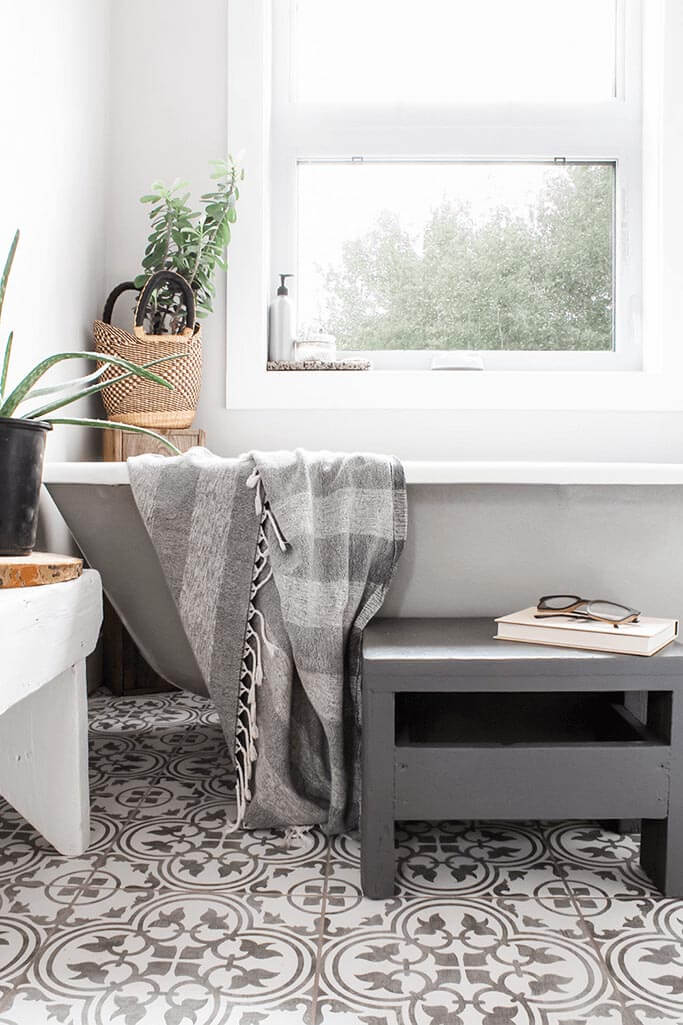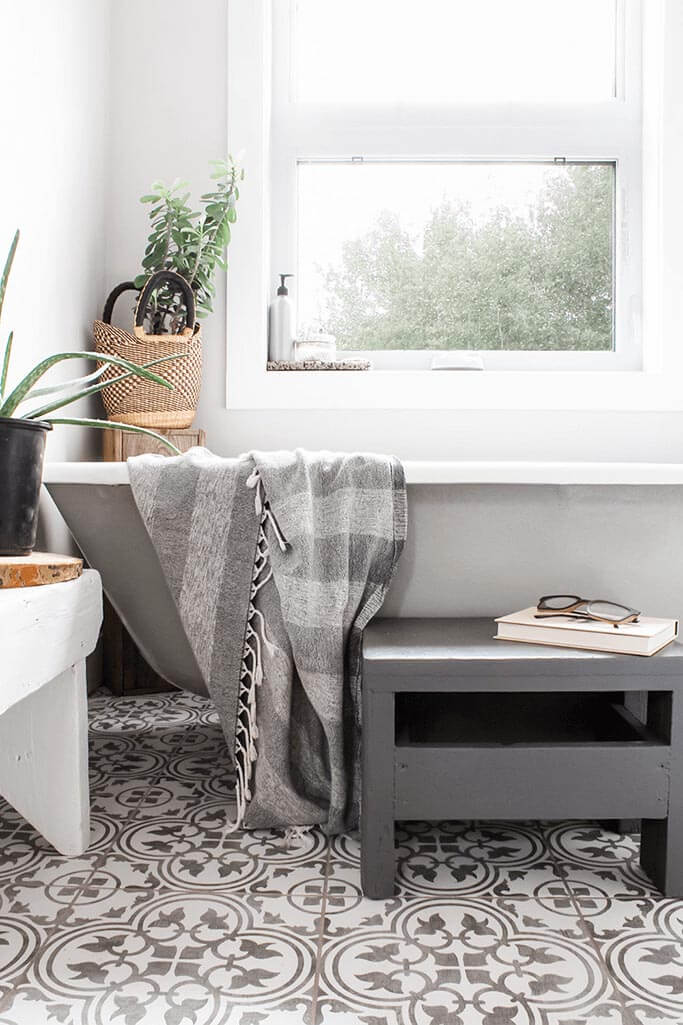 Swap Out Toilet Paper for a Bidet
Installing a bidet sprayer to our regular toilet is the only item on this list we did not do when building our house. At the time, it didn't really cross my mind because it's not something I've ever been exposed to. It even seemed a little too… extra? But it actually makes a lot of sense!
Installing a bidet reduces the amount of toilet paper used in a household. Experts estimate the average American household uses 400 rolls of toilet paper per year, with each roll requiring several gallons of water to create. Meanwhile, a bidet only uses an eighth a gallon of water per use. Plus, most bidet users report they just plain feel better after using a bidet compared to TP!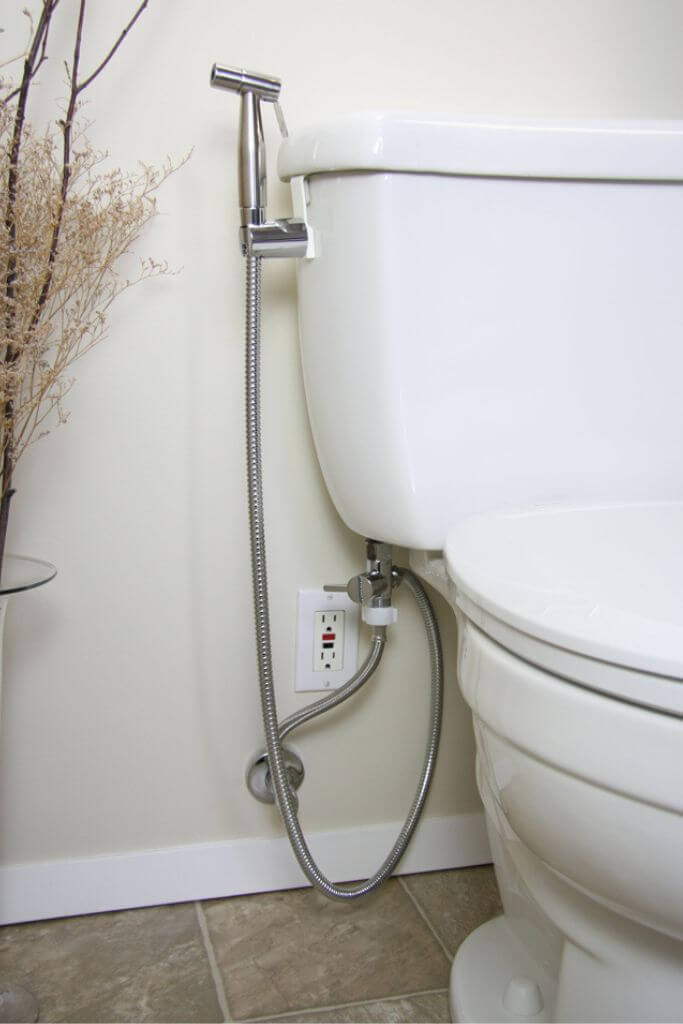 And there you have it! Five different design choices you can make to create a more sustainable bathroom.
Have you made any of these green bathroom design choices in your bathroom? Tell me about it in the comments!
PIN ME!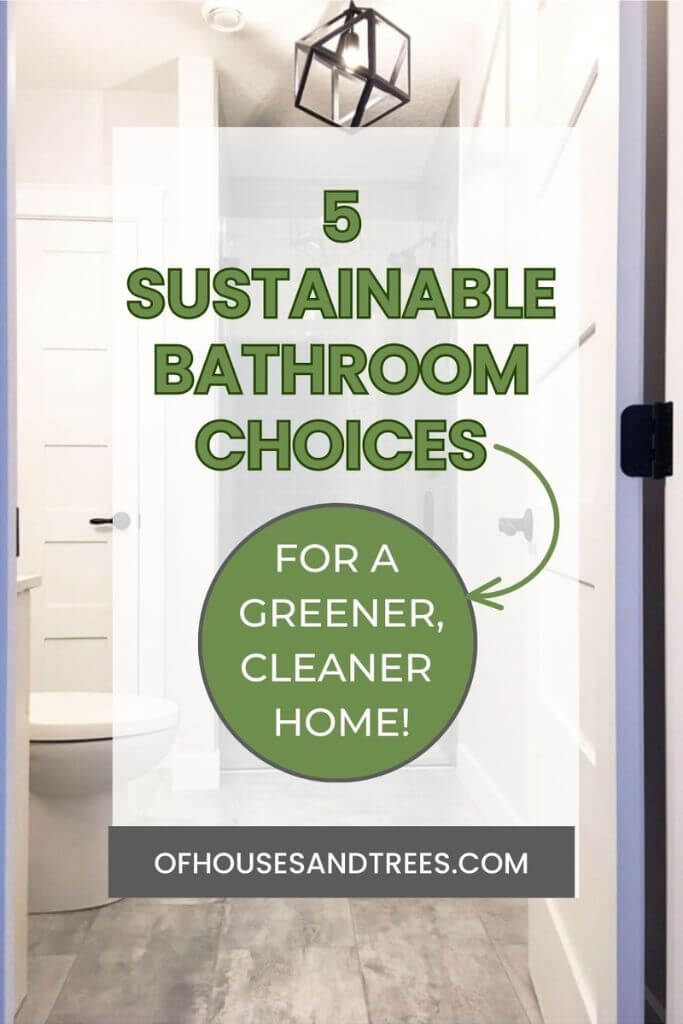 Posted on June 12, 2023
Need help choosing eco-conscious furniture and decor for your home? That's what I'm here for!
5 Sustainable Bathroom Design Choices for a Greener, Cleaner Home