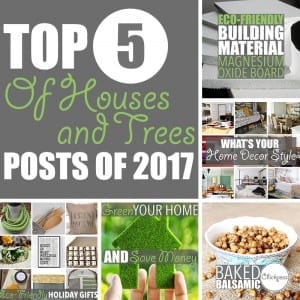 Ah, yearend. A time to stop and reflect on the past 12 months… and reread (or read for the first time) the five most viewed Of Houses and Trees posts of 2017!
The last year has been the biggest yet for growing this sustainability blog and I have so very many ideas for 2018… and beyond!
I just want to say how much I appreciate every single view, comment, share and subscribe I receive. Truly.
From eco-friendly products and building materials, to healthy vegan eats – 2017 was a green year indeed!
---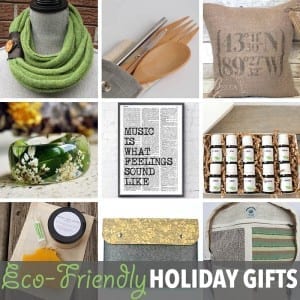 What? You're accusing me of creating a holiday gift guide filled with eco-friendly swag I want for myself?! Why I never… Okay. You got me. But just because I'd be super happy to find any of these eco-friendly Christmas gifts under the tree doesn't mean someone on your list won't want them too. (And maybe buy a little something for yourself while you're at it?) The best thing about this gift guide is everything on it is eco-friendly, i.e.: organic, handmade, reusable and so on and so forth!
The second best thing is that I found all of these items on Etsy, meaning made and sold by awesome artisans around the world. Buying from Etsy is the next best thing to buying local, but it also allows for the ease and comfort (and fun!) of shopping from your own home. Plus, some of the below items are even one of a kind. Just like your special friends and family members are. Read more…
---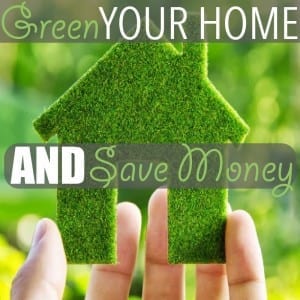 Probably the number one obstacle stopping us earthlings from embracing a more sustainable lifestyle is the belief it will cost more. Because sometimes it really does cost more. Organic food is usually more expensive. Locally made clothing is usually more expensive. Handmade home decor is usually more expensive. One can make the argument that the benefits of such items make the extra cost worth it, but even a tree-hugger like me knows that's not always a realistic response.
But do you know what is realistic? The fact that you can green your home AND save money. I mean, what's not to love? Here are five ways you can up the eco-friendliness of your home and save a few dollars – all at the same time. Read more…
---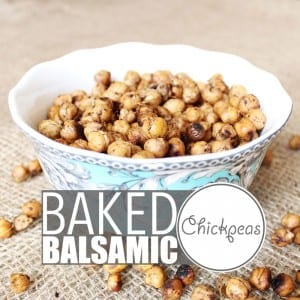 I have a confession to make. Up until a few years ago, I HATED chickpeas. (Also known as garbanzo beans, which was the name by which I knew them during my decades long boycott.) I remember my mom used to buy a five bean salad from the grocery store deli that included chickpeas and I couldn't even choke it down. I've written before about how I've since conditioned myself to love legumes. And out of this super nutritious food category chickpeas are at the top of my list. Can we just talk about how versatile they are for a second? Read more…
---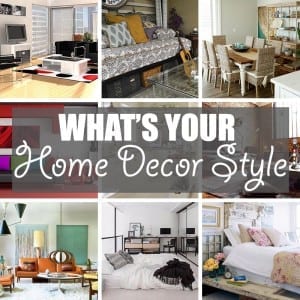 Are you Coastal or Contemporary? Scandinavian or Shabby Chic? Art Deco, Industrial, Mid-Century Modern, Traditional? Or, maybe, you have no clue. Don't feel bad, neither did I… until recently.
Here's my secret. Two years studying interior design and architecture and five years working in an architect's office and yet my knowledge of design terminology was pretty limited. My school didn't offer a "Decor Style 101" class and due to the nature of most of the buildings I worked on at the architect's office, any design boards I made up were strictly Commercial Not-So-Chic. I got the jist of most of the terms, but to confidently use them in a sentence to describe either my own or someone else's home decor style? Not so much. Read more…
---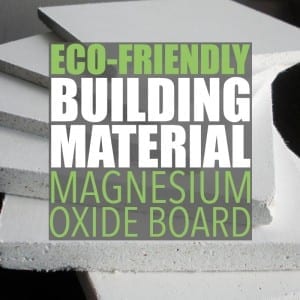 Aside from Of Houses and Trees, I also write content for a few other architecturally-minded blogs. One subject I've written quite a bit about lately is the building material magnesium oxide board (MgO board). If you've never heard of it, it's essentially an eco-friendly drywall alternative. And, of course, as soon as I see the phrase "eco-friendly alternative" I get all giddy and start geeking out. It looks like we're going to build Our House in the Trees next spring. (Fingers crossed!) And I absolutely want to use as many green materials as possible. Not only are environmentally friendly materials good for the planet, but they're also good for you and your family as they tend to release little to no VOCs (volatile organic compounds) into your home nor other narsty chemicals. (Did you know synthetic drywall contains formaldehyde? Yuck.) Read more…
---
There you have it! Which of the above posts from 2017 did you enjoy the most? I ask not because I need to have my ego stroked (but you can stroke it anyway), but because one of my goals for 2018 is to write more posts on what YOU – my dear readers – are interested in. So let me know in the comments!
Don't forget to subscribe to have posts on sustainable design, sustainable living, sustainable eating – sustainable everything – delivered to your inbox!
Top 5 Of Houses and Trees Posts of 2017