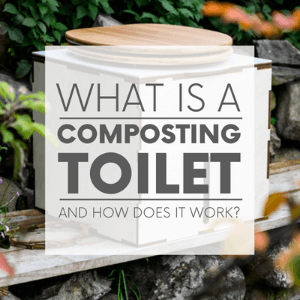 There are many reasons why people would choose a composting toilet for all their number one and two needs. It may be for their boat or RV, their cabin or tiny house, or even to use as a backup loo in their home. If this sounds intriguing to you, but also kind of yucky, you may be thinking, "Okay… but how does a compost toilet work?"
To answer that question, I talked to experts on composting toilets – the German-based company Kildwick. Kildwick is super passionate about toilets. Seriously. Want to know why?
Read the interview below!

A big thank you to Kildwick for sponsoring this post. Please know that I strive to only feature companies and brands that value sustainability as much as I do.

How does a compost toilet work?
A composting toilet works without water by separating solids from fluids thanks to a special diverter. Composting toilets thus do not have to be connected to the sewer system as they function independently.
The separator is divided into two sections. Urine drains away in the basin-shaped front section into the urine canister. Excrements are directed into a solid tank through the large opening behind the ridge.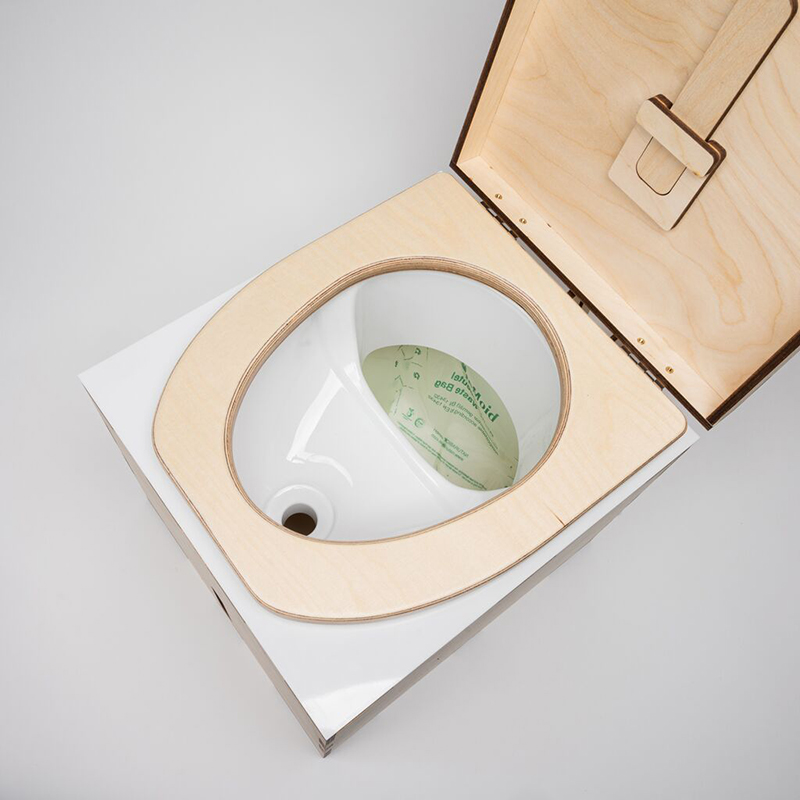 The collected urine can be diluted 1:1 with water and then used as fertilizer for your lawn or garden. Excrements need to be treated with litter. The mixture of faeces and ecological cover material is excellent for composting.
Composting toilets are also called dry toilets, dry-separating toilets or urine-diverting dry toilets.
Where are composting toilets mostly used?
Our composting toilets are mostly installed in vans/RVs, mobile homes, allotments, boats, leisure properties or tiny homes. The number of composting toilets in apartments or houses is increasing as many people start to rethink them.
People are realizing the system is quite easy and works great. They are increasingly willing to install composting toilets in their homes.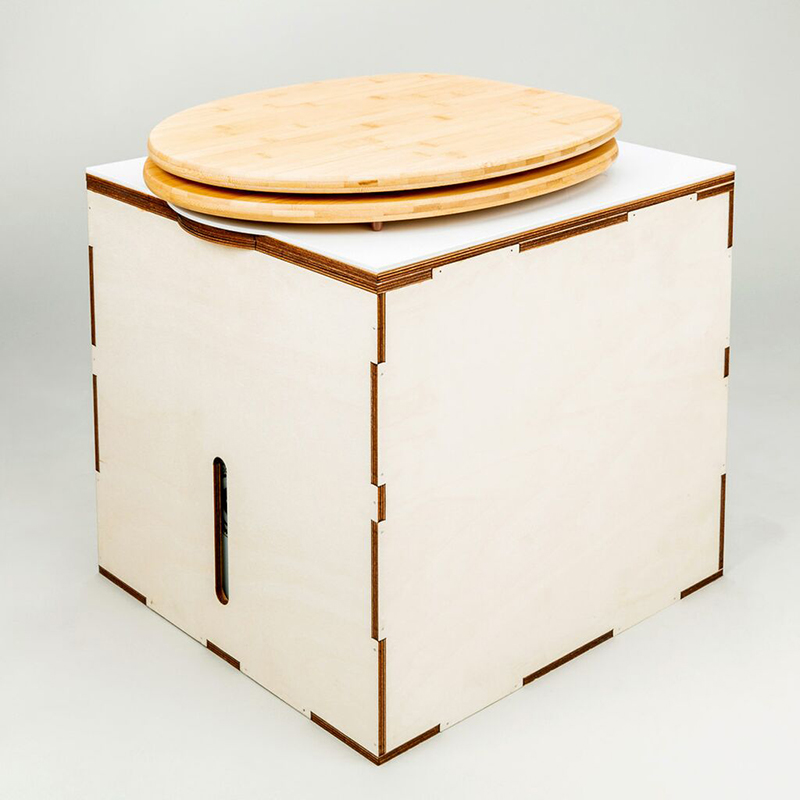 Switzerland is a great example. There are already multi-family houses only equipped with composting toilets.
Anxiety over unpleasant smells are completely unnecessary when using a composting toilet. Due to the separation of urine and faeces, there is no fermentation and thus no smell at all. Unpleasant smells only arise when excretions get mixed up.
What are the differences in Kildwick's various compost toilet options?
Our HappyLoo, which is a cardboard toilet, is what many people think of as a camping toilet. We think of it as a rather temporary toilet for outdoor adventures. You can use it whilst hiking or fishing. Or even if you simply don't have space for a permanently installed toilet, but you still don't want to forego comfort.
The MiniLoo is also often used as a camping toilet as well because it is very suitable for mobile homes, vans/RVs and camping in general.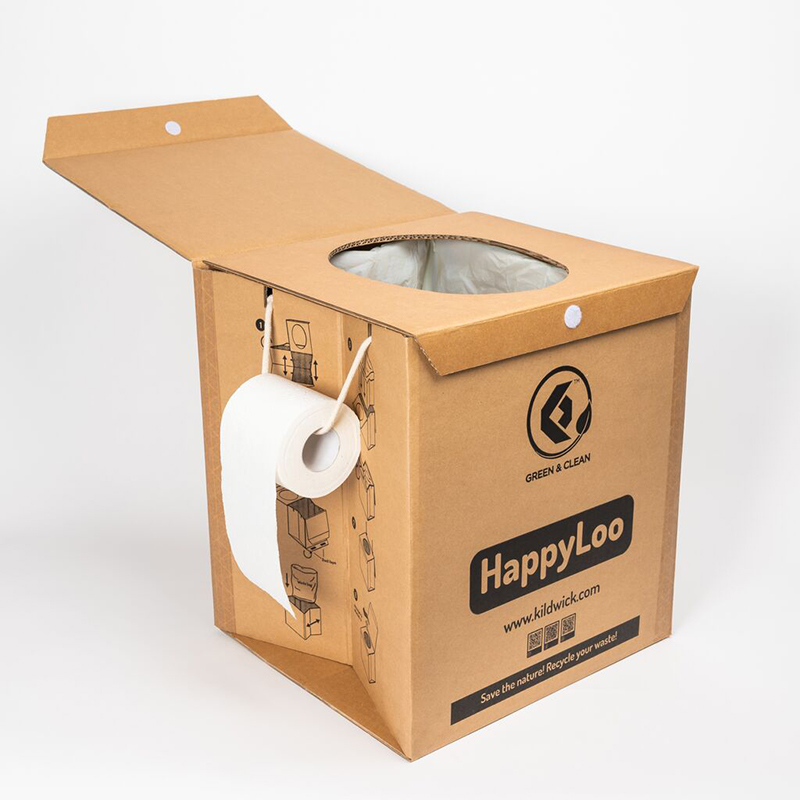 The EasyLoo is best known as a composting toilet, because it's mostly used in allotments – like a community garden.
The FancyLoo is also a composting toilet, however this toilet is not necessarily intended for camping. This beautifully designed composting toilet is suitable for large RVs, cottages, tiny homes, apartments and houses.
What makes the FancyLoo "fancy?"
The FancyLoo has a special and unique design. Modern lines define this product. Its colours are contemporary and make it a real eye-catcher. But it's not just the premium looks that make the FancyLoo so fancy. It's the high-end efficiency of every single item of the toilet as well. For example – the hinges.
Hinges are very difficult to clean, bacteria and germs settle in and the hinges only look clean for a while. As our aim is to offer hygienic toilet solutions, we solved this problem by using magnets holding the toilet seat in place instead. A composting toilet couldn't be more hygienic. We think that's particularly fancy.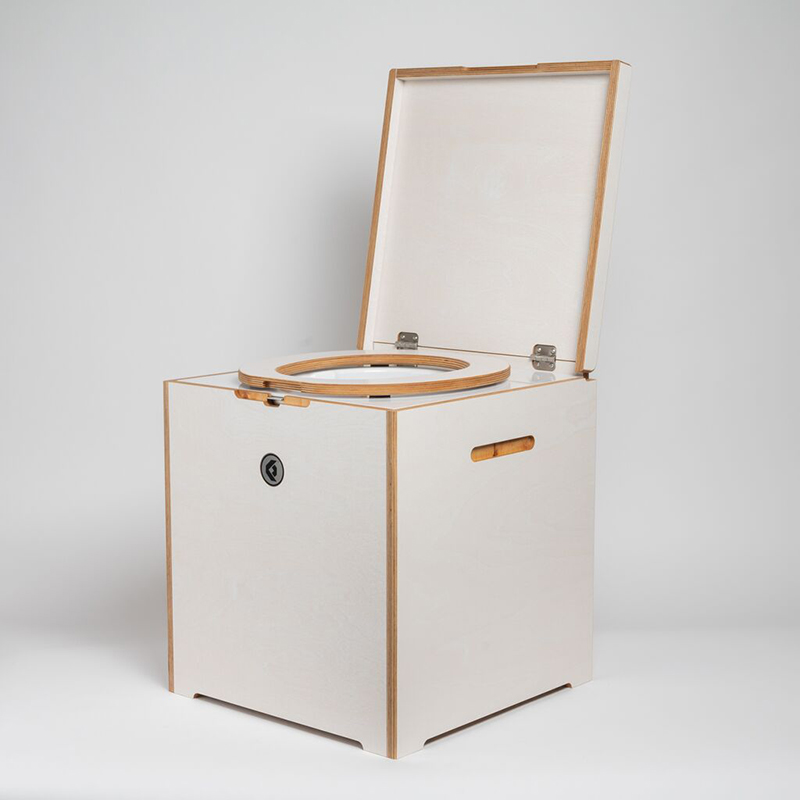 On top of that, people leading a sustainable life combine beautiful and eye-catching clothing with sustainability already. Why shouldn't this also work with composting toilets?
As studies have shown, we sit on the toilet for several months of our lives. Kildwick is of the opinion that we should spend this time sitting on a sustainable designer toilet that is comfortable and beautiful at the same time.
What's Kildwick's story?
Kildwick was originally established in the UK in 2014.
After the two inventors looked for a waterless toilet for their boat in 2009, the purchased separator did not lead to the desired outcome. This was when the first Kildwick separator was created by two outdoor adventurers looking for a sustainable toilet solution without use of water and chemicals.
Shortly after its invention, the demand for this product was high. And the Kildwick company was founded five years later.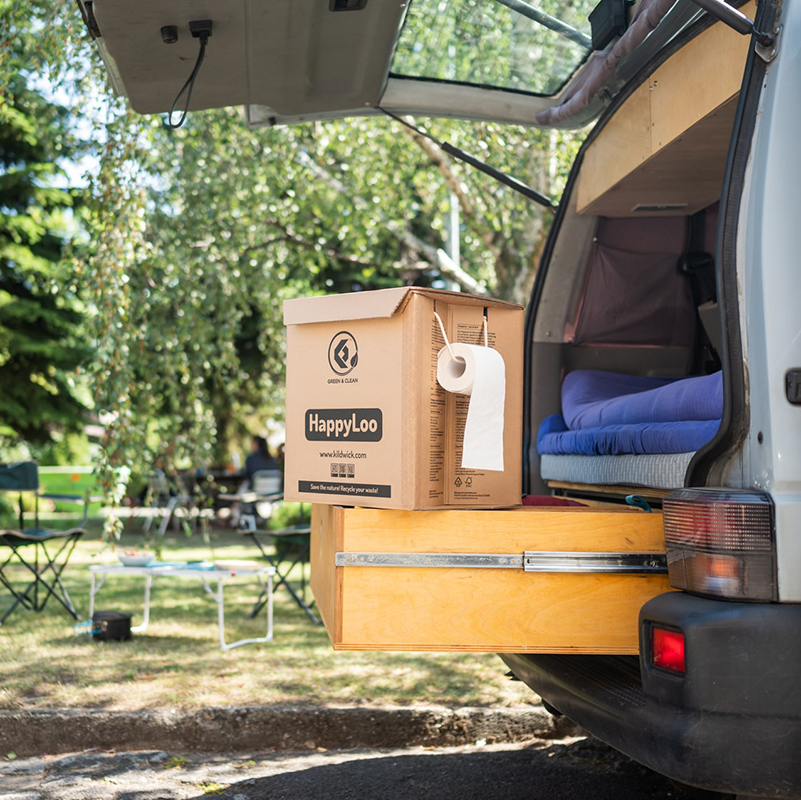 As life is full of surprises, the two main shareholders of Kildwick encountered difficulties in early 2019 which resulted in the closure of the company. Luckily, this was not the end of Kildwick – but the beginning of a new phase.
When the message of the company's closure reached Perato GmbH in Leipzig, Germany, we decided to sustain Kildwick and its promising products. Perato's team members – outdoor adventurers to the fullest – had already experimented with waterless toilets before the takeover of Kildwick and their hearts beat for sustainable toilet solutions without water and chemicals.
The preparatory work of the British inventors – their passion and know-how – are the basis of the Kildwick separator today for which we are very grateful.
Why is sustainability so important to Kildwick and how do your products help to create a more sustainable world?
When Perato GmbH took over Kildwick, we wanted to make this great toilet system even more environmentally friendly. Pursuing this goal, we only use materials that are either fully recyclable or can be degraded by nature.
Our packaging is almost completely free of plastic. We made our urine separator out of recyclable polystyrene. Our production has short routes because we work with local companies, leading to less CO2 emissions.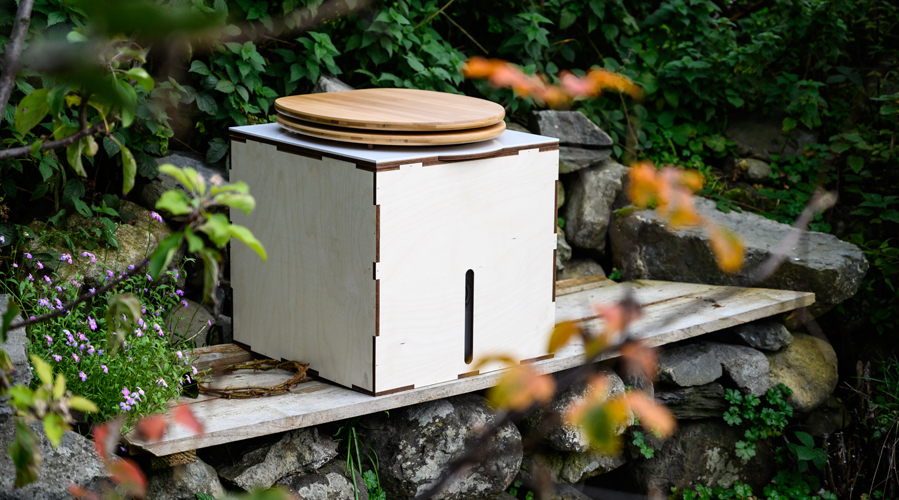 We continuously try to get better and more sustainable. But the real stars are the toilets. By using composting toilets, valuable drinking water – which is already a major shortage in many countries around the world – is not wasted and the supposed waste can be efficiently used as a great biological fertilizer.
It is our conviction that we should all take responsibility for the health of our planet. We are very happy to contribute to that with our sustainable products.

Visit the Kildwick website to learn more about the wonderful world of composting toilets!

LET'S BE TREEHUGGERS TOGETHER!
Sign up for the Of Houses and Trees monthly newsletter and I'll send you my FREE list of "The 8 Best Places to Buy Eco-Conscious Decor Online."

OH, AND LET'S BE FRIENDS TOO…

PIN ME!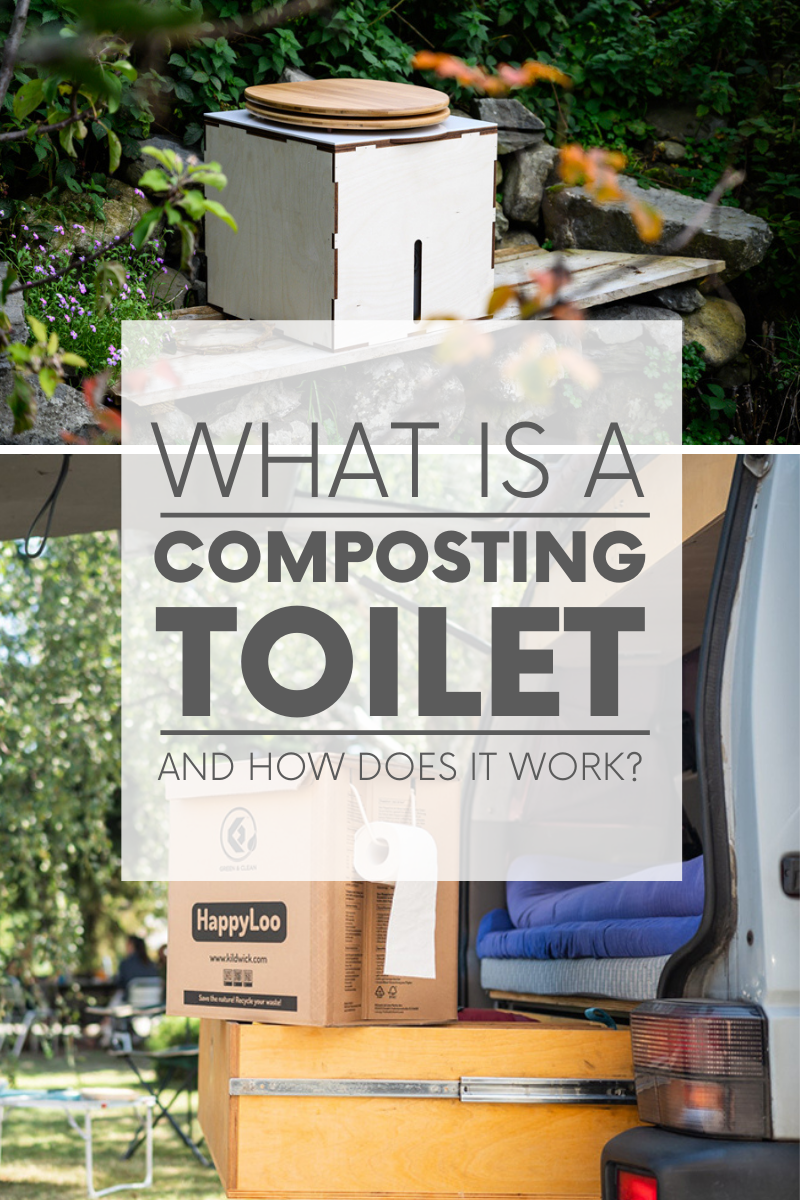 Posted on February 9, 2021
What is a Composting Toilet and How Does it Work?