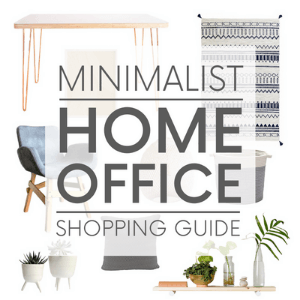 Who says you need an office to create an office space? Once upon a time, home offices took up a lot of room with oversized desks, clunky computers and massive filing cabinets.
Thankfully, now all you really need is a laptop and an internet connection and you're good to go! Of course, not everyone can focus if they just plunk their computer down on their dining room table.
Creating a space that helps you feel peaceful and productive is the key to a successful work-at-home situation.
And what that means to you may be completely different from what it means to someone else.
Good thing online marketplace Etsy makes it super easy to create your very own customized home office. If you have yet to shop using Etsy – you just have to. YOU JUST HAVE TO! Sorry. I get really excited about supporting small businesses from across the globe, many who make handmade, sustainable furniture and accessories for your home.
And I probably don't have to mention (but I will anyway), that remembering all of the hardworking small business owners during our world's current health and economic struggle is a very worthwhile thing to do. #StandWithSmall
PLUS, Etsy offsets all of their carbon emissions generated by shipping. So, what are we waiting for? Let's get into it!
Here are three gorgeous minimalist spaces to use as small home office inspiration, as well as nine beautiful home office decor items.
Note that this post contains affiliate links, meaning if you click on a link and make a purchase a small percentage of the sale goes to yours truly. Please know that I strive to only feature eco-conscious products and brands.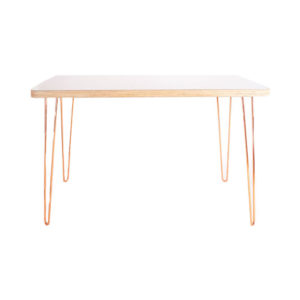 Super simple handmade desk by AceAndReno from responsibly-sourced birch and FSC-certified plywood. If you'd prefer something with a little more weight to it check out this midcentury modern black walnut desk.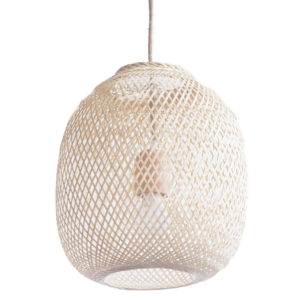 Why is it that so many of the images you come across featuring home office design ideas feature some sort of hanging bamboo light? Well – because they're gorgeous! I also feel that this sort of pendant looks great while also offering a decent amount of diffused overhead lighting. If your style is more minimalist-industrial, check out this matte black globe light by IlluminateVintage. (We installed three different fixtures from IlluminateVintage in our new home – and they are stunning!)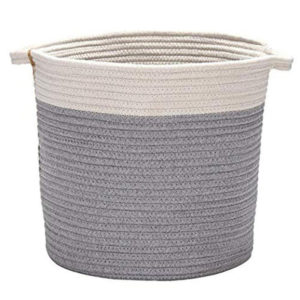 Baskets! How can you not love them? Especially when they look as beautiful as these natural cotton handwoven baskets by TheTrendSpotter. And since you can never have too many baskets, in my opinion at least, check out this felt storage bin.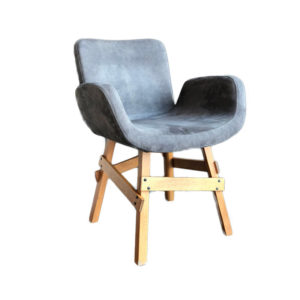 Every stylish home office needs a super cool chair. This upholstered chair by ChairsHan looks beautiful and comfy at the same time. If you prefer the bare bones Scandinavian look, check out this eco-friendly chair made of plywood.
Need help choosing eco-conscious furniture and decor for your home? That's what I'm here for!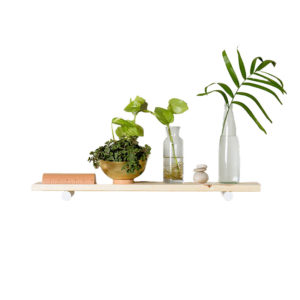 Whether you need shelves for work-related books and paperwork, or you just need somewhere to put your plants and cute home office decor items, this floating shelf by loopdesignstudio is made of pine and looks oh so pretty – but it's also functional! Perhaps less functional, but just as pretty, is this set of square floating shelves.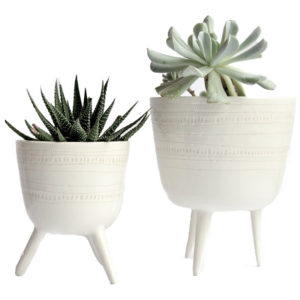 Are plants decor? Well, no – they're living things! But the pots you put them in are decor. Studies have shown that having plants in your interior spaces helps improve well being and increases your focus. So check out these tripod planters by CamEtCeramique and these cute ceramic planters by HookAndStemCo.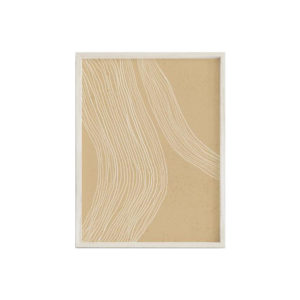 Nothing like looking up from computer and having a calming, nature-inspired print catch your eye. This white and beige swirling lines piece by Awesomehomeprints makes me think of sand, while this pussywillow artwork by BirchBliss is perfect for the nature-lover.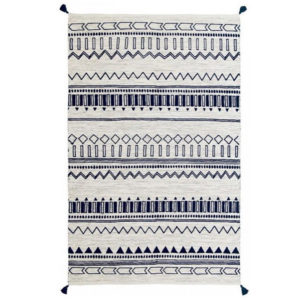 Gotta keep the footsies warm and cozy while you're working away. Plus, nothing defines a space like a stylish area rug – especially if your home office is only part of a larger room. This tribal-inspired rug by NorthAfricanWeavers is so lovely – as is this Scandinavian handwoven rug by TinitaRugs.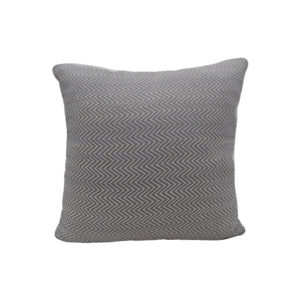 Might as well be comfy while you're working! Possibly my favourite Etsy shop of all time is OrganicTurkishTowels, who makes the most stunning organic cotton throw pillows. (I own four pillows from them – plus six towels and three throw blankets!) This grey herringbone pillow is one of my favourites. If you'd prefer something with a little fringe, try this handmade macrame pillow cover by AtelierNordique.
Here's hoping this post helps you find the home office decor of your dreams! And if a bedroom makeover is next on your home decor wish list – be sure to check out my Boho Bedroom Shopping Guide.
Minimalist Home Office Decor Shopping Guide