Prefer a vintage-inspired rocker to an oversized glider for your nursery? Learn how to make easy DIY wooden rocking chair cushions.
Sometimes fabric starts it all.
When I was working on my daughter's room – before I knew she was a girl – I was looking for neutral colours and prints that didn't conform to typical gender stereotypes. Because I'm difficult like that.
I'll talk about my dislike of pink to anyone who will listen. I'm an earth-tones gal through and through.
So, when I saw this graphic floral with its greys and greens and browns I just knew I had to have it.
I had to have it so bad, in fact, that I forgot to check the price tag… oops.
Note that this post may contain affiliate links, meaning if you click on a link and make a purchase a small percentage of the sale goes to yours truly. Please know that I strive to only feature eco-conscious products and brands.
You may recognize the fabric as the background for the baby superheroes artwork from my last post – so, I'd say I got my money's worth. Even though this fabric features flowers, I don't find it overly feminine.
It actually reminds me of Where the Wild Things Are. Something about the long, snaking, brown and beige vine. It looks like the tail of a beast who just disappeared around the corner…
As for the rocking chair itself – it took some convincing, but I talked Devin out of an oversized and overpriced glider in favour of a solid wood rocker by promising I'd make a DIY rocking chair cushion for it.
I just find gliders too big, too tacky and besides – what's more eco-friendly? A brand new glider made of synthetic materials or a secondhand wooden rocking chair?
No brainer, right?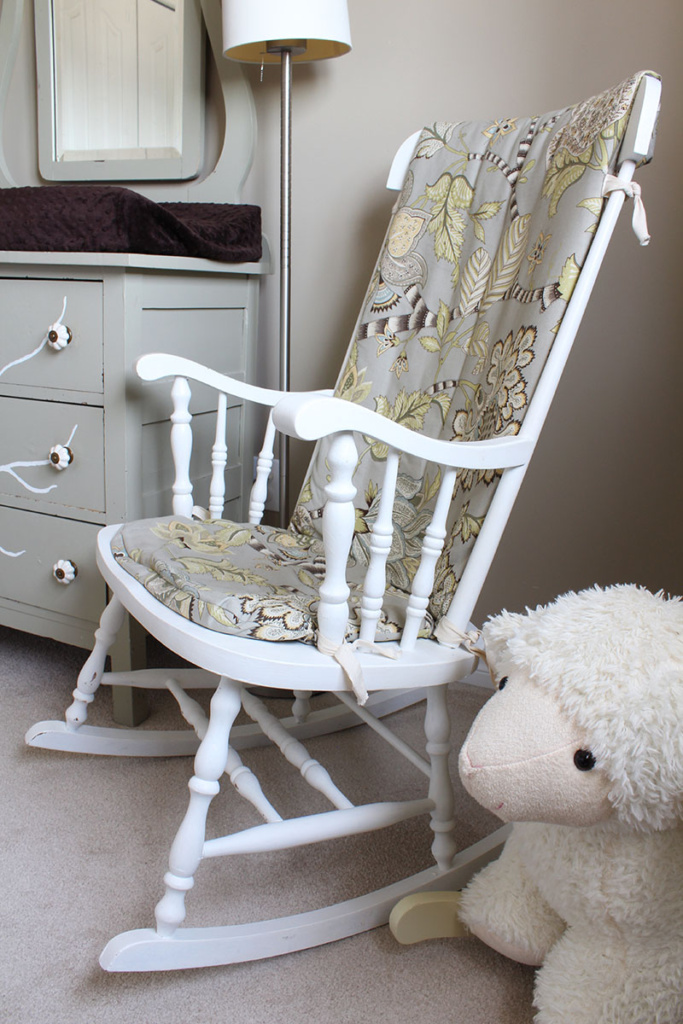 Need help choosing eco-conscious furniture and decor for your home? That's what I'm here for!
I'd like to say "and bippity boppity boo – it was done," but this project actually turned out to be quite time-consuming. The chair, which I failed to take a photo of in its original state, had to be sanded, primed and given two coats of paint (and the darker wood still bleeds through in a few places).
The rocking chair cushions were another adventure as I bought several pre-cut pieces of foam, which didn't work. Then, I got foam custom cut, but it was too hard and felt uncomfortable.
What I ended up doing – and what I should have done all along – was keep it simple and use quilt batting, which I cut myself and then sewed into the fabric. Easy peasy. I added some ties, wrapped it up and over the headrest (another request from Devin) and there she be.
I'm happy to report it's already been utilized extensively and just this morning it was spit-up on for the first time.
Rock on!
DIY Wooden Rocking Chair Cushions Instructions
Here are instructions on how to make these wooden rocking chair cushions for a nursery – or wherever!
Supplies Needed
– quilt batting (Cotton batting is a more eco-friendly option than polyester.)
– fabric (A good natural option for a baby's room is organic cotton.)
– ribbon (Try using ribbon made from a green material like jute.)
– sewing machine
– thread
– needle
Prepare Materials
1. Decide how many layers of batting you want to use. This will depend how thick the batting is and how thick you want the wooden rocking chair cushions to be. I decided on four layers, which is still quite thin but also comfy. You may want more than that – six layers or even eight.
2. Lay the batting out over the chair to help you decide what shape to cut it into. I essentially did a square with rounded corners for the seat cushion and then a rectangle for the backrest. Also, if you want the back to wrap over the headrest, make sure to account for the extra batting.
3. Cut the batting, then use it as a pattern to cut the fabric. Make sure to cut out two pieces of fabric in each shape for front and back
Begin Sewing
4. Starting with the seat cushion, lay down a piece of fabric with the pattern facing up, a piece of fabric with the pattern facing down and then the batting. Pin around the shape to hold it all in place, then sew around the edges with your machine – making sure to leave an approximately 4″ opening at the back so you can turn it right-side out.
5. Pull everything through the opening, smooth flat, then hand sew the opening closed.
6. Repeat steps 4 and 5 with the backrest cushion. Then, hand sew the seat and backrest together. This step took some creativity in order to get the two pieces to fit together nicely. But it worked out in the end.
Attach Ties
7. Measure how much ribbon you'll need to tie down the four corners of the seat as well as the backrest near the top on the front and the very top corners of the backrest, which will be wrapped around and hidden in behind. I simply cut eight long pieces, then folded them in half and hand-sewed them in place along the fold.
8. Take your rocking chair cushions, tie them in place and you're done! You may now blissfully rock the night away with your babe in your arms. Or simply pass out with your head draped over the headrest… thank goodness it has a cushion!
Finished Wooden Rocking Chair Cushion
All done!
And here's the stool we built to go with the chair.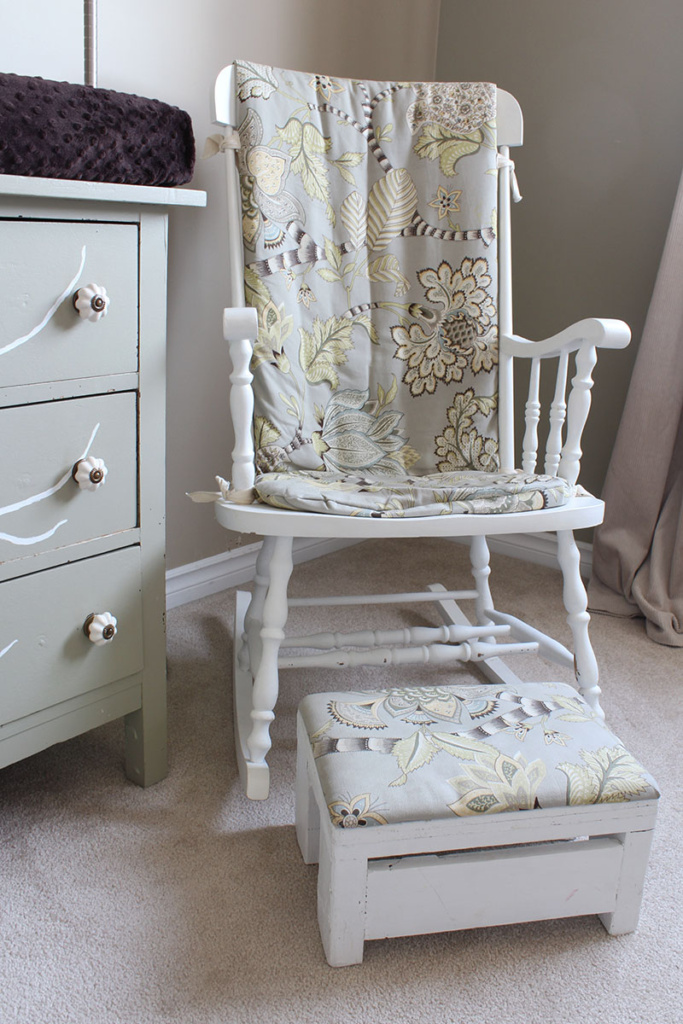 We much debated the height and width of this stool to provide optimum rocking assistance and I think it turned out perfectly. It also doubles as a little night stand for when I'm crashed on the cot next to the bundle's crib. Let me know in the comments if you want a tutorial on how we made the stool!
PIN ME!
Posted on September 20, 2013 (Last Updated on September 6, 2022)
Need help choosing eco-conscious furniture and decor for your home? That's what I'm here for!
How to Make DIY Wooden Rocking Chair Cushions