This DIY paper garland is both simple and beautiful. Plus, it repurposes old book pages – making it eco-conscious too!
One of my favourite DIYs on Of Houses and Trees are the book page paper orbs I made several years ago. I'm always moving them around whenever I feel like a certain space needs a little paper accent.
Then one fall I decided to make a pumpkin version of this craft.
And now I've moved on to creating miniature paper orbs to create a DIY paper garland.
I actually made one of these DIY garlands last Christmas, but didn't post about it. So this year I decided to make another paper garland so I could show you all how easy it is to do – and how pretty the final result is!
The great thing about this book page paper garland is that while it certainly works as holiday decor, on its own it doesn't read as festive so you can actually use it year round. (Who caught the pun in that last sentence…?)
Craft along with me in my video, follow the instructions below, or support a small business-owner on Etsy by purchasing one of these handmade paper garlands. Because we don't always have the time to DIY – and that's a-okay!
Note that this post may contain affiliate links, meaning if you click on a link and make a purchase a small percentage of the sale goes to yours truly. Please know that I strive to only feature eco-conscious products and brands.
DIY Paper Garland Step 1: Gather Supplies
All you'll need for this DIY garland are a pencil, scissors, glue, twine, something circular for tracing and an old book – please make sure you don't cut up a collectible or something with sentimental value!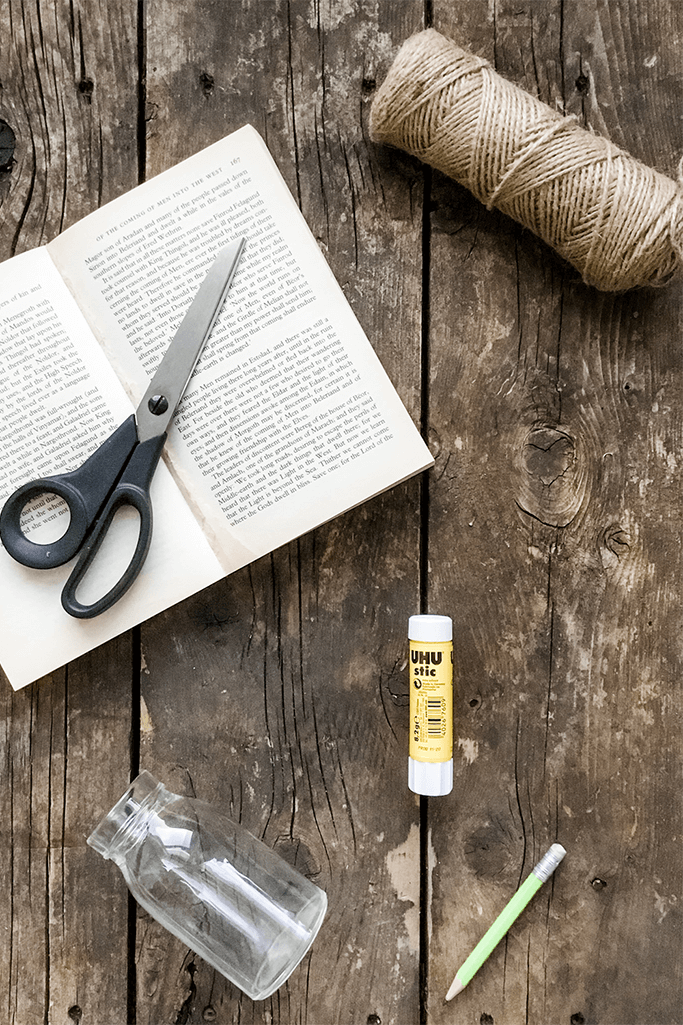 DIY Paper Garland Step 2: Trace
Use your circular object to trace circles on the book pages. For reference, my glass jar has a bottom that is about 1.5″ in diameter.
You can either carefully tear the pages out before tracing or after. Also, try to fit as many circles on a page as you can to reduce waste. I was able to fit three circles per page and I used eight circles per orb, but you can use less ormore depending on how robust you want each orb to be.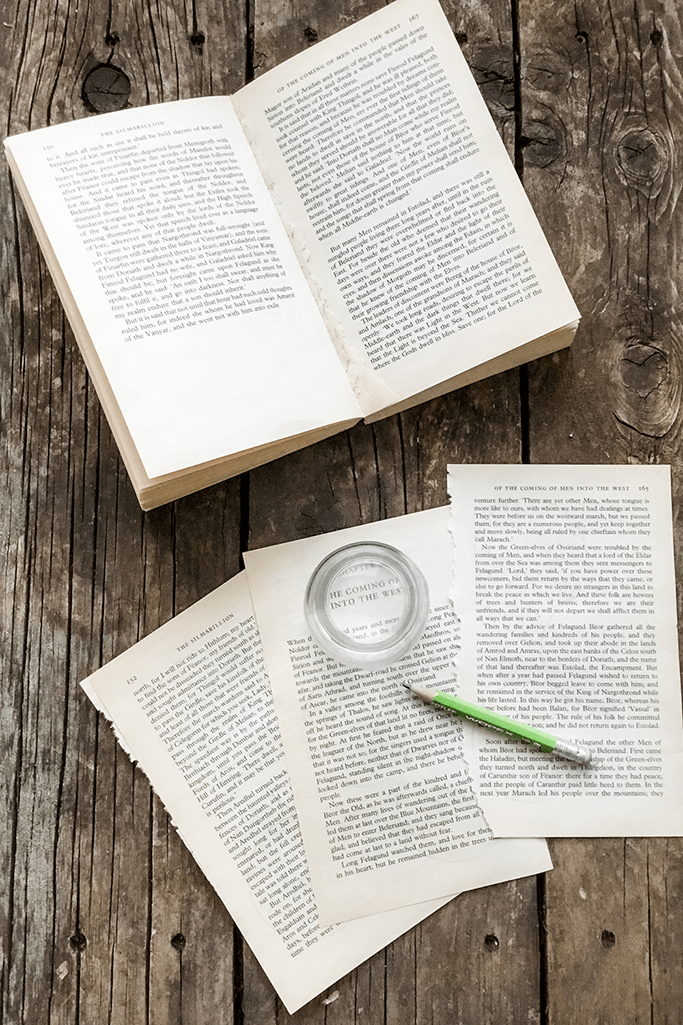 DIY Paper Garland Step 3: Cut
Cut each circle out. And remember – it doesn't have to be perfect!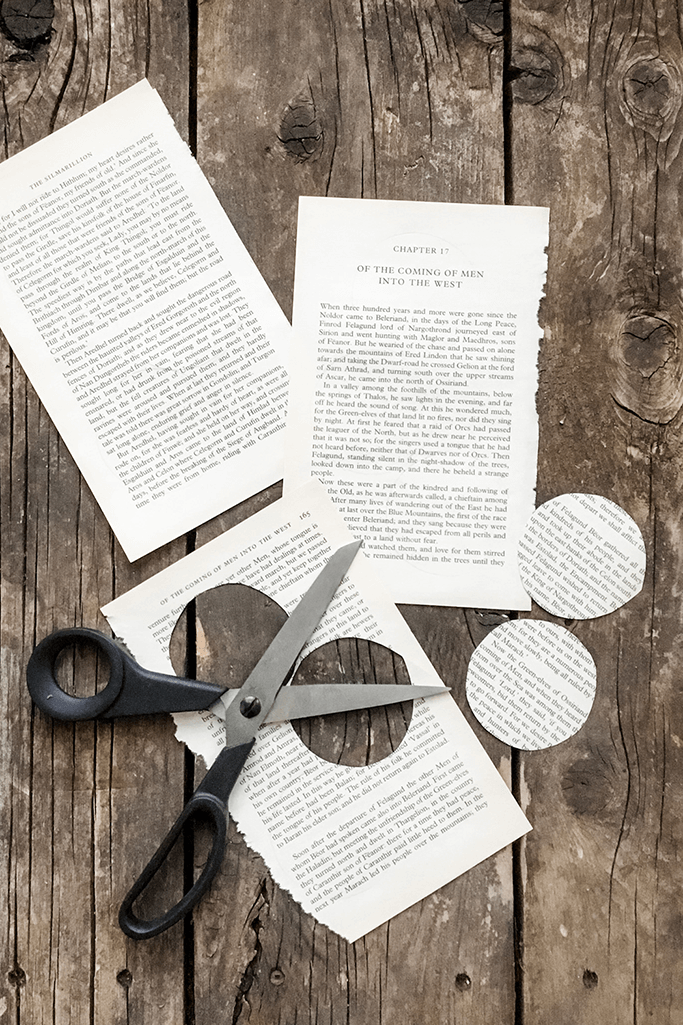 Need help choosing eco-conscious furniture and decor for your home? That's what I'm here for!
DIY Paper Garland Step 4: Fold
Fold each circle in half so that the side you traced is facing out. This way any remaining pencil marks will be hidden once the folded half circles are glued together. You also could just erase any marks you see if you prefer once side over the other.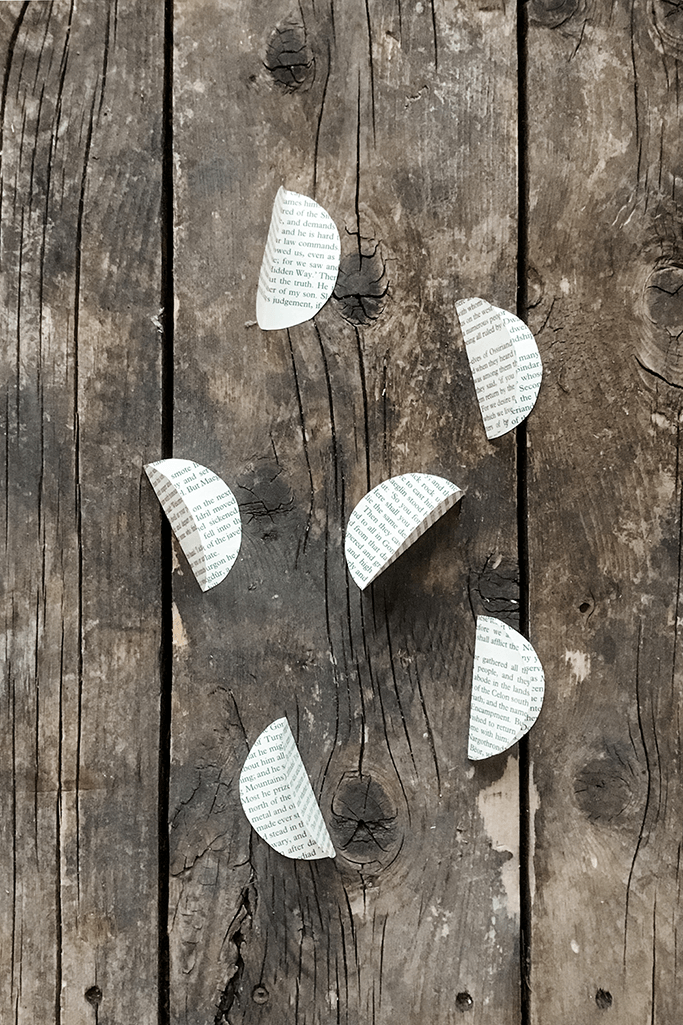 DIY Paper Garland Step 5: Glue
Grab a folder circle and glue one of the sides. Then stick another folded circle on top. Try your best to line up the folded edges as this will be the centre of your orb once done. Continue until all the circles for one orb are glued together – but DON'T glue it closed quite yet.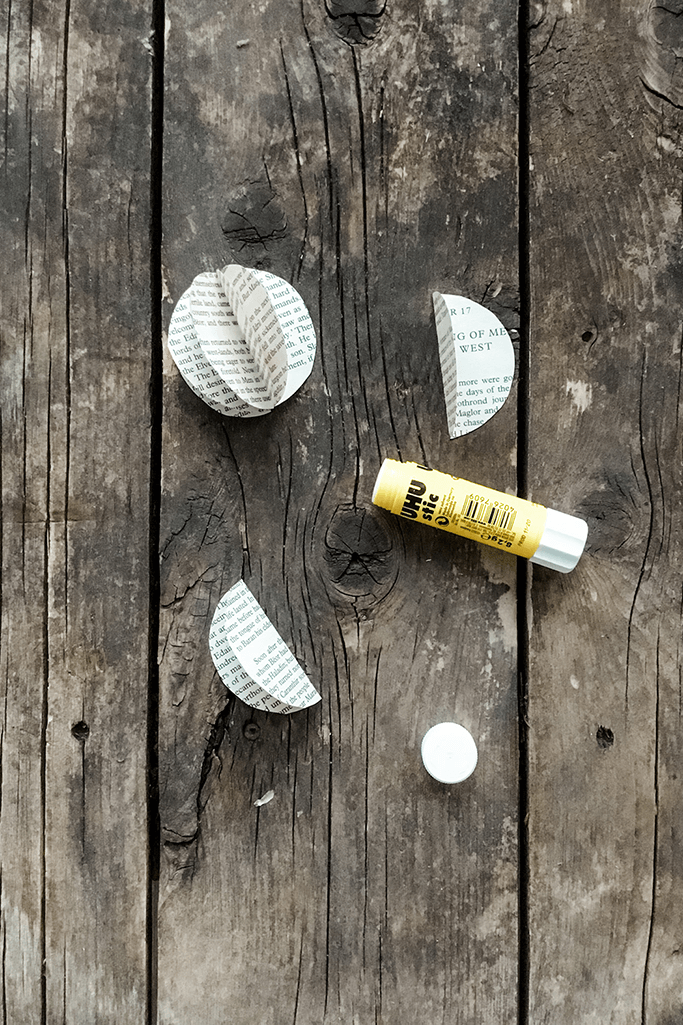 DIY Paper Garland Step 6: Add Twine
Lay a piece of twine against the folded edges between the two pieces that still need to be glued together. Holding the twine carefully in place, you can now glue the orb closed.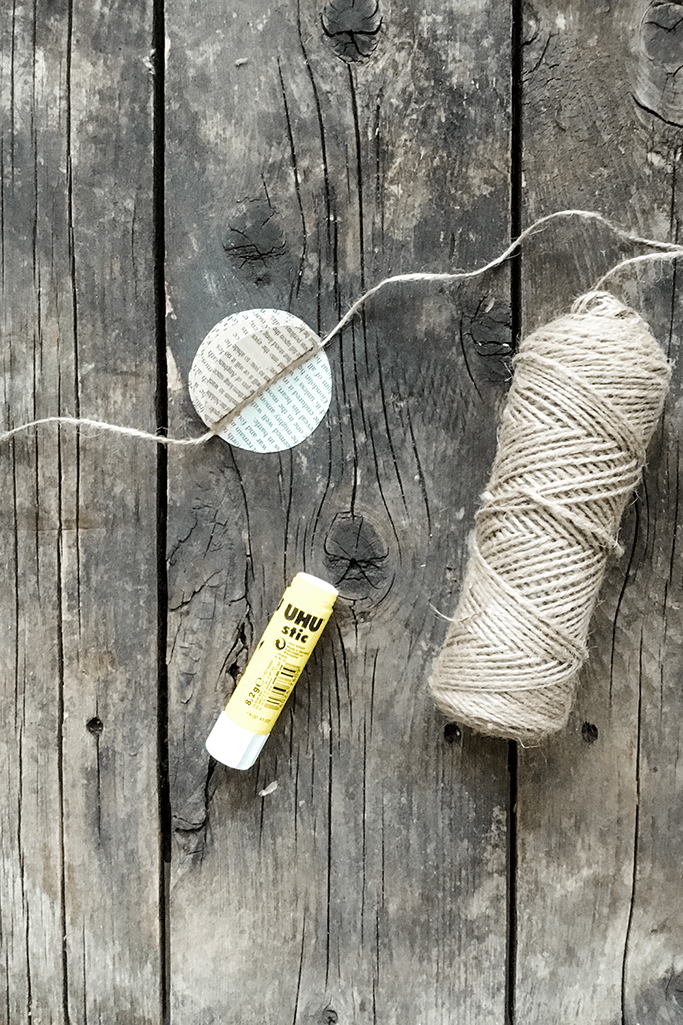 DIY Paper Garland Step 7: Repeat
Now you know how to do it, simply repeat the steps until you're happy with the length of your paper garland.
Remember you can space each orb as closely or as spread out as you like. I prefer a more sparse look as it's a bit more minimalist – but if you want to place them close together that's up to you!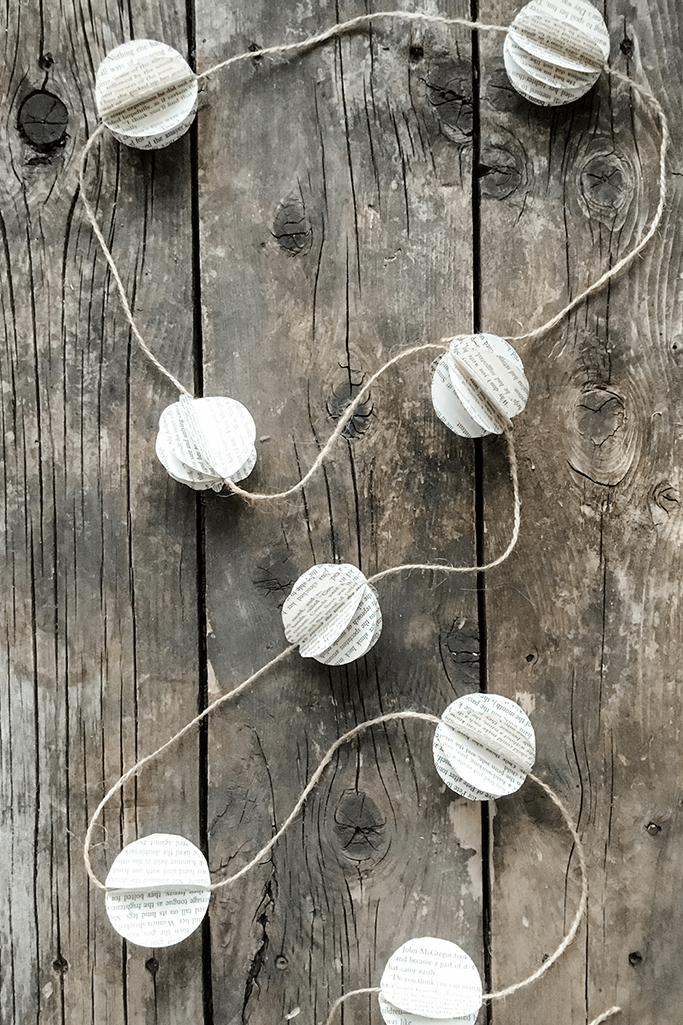 DIY Paper Garland Step 8: Enjoy!
Now you get to decide where you're going to put your DIY paper garland. Stick it in your Christmas tree, wrap it around a wreath, use it to decorate a party or a wedding, or just to decorate your home – any time of the year!
No Time to DIY?
Don't have the time, the supplies, or the patience to do it yourself? Check out these three handmade paper garlands on Etsy!
Whether you're making a Christmas garland for your tree, or something to use anywhere at any time, I hope this DIY tutorial was helpful!
PIN ME!
Posted on December 13, 2021
Need help choosing eco-conscious furniture and decor for your home? That's what I'm here for!
How to Make a Simple DIY Paper Garland from Old Book Pages