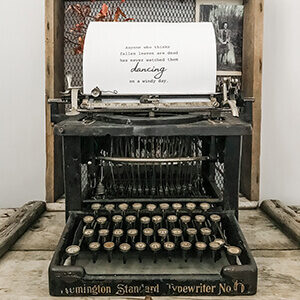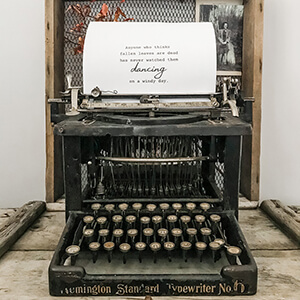 Nothing like the changing of leaves and the dropping of temperatures that makes you want to cozy up inside and create some DIY fall decor. Am I right?
Normally I'm not on the ball enough to participate in home decor challenges. But when The Collection Vintage over on YouTube proposed a home challenge that consisted of creating three vignettes featuring budget fall decor, I was like – I may actually be able to do that… and I'm a-gonna do it in conjunction with creating some DIY fall decor!
Plus, I not only used budget-conscious items, but I also used eco-conscious ones. In fact, everything in my vignettes I either already owned, made, or found out in nature. Ah, nature… my favourite place to shop.
Check out my video showcasing my simple and minimalist DIY fall decorating ideas. You can also scroll down below for pictures and an explanation of the why's and how-to's of each look. (Plus FREE printables!)
Not only are these simple fall decorations pretty to look at, they're perfect fall crafts for adults who don't want to leave all the leaf art fun to the kids!
Watch the Video!

Note that this post contains affiliate links, meaning if you click on a link and make a purchase a small percentage of the sale goes to yours truly. Please know that I strive to only feature eco-conscious products and brands.

Book Page Pumpkin
Ever since we moved into our sustainable home last November, I've been really feeling the minimalist vibe. Our house is so light and open and bright, the view out all of the windows often feels like the only decor we need.
Now, my version of minimalist fall decor may not be the same as someone who considers themselves a "true minimalist." I've used colour. I've used old things that some people would consider junk. And are book pages, pinecones and a deer antler considered minimalist? I don't know. I don't care. To me, minimalist means simple, uncluttered and harmonious.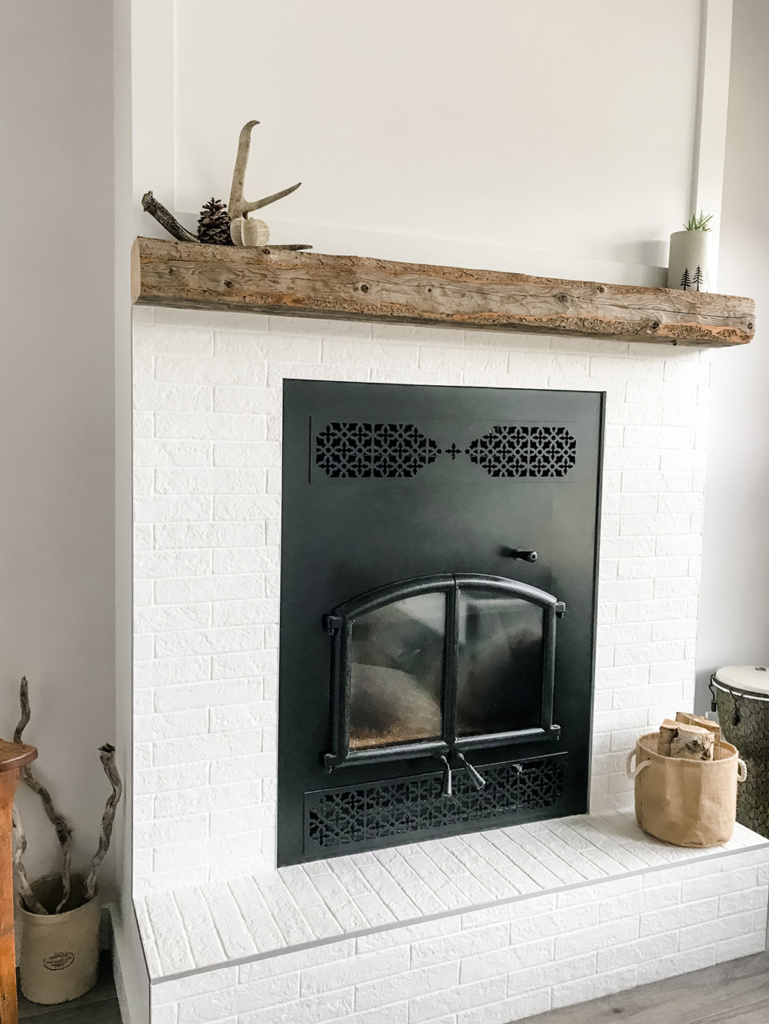 My first DIY fall decor vignette features this book page pumpkin I made a couple of falls ago. To finish it off, all I did was add a pinecone and a deer antler we found out in one of the forests on our land.
See what I mean about simple fall decor?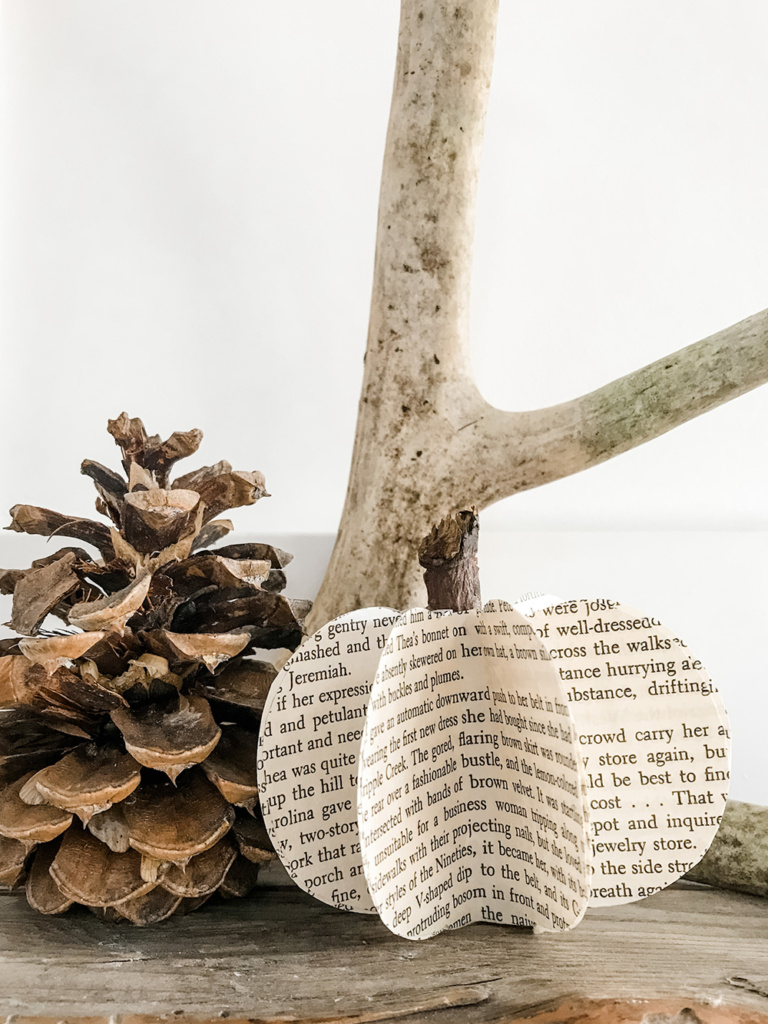 Framed Leaf Rubbing
When I first learned the "rule" for the second vignette in the fall decor challenge was to use something orange, I was stumped. Most of my existing decor is white, grey, black and green. Where was I going to find orange?
Then a couple of days ago I was heading down to the basement and my eyes landed on my collection of worn hardcovers displayed in our staircase. Using books as decor is one of my favourite interior design tips. And old books can be super inexpensive – and come in every colour you can think of. Like orange!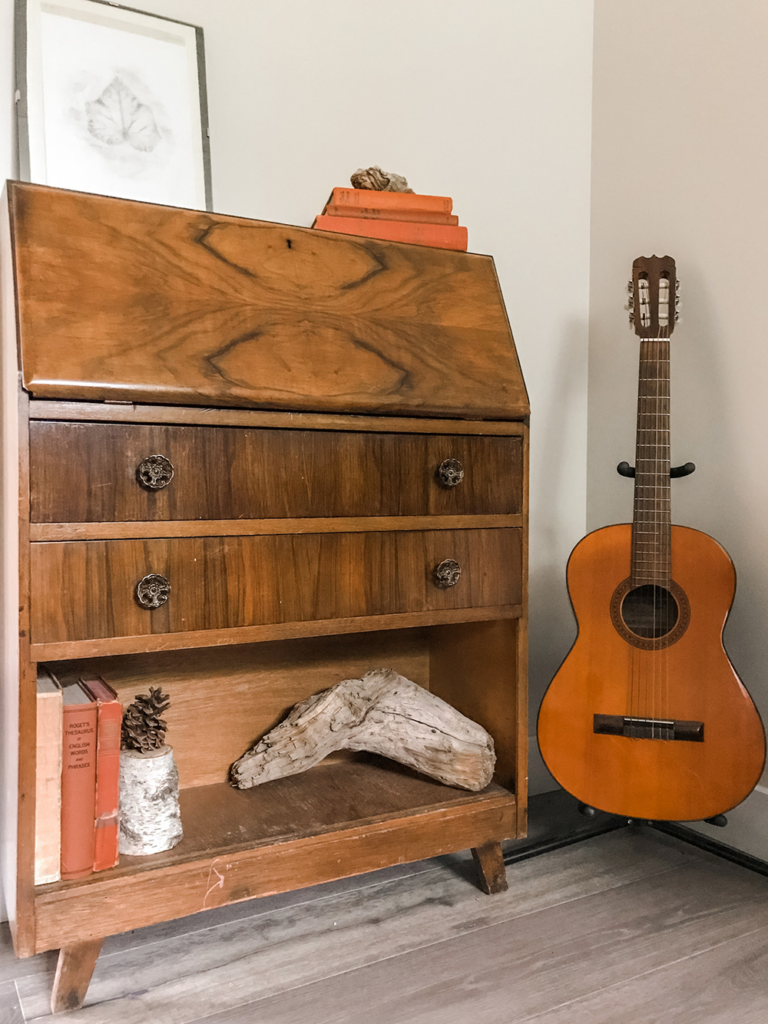 As for the DIY fall decor portion of this vignette, I made a simple leaf rubbing. To make your own, go outside and collect a few different-sized leaves. Place them face down on a piece of paper and put another paper on top. Then use the side of a crayon (I used black – for obvious reasons), and gently rub until the leaf begins to show.
Play around with the different leaves and with the pressure until your happy with the result. Use a dry rag to blend. And if you want to make your life super simple you can just download and print out my leaf rubbing right here!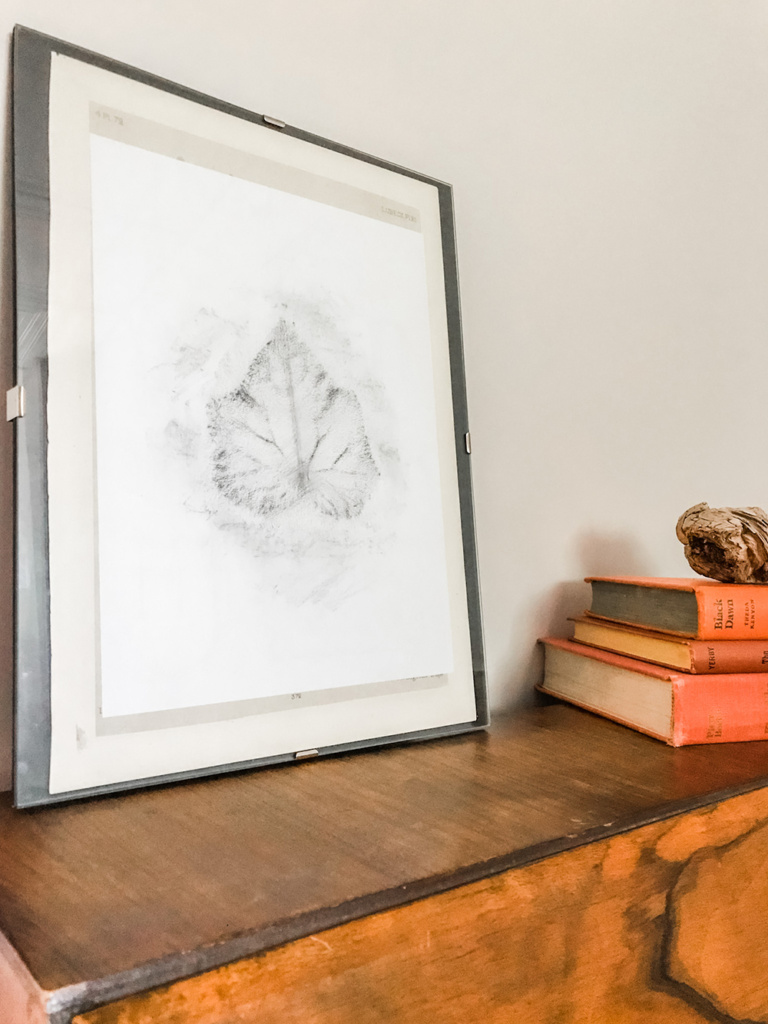 Fall Quote Artwork
If you've watched the later videos in my series Our House in the Trees, you'll know that our guest bedroom is just a big hot mess. Well, at least it was until recently!
I'll be giving you a full tour of the room in the near future. But in the meantime I wanted to create one of my three DIY fall decor vignettes on top of this gorgeous old trunk I bought at an antique mall a few years ago.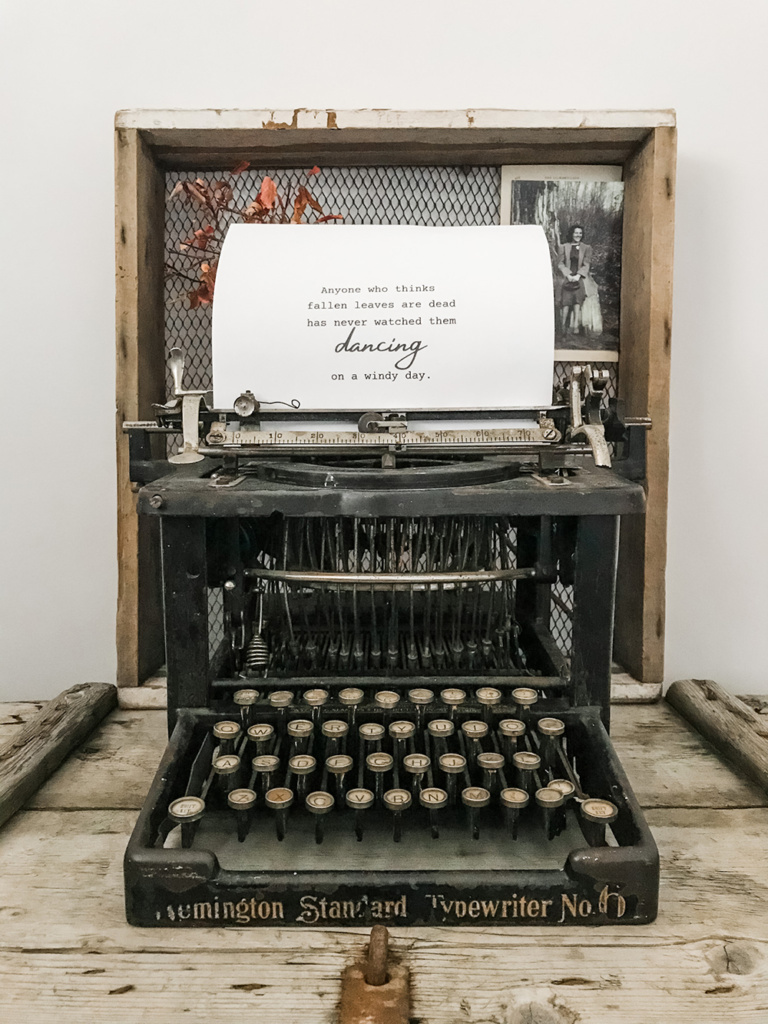 For this vignette I made a simple printable – that you can download here! Now, I know not everyone has an antique typewriter just hanging around the house. But you can display this printable in so many ways. Frame it. Hang it on a bulletin board. Cut it out and glue it to something. Whatever you want!
I added a branch with fall-coloured leaves, a page from an old book and a photo of my Grandma sitting amidst the trees.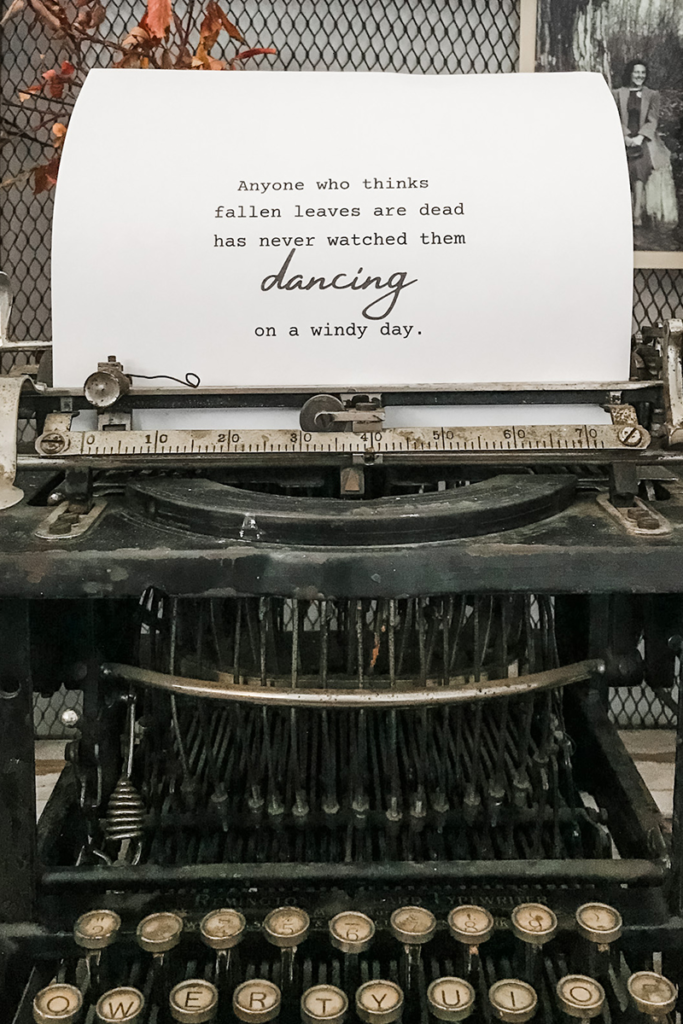 Tell me, which of these three DIY fall decor ideas is you favourite?

LET'S BE TREEHUGGERS TOGETHER!
Sign up for the Of Houses and Trees monthly newsletter and I'll send you my FREE list of "The 8 Best Places to Buy Eco-Conscious Decor Online."

OH, AND LET'S BE FRIENDS TOO…

Posted on September 22, 2020
3 Simple + Minimalist DIY Fall Decor Ideas