Do you love the ocean as much as you love your home? Why not bring the two together with the help of this coastal interior design guide!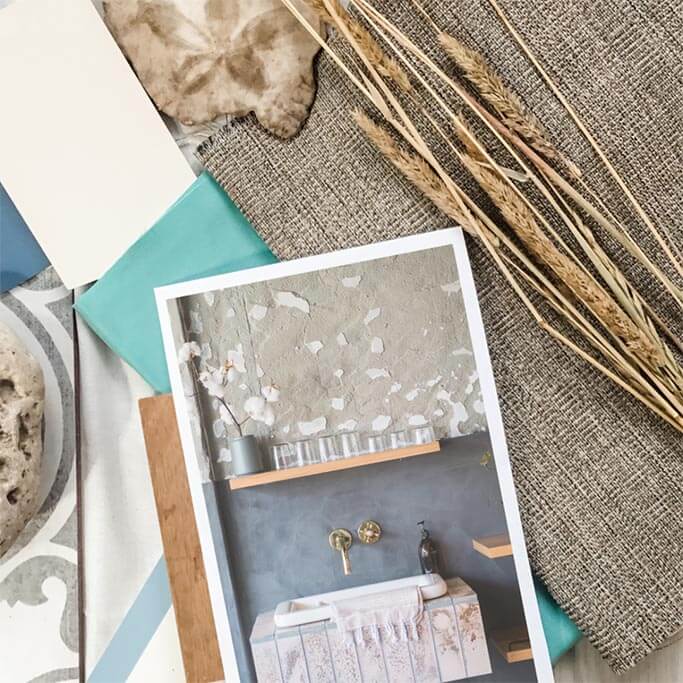 I mean, who doesn't love the ocean? I know I sure do. It makes me feel really small, but in a really good way – you know what I mean?
But just because you love the big deep blue doesn't mean coastal style decorating is for you. You can love the beach and also love something totally different – like glam, industrial or even maximalist decor!
So, who exactly is coastal, aka beach style, interior design for? Well, if you love natural materials, texture and an open, airy feeling home – then this may be the decor style you've been looking for. Oh, and you should probably also love the colour blue. But again, how could you not?
Keep reading to learn what exactly coastal decor style is – and what it isn't. Or, skip ahead for my decor ideas to help you give your home a coastal chic look – that just so happens to be eco-friendly!
If a blend of Japanese and Scandinavian design is more your thing, make sure to check out my post on Japandi interior design.
Note that this post may contain affiliate links, meaning if you click on a link and make a purchase a small percentage of the sale goes to yours truly. Please know that I strive to only feature eco-conscious products and brands.
What is Coastal Style?
The most straightforward description of coastal style decorating is that it's decor style inspired by – of course – the coast, meaning the ocean and shoreline. A coastal-inspired home is filled with oceanic colours such as blue and green and beachy hues like beige and warm grey.
There are also a few other design styles with degrees of similarity to coastal style. Terms like coastal, beach house or lake house are sometimes used interchangeably, even though you could argue they're all different styles. There's also tropical, which is much bolder and more colourful than coastal. Then there's Mediterranean – not the same thing as coastal, but definitely shares similarities.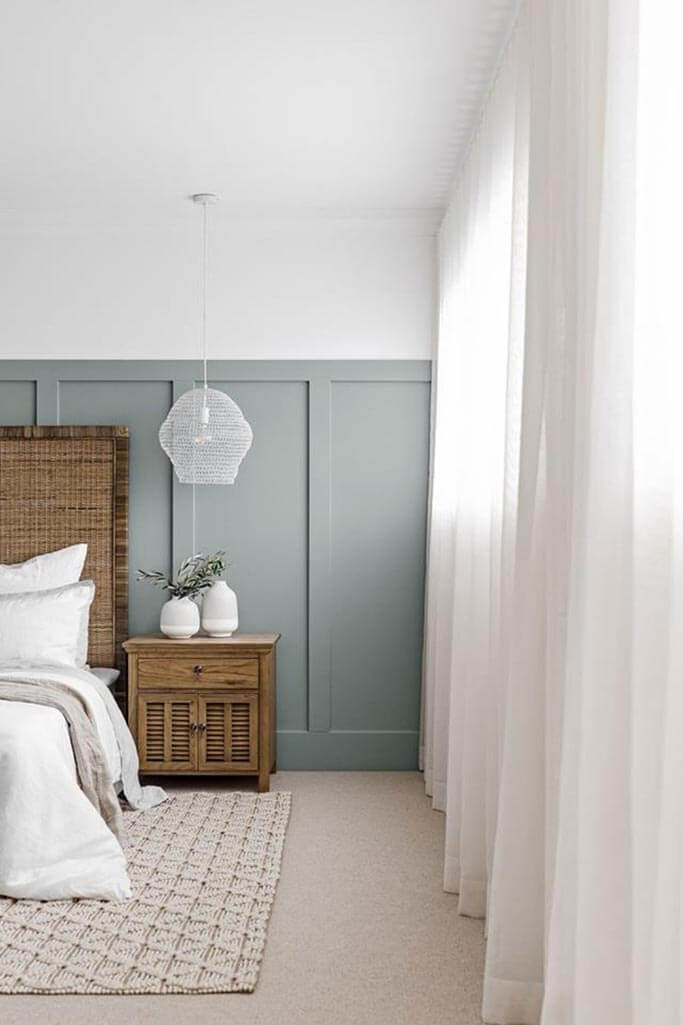 Another design style closely related to coastal is nautical, but nautical tends to be more on the nose than coastal. Think replicas of life preservers hanging on the wall or fabrics printed with anchors. Not my style by any means, but can be cute if done with restraint.
Essentially, in it's purest form, coastal is more about evoking the peaceful, grounded feeling of the ocean. This is done through the use of colour, but also texture and elements either from or inspired by the beach or water.
4 Key Elements of Coastal Design Style
While there are many elements to every design style, knowing a handful of the main concepts makes recreating the look in your own home feel doable instead of overwhelming. Here are four elements to consider when creating a coastal interior space.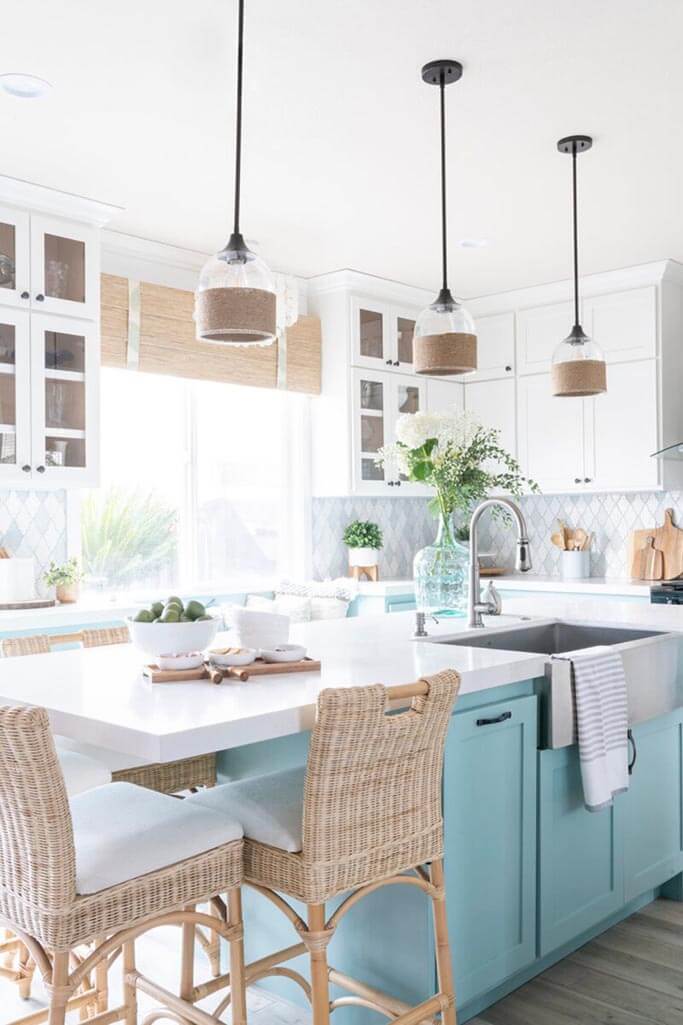 Ocean-inspired colours are everything
While many decor styles work with a variety of colour palettes, coastal is pretty specific in that you'll need to use blues, greens, beige and the always versatile white.
Lighting should be a main focus
Even if you don't live near the water, having big, beautiful windows is such an integral part of coastal interior decorating. If your home doesn't have a lot of natural light you can make up for it with light fixtures and reflective surfaces such as mirrors.
Don't be afraid to use texture
Don't shy away from textural elements. After all, the coast is a rugged place, where sand, wind and water are always on the move. Think jute rugs, bamboo light fixtures, woven baskets and rustic wooden pieces that have a story to tell. Perfection is not the goal here!
Restraint is important
This is where the whole coastal vs tropical vs nautical vs mediterranean thing comes in. If what you truly want is a coastal look, stay away from items that are too bold and too literal such as anchors, boats, seashells and so on. (Although a few real seashells you found on the beach would be a lovely touch.)
Need help choosing eco-conscious furniture and decor for your home? That's what I'm here for!
Coastal Interior Design + Sustainability
As I always say, any space can be a sustainable space. But some styles are easier than others. Not surprisingly – coastal is one of them. Which makes sense since it's a love letter to the ocean!
Just like with the beginnings of so many design types, coastal didn't originate as a "style." It was just what your home looked like if you lived by the ocean. Much like the ever-popular farmhouse style stems from people who simply lived on a farm.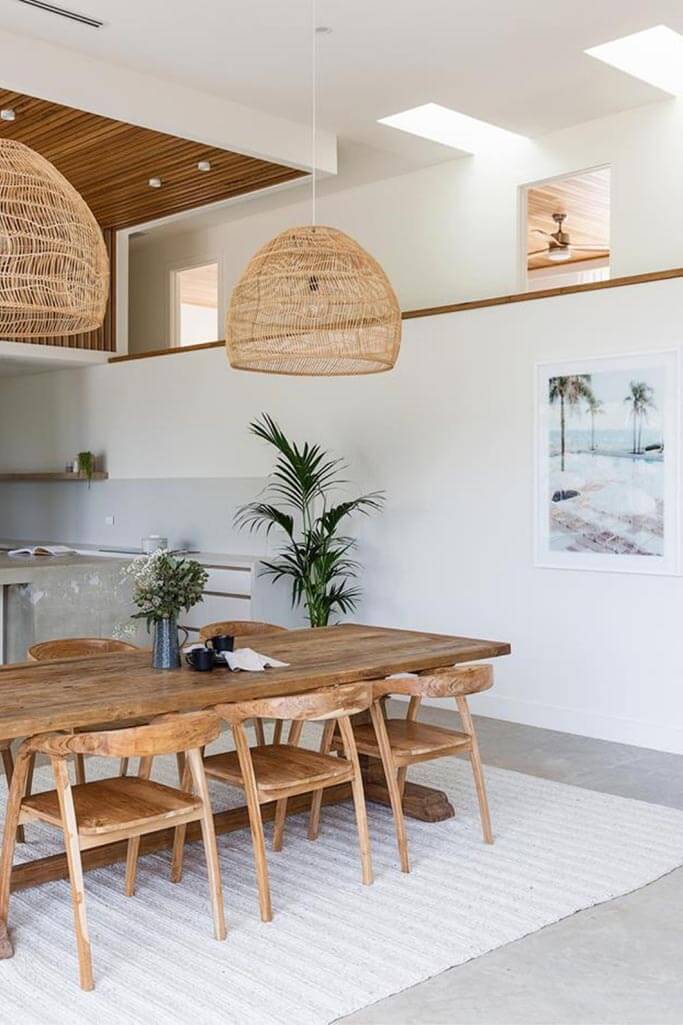 People used to fill their homes with what surrounded them. Things they found outside. Things they got locally. So naturally a coastal home would incorporate things from nature, textural items and things that are just a little worn around the edges.
You don't have to live by the ocean in order to create a coastal home. Instead, approach it with the idea that truly beautiful spaces – no matter the style – happen organically. And keep reading as I've got some tips for achieving an eco-conscious coastal space below.
8 Materials to Use in Coastal Design
A great way to create a space using a specific interior style as inspiration is to stick to that styles most commonly used materials. Here are eight materials that fit perfectly into a home with a coastal theme.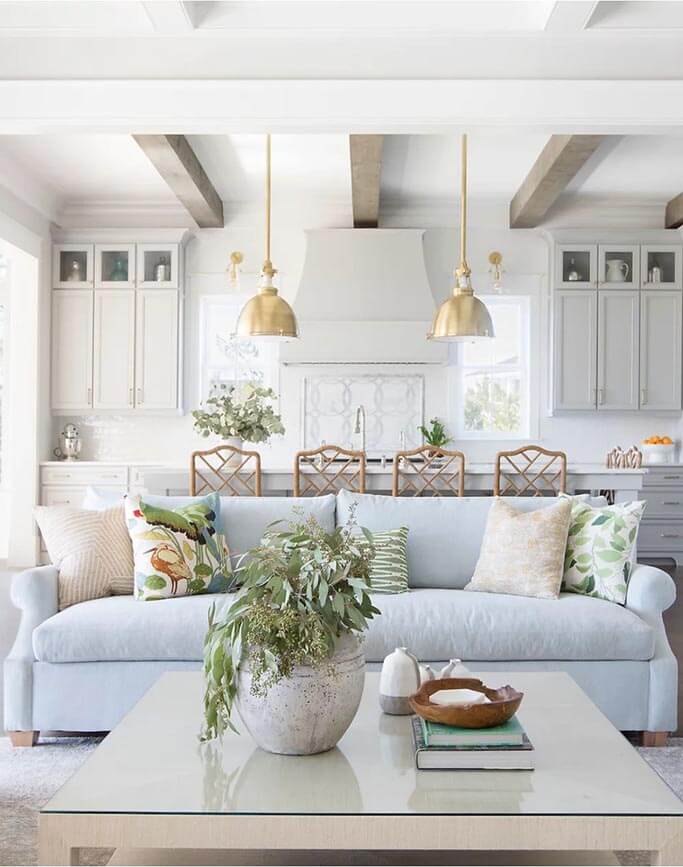 Jute and sisal
Jute and sisal are two fantastic fabrics to use to add texture to a space. Although they can be dyed any solid color or made to display a pattern, their natural off-white shade makes them look a lot like sand. And this makes them the perfect material for a rug.
Wood and bamboo
You can't do coastal without wood. From wooden furniture to wood accents, it adds warmth and texture to interior spaces. Bamboo is another great wood-like material (it's actually a grass) that may stem more from tropical design. But the way bamboo is used in furniture design today, it's indistinguishable from wood. Plus – when harvested properly – it's one of the most sustainable materials in the world.
Glass and brass
Glass is made from sand so no surprise it's a highly visible coastal element. The connection between brass and coastal spaces is less obvious, but brass (as well as copper) has been been used on boats for centuries. Plus, it looks so beautiful with the colour blue.
Cotton and linen
Because a home only filled with hard materials like wood and glass would feel a bit harsh, you're going to need a little softness to balance it out. Cotton and linen are fabulous natural materials that are extremely versatile. Just make sure to buy organic and sustainably-sourced cotton. And avoid those sheer-looking polyester curtains that are so popular when creating a breezy interior space – polyester is plastic and unless it's made of recycled plastic, it isn't an eco-friendly choice.
6 Coastal Decor Ideas
Here are some specific ideas for coastal decorating, including a woven multi-toned jute rug, a gorgeous frosted glass vase and a brass and black table lamp for a hit of modern. (And that just so happen to be from sustainable brands!)
4 Tips on How to Create an Eco-Conscious Coastal Space
Make sure to follow these four tips for keeping your coastal interior decorating journey as sustainable as possible.
Incorporate items from nature
It's one of my all-time favourite sustainable decor tips! I'm telling you, if you have an empty space you'd like to fill up in your living room, bedroom, even your bathroom, head outside and see what you can find. Twigs in a mason jar. Fairy-tale inspired dried flowers placed in a vintage pitcher. A piece of driftwood on a shelf. A stack of rocks from a riverbed. Wild grass from the seaside. The possibilities are endless.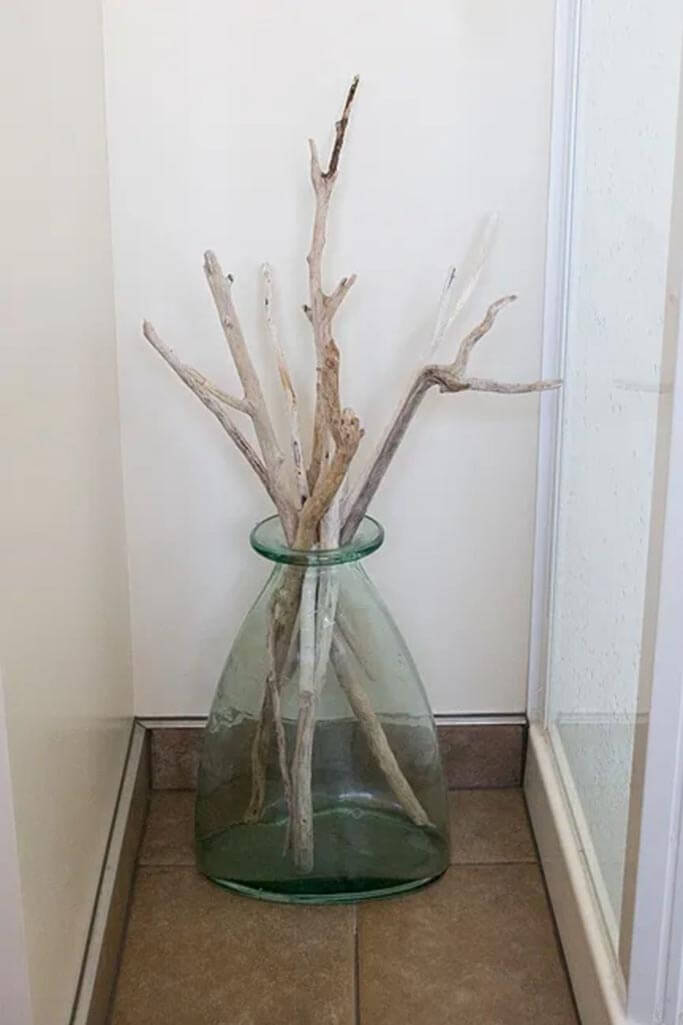 Of course, I know not everyone lives near water or on forty acres of land, but I assure you that in most cases nature can be found just outside your door. And if you really can't find anything nearby, there are quite a few shops on Etsy were sellers have gone out and collected all kinds of lovely nature-y things to sell – such as driftwood and rocks.
DIY or buy ocean-inspired artwork
Avoid the mass-produced photos of seashells in the sand or a generic ocean scene and create something truly unique by making DIY artwork. You don't have to be super-talented to be able to successfully wield some blue paint and a paintbrush.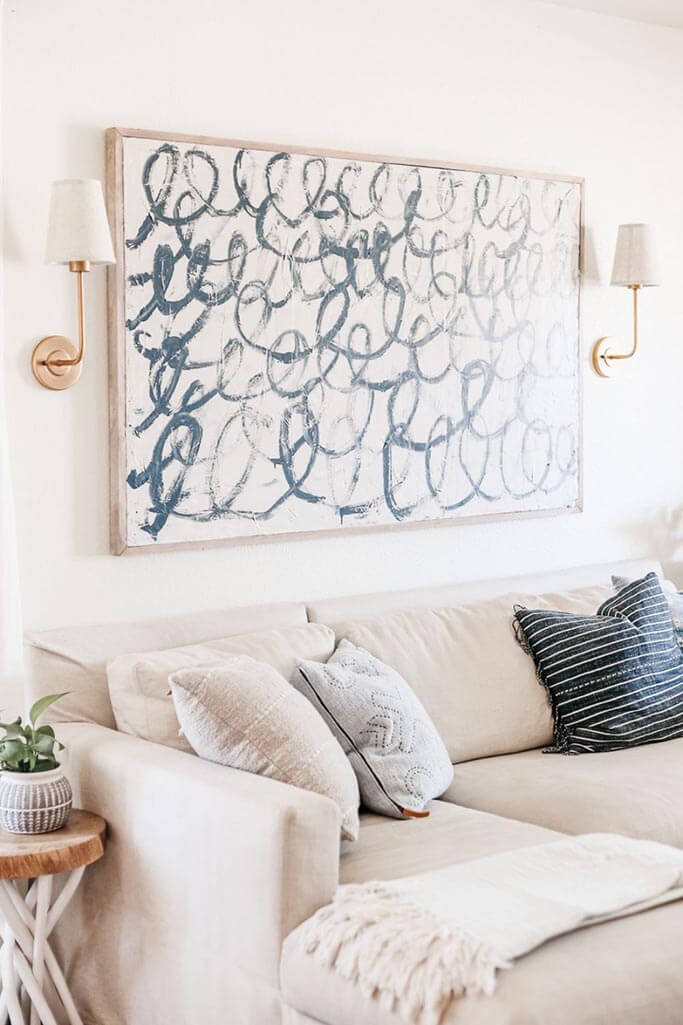 If you'd rather support a gifted artist, the below ocean-inspired pieces I found on Etsy are lovely – and subtle! Also, if you love using baskets for decor – check out my tips on how to create a coastal basket wall.
Sand or paint secondhand wooden furniture
The ocean may be beautiful, but all that sun, sand and moisture can be rough on a furniture's finish. This is why any wooden furniture in a coastal space tends to have that weather-worn look. Now you may live miles and miles away from a body of water, but to get that beachy look you're going to want avoid any dark wood or high-gloss pieces.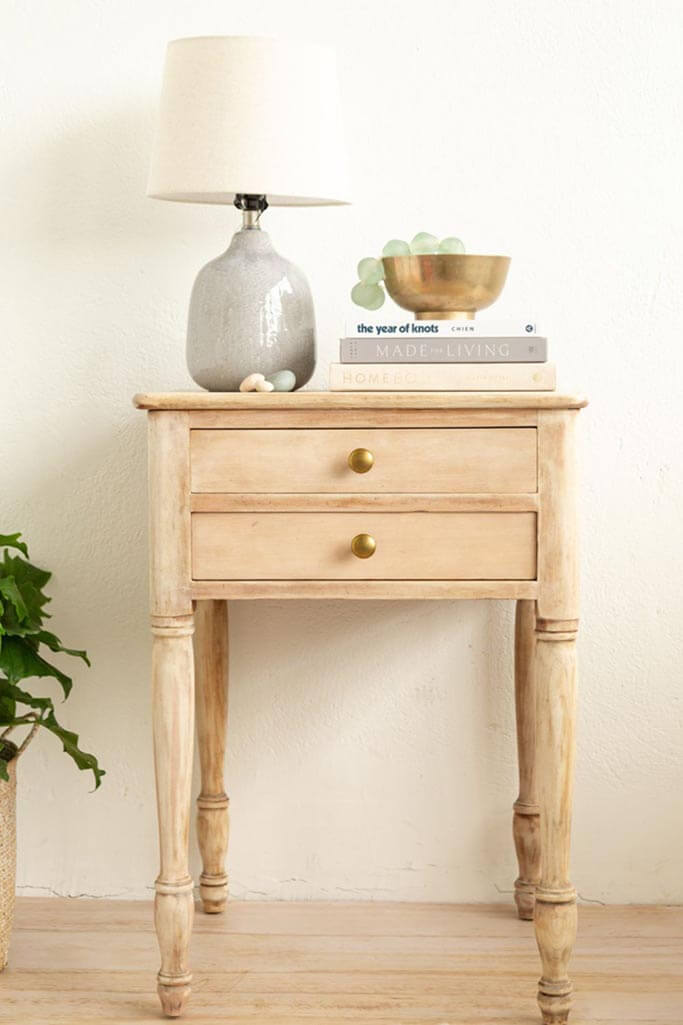 If you already own some well-made items, sand them down and give them a matte clear coat, or bleach them to get that "whoops I accidentally left this in the sun too long, but it's still so beautiful" look. Another option is to whitewash your furniture or paint it a solid ocean-y colour like seafoam green or turquoise blue.
Buy a design package from Of Houses and Trees
Another cool thing about coastal decor style is that it blends really well with other decor styles such as boho. Check out my boho coastal living room design package, which you can buy in my Etsy shop. As always, I am here to help you create the home of your dreams – sustainably!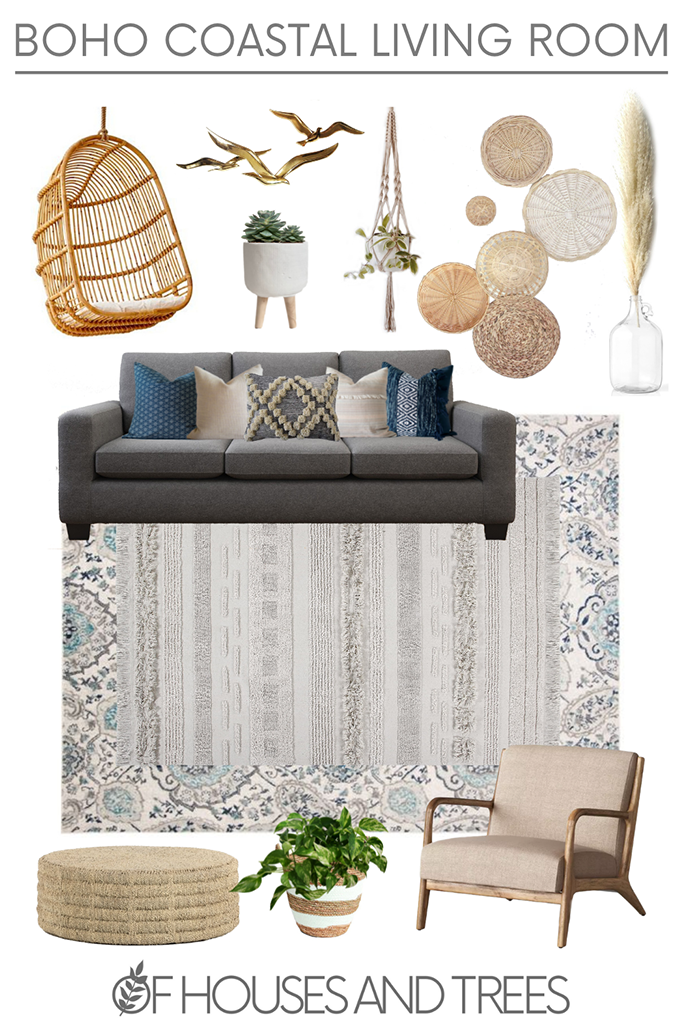 And there you are! All of my coastal interior design ideas and tips. If instead of a full on coastal look you're simply searching for coastal paint colours, here's my Seascape paint palette!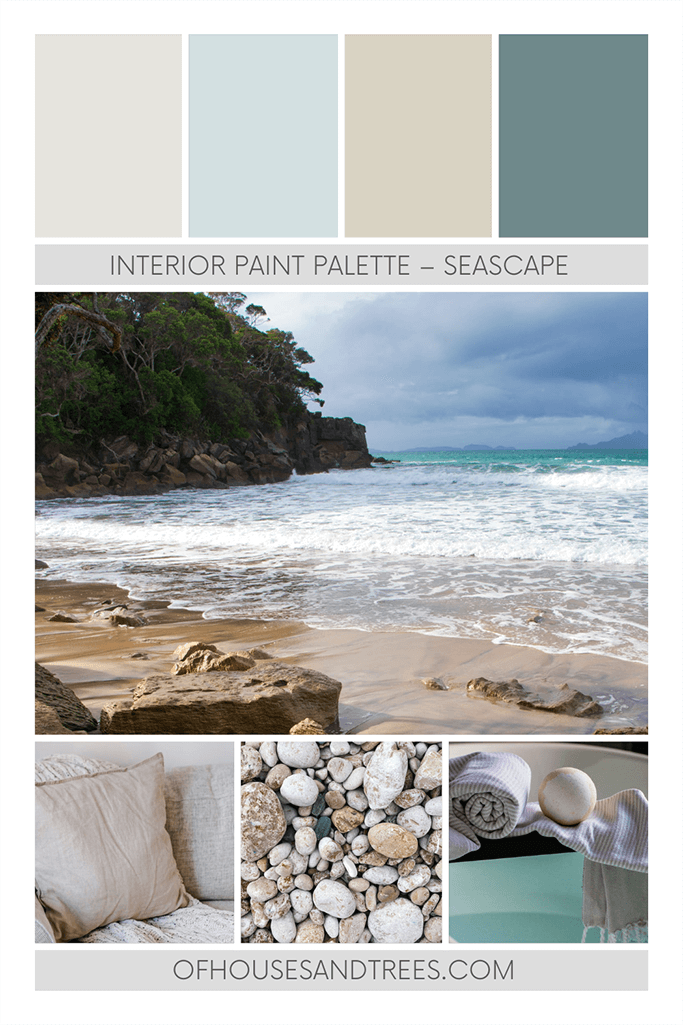 If you don't live by the ocean, but are lucky enough to have a pool (or maybe you have both – extra lucky!), heat your pool the eco-conscious way with a solar blanket.
Are you a fan of coastal design or not? What do you like or not like about it? Let me know in the comments!
PIN ME!
Posted on July 13, 2022
Need help choosing eco-conscious furniture and decor for your home? That's what I'm here for!
Coastal Interior Design Guide: How to Create a Beautiful, Beach-Inspired Home