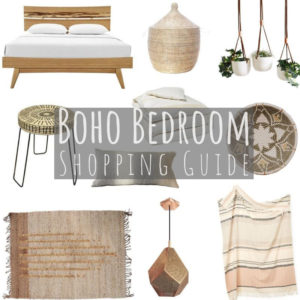 If you love cozy, eclectic bohemian bedroom decor, but need a little guidance in finding the perfect pieces to pull the look together – you've come to the right place! And the best part is that all the items featured below are eco-conscious and ethically made. Because if you're going to do bohemian, you better do it right. Right?
For this bedroom, I've carefully selected items from online marketplace Made Trade. Made Trade believes "we can make the world a more beautiful place by holding ourselves to a higher ethical standard."
This means fair wages for their employees and the artisans that provide them with gorgeous handmade decor, clothing and accessories, plus valuing sustainability over mass production and consumerism. Yup. Sounds like my kind of people.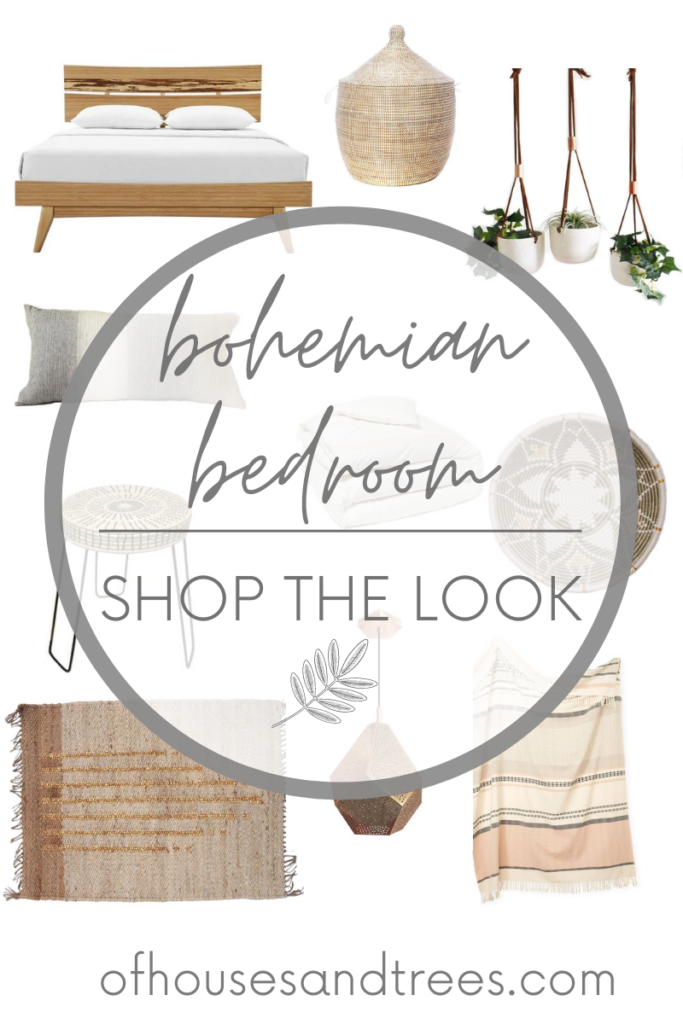 I've also included some inspirational bohemian bedroom decor. This should really get the creative juices flowing. The rooms and products shown are just ideas. The most important aspect of boho style is that it's uniquely you!

Note that this post contains affiliate links, meaning if you click on a link and make a purchase a small percentage of the sale goes to yours truly. Please know that I strive to only feature eco-conscious products and brands.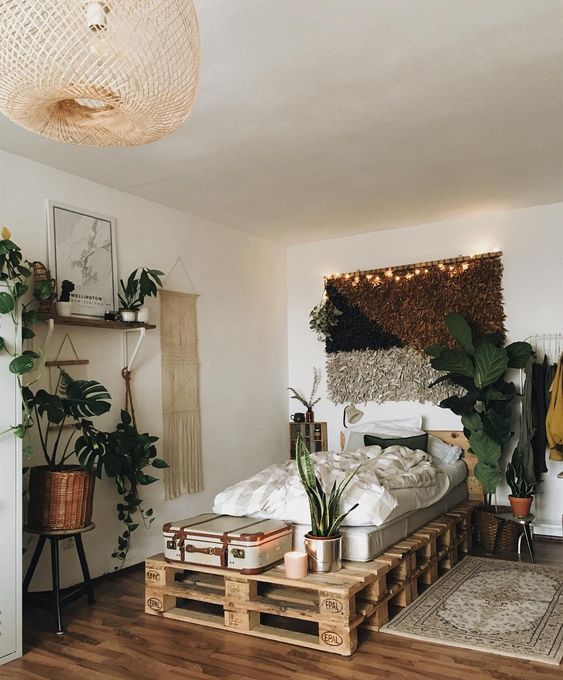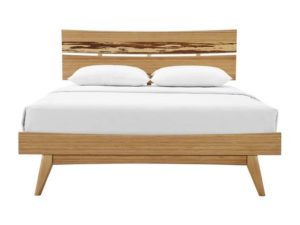 A platform bed is one step up from the classic bohemian mattress-on-the-floor look. If you want to go the super inexpensive and super eco-friendly route of using old palets as a platform bed – do it! But if instead you'd like to invest in a well-made, long-lasting piece of furniture, check out the Greenington Azara Platform Bed.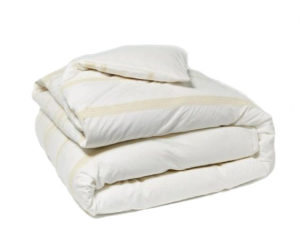 A boho bedroom doesn't NEED an off-white duvet set. You can certainly incorporate coloured or patterned bedding instead. But there's just something about a messily-made, off-white bed that perfectly blends elegance with a carefree boho attitude. The Coyuchi Ventura Striped Organic Duvet Set adds warmth and personality with a cream-coloured striped detailing.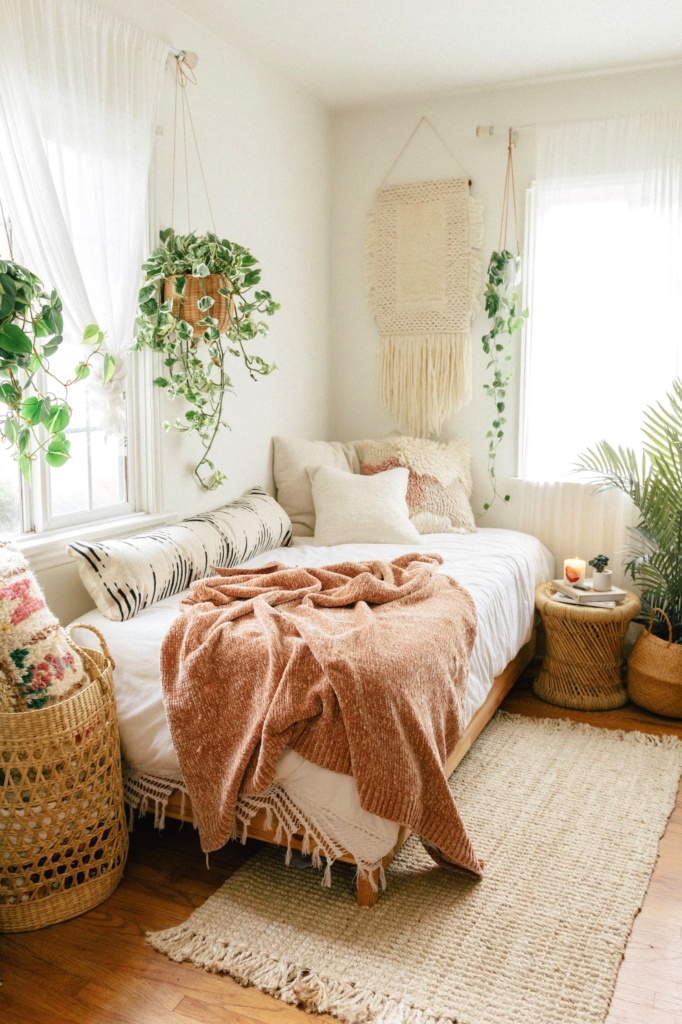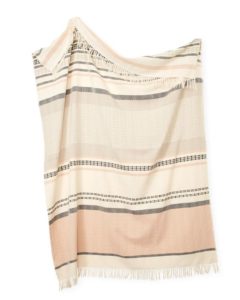 Bohos love their fringe! Fringe rugs, fringe wall hangings, fringe pillows. And, of course, fringe blankets! Toss something like the handwoven Minna Ilse Throw casually across the foot of your bed and ta-da! You've got boho-magic. It's also kind of amazing how much a simple throw blanket can change the vibe of a room. Punch up a black and white space with a bold colour. Or add some pattern to a mostly solid space.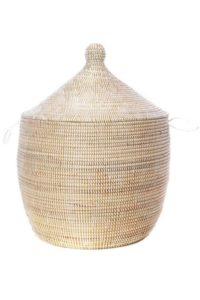 In my storage-loving opinion, every room needs a plethora of baskets. Or maybe just one really, really beautiful and functional one. Like the handmade Swahili African Hardy Hamper Basket.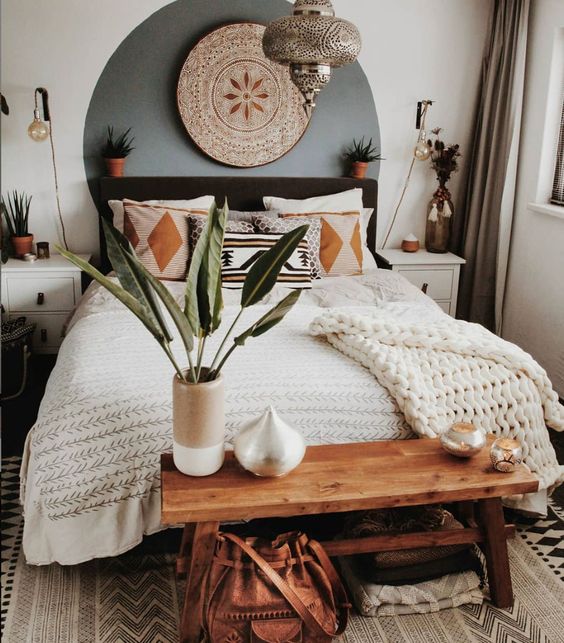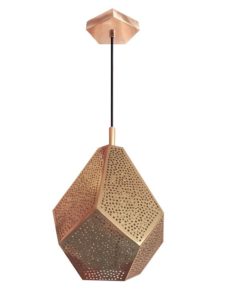 Oh boy, do I love me a good pendant light. And bohos do too! Even though many boho bedrooms feature a woven light fixture instead, a Moroccan pendant like the handmade Dounia Home Almas Pendant Light adds a level of elegance – and is so beautiful it's a work of art unto itself.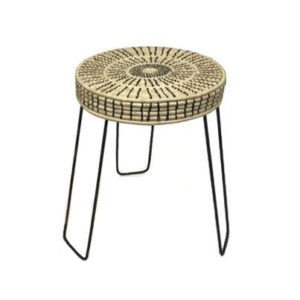 Stool, nightstand, side table – call this piece of furniture what you will, but just call it a day and put it in your boho-inspired bedroom already. Lightweight, multifunctional items like the KAZI Catia Side Table are excellent editions to any eco-conscious space – bohemian or otherwise – because they can be moved about as needed and eliminate the need for multiple pieces.

Like what you're seeing? If so, please consider supporting Of Houses and Trees on Patreon – and get a few perks for yourself!

Your support is everything!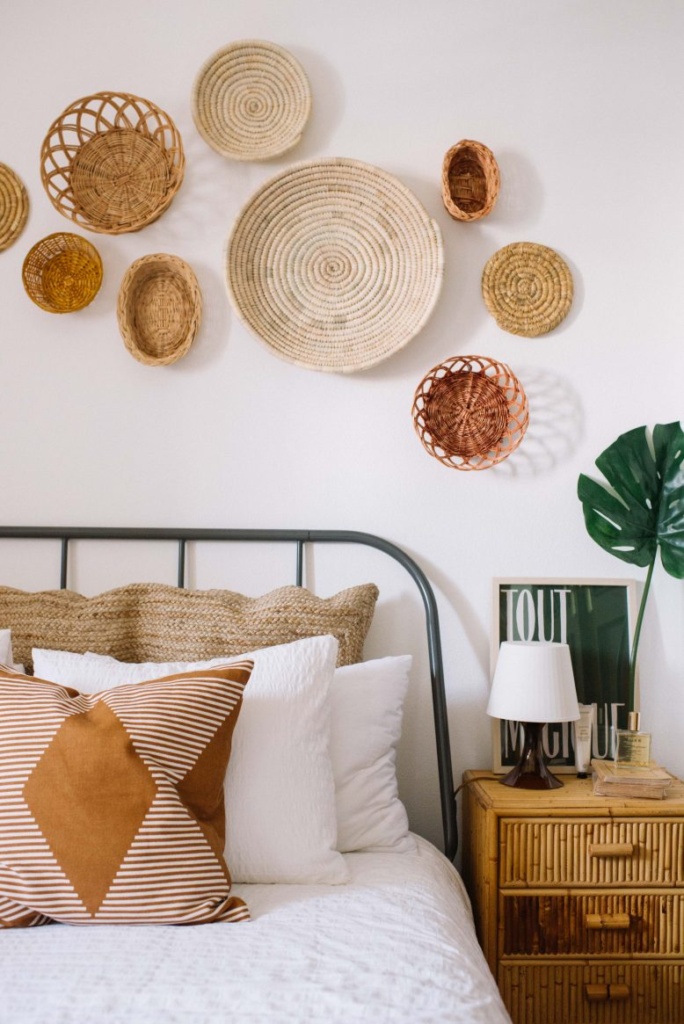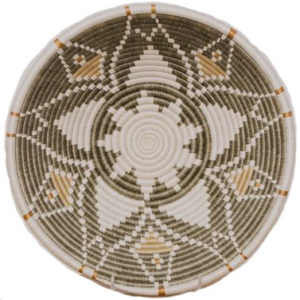 Boho-artwork is one of the most playful aspects of the decor style because almost anything goes. From knotted wall hangings to every day items like hats and bowls – bohemian wall decor is equal parts funky and pretty. Hang a single wall bowl like the KAZI Jumbo Intore Wall Bowl, or create a motif by hanging a cluster of these woven masterpieces.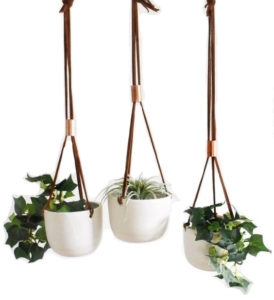 No bohemian bedroom decor shopping guide would be complete without plants. And while you can put them in anything from tiny pots to huge floor planters, hanging planters – such as these porcelain beauties by Katie Mudd – are a boho-decor staple. There's just something about cascading green leaves that just calls out to the bohemian sensibility.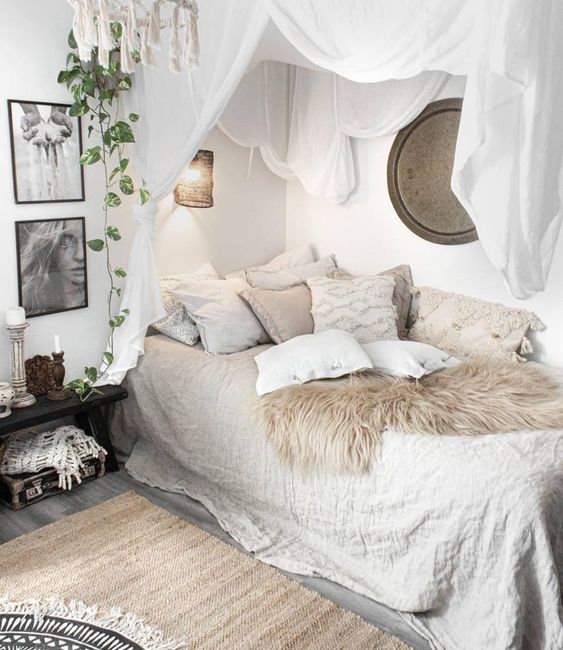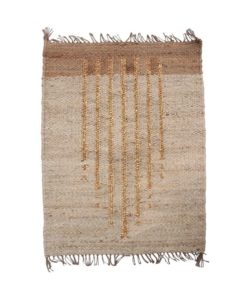 Jute is one of the most sustainable textiles because it uses much less water to produce than cotton, requires no pesticides or fertilizers to grow and regenerates quickly. Plus, it just looks beautiful and natural as a rug – or any other decor item for that matter. The Leah Singh Lola Gold Lines Rug has the calming, nature-inspired look of other jute rugs, but incorporates gold-toned lines to up the elegance-factor.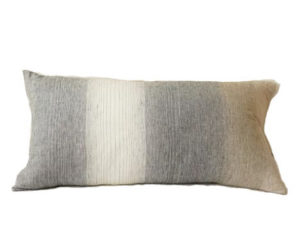 Don't worry, throw pillows can't actually feel distressed. They just look that way. And how fitting? A worn in pillow that's a little rough around the edges helps uphold the cozy chaos of a boho bedroom. This Area Home Miles Linen Decorative Pillow has that distressed feel, but still looks elegant. (The Area Home Miles Linen Pillow is sold out, but they have a throw in the exact same fabric and pattern – and it's gorgeous!)
If a home office makeover is next on your home decor wish list – be sure to check out my Minimalist Home Office Shopping Guide.

LET'S BE TREEHUGGERS TOGETHER!
Sign up for the Of Houses and Trees monthly newsletter and I'll send you my FREE list of "The 8 Best Places to Buy Eco-Conscious Decor Online."

OH, AND LET'S BE FRIENDS TOO…

PIN ME!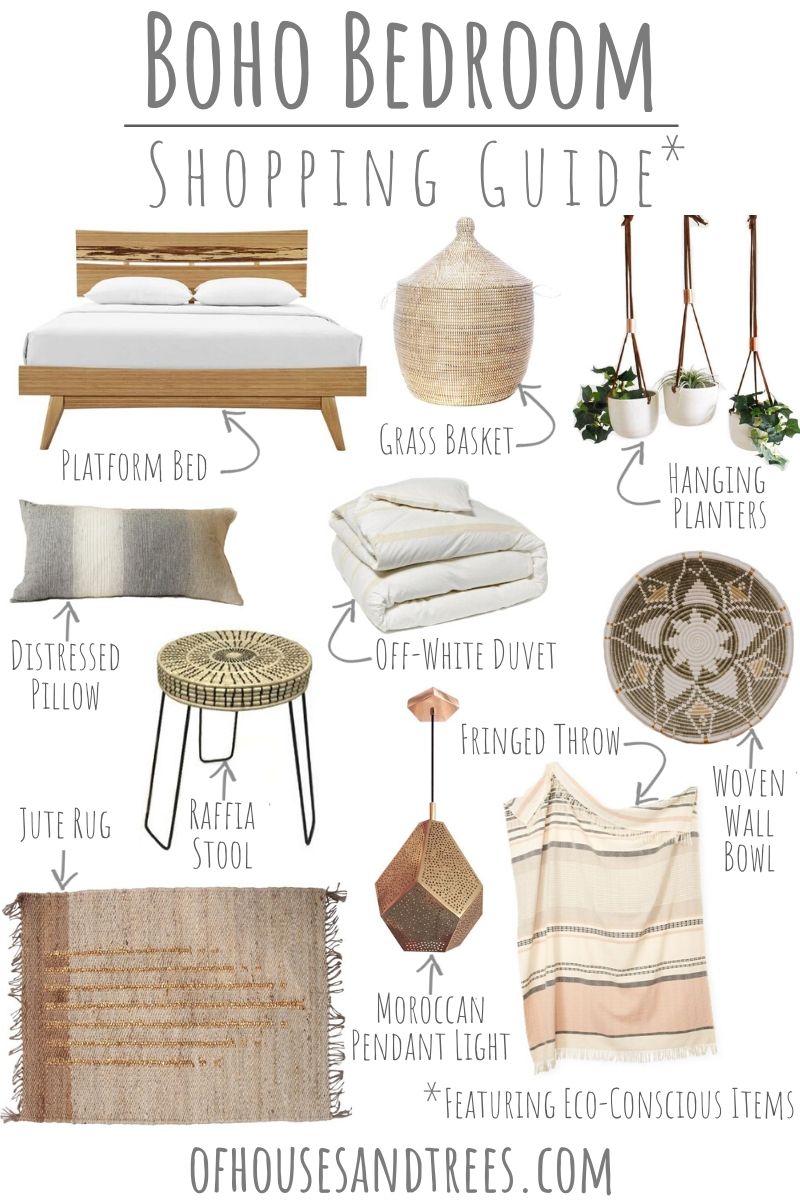 Posted on February 25, 2020