I write a lot on Of Houses and Trees about eco-friendly interior design and decor, but those aspects are really only part of the sustainability package. Of course, what comes first is the building itself.
I touched on this topic in my post 5 of Canada's Most Sustainable Buildings, but one of the coolest things about sustainable design (other than it's planet-saving powers) is that it's constantly evolving. New technologies plus new ideas meet and mingle and suddenly an ingenious green product or practice is born.
And with another year coming to an end, it's always inspiring to take a look at current and upcoming innovative sustainable architecture trends. From showing off solar to filling walls with straw – here are 5 of the most innovative trends in sustainable design.
---
Note that this post contains affiliate links, meaning if you click on a link and make a purchase a small percentage of the sale goes to yours truly. Please know that I only link to products that are good for the earth, good for the soul, or both!
Visible Solar
The chunky, highly visible rooftop solar panels of the past are on their way out thanks to technology, but is this a good thing? Certainly, ultra-thin solar panels that blend seamlessly into a building's roof will help retain a design's aesthetic appeal. However, studies have shown that one of the biggest motivating factors for homeowners to install solar is seeing them on the roofs of other homes and buildings. Architects are taking note of the importance of visible solar panels and are making panels an integral part of their designs.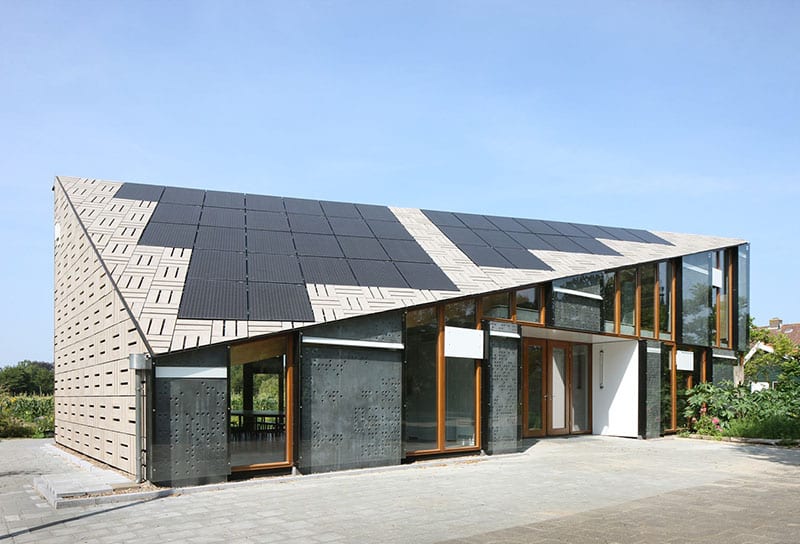 Green Everywhere
Plants are taking over – and that's a good thing! The rooftop garden trend has begun to spread. Vertical gardens – on both interior walls and the exterior facade of a building – are another way to replace some of the greenery lost due to spreading urbanization. Aside from improving air quality, rooftop and vertical gardens provide space to grow fresh produce. Plus, rooftop gardens, groundcover gardens – even grass driveways – provide a way for stormwater runoff to filter back into the earth.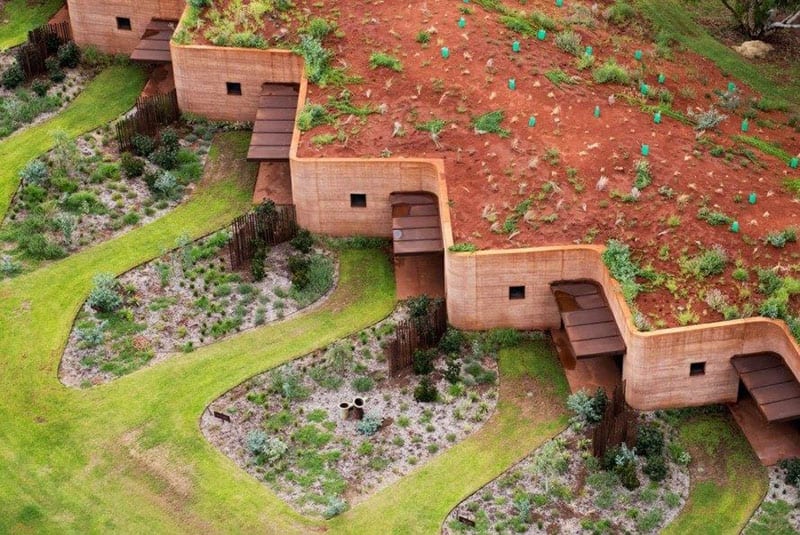 Say Goodbye to Non-Renewables
There has been an explosion over the last few years in renewable building materials. While some come to us thanks to technological advancements, many are revivals of centuries old building practices such as straw bale construction. A key differentiation between renewable and non-renewable building materials is that renewable materials are derived from regenerative resources like plants as opposed to finite resources like oil, gas and coal deposits. And while we might not be ready to fully let go of non-renewable materials such as plastic quite yet, their farewell most likely is on the horizon – with building materials derived from bamboo, cork, cotton, flax, hemp, rosin, rubber and straw set to take their place.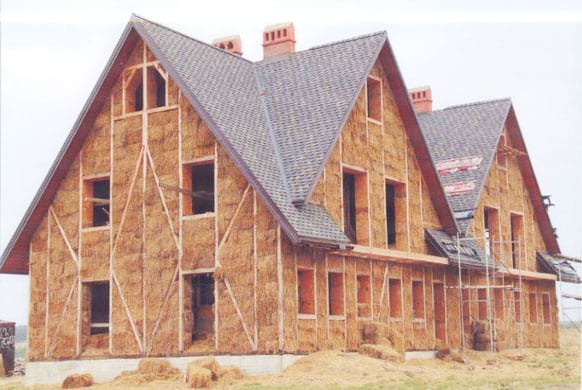 Need help choosing eco-conscious furniture and decor for your home? That's what I'm here for!
Small is the New Big
If you're as fascinated with the tiny house movement as I am, then this architecture trend is for you. The thing about the current building small trend is that "small" is actually a relative term. And it has less to do with a building's footprint and more to do with the efficiency of the design. Homes, commercial buildings, institutions and so forth are being carefully designed to be the exact size they need to be in order to perform their required functions and not a square foot more. It's all about not wasting a single inch of a floor plan.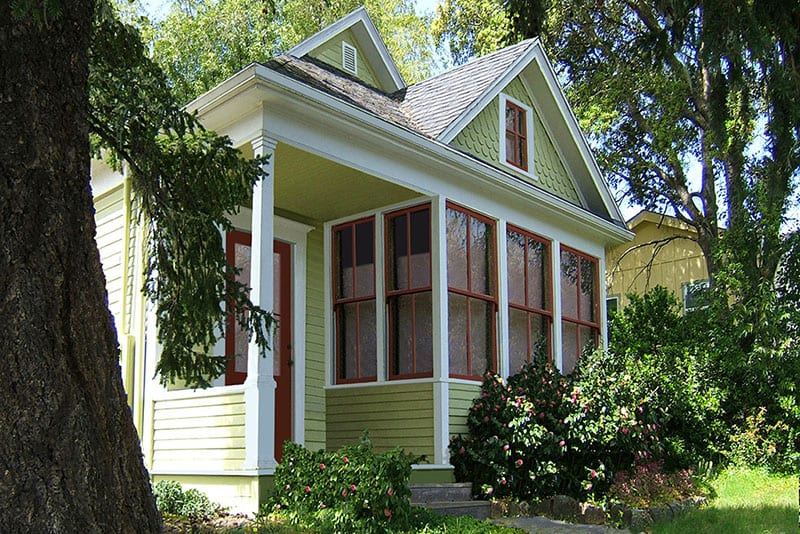 Going Beyond
While governments around the world are setting regulations requiring new buildings to meet minimum standards of sustainability, architects and builders are beginning to go above and beyond such requirements. Why? Because these minimum requirements are just that – minimum and are likely to be replaced with more stringent regulations in years to come. Smart designers don't want their building's eco-conscious features to be become obsolete too soon. Instead, they want to set standards of sustainability that exceed regulations. This could be anything from increasing the R-value of a building's insulation to implementing in-building water filtration to designing an apartment building able to grow food for all its residents.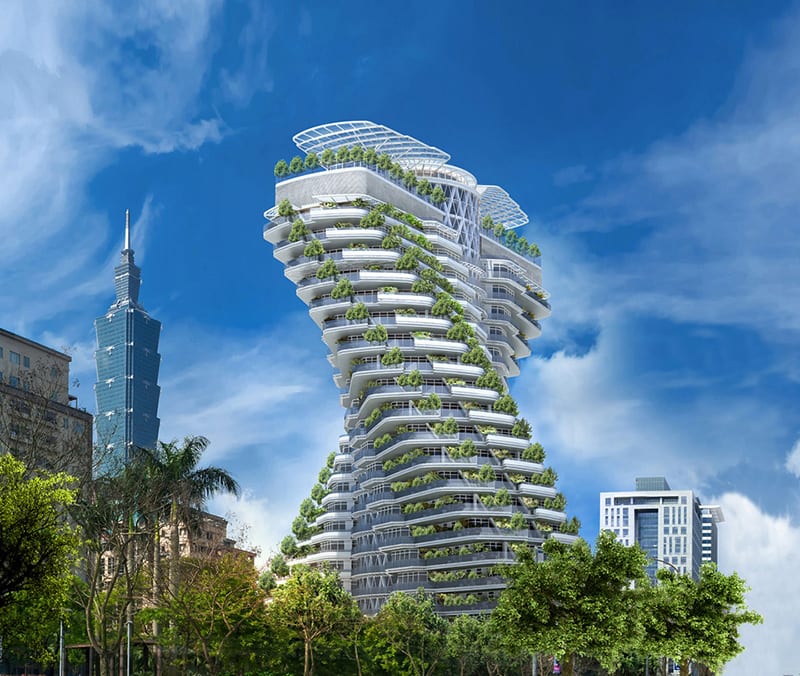 Since it looks like construction of Our House in the Trees is (finally!) going to begin this summer, I've been checking out some books on sustainable design. I was able to find all of these titles through my local library, but if you can't get them through yours then you can buy them via Amazon Books.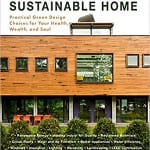 Building a Sustainable Home: Practical Green Design Choices for Your Health, Wealth, and Soul by Melissa Rappaport Schifman
Need help choosing eco-conscious furniture and decor for your home? That's what I'm here for!
5 of the Most Innovative Trends in Sustainable Design