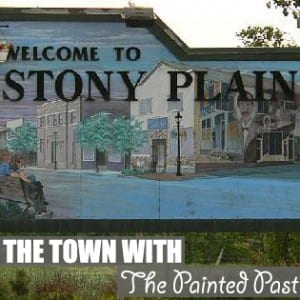 Here I go again. My second attempt at this post, which was sadly lost during a Tiny House Nation marathon. In my last entry I put up a few images of our recent family trip to Maui and, I don't know about everyone else, but nothing makes me appreciate home more than when I'm away from it.
Don't get me wrong, Hawaii was beautiful. Stunning. It makes our half-melted snow and sand-covered roads look, well, like half-melted snow and sand-covered roads. But I was probably more excited to come home than I was to leave.
That may have had something to do with the very squawky 18 month old we had in tow. My daughter is a lot of things – smart, fun, sweet, adorable. But adaptable? Not so much.
It also had to do with missing the well-loved house we live in and the life we've built for ourselves in ye old Stony Plain. I never thought when I moved here, somewhat begrudgingly, nearly six years ago that it would ever feel like home. But the town just has so much damn character! Aside from the rich history (as this post's title says, it's "The Town with the Painted Past"), locally owned and locally charming stores keep popping up everywhere. This is a town with a population of 15,000, which may be more than five times the population of the town I grew up in, but a metropolis it ain't. Still, at last count, Stony has more home decor stores than you can tally on one hand. Okay, it's not a ton, but it's enough that friends who live in a completely different city drive all the way out here just to ooh and ahh over shabby chic furniture and reclaimed barnwood bird houses.
So now, without further ado, I shall get to the crux of this post, which is to profile my favourite Stony Plain home stores. This isn't a post about keeping the great cogs of commerce a-turning, it's about real people with a love for unique things just trying to make a living.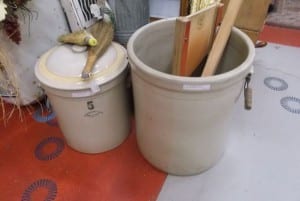 One Man's Treasure (4912 – 50th Avenue)
What town doesn't need an "antique emporium"? Similar in concept to Edmonton's Old Strathcona Antique Mall and Rocky Mountain Antique Mall, just on a smaller scale (though at 3,500 square feet it's still pretty roomy). One Man's Treasure features items from over 40 vendors displaying everything from vintage and vintage-inspired furniture to collectible household items (as well as books, clothing, jewelry and a whole host of other old-timey things). I've bought a few items from this store, mostly for gifts (mostly for my mom – hi mama!), but my favourite purchase is a Medalta size 10 crock with both handles in tact, which I use in my pantry as a recycling bin. If you're not a crock person then none of this will make sense to you, but if you're the kind of guy or gal who gasps upon seeing a 5 with an unbroken lid – then you're picking up what I'm putting down.
The Country Pumpkin (Suite 104, 4807 – 48 Avenue) [Now Modern Farmhouse]
This is my aforementioned mama's favourite store to visit whenever she stays with us in Stony. Is it because it smells like Christmas year-round? Is it because the staff is always incredibly friendly? (I'll never forget the time my daughter said "bye bye" – for the first time clearly – and the lady behind the counter got more excited than me.) Is it the green and white armoire with the punched tin inserts that I drool over every time I visit? (That last one would be why it's one of my favourite stores, not the mama's, but she certainly does like to see me happily drooling!) Most memorable purchase is my linen-coloured duvet cover featured in this post.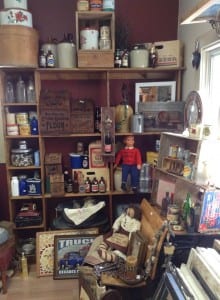 Raggs to Riches (4810 – 50 Avenue)
One of two Parkland County locations, the Raggs to Riches in Stony Plain is niftily located in an old craftsman style house. The store is organized into rooms so that any merchandise relating to the kitchen is in the kitchen, any relating to the bathroom is in the bathroom, and so on and so forth. There's home decor, clothing, jewelry, locally made seasonings and dressings and real old-fashioned antiques mixed in with all the new stuff. I once put not one, but two rope ladders on layaway because I just hads to have 'em. (Well, one was for me and the other was for, you guessed it, the mama – who has just received trifecta shout-out status.) The ladder hung in my garden all last summer, waiting oh so patiently for sugar snap pea vines to climb up and embrace it, but sadly my garden sucked last year (which will be the subject of a future post).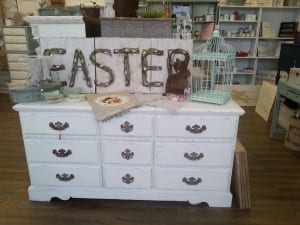 Whimsical Vintage Creations (Bay 101, 3919 – 49 Avenue)
One of the newer additions to the Stony Plain family of home decor stores, Whimsical Vintage Creations specializes in re-loving old furniture – which they carry both in store as well as do custom requests. They even sell paint so you can do-it-yourself, if you are so inclined. Plus, the store carries a whole schwack of handmade signs in all different colour schemes and I have my eye on a yellow one that reads: "I'll love you forever, I'll like you for always, as long as I'm living my baby you'll be." Tear.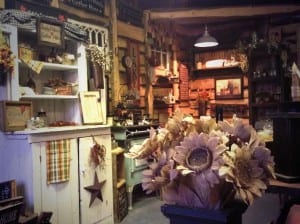 The Barn Owl (4912 – 52 Avenue)
So new to the Stony scene I've only had the chance to visit once, but I very much enjoyed the eclectic mix of handmade knick knacks and paddy whacks, furniture, purses, jewelry, lamps, etc. Has kind of a Country Pumpkin-y feel (and smell!) and they also offer classes so you too can learn to make all kinds of cute things for your home – like the burlap stuffed owl I saw there. (I will definitely be making one of those babies in the not too distant future… I'll keep you posted!)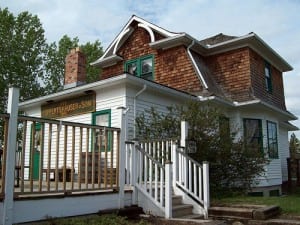 Honourable Mention: General Store (5411 – 51 Street)
Located in the 1910 Oppertshauser House, the General Store is part of the much beloved Multicultural Heritage Centre – a place to learn about local history, peruse work by local artists and eat local pies. All profits from the store go towards funding the MHC and all the cool programs they offer, such as an organic demonstration farm and tours of the oh so famous Stony Plain murals. Plus, and I just found this out as I was researching this very blog post, the Oppertshauser House has its very own ghost! There's all kinds of videos on YouTube of people searching for paranormal activity and I also read that once upon a time someone committed suicide there, which is actually more sad than spooky. Thankfully, I've never come in contact with any kind of spirit whilst innocently browsing through the mixture of seasonal items, candy, books, clothes and antiques. You'll also find home decor at the General Store, but it's so much more than a home decor store – hence the "honourable mention."
Ever been shopping in Stony Plain? If so, what's your favourite store? Did I miss any worth mentioning? How about in your own town/city? Feel free to give a shout-out to all things locally owned and operated – doesn't even have to be a home store…
Don't forget to subscribe to have new posts delivered directly to your inbox!
April 1, 2015 (Last Updated January 7, 2020)
The Town with the Painted Past