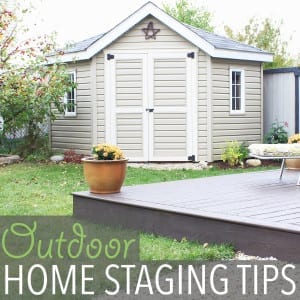 Whoa guys. The possibility of us building Our House in the Trees next year is actually pretty high. Like already picked out our appliances high. Not that there isn't a chance it won't work out because, hello, construction be crazy. But I am allowing myself to feel slightly excited. Not that I'll end up brokenhearted if it doesn't happen. I love our current house and staying here another year or two certainly wouldn't be the end of the world. But we have been planning to build and move to the land for six years now. We've kind of reached the "if we're going to do this, then let's do it already" point.
Which is why Devin and I are preparing our current home for sale even though we likely won't list for another six months or so. Because we're the kind of people that like to be ready. Although I'm thinking selling the home you've lived in for ten years and building a new house is somewhat akin to having a new baby. You're never quite ready and when it happens you are both filled with extreme joy and deep, deep terror. But maybe that's just me being melodramatic.
I wanted to share the process with you and offer some home staging tips I've come up with or stolen from somebody else. First up – outdoors!
Neaten Things Up
Just like with the inside of your house, this is probably the most important step. What you have to do in your yard will largely depend what time of the year it is. If your backyard is covered in snow there's not a ton you can do other than make sure there's no summer toys poking out from under the white stuff. If it's spring or summer, make sure to keep your lawn, rock gardens and flowerbeds weed-free. (At least, as weed-free as possible without using horrible chemicals.) Prune trees and plants as needed and consider adding a fresh layer of mulch on top of any exposed soil. In the fall, rake the leaves (option to leave a few speckled across the lawn for that cozy autumn feeling), cut back dead plants, put away summertime items like wading pools and those super-comfy but kind of tacky overstuffed fold out chairs.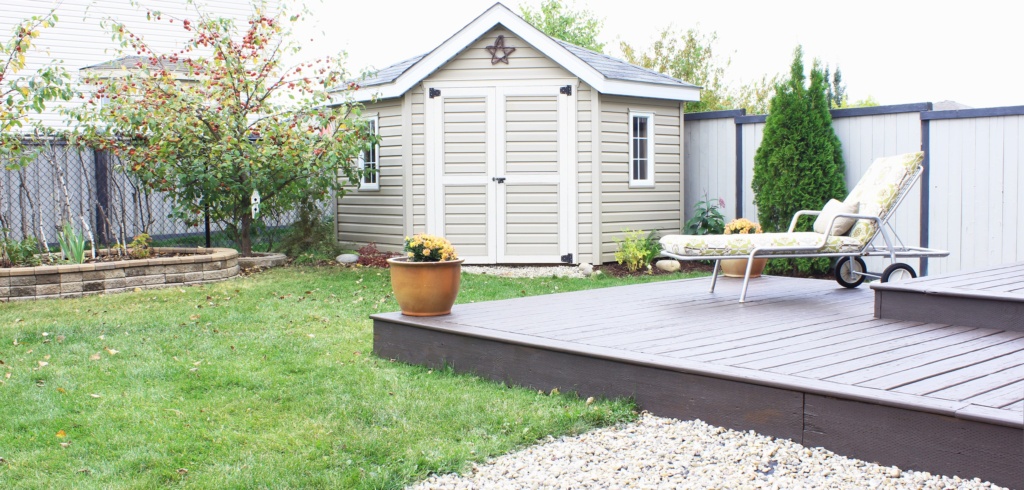 Tackle That To-Do List
Oh we all have it. That list of things we need to tackle, but really don't feel like it at the moment so we add it to a list that multiplies like an infestation of baby spiders. (Yup, that's a thing and I know this because it happened in our yard two summers ago.) Maybe your outdoor faucet leaks. Maybe your deck paint is peeling. Maybe you have warped fenceboards. (Again, all things that have happened in my own backyard.) Well, friends, the time has come to do all those things and more. It's my opinion that potential buyers will look for any reason to not like your home. It makes the decision-making process easier to have one less "maybe" on the list.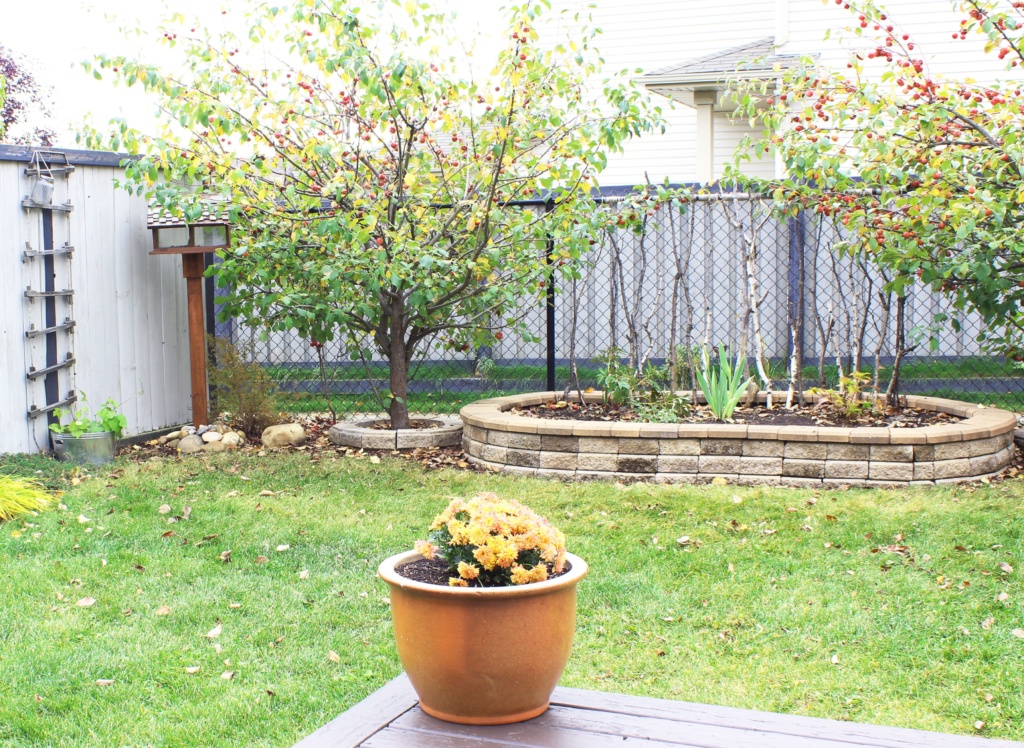 Add Colour
Even in the winter you can still add a splash of colour to really draw the eye and make a potential buyer say, "Golly gee I sure do like colour!" Hang wreaths wrapped in red ribbon in your trees or even just make sure any evergreens you have are looking nice and purdy. In spring, summer and fall colour is easy. Flowers, patio cushions and accessories come in every colour of the rainbow plus a million shades more. My favourite colour to decorate with is, of course, green. But blues are pretty much a universal fave and more vibrant colours like orange and yellow look so nice amongst nature's own palette. You can also add colour in more permanent ways by painting doors, fences and decks in trendy shades. Just don't go too crazy.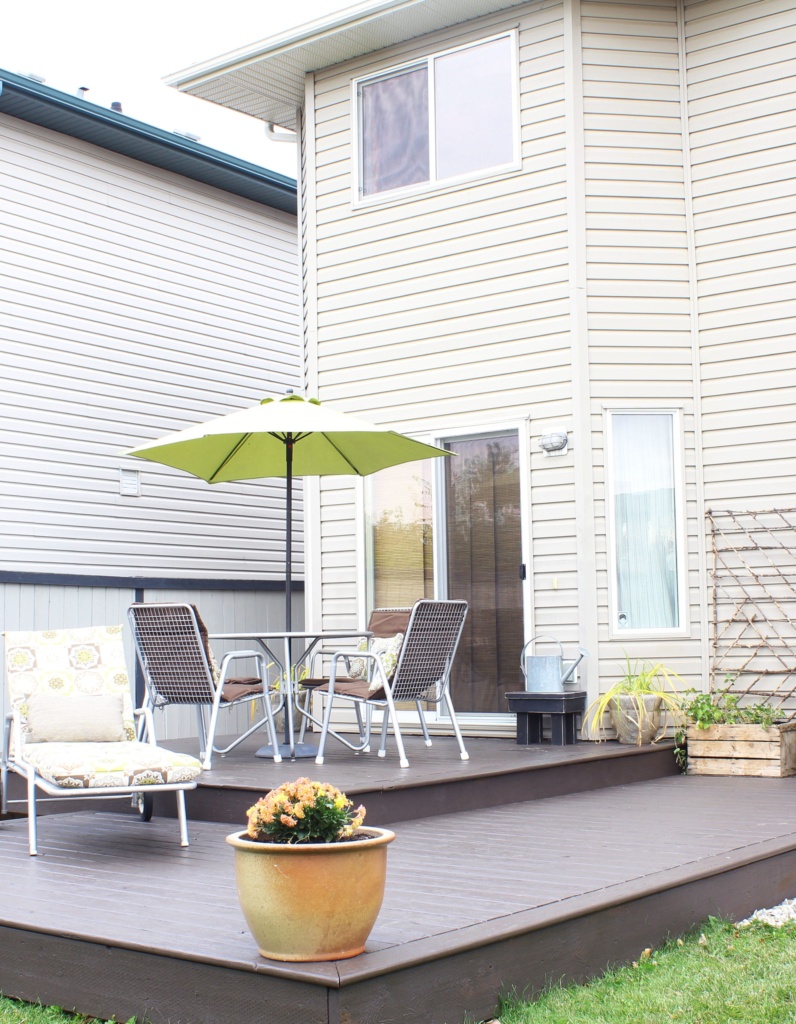 Work with What You've Got
I'm a firm believer there's no need to run out and buy all kinds of items to get your yard – or the rest of your home – ready for sale. Sure, you might need tools or paint to do your repairs or a few plants to really brighten things up. But don't go and spend hundreds of dollars on a new patio set just because the one you have is a rusty old hand-me-down. Our patio set is just that, but we spray painted it silver several years ago and it's still ticking along. I made some custom-fit cushions, bought an inexpensive umbrella to tie it all together and there you have it. A cute space for those potentials to picture themselves sipping bevies and enjoying the sunshine.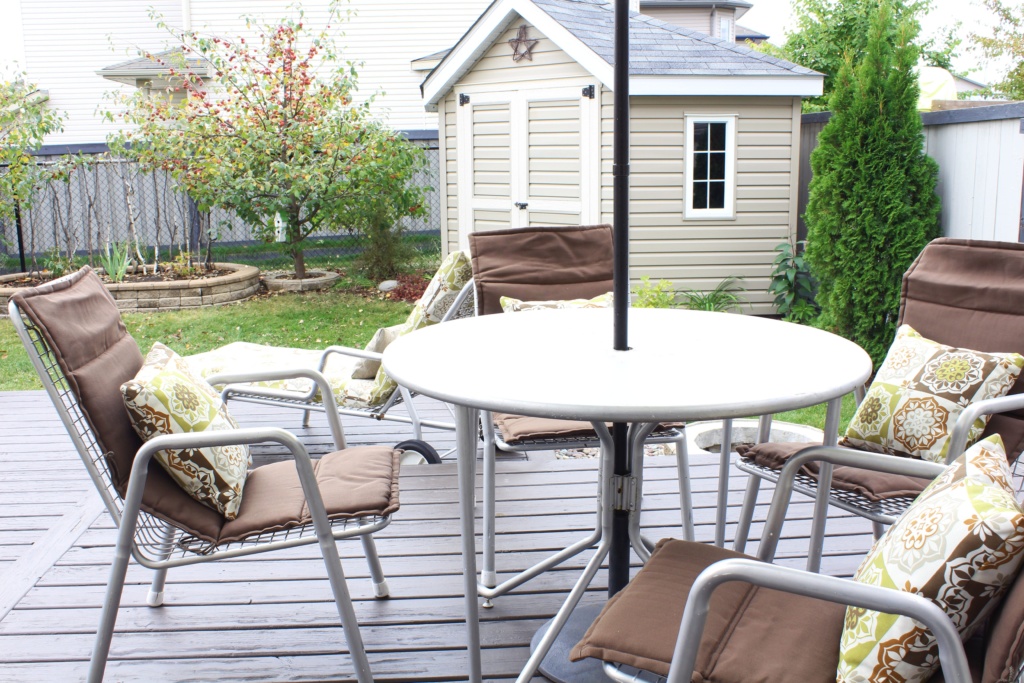 Take Photos When Your Outdoor Space Looks Best
If you're planning on selling during a beautiferous time of year that's great! Potential buyers will be wooed – in person – by your luscious foliage. But if you know you're going to be selling when your yard is covered in snow (or worse – snow mould), then stage it ahead of time and take photos. Where I live, the best time of the year to take photos of your yard is mid-summer. We were a little late and ended up taking these photos in the early fall, but I still think they look pretty nice. Now, we can virtually woo buyers by adding these pictures to our online listing when the time comes. And one last tip – have photos of your outdoor spaces available for buyers to look at when they come for a viewing. People like pictures. Especially when it's of luscious foliage.
Do you have any home staging tips for outdoor spaces? What about the rest of the home? I plan on posting a few of these over the next few months so any thoughts you have would be much appreciated! Don't forget to subscribe for posts on architecture, interior design, DIY projects, sustainability, gardening, home decor and healthy eating. You can also now follow my blog with Bloglovin!
PIN ME!

Published October 15, 2017
Outdoor Home Staging Tips + Our House in the Trees Update