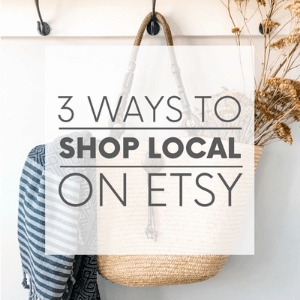 Love handmade and vintage items AND supporting local businesses? Did you know you can use Etsy to shop local? Well, you can!
I am no stranger to the wonders of Etsy. I bought the majority of our home's light fixtures on Etsy. I've created gift guides featuring only Etsy sellers. I also recently ordered handmade stuffed Minecraft cats for my daughters… from Spain.
While Etsy offsets all of the carbon created from shipping items like light fixtures, gifts and stuffed cats across the globe, it's still more environmentally friendly to shop local rather than have things sent from far off destinations.
But we love Etsy! Don't we? Of course we do.
The solution? Try and shop local on Etsy.
It isn't necessarily difficult to shop local on Etsy, but it's a feature I think a lot of Etsy shoppers aren't aware of.
So, to help you get started, here are three different ways you can use Etsy to shop local.
And away we go!
Note that this post may contain affiliate links, meaning if you click on a link and make a purchase a small percentage of the sale goes to yours truly. Please know that I strive to only feature eco-conscious products and brands.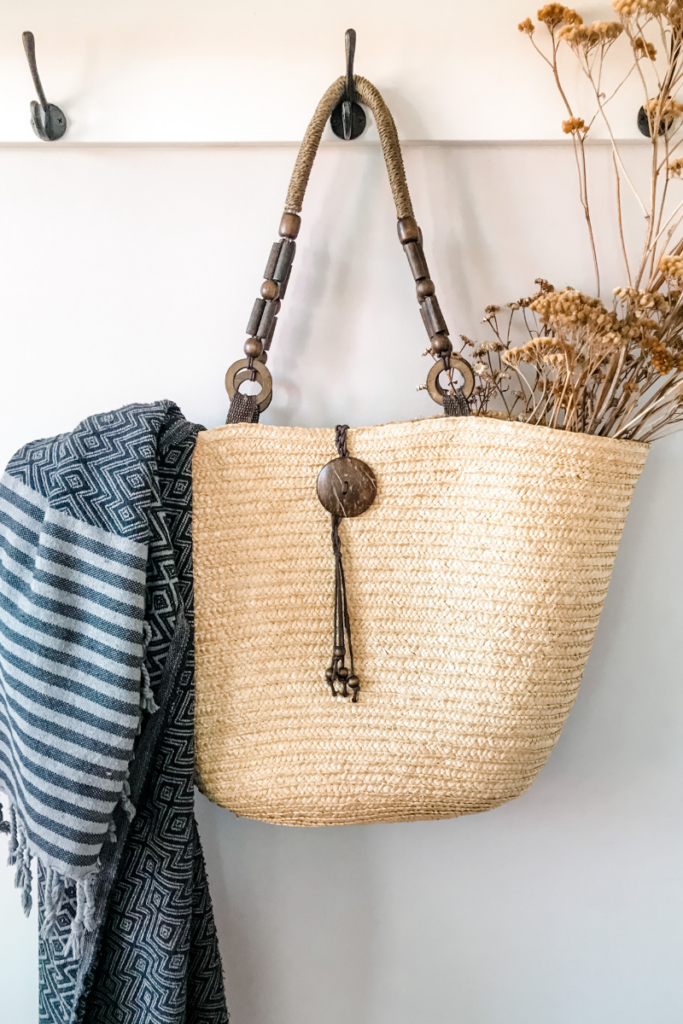 How to Shop Local on Etsy: Add Your Location to Your Search
This is the easiest, most straightforward way to shop local on Etsy.
Simply type the item your looking for in the search bar and then add "in [your location]" after it.
You can be more general with your location and shop for items in your country, or more specific and shop for items in your city. (Or the city nearest to you if you're rural like me.)
You can double check that an item is indeed from the location you selected by clicking on the shop name and confirming they're located in your area.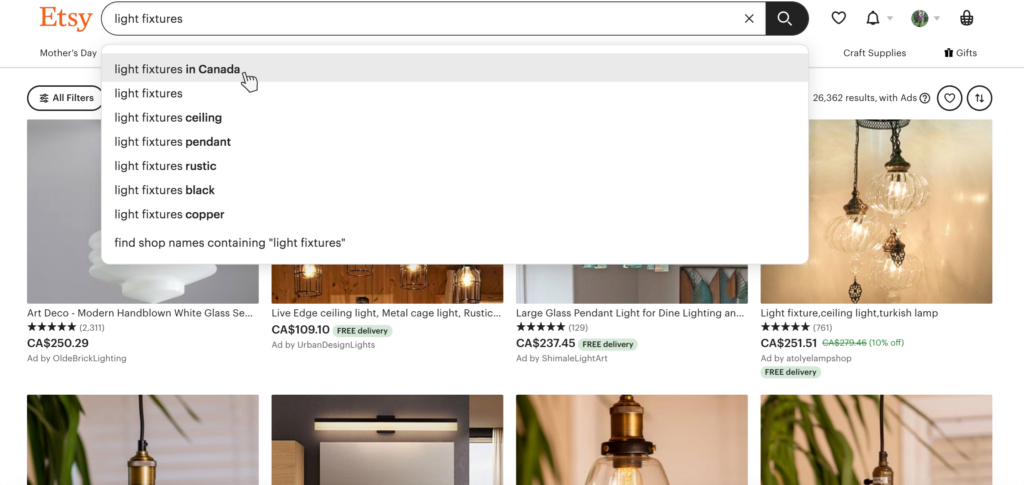 How to Shop Local on Etsy: Use the "Shop Location" Filter
Similar to the above search option, the shop location filter is an easy way to find local shops once you've already searched for a product.
Click on the "All Filters" button at the top of the product page.
Scroll towards the bottom of the filters list and under "Shop Location" choose "Custom" and type in your country or city.
This is a great way to narrow search results and find products that are closer to you.
How to Shop Local on Etsy: Create Custom Lists
If you shop on Etsy, you likely know you can favourite items simply by clicking on the little heart in the corner of each item's photo.
But did you know you can organize your favourites into custom lists – and then go back and shop from them later?
You can easily create a custom list – or two or three – that feature products from local sellers. Then, when you're looking for something, just head to your favourites page and start your shopping there!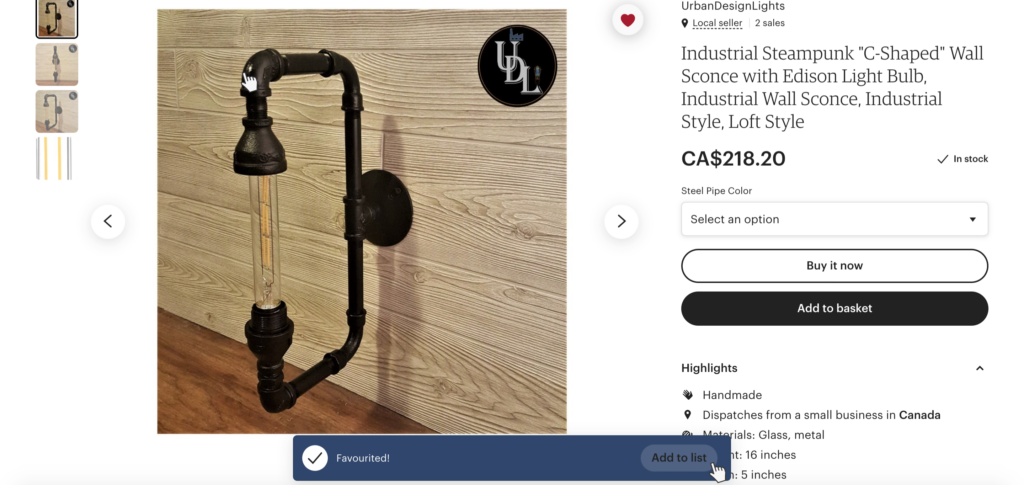 To make a custom list, heart an item and then click on the "Add to List" popup on the bottom of the page. Choose an existing list or create a new one.
When you want to view your lists, just click on the heart above the menu (near your account info) and choose the list you want to shop from. That's it!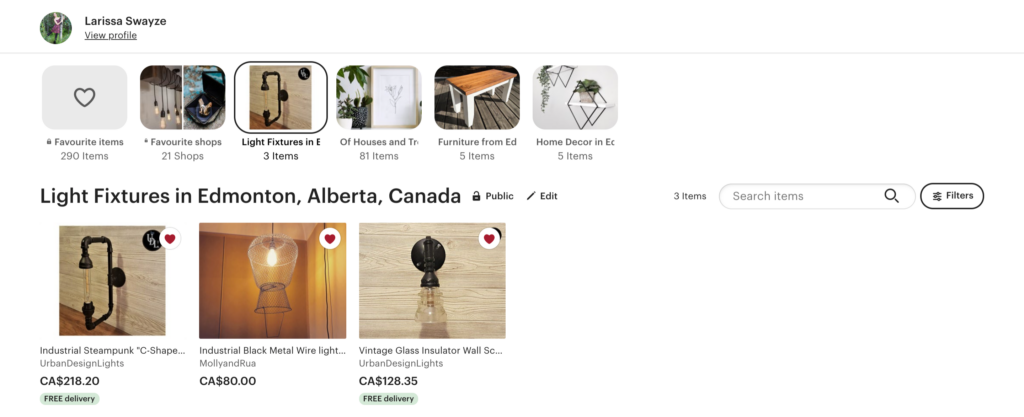 Have you ever used Etsy to find local items or sellers? What's your favourite local find – Etsy or otherwise? Let me know in the comments!
PIN ME!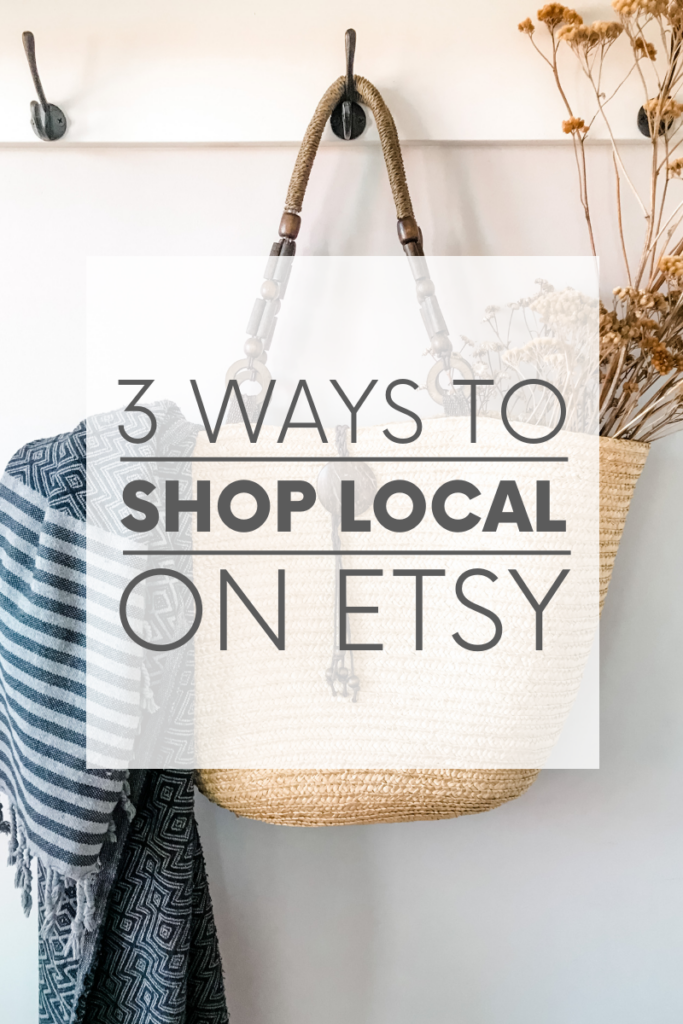 Posted on May 4, 2021
Need help choosing eco-conscious furniture and decor for your home? That's what I'm here for!
3 Ways to Shop Local on Etsy