Looking for advice on how to start collecting art on a budget? Find affordable, eco-conscious art with these five tips!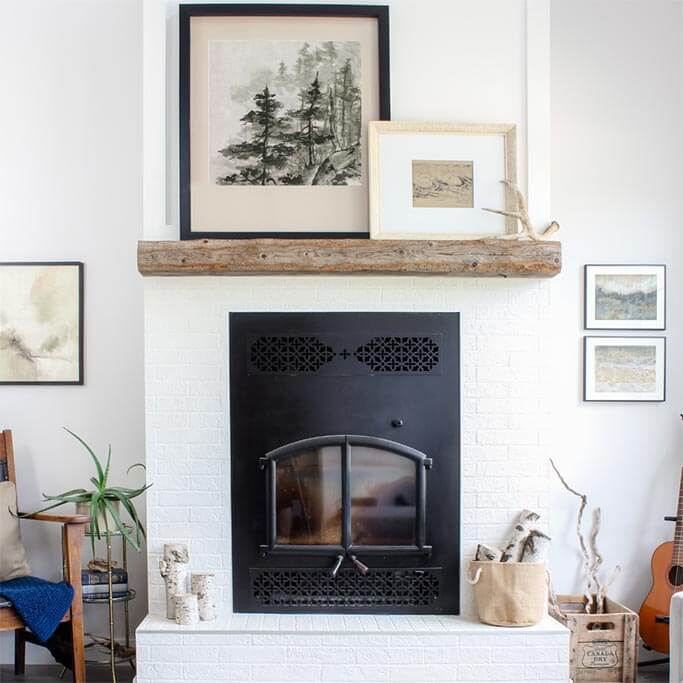 I'm still relatively new to the world of art collecting. Sure, I've hung things on my walls in every home I've lived in for my whole life.
But I didn't start truly start collecting art until we moved into our sustainable home. This house means so much to me, it just didn't feel right to hang anything on the walls that didn't also mean something.
I found my first piece hanging in my favourite local coffee shop more than two years after we moved in. (Finding meaningful pieces of art on a budget takes time.) I ordered my next piece online from an artist who specializes in equine art.
I found one piece at my local thrift store, while the next three came from two different galleries way up north in Yellowknife, Canada. And my most recent four acquisitions came from Photowall, a very cool, eco-conscious place to buy art online because they print everything on-demand using non-toxic ink and eco-friendly paper.
Me detailing where all my art came from is just my way of telling you there is no one right way to find affordable art to invest in. There are many ways! In this post, you'll find my advice on buying art for beginners, how to start an art collection on a budget, and see photos of my own burgeoning collection.
And if you'd like to learn more about why it's okay to take your time when buying things for your home, check out my post on slow design.
A big thank you to Photowall for sponsoring this post. Please know that I strive to only feature companies and brands that value sustainability as much as I do. Note that Of Houses and Trees also contains affiliate links, meaning if you click on a link and make a purchase a small percentage of the sale goes to yours truly. Thank you for your support!
Watch the Video! (if applicable)

Why You Should Start an Art Collection
There are so many answers when it comes to the question: "Why collect art?" Probably the most obvious – and the most important – is that looking at art enriches your life.
Being around art is good for us because it stimulates our minds and our spirits. It can make us feel peaceful, energized, provoked – really any emotion is fair game. Also, displaying art in your home is another way to make it feel like a space that truly reflects you and what you stand for.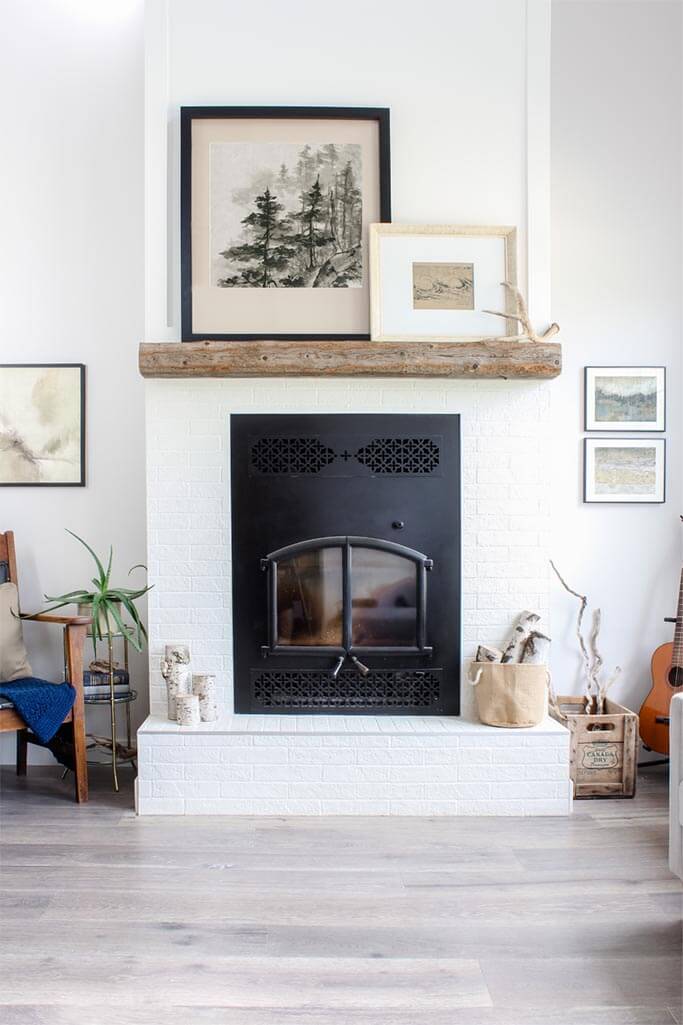 Of course, people collect art for many reasons aside from pure enjoyment. Some think of it as an investment. Others think of it as a way to support the arts. It can be way to connect to history. It can be a way to be a part of a story that is bigger than you.
How to Start Collecting Art: Define Your Style
Before you buy a single piece, you need to figure out what you actually like. No – not like. LOVE. Raise your hand if you ever bought a random piece of art at a generic home store, only to wind up feeling kind of meh about it. (That can't just be me… right?)
But if you're not an art expert – and most of us aren't – it can be hard to pinpoint your style. So start by paying attention to what catches your eye. When you're out and about, flipping through a magazine or scrolling on your phone – which types of art are speaking to you?
Do you prefer landscapes? Portraits? Abstracts? Sketches? Photography? Certain colours? Certain themes? Most likely you'll be drawn to more than one type of artwork. Take note, but don't buy anything – yet. Spend some time considering what it is you like and why. And if the answer to why is "because I just do," that's totally okay too!
Look for Affordable Art Online
As I've already mentioned, I've found and purchased art in all kinds of settings. And I encourage you to do the same. But one of the easiest and least intimidating ways to find art you love is to do so online.
Especially when you're first starting out and are looking for affordable art to invest in, browsing online can really help you stay within your budget. It also really helps with the above tip, because on most online sites you can filter out the styles you know you don't like. Which gives you more mental space to focus on the things you do like.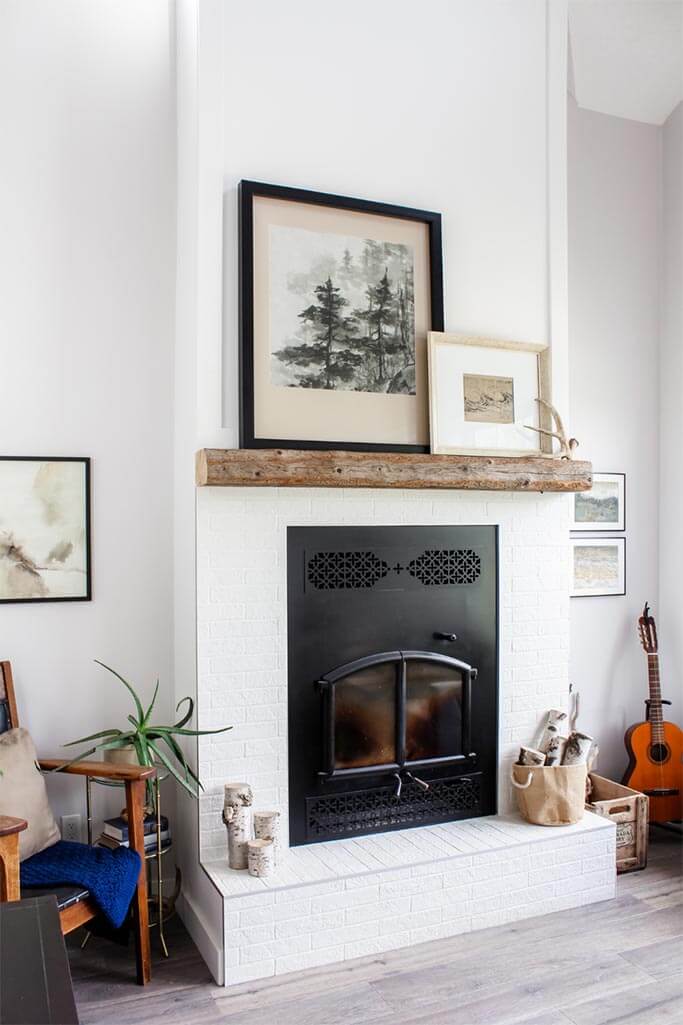 That's one of the things I like about online art sites such as Photowall. Even though they have over 25,000 prints (wow!), it's really easy to add filters so you're getting what feels like a curated experience. If you prefer canvas to prints they have those too. They even have wallpaper!
Need help choosing eco-conscious furniture and decor for your home? That's what I'm here for!
Buy High Quality Art Prints Instead of Originals
I love an original as much as the next person, but originals be expensive. And I think that it's totally okay to have artwork from all different price points mixed together in your home. An art collection does not need to be restricted to expensive, one of a kind pieces.
Instead, an art collection needs to be filled with pieces that mean something to you. Whether a work cost $15, $150 or $1,500 doesn't matter. It also doesn't matter if you display an inexpensive piece of art next to one that cost a small fortune. I'm here to tell you that when it comes to collecting art, price does not matter. (Shocking, right?)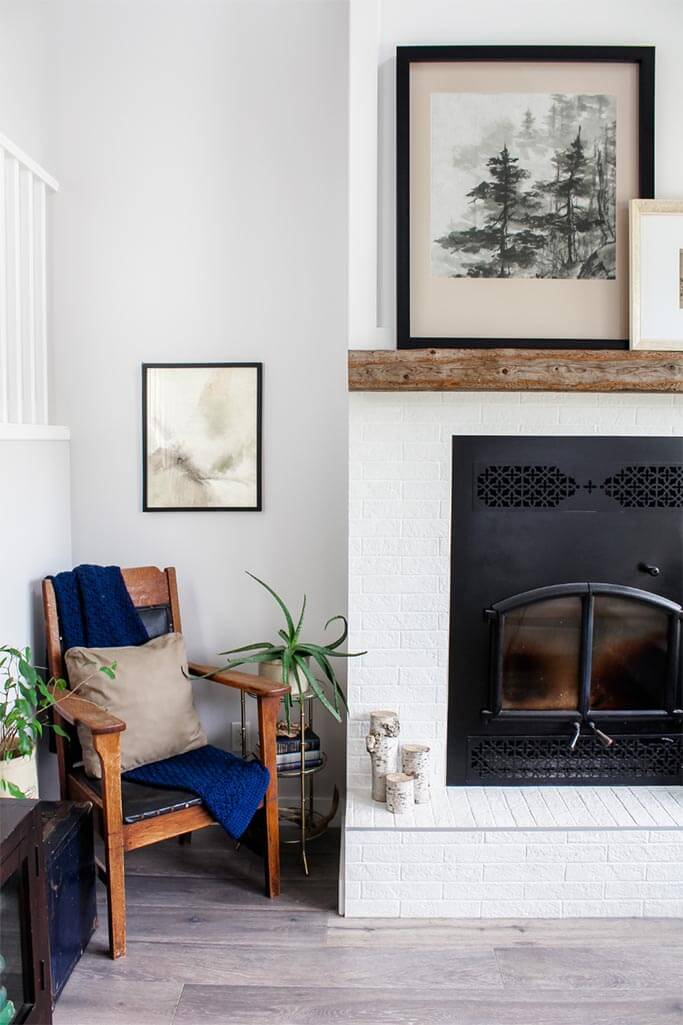 The cost of the art in my living room ranges from $10 to $200. Can you spot which pieces were inexpensive and which ones were more of an investment?
Buy Used Art Instead of New
I advocate for buying all kinds of items for your home secondhand. And now I'm going to tell you to go ahead and buy your art secondhand too. I mean, that's how they do it in the world of high-priced art. Pieces pass from one owner to another, and who owned what and for how long is an important part of the artwork's history.
Sure, that cool oil painting or black and white photo from your local thrift store probably isn't going to come with any info about its previous owners. But that's okay. Just knowing it had a prior history is cool enough. Plus, you can find really beautiful pieces for as little as five or ten dollars sometimes.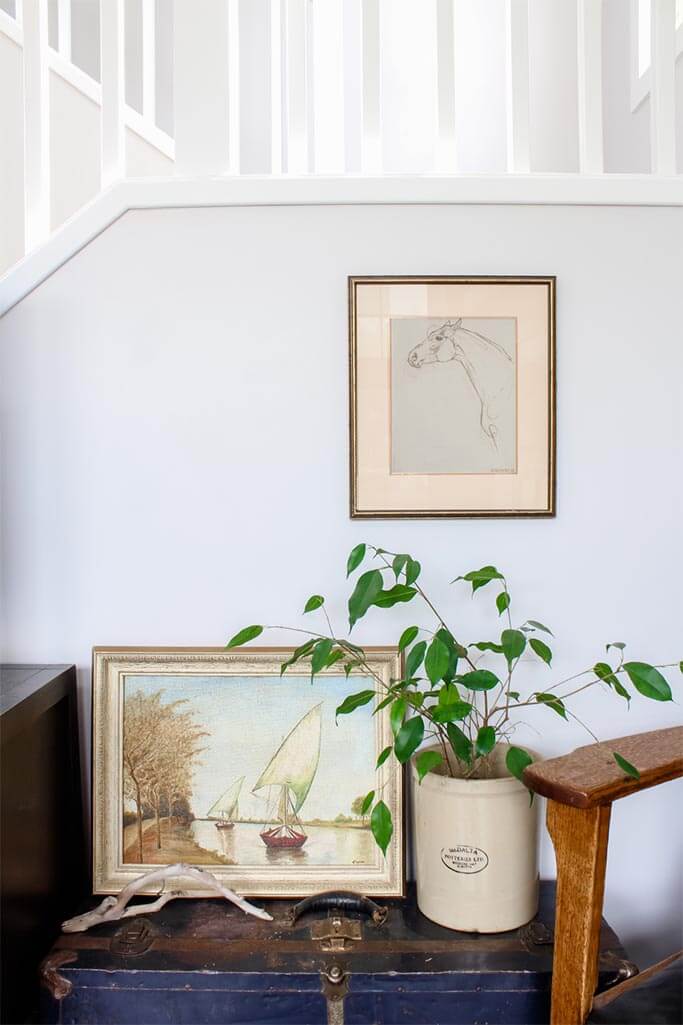 I also love pairing affordable, thrifted art with more expensive works. I think it makes your art collection feel layered and multi-dimensional. Plus, I also buy almost all my frames secondhand. Which is better for the wallet, better for the planet and gives you a frame collection that's just as unique as your artwork.
Buying Smaller Pieces is a Great Way to Start Collecting on a Budget
Sure, a huge, wall-covering piece of art is an awe-inspiring sight to behold. But so is a wall gallery filled with smaller works. Or just one special piece all on its own. If building a gallery wall sounds like something you want to do, the great thing is you can add to it over time. Start with one or two smaller pieces, then slowly add to them.
If you're worried about how you're going to create a cohesive layout when you're not buying everything at once, head to the thrift store and buy a bunch of frames. Decide on a finished layout, but only buy art for a few of the frames to start. Hang them and leave the others down until you find something to fill them with.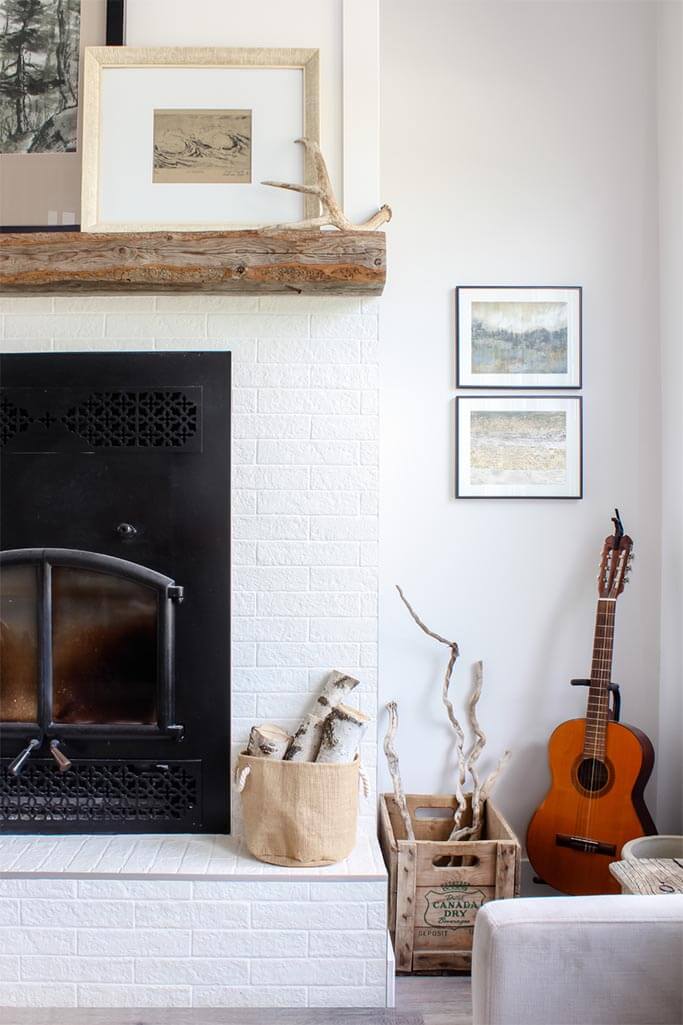 Having the ability to order prints at almost any size is one of the things I like most about Photowall. I did just what I said above – bought a bunch of secondhand frames. Then I measured them, searched on Photowall for what I felt were the best fine art prints for me personally, and ordered them in sizes that would fit my frames.
If you're wondering which pieces of art from my living are the ones from Photowall, here they are! I decided I wanted to choose works from primarily the same artist so they first three are all by Jennifer Goldberger and the last is by Chris Paschke.
I hope this post has helped you to feel more confident when it comes to investing in art for beginners. Take your time discovering your style and buying pieces, don't be afraid to mix higher-priced art with budget art and – most importantly – have fun!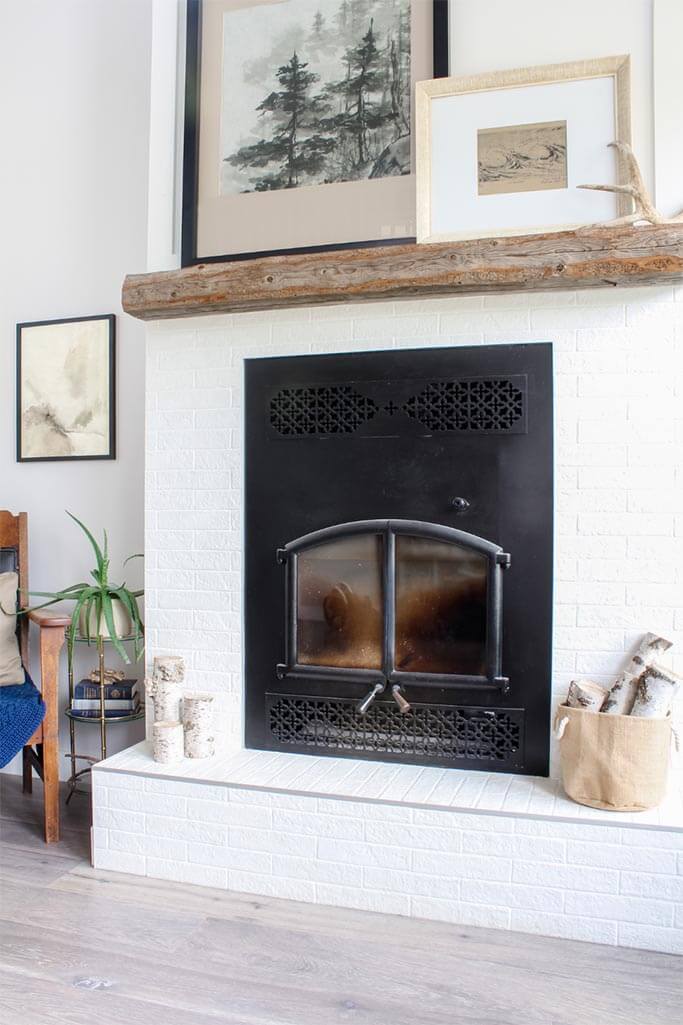 If you need help choosing art, furniture and decor for your home, check out my e-design services. If you'd like to learn more about specific design styles – including what types of art go with them – you can read all about Japandi interior design and coastal interior design.
Do you collect art? If so, what's your favourite piece you own so far? Let me know in the comments!
PIN ME!
Posted on August 12, 2022
Need help choosing eco-conscious furniture and decor for your home? That's what I'm here for!
5 Tips for Collecting Art on a Budget: Where to Find Affordable, Sustainable Art Online