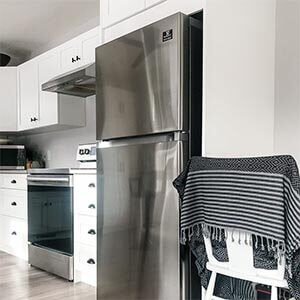 What's an eco-conscious kitchen without an energy efficient fridge?
My post How to Design an Eco-Friendly Kitchen gave an overview of things to think about when creating an environmentally responsible kitchen.
But the individual elements of an eco-friendly kitchen each deserve their own post because there is so much to consider.
The first area of the eco-friendly kitchen that I want to dive into is appliances.
Because even within the efficient appliance realm there are a lot of options. And there should be!
In fact, there should be so many low energy options that there's no longer any need for resource-greedy appliances.
First up in my energy efficient appliances series – energy efficient refrigeration. Make sure to check out my posts on energy efficient dishwashers and energy efficient stoves too!
Note that this post may contain affiliate links, meaning if you click on a link and make a purchase a small percentage of the sale goes to yours truly. Please know that I strive to only feature eco-conscious products and brands.
Are All Energy Star Rated Appliances Created Equal?
Much of the information gathered for this post and for the other posts in this series comes from the Energy Star website. It's a great resource, but it contains A LOT of information and can feel a bit overwhelming.
My goal for this series is to share the most relevant information and provide examples of affordable, energy efficient appliances in a variety of styles.
So you can do less research and more treehugging.
The Energy Star website offers a yearly Most Efficient list, which recognizes the best of the best. This designation proves that even within the spectrum of Energy Star rated appliance there are better options.
In short – just because it's Energy Star rated doesn't mean it's the most efficient refrigerator option.
5 of the Most Energy Efficient Fridges
In order for an electric refrigerator or refrigerator-freezer to be Energy Star certified, it needs to be less than 39 cubic feet in size. And, most importantly, it needs to use 10% less energy than the minimum federal efficiency standards.
Generally, a smaller refrigerator equals a more eco friendly refrigerator.
Energy Star recommends models in the 16-20 cubic feet range. Refrigerator-freezer combos with the freezer on top also tend to be more efficient than those with the freezer on the bottom or the side.
Here are five efficient refrigerators from the Energy Star Most Efficient 2020 – Refrigerators list. Note that the Most Efficient list includes fridges that have an estimated annual energy use ranging from 151 to 576 kwH.
I've selected models from this list in different sizes and at various price points. I also tried to include some of the most well-known, easy-to-find brands.
Need help choosing eco-conscious furniture and decor for your home? That's what I'm here for!
PIN ME!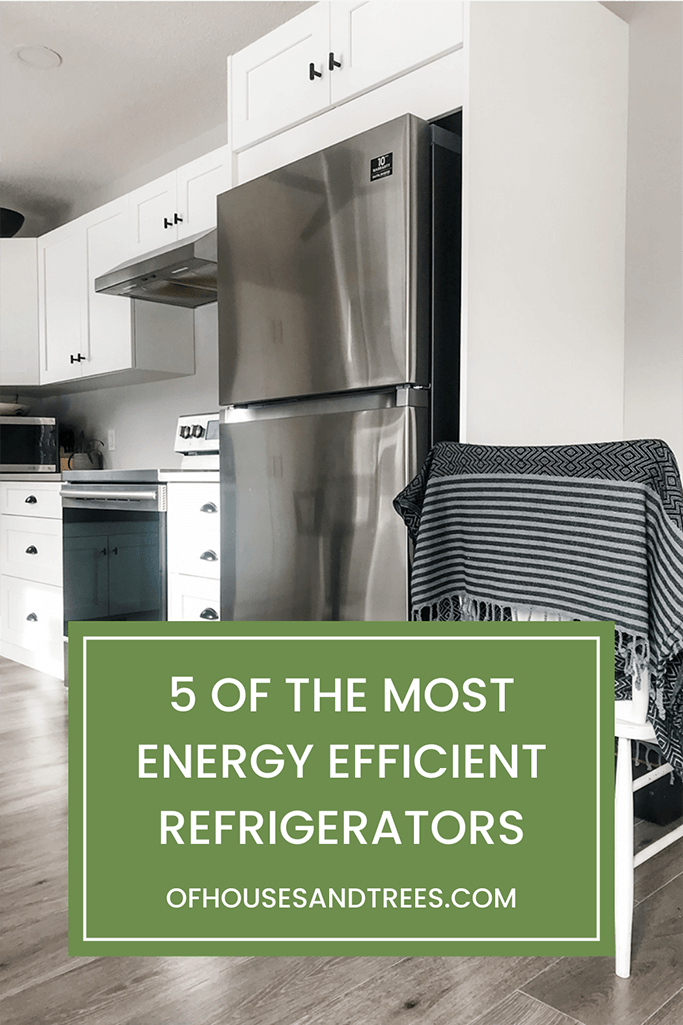 Posted on May 9, 2019 (Last Updated December 30, 2020)
Need help choosing eco-conscious furniture and decor for your home? That's what I'm here for!
5 of the Most Energy Efficient Refrigerators